Christine Gennara is a Canadian-born gestural artist whose blind contour portraits draw attention to human perception and identity. After working for the past two years in New Orleans, Gennara has begun to transition into life coaching, bringing her approach to her portraits into her role as a mentor and guide.
Arts Help writer Elizabeth Sargeant interviewed Gennara to learn more about her work and her journey with art therapy.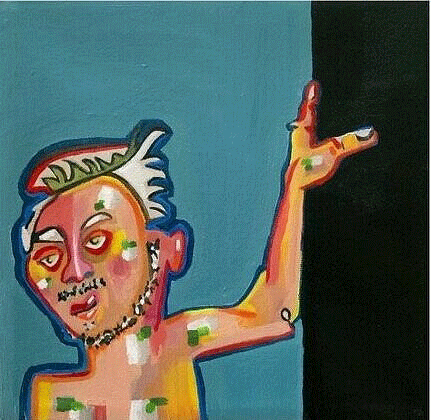 Tell me a little bit about yourself and your personal relationship to art.
I am a Canadian artist living in Buffalo. I studied at OCAD University in Toronto and that's kind of where my art career started. I ended up working in the service industry for a little while and lost track of my process and my art. Then I moved to New Orleans and I had a bit of a hard time coming over. Because of that process, I wasn't able to work but I had a lot of time to really focus on my practice again. That's when things really began to force me to create work, not thinking about the product, and just letting my process happen and evolve. I think it's something that's continuously evolving.
My style was kind of developed through the blind contour which is a process in which you look at your subject, and not at your paper and try to do it in one continuous line without lifting up your pen. It forces me to connect with people in this new way.
Continuous eye contact has always been a fear of mine, so to get to know people in a new way, in this very vulnerable situation, it helped me realize we're all going through our own thing. We all have feelings and it's not up to us to judge each other based on what we see on the outside. It's really important for me to try not to create an aesthetically pleasing truth all the time.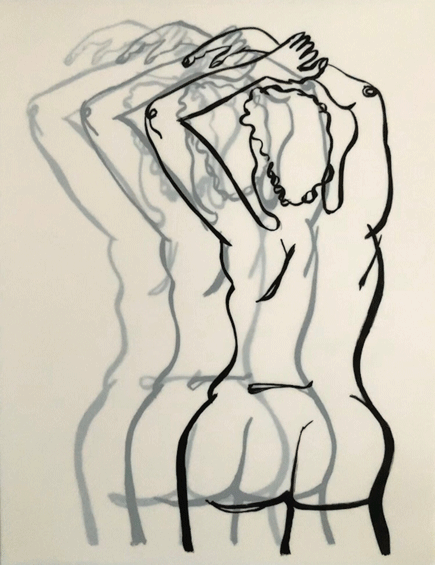 You are now going into life coaching. What made you decide to make this transition and how do your roles as an artist and life coach intersect?
Art therapy has always been an inspiration to me and in fact, that was kind of the reason why I went to art school. I thought, "I can either go get a BA in psychology or I can go get my BFA, a bachelor of fine arts," and the BFA sounded like a lot more fun. But, I have a friend who is a life coach, and I had a big conversation with her and it was a way for me to kind of take this idea of wanting to help people in a more accessible way. My job is to help people reach their goals in a way that fits their needs and help others come to the realization of what they need and want in their life.
I feel like my art practice helped me realize that. When I have a sitter in front of me, clearly nude, I just happen naturally to be able to be comfortable. It's not easy for a lot of people to just sit naked for an hour or two with someone, and it's allowed me to connect with so many people.  It's about learning about people and listening. Getting to know folks for who they actually are not necessarily what we see on the outside all the time.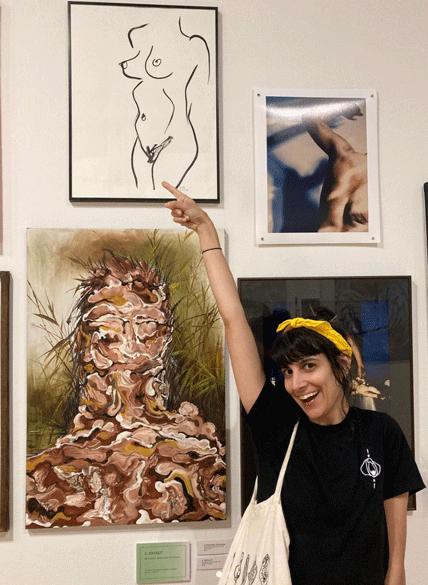 What do you hope to achieve with your new venture into life coaching?
I realized how much I love relationships, intimacy and creativity so if I can, I'm hoping to be able to help people come into their own, develop their creative processes and feel comfortable with themselves. Ultimately, I love the fact that even through my practice right now, I'm able to talk to clients and see them have these moments of "Yes, oh my God, I never realized that about myself."
I know for me, for the longest time I never took action for my art. I was stuck in the service industry and then something just clicked. We need someone to hold up that mirror so I hope that I can gently hold up that mirror for others so that they can see the changes that they want to make.
How has art acted as a form of therapy for you in your personal life?
My father recently passed away and art therapy was something that really helped me move forward towards the end of his life. A lot of people were sending us flowers, so I would draw the flowers and not care about what it would look like and have fun colouring in all the different spaces.
lt really is the process of a product, breathing into each brushstroke and not worrying what the product is going to look like.
Figure work is not about trying to make the product look identical to this subject, and it's about being okay with the outcome, kind of letting go of perfectionism. So, in that part of the making process, I'm just being in the moment and enjoying the movement.
To see more of Christine Gennara's art, or to book a life coaching appointment, visit her website.