Cyrus Kabiru has a vision for the future. But instead of looking through rose-coloured glasses when it comes to predicting levels of pollution on Earth, he's looking through ones he's created himself — from trash.
Kabiru's "C-Stunners" — his eyewear made of garbage — has been gaining international attention for more than a decade as this Kenyan-based artist has twisted old wires, discarded bottles caps, and colourful kitchen utensils into eye-catching sculptures. His pieces continuously call attention to the world's problem with pollution while touching on the United Nations Sustainable Development Goals of Responsible Consumption and Production and Climate Action.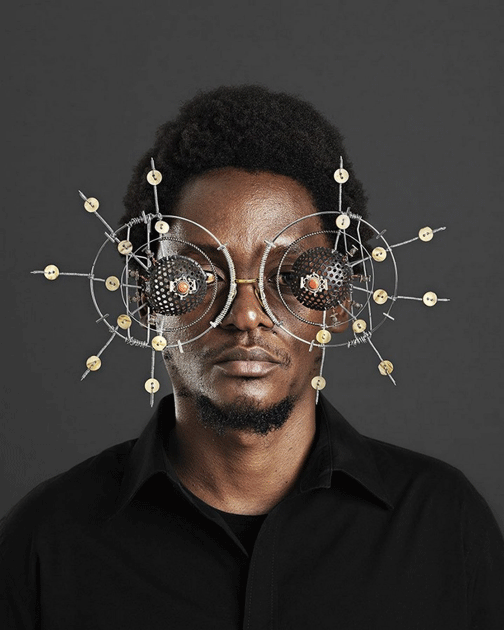 Born in 1984 in Nairobi, Kenya, Kabiru was one of six children living in a two-bedroom  family home just across the street from a landfill. Kabiru told Nataal in 2015, that the view from his window, coupled with his relationship with his father, allowed his artwork to come to fruition.
As a child, Kabiru's father told him a story of how he once broke his glasses and used discarded items to recreate them. Later, Kirbau's father gave him a broken bicycle and expected him to fix it by finding items to make it work.
"My work has everything to do with my dad. First the glasses. Now the bicycle. He raised me well and showed me the future," he says.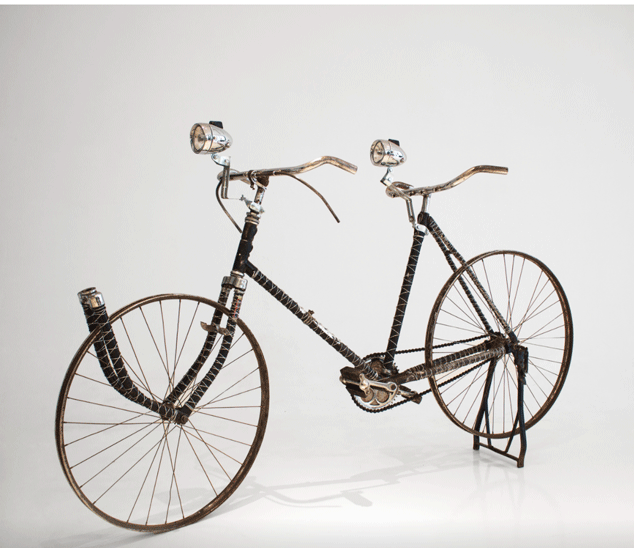 Kabiru has also worked to reimagine bicycles in Kenya. In his film, The Death of Black Mambas, Kabiru reflects on the future of transportation — remembering a time where bicycles ruled the streets over motorbikes.
"It's about where we are headed," Kabiru told Nataal. "Motorbikes in Kenya are killing our generation."
Kabiru is not wrong. Motorbikes produce significant air pollution and Kenya has been facing many environmental issues over the past several decades.
According to the World Bank, in Nairobi, the capital of Kenya, an estimated 2,400 tons of solid waste is generated every day, 20 percent of which is plastic.
Of the waste generated by the city, "only 45 percent is recycled, reused or transformed into a form which can yield an economic or ecological benefit."
Kabiru sees the solution for pollution as an innovation opportunity. In an interview with Al Jazeera he said he wants to give trash a second chance.
"I try to change [trash] into something else, which is like it will stay for more than 100 years now… We need to change our mentality. We need to be creative with what we're doing."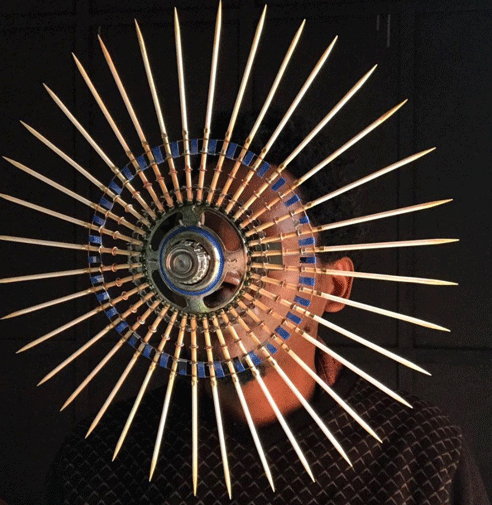 To see more Cyrus Kabiru's upcycled works, including keyboards and stereos, visit Artsy's website.