Romain Thiery is a French photographer who focuses on visiting heritage sites around Europe and photographing the pianos and interiors he finds. As both a visual artist and piano player, Thiery's series Requiem Pour Pianos evokes the mysterious power of these silenced instruments. Arts Help Managing Editor Hannah Chew interviewed Romain Thiery to learn more about his work.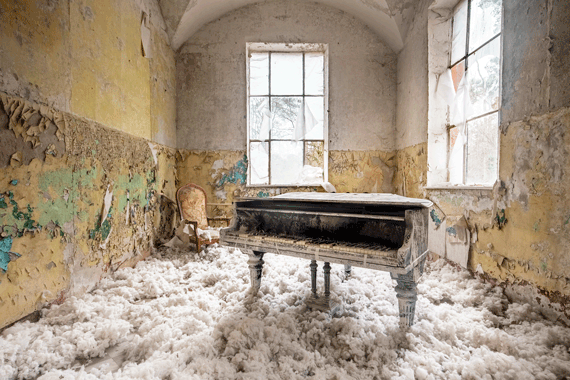 Can you tell me a little bit about your work?
My name is Romain Thiery and I'm an artist photographer, born in 1988 in France. I'm also an amateur pianist fulfilled by Chopin, Bach, Beethoven or Satie, and started photography 10 years ago following my mother's work specializing in heritage photography. This hobby became a passion and ultimately a profession after the day I discovered a forgotten piano in an abandoned castle in the south of France.
I believe that the piano is deeply rooted in the depths of our culture, and have sought to explore the instrument from an original angle. I made my life mission to combine my  two greatest passions (image and music) and set out to find abandoned mansions all over Europe where old pianos are left abandoned. The series that emerged is called "Requiem pour pianos". In addition to researching pianos, my camera has driven me to amazing sites around Europe, which I have recorded without any staging. I search for the beauty of the place. Nature is a conqueror while remaining peaceful and fascinating, sometimes worrying. She runs on the facades, takes the corridors, hangs out to the columns. The imagination is constantly solicited by the traces of life, fragments of memories.
In recent years I have won international photography awards in various competitions and festivals, including finalist at the Urban Photo Awards in Italy, photographer of the Year at the Moscow International Foto Award (MIFA), finalist of the Open Call of the Indian Photography Festival, finalist of the Open Call of the Israel Photography Festival and the San Francisco Photo Festival. My personal exhibitions have been presented in many countries such as France, Italy, Norway, Germany, Slovenia, United Kingdom, Russia, Canada, United States, Israel and India.
My artistic work has been featured in magazines such as El Pais, Der Spiegel, The Guardian, Lonely Planet, Cultura Inquieta, Point de Vue… and, during TV reports at DW (Germany), Channel Cuatro (Spain), TV5 Monde (France) and I24News (France and Israel).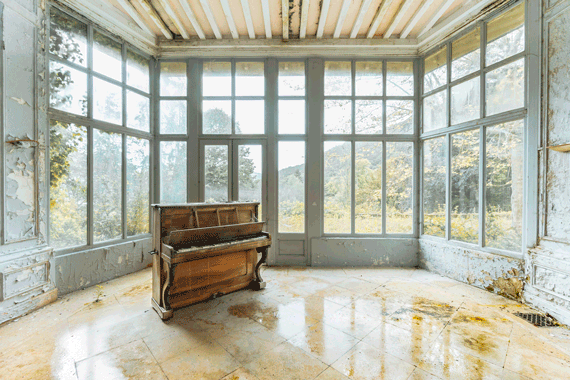 How did you start photography and piano separately?
I started playing the piano at the age of 5 and attended music school for 15 years in France. Piano is a big part of my life, I'm trying to play everyday even though I'm just an amateur. Also, from a very young age, I always saw my mother taking pictures and she always brought me with her, teaching me how to use a camera. I started photography in a more professional way more than 10 years ago. At that time, I was following my mother in her photographic work, which allowed me to discover the photography of abandoned and ruined places. I started to photograph abandoned places in the South of France with her, and it came naturally.
I began to take so-called "urban exploration" photography, and to explore further and further away from my home. But, in parallel, I very quickly tried to link my two passions (the piano and photography) in one and the same project: Requiem pour pianos. My modus operandi is to explore abandoned heritage buildings and unearth old, often toothless pianos, ravaged by the merciless passage of time. In the beginning, photography was purely a hobby, but I soon decided to use this medium for my life's art. From then on it has been my primary occupation. One of my most fervent wishes is to keep the traces of those pianos who are forgotten, just before time made them invisible.
How did you find the inspiration to combine them?
In 2008, it was love at first sight. On the heights of a small French town, I discovered a small 19th century castle. Everything was destroyed, empty, and  the place had been looted. Looting is often the second step after desertion. Situations often related to inheritance issues leave things outstanding, and invite unwanted visitors. On the first floor, I discovered a piano in the middle of a destroyed room. The fireplace was broken. Valuables and treasure had already disappeared. There was only this piano left. I thought there must be more. This piano was the soul of the place, even in the middle of a  ruined space, it never ceased to preserve its power.
This was the day I formed the idea and decided to set out on a quest to find these silent giants. I spent five years patiently establishing my network across Europe into various sectors including music, real estate, heritage and associations. My dedication paid off. Since 2014, I have discovered more than a hundred pianos, in as many places of stunning beauty.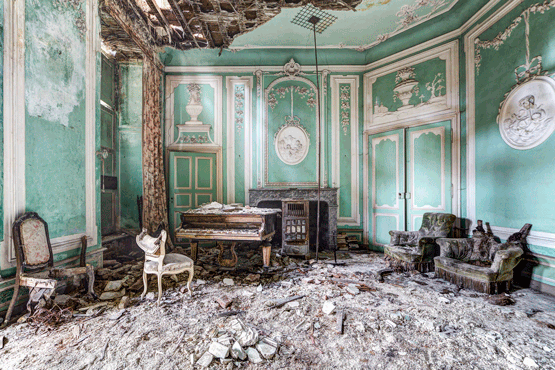 Can you describe your creative process?
Since I started this project my routine is now settled. I slip into these ballrooms, mansions, manors or castles while it is still dark, to capture the morning light, which spreads softness in sleeping spaces. I stay a long time inside the buildings to watch the sun rise in the sky. I like seeing the instrument under the ray of the sun, as it becomes alive in front of my eyes before taking photographs. Then I try at least to play on the keyboards, to make them resonate when possible, to make those Steinway, Pleyel, Bechstein or Chapka & Son masterpieces vibrate one last time while they lie in varying states of dilapidation. My art is to show the arrogant beauty of the piano that relegates everything else to the background.
Where do you get inspiration?
Let me tell you about my first discovery, the one that gave me inspiration:
France, autumn 2008. After a long trip to Asia, my mother asked me to accompany her to discover an abandoned town house. I didn't hesitate.We took a small road, walking through lush  vegetation. We took a small path near the river below. I saw the house, at least ten meters above us. Stairs took us up a cliff. Step by step, slowly, making sure that nothing is going to give way. We laughed a lot, and took advantage of this experience and this incredible moment of sharing. Once in front, I was amazed by the beauty of the place and stunned to see the door wide open. We may not have been the first. We entered slowly, anxiety taking over us. I want  up the internal staircase. Everything was empty and in bad shape, or so I thought. I forced the swollen door to open. The parquet creaked under my feet. What a discovery ! There was a piano ! I could not believe my eyes, my instrument was there, forgotten, subject to the wear of time. I immediately felt reassured, an incredible emotion. But how could you leave your piano behind ? I didn't understand it at the time. But it lay there, in front of me, in this room where the fireplace and the noble materials have already been looted, but not the piano. Could the idea of sacrilege be present even among destructive minds ? A lot of questions crossed  my mind. I moved around, looking for the best shot. Even covered in its thick dust, it was still endearing.We stayed all afternoon in this magical place. This moment, etched in my memory, was the beginning of a long quest that would take me all over Europe.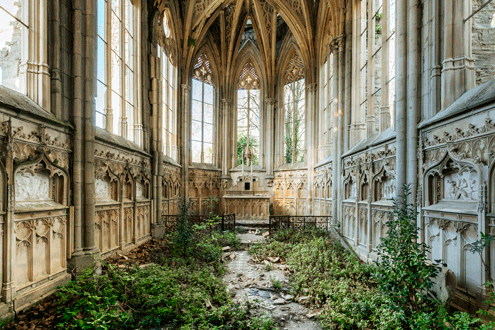 What has been your favorite project so far?
My favorite project was when I first decided to look for the forgotten pianos outside of my country. It was in Italy. I was already familiar with the country, but this time around I went for a whole different reason. I spotted an immeasurable number of abandoned places upstream. Italy has an exceptional heritage, so vast that
it is impossible to preserve everything. In the spring of 2016, I did a lot of research. I took notes, I contacted people, and managed to fill up my address book. I only hoped to find pianos and make new discoveries.
My first discovery was incredible. Under an overwhelming heat, I came around a wonderful abandoned Italian villa. The king of heritage spaces I had dreamed of for a long time. More than four years working on this project. Everything was open, access was simple, I went up one floor and discovered this magnificent room, adorned with floor-to-ceiling frescoes and balconies. The piano was there, in its place, unmissable, like it was waiting for me.  I looked at it for a long time. Si Sol Fa Sol Fa Mi. I played a few notes of Chopin, making it sound one last time before it faded away. Since then, I have been going to Italy once or twice a year and I have found 12 forgotten pianos.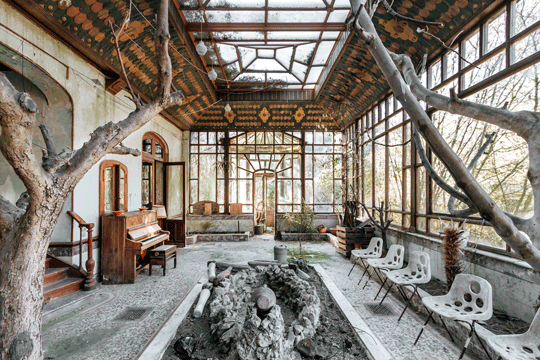 What is symbolic about a piano? About abandonment?
I think the piano is an instrument that everybody loves. Even if some people don't know how to play, we always try a piano when we enter a room where there is one. It must be said that musical instruments are, for us, forever beautiful and almost deified. Thus, even when time damages them, we are attached to them. We respect them. But the piano is more than that. It is a reassuring instrument with its natural elegance. Even covered in thick dust it never ceases to impose its nobility and respect. This greatness is rooted in the depths of our culture.
Can you tell me about your Looted Pianos initiative?
It's been three years since I first put my unique expertise at the service of the Musique & Spoliations association, founded by Pascale Bernheim and Corinne Hershkovitch, which has set itself the task of finding the instruments looted by Sonderstab Music, the « Commando Musique », created in August 1940 in France by the Nazi regime. When I find an abandoned piano I note the piano's serial number, if it exists. The precious information collected is passed on to the association, which crosses its references with its archives so as to piece together the history of the instrument.
It is very important for me to make this relatively unknown subject known to the general public. Indeed, there is a lot of talk about the artworks looted but very rarely about the musical instruments. It is an often unknown subject that I wish to make known through an artistic dimension.
For example: In Paris alone, thousands of instruments and scores were confiscated by the Nazi regime from 1940 to 1944. It was a radical looting, the majority of the pianos were stored, waiting to be sent to national socialist organizations or German families. At the Palais de Tokyo, in a wing of the Musée des beaux arts, or in garages, more than 8000 pianos were looted and stored. Of the instruments looted during the war, some were returned at the Liberation, others never. Their location still remains a mystery. In 2018, 4000 of them still remain to be found.
What are you working on next?
For the past few months I have been working on a future project related to my Requiem pour pianos series. Pianos are witnesses of an activity whose sound is still audible, even if they are in a more or less advanced state of disrepair.
This is the goal of my project, to propose a rebirth of these forgotten pianos, through sound. Recorded in situ, the musical compositions will be a mixture of pieces for solo piano and electronic compositions made using sound samples recorded on these pianos abandoned in Europe. Strings plucked, rubbed with a bow, resonance of these edentulous pianos. The project will also include the recording of the sound identity of the places.
The sound samples recorded on the pianos will also allow me to build a collection of virtual instruments that I will make available to the public during my exhibitions and online. The idea is to integrate the sounds into synthesizers and create an installation with my photographs. This method allows me to form a realistic sound model and to immortalize the sound of these pianos. They will hopefully give a second life to these abandoned pianos that are often difficult to access, giving hundreds of people around the world the opportunity to make their sound resonate. I have always worked on the idea of giving life back to the instrument through images and what better way to integrate the sound it emits.
*All images courtesy of the artist.