The Artists for Social Change program is well underway, and Arts Help is excited to present the Top 10 artists! The Artists for Social Change Selection Committee, comprised of Arts Help, Honey Jam, Conscious Economics, and Queer Collective, chose artists based on their social impacts and artistic merit. After public voting ends, keep an eye out for the Showcase Judging, featuring six industry experts and the Top 3 Artists for Social Change artists.
Artists for Social Change is presented in collaboration with The Remington Group, The Rural Urban Learning Association RULA, Conscious Economics, The Canadian Red Cross, and the Government of Canada, along with a number of supporting partner organizations. Artists for Social Change is multi-faceted, introducing both a comprehensive program of art workshops and the chance for artists to compete and win the upcoming Showcase. The winner, and 2021's official Canadian Artist for Social Change, will receive a monetary prize, 1-on-1 mentorship, a feature on Arts Help's exclusive editorial, and exposure on a worldwide digital platform.
We are proud to introduce the Artists for Social Change Top 10, check them out below and vote for your favorites!
Denise Ruzage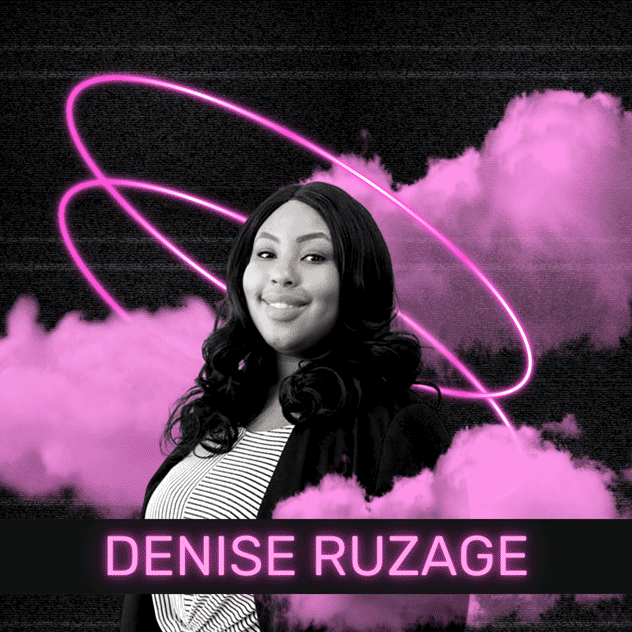 Denise Ruzage is a multidisciplinary artist, advocate, and student. She hails from the Greater Toronto Area. Her east African roots and the women in her family have inspired a great sense of social responsibility within her, inspiring her to serve countless non-profits as a speaker and advocate. A singer classically trained from childhood in a variety of genres, Denise's diverse background and lived experience inform her dynamic writing style as a poet, songwriter and soon to be screenwriter. Denise is a co-host on CJRU 1280am's FemRadio, an award-winning weekly show discussing current events, pop-culture, and society from a feminist perspective.
Holly Clausius (@hollyclausius)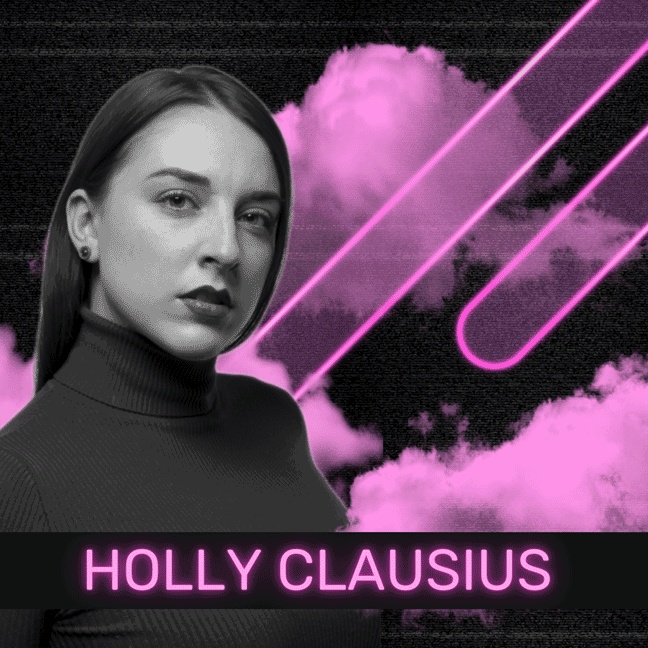 Hot off the release of her debut EP "Sunflower", Holly Clausius is blazing a trail of her own. Her inspired storytelling brings present-day sensibility to timeless tales. An original voice that can be as sharp as a sewing needle and as smooth as chamomile tea. Holly is a queer artist that resides in Toronto, Ontario and is a full-time musician/music teacher. Her original music is currently being played across Canada on CBC radio and she plans to release her first full length album later this year.
Meagan De Lima (@meagandelima)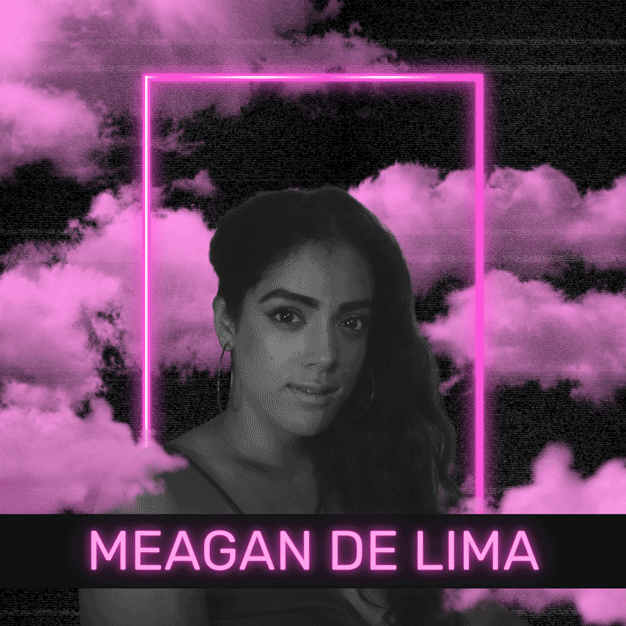 Meagan De Lima is an R&B singer-songwriter who is making waves in the Toronto music scene. Her accomplishments to date include: performing at "The Future Series: A Conversation with President Barack Obama," Canadian Music Week, opening for Kehlani with the group TRP.P, the Invictus Games, and having her first EP produced by Bob Ezrin. Meagan's sound is warm and organic. She is admired for her soft, sweet vocal tone and the way she naturally accompanies herself on the acoustic guitar. Her latest project RGB was featured on Spotify's New Music Friday, Fresh Finds, Fresh Finds: The Wave, Just Vibing and more. Meagan is looking forward to sharing more music with the world and using her art to make a difference.
Megan Hassard (@meganhassardmusic)
Megan is an imaginative, creative, jack-of-all trades living in Toronto, Ontario. Inspired by artists like Kent Monkman, Joni Mitchell, and Bob Dylan, Megan's art acknowledges a responsibility to provoke critical thinking. Drawing from her academic background in Political Science, Environmental Studies, and Indigenous Studies from the University of Toronto, Megan's art explores environmental issues, the absurdities of consumerism, and questions around capitalist production.
Osé Allenotor (@officialosee)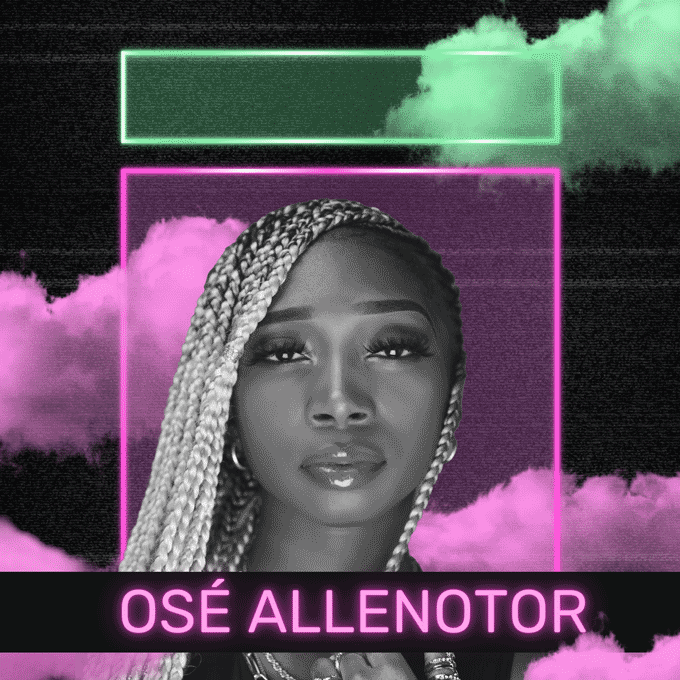 Osé is an emerging artist, singer, and songwriter originating from Ontario, Canada. The seventeen-year-old is making waves in the music community with her breathtaking vocal and immaculate releases. The R&B/soul artist will captivate any listener with her mesmerizing voice and head-turning lyricism. The talented musician seeks to push the envelope with her sound and bridge various elements from different genres to make a well-rounded, dynamic style. Growing up, Osé's dad always talked to her stories about her grandmother, and how she had her own band, she was even a dancer. Unfortunately, due to the environment and circumstances, she found herself encapsulated in, she never had the opportunity to expand and this gift and really share it with others. This is what fuels Osé's passion to obtain success in her music endeavors. Her grandmother never had the opportunity to pursue her dream to the fullest, so Osé strives to go to the lengths that her late grandmother never could. Inspired by the likes of H.E.R., Brandy, Summer Walker, SZA, Mary J. Blige, Jhene Aiko, and Beyoncé, Osé is set to be the next breakthrough artist. With every release, the Ontario native will have listeners engulfed into the world she creates with her story-telling approach and realness. Osé is an artist to keep an eye on and ear out for as she is set to cement herself in the music industry for years to come.
Quincy Morales (@findquincy)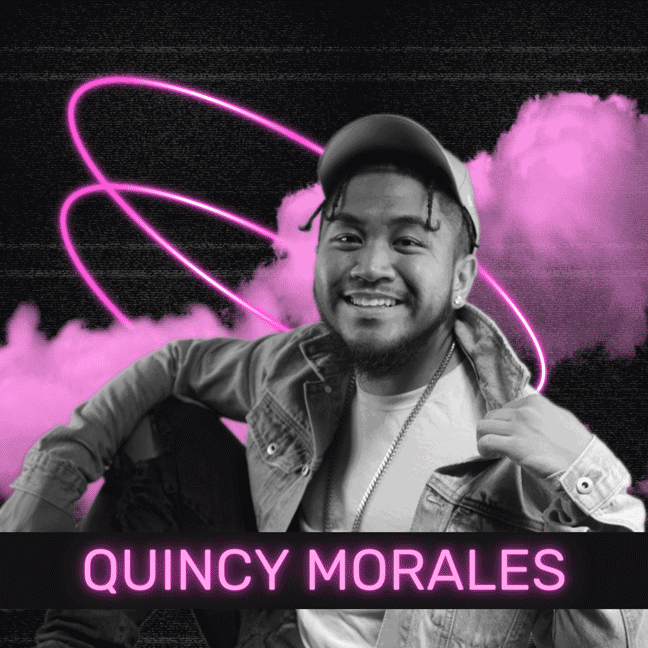 Quincy Morales is a multi-faceted hip hop artist; captivating performer and soulful singer/songwriter from Scarborough, Ontario. Partnering with established brands and companies including; Nike, Puma, Sony Music Canada, and RCA Records - the 22-year-old has independently performed at over 300 events in front of more than 20,000 people across 4 different countries. But that's not it, some of his most revered accomplishments have been providing an equitable opportunity to underserved communities lacking access to industry mentorship. Quincy has spent the last five years offering free programming for inner-city youth across Toronto.
Riley Reign (@mxrileyreign)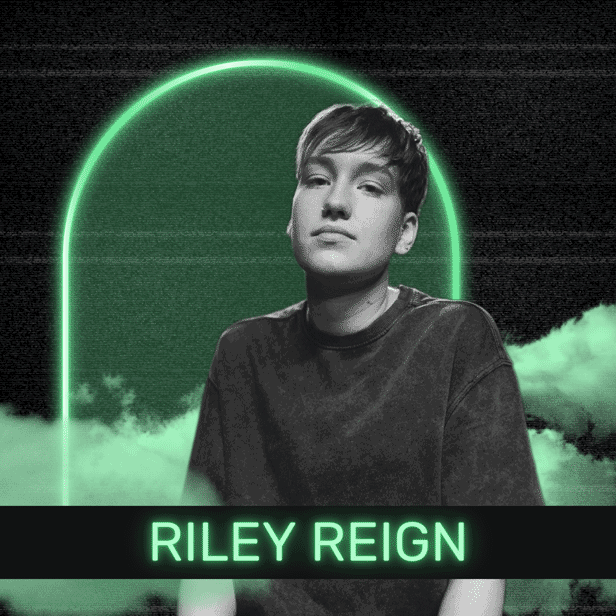 Riley Reign is an energetic and creative multi-disciplinary artist specializing in script and screenwriting, dramaturgy and theatre making, composing, workshop facilitation, 2SLGBTQIA+education and consultation, and voice coaching. With their Masters in Musical Theatre Performance from the Royal Conservatoire of Scotland, Riley Reign has spent the last 5 years living in 4 countries and steadily building their portfolio around the world. Some of their recent accomplishments include co-producing and screenwriting We Can Talk's new online learning - 'the fundamentals of compassionate care' which has already been completed by over 10,000 hospital staff across the UK, and landed Healthy Teen Minds a nomination in the 2020 NHS Nursing Awards. Their work with We Can Talk extends to writing and co-producing the Working Together to Change the Future, which focuses on co-production in the medical field, as well as their recent online event Shift 2020 which featured The We Can Talk Show - written by Riley Reign. Riley Reign is the founder and artistic director of H+Q Productions. With this company, Riley has written, composed, devised and produced a number of shows, most notably Here, Queer & Mentally Unclear, first commissioned by Upstart Theatre as part of DARE Festival 2018, the show has gone on to be performed across the UK, as well as recently being developed into an hour long interactive educational workshop with funding from Arts Council England.
Same as Me (@sameasmemusic)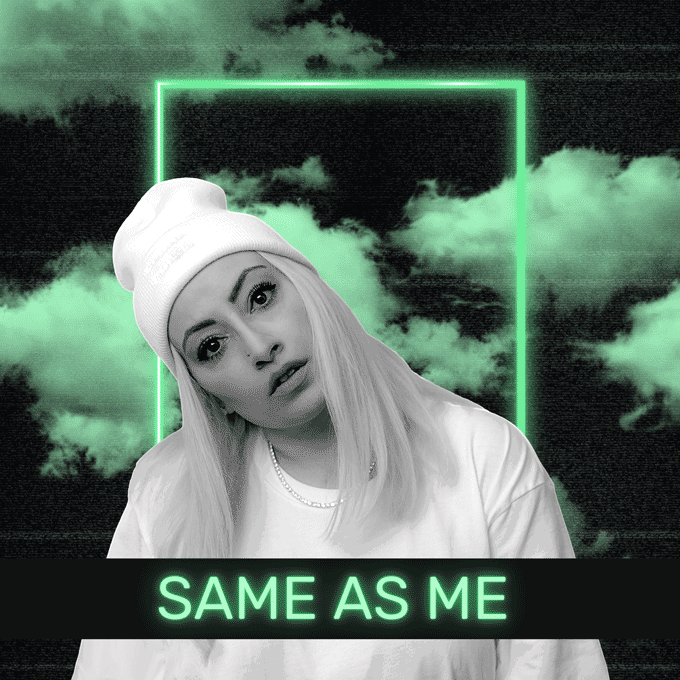 Same as Me is a rapper/producer/singer/songwriter. After building a home studio and adding vocal producer/editor, recording engineer, video creator/director/editor and visuals/apparel designer to her job titles, she harnesses a skill set that allows full creative control. This caught the attention of Roy Hamilton III (#1 Hit Producer and former Capitol Records A&R) who joined her team. Having parents that have both escaped war-torn countries to make a better life, advocacy of equal rights and freedom is crucial to her message.
Thunderclaw Robinson (@thunderclawrobinsong)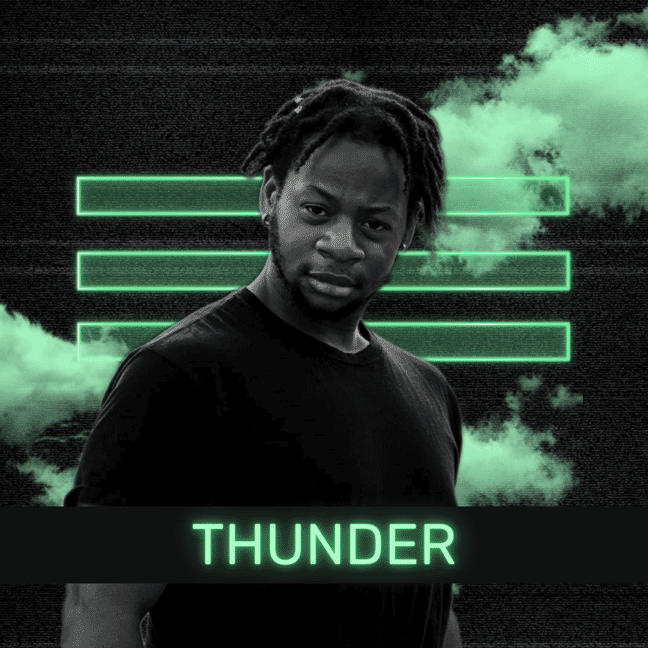 Thunderclaw Robinson is a multi-faceted Poet, Hip Hop & R&B singer-songwriter, who spent many years performing spoken word and rap. His music is full of energy, life, hype, and vitality, a means of transforming negative emotions and energy into fuel for positive change Born and raised in Scarborough, he has shared stages with Ari Lennox & Jessie Reyes and opened for the 44th US President Barack Obama at the "Future of Work & New Economy" Event in January 2020. He has traveled to a variety of locations across the continent to Share Light through Poems and Songs on Stages and Radio Stations and aims to use his experience to assist others in being a step closer to telling their truest story through art.
Your Hunni Ft. Ro Jacquim (@your.hunni/@rrojoaquim)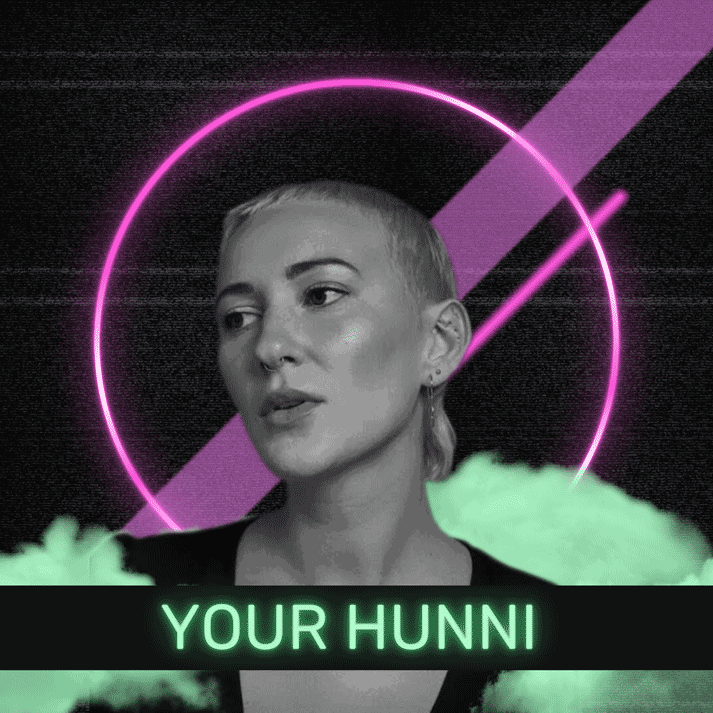 Your Hunni is a nonbinary songwriter and recording artist living in Toronto, ON. Their songs (namely Stereotypes and Need Some) explore themes of gender fluidity, sexuality and self-empowerment. Since putting out their first single in May of 2020, they've released music with Sony Masterworks, Primary Wave and Division88 as part of a project titled Uninvited Guests, in which the piano stylings of Glenn Gould were sampled to create a contemporary collaborative album. Your Hunni is passionate about community care and fostering inclusive, supportive environments in their current position as Community Support Worker in a congregate-care setting with adults who have intellectual disabilities.
Ro Joaquim is a Toronto-based singer-songwriter + spoken word poet. Infusing influences of new wave, soul, and R&B, Joaquim's discography weaves together a collection of sound that's an entirely refreshing and unexpected twist on old favourites. With his gym Phoenix Fithouse, Joaquim runs community classes in exchange for local food bank donations. He also runs a youth mentorship program that gives kids a non-judgemental outlet to discuss their circumstances–which range from experiences with bullying to immigration–while offering healthy lifestyle advice.
After public voting ends, keep an eye out for the free digital Industry Showcase event on February 19th, 7-9PM EST, featuring six industry experts and the Top 3 Artists for Social Change.
For more information on Artists for Social Change, and for a catalogue of featured artists' work visit https://www.artistsforsocialchange.com/