Agnes Denes is an internationally recognized conceptual artist who uses a variety of mediums to explore topics like environment, science and philosophy. Painter, installation artist, and sculptor are just a few of Denes's roles throughout her career.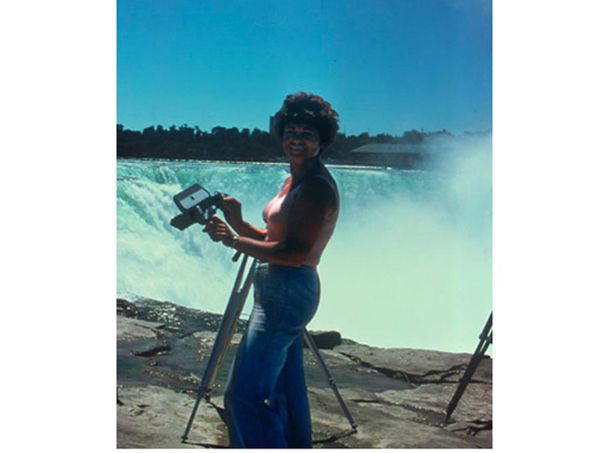 Born in Budapest, Denes's family moved to Sweden after Hungary was occupied by the Nazis and then later the Soviets. Eventually, she moved to New York to study painting at Columbia University. However, she decided to switch mediums, hoping to work with the environment and implement natural materials in her art.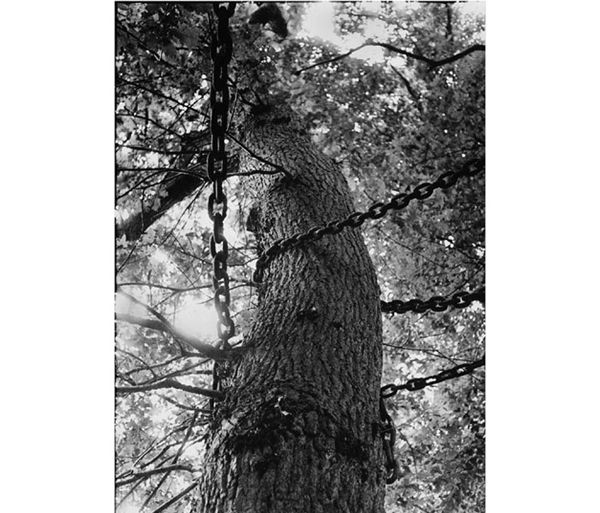 Denes gained notoriety in the 1960s and 70s, establishing herself as a "pioneer of environmental art" with her 1968 Rice/Tree/Burial piece. Located in Sullivan County, New York, Rice/Tree/Burial was an event held by Denes, representing her "commitment to environmental issues and human concerns." Moreover, this event was her introduction to a type of eco-philosophy referred to as Eco-Logic.

The actual event consisted of Denes planting rice, real-life chained trees, and the burying of a Haiku written by Denes. According to her, these three acts represented transitory periods of evolution. The rice represented beginnings and growth, the chained trees symbolized "interference with life and natural processes," and the poem described human intellect and creation. Denes notes that no other copies of the poem exist, solidifying our relationship with the earth during the burial portion of the event. In 1977, Denes re-enacted Rice/Tree/Burial on a larger scale near Niagara Falls. She included a questionnaire that posed existential questions regarding the future, quality of life, and our values.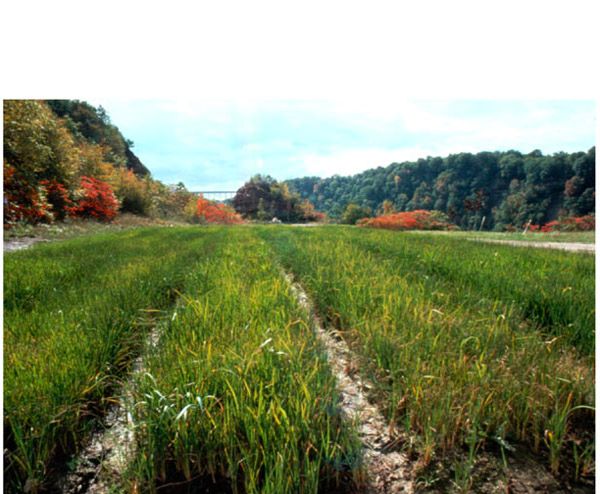 Another notable work by Denes is Wheatfield (1982), a summer-long project where Denes planted and harvested two acres of wheat on the Battery Park landfill, Manhattan. Located just a few blocks from Wall Street, Wheatfield went on for four months, resulting in "over 1000 pounds of healthy, golden wheat".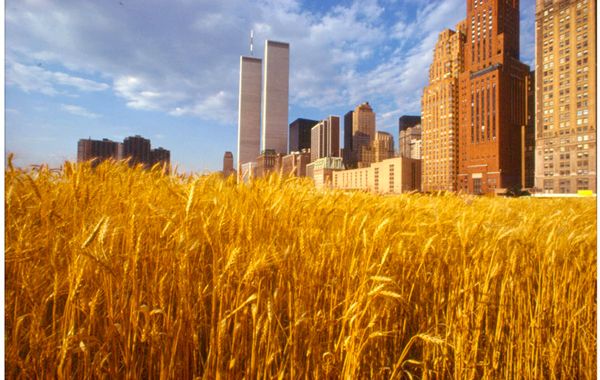 Taking months to plan and prepare, the piece confronted topics like "food, energy, commerce, world trade, and economics." Being built on a plot of land worth 4.5 billion dollars, Wheatfield challenges attitudes surrounding waste management, food insecurity, and resulting concerns about the environment.  Like Rice/Tree/Burial, Wheatfield also featured a questionnaire covering similar questions. Between 1987 to 1990, Denes showcased this harvested grain in 28 cities as a part of the Minnesota Museum of Art's exhibition titled "The International Art Show for the End of World Hunger."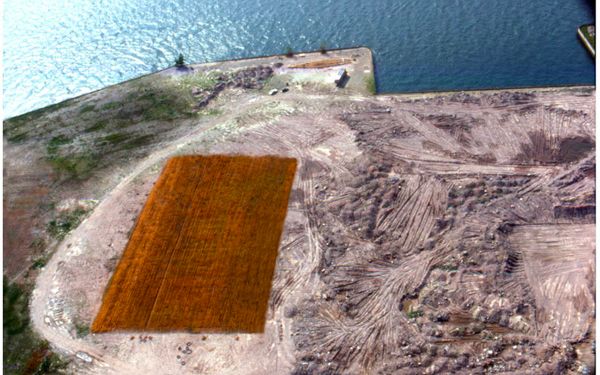 A more recent example of Denes's work is The Living Pyramid (2015), located in Long Island City's Socrates Sculpture Park. A temporary sculpture, The Living Pyramid, was nine meters tall and consisted of "stacked wooden terraces filled with soil and thousands of various living plants." The statue is symbolic of community, care, and regeneration.
Throughout Denes's career, her work is intertwined with the land. Her art addresses a series of topics, relating them to life on earth and how we should understand our relationship with the planet as synchronous instead of separate.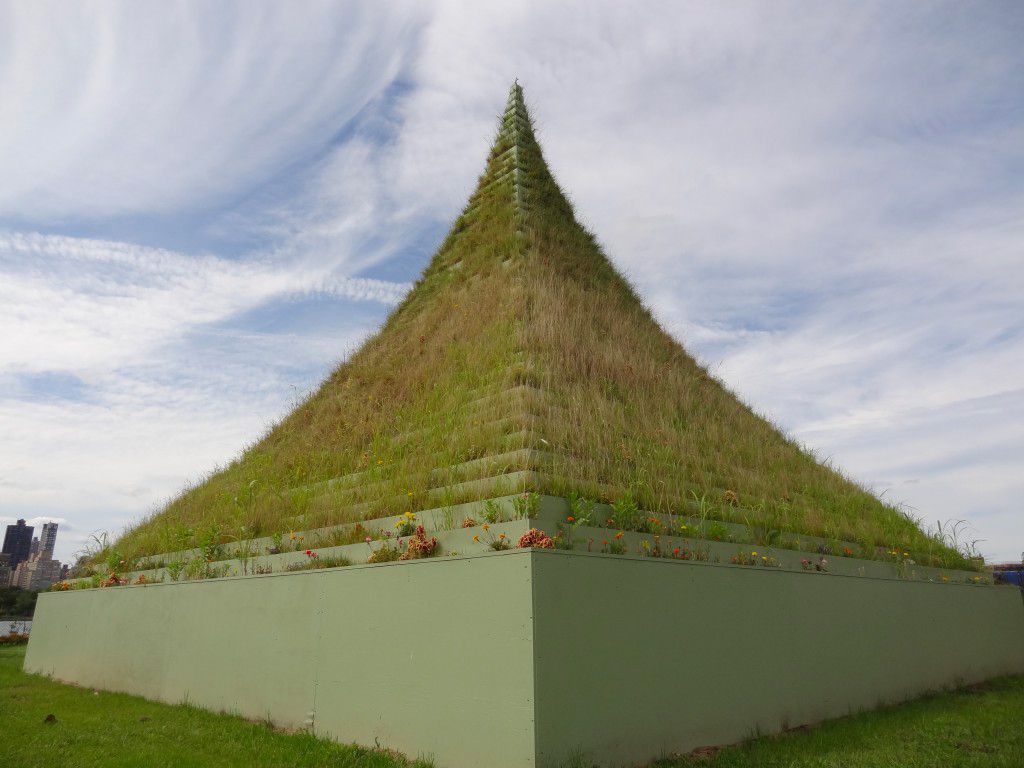 Moreover, Denes centres her art around working towards a more sustainable life. She emphasizes humans' relationship with the earth as intimate, forcing us to consider life quality and future consequences of our actions. Denes helps understand the importance of sustainable living. As an artist, her work directly relates to United Nations Development Goals for Sustainable Cities and Communities.  

Sustainable Cities and Communities works towards making cities "inclusive, safe, resilient and sustainable," specifically with how rapid urbanization impacts the quality of life. Considering how many of Denes' installation pieces and projects juxtapose the ecological realities of urban environments, she forces us to reconsider our impact and how we can interact with the land to protect it.

Denes's art has an element of rebirth, leaving us with an optimistic note. She asks us to interact with the land peacefully and carefully, creating a symbiotic relationship where we prioritize care.
---
To learn more about these projects and Denes as an artist, visit the following links:

To learn more about eco-art, check out these websites: