Indonesian sculpture artist Alfiah Rahdini contemplates what it means to be an empowered Muslim woman living in today's patriarchal society. Her work has been garnering attention worldwide, being exhibited internationally everywhere from the Salvatore Ferragamo Museum in Italy to the Koganecho Art Bazaar in Japan. Without doubt she makes strides that will help achieve the United Nations Sustainable Development Goal of Gender Equality by giving Muslim women empowered and complex representation that defies stereotypes.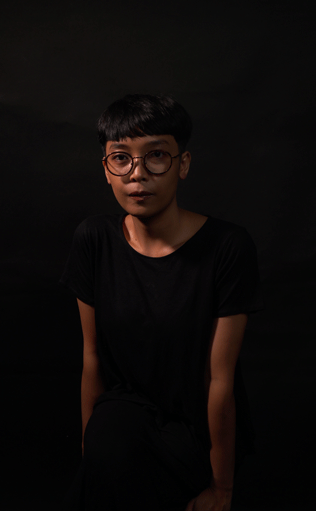 In 2021, she created the sculpture Sri Naura Paramita, which was first exhibited at the Jakarta Biennale. The artwork portrays a woman wearing a hijab meditating on a yoga mat. The lotus throne, a traditional base of ancient Buddhist sculptures can be seen supporting the sculpture reminding  how yoga, once a religious practice in Hinduism and Buddhism, is now recognized as a sport and embraced by people from diverse backgrounds, including Muslim women. Through this depictions of Muslim women engaging in ordinary daily tasks, as sculptures, play a crucial role in normalizing their presence, particularly those who wear the hijab.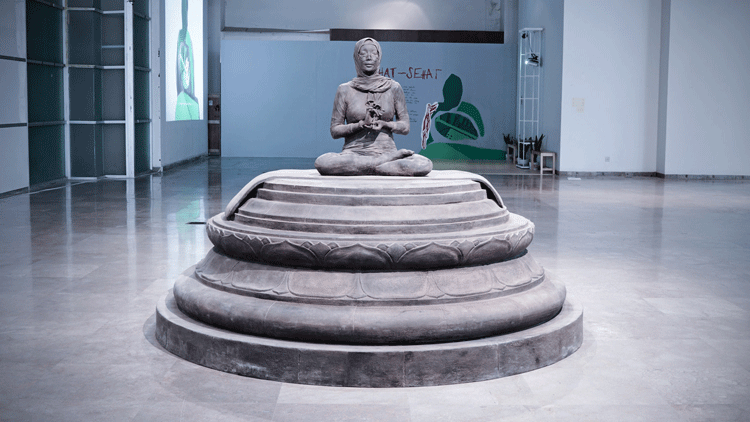 Although  islamophomia has been a  prominent issue in western countries, it is also a pressing issue in other places of the world as well. Recent research conducted in several European countries revealed that Muslim women who wear the hijab, except for in Spain, often face strong negative reactions from a significant portion of employers.  This goes to show that on top of suffering from the same inequalities as other women (such as access to employment, gender pay gap, domestic, verbal and physical violence, etc.) Muslim women have to face the fact that their perceived religious or ethnicity worsens their situation.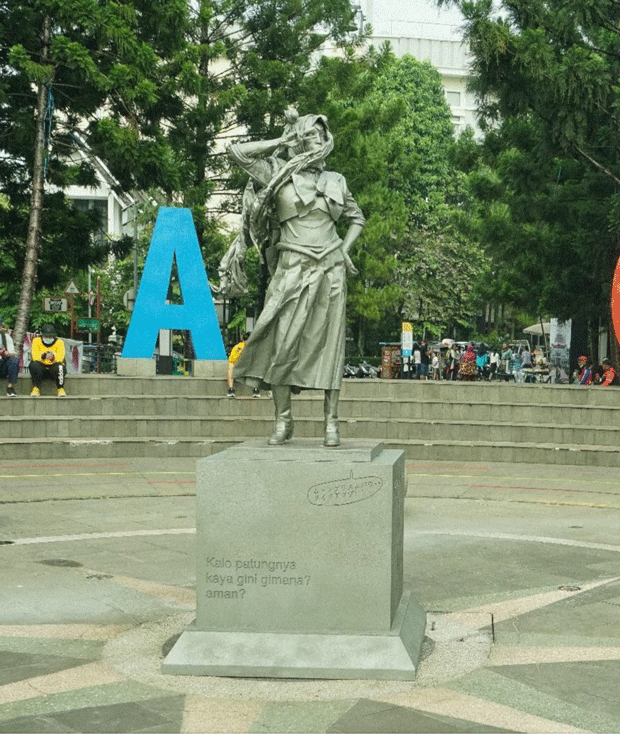 Alfiah Rahdini's sculptures create a sense of hope for Muslim women by normalizing their representation in public spaces. In a public talk during the 2021 Jakarta Biennale, she elaborated that "rather than avoiding the debate, [I] want to present the debate so that we can talk about this."
Rahdini depicts Muslim women as liberated, unafraid of their identity and living their lives to the fullest, doing what they love to do in her artwork which can be seen in  sculpture, Sailor Moonah. Supported by the Koganecho Art Management Center, Sailor Moonah depicts a Sailor Moon cosplayer who wears a hijab. To cater to the modest clothing choices of Muslim women, the artist modified the iconic anime character's uniform by adding a maxi skirt and long sleeves. In 2022, Rahdini also created a playful full color edition of the sculpture at ArtJog, one of Indonesia's premiere art events.
It may appear unusual as hijab-wearing cosplayers are not typically portrayed in mainstream media. However, there is no reason to assume that a Muslim woman cannot participate in cosplay and enjoy her favorite anime character. The situation highlights how societal norms and expectations can limit the roles available to Muslim women, often depicting them as solely defined by their religious beliefs.
This type of stereotyping may reduce Muslim women's identities to a simplistic and inaccurate portrayal, failing to acknowledge their multi-dimensional nature. Although all women are subject to societal expectations and roles, the additional layer of a Muslim woman's religious identity further complicates the issue.
Commitment and bold action much like what Alfiah Rahdini does with her sculptures are necessary to take steps forward in promoting a more equal world.