Jaune Quick-to-See Smith is an 83-year-old artist-activist of Shoshone, Cree, and Metis descent, born into reservation at St. Ignatius Indian Mission, Montana. Smith proudly identifies herself as a cultural art worker, a title that suits her well as she fearlessly expresses an Indigenous perspective borne out of native descent and childhood experiences to a diverse range of mediums: paintings, printmaking, collages, drawings and sculptures.
Abandoned by her mother, Smith was left in the care of her father, a horse trader whose work demanded him to move between reservations and travel extensively around the Pacific Northwest and California. Smith's perspective was significantly shaped by her formative years, marked by extreme poverty, a nomadic upbringing, and being forced to work at canneries and farms during breaks from school.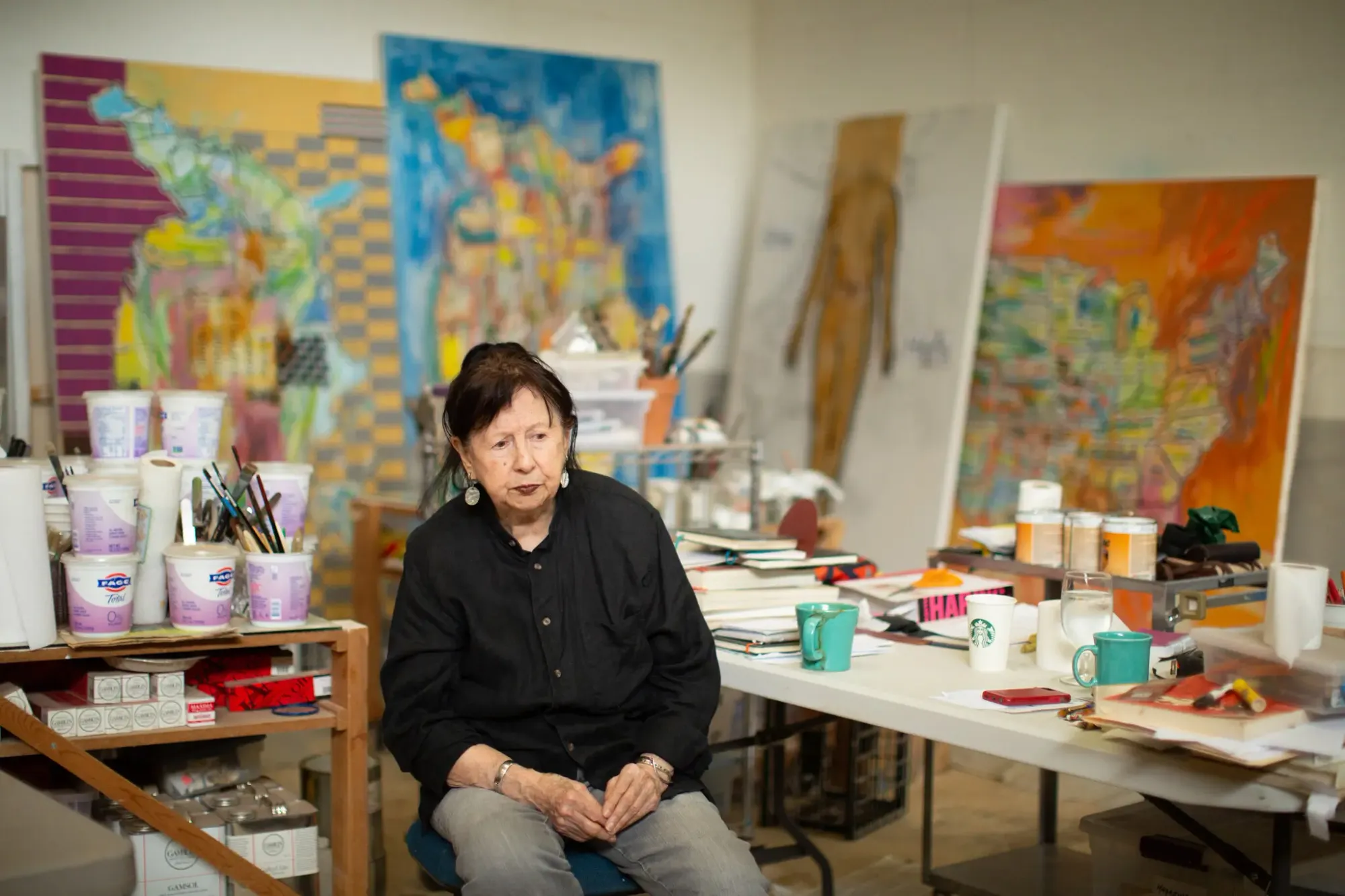 In an interview with Smithsonian Museum, Smith recalls early memories of her father drawing little animals she would carry in her pocket. Books and art became her refuge, transporting her to a world free from the shackles of violence, hunger, poverty, fear and the harsh realities she lived in. Smith decided to pursue art at school, but she faced a discouraging encounter with a white high-school counsellor who emphatically stated, "Indians never went to college." Undeterred by this oppressive belief, she continued to defy the odds. A professor at Olympic College recognized the superiority of her art in comparison to her male peers but callously claimed that women could never be artists.
Her reality and story strike a chord with the experiences of numerous Indigenous women of her generation. Committed to feminist and Indigenous issues, she uses her work to amplify and advocate for the United Nations Sustainable Development Goal of Gender Equality and women's empowerment. As an Indigenous woman, she has come to understand the interconnectedness between colonization, systemic mistreatment of Indigenous people and people of colour and environmental destruction.
Growing up, Smith encountered both Native and non-Native societies growing up, and she developed a style that draws from both white and native traditions situating her art to bridge the divide between the two worlds. In an interview with The Vulture, she candidly expressed that her early abstract work held personal significance. Yet, they fell short of conveying the essence of Native American culture to a broader audience.

Drawing inspiration from American painter and graphic artist, Robert Rauschenberg's collage aesthetic, her "signature style," a collage and abstract painting hybrid, slowly emerged. Fearlessly working across a range of mediums and materials, from maps, figurative art, landscapes, ancient petroglyphs, rough drawings, acrylic paint, charcoal, prints, and text, she successfully demonstrated that modernism and Indigeneity could harmoniously coexist in the realm of art. Through her life's work, she aspires to be an ambassador for her community, offering a profound commentary on contemporary life in America (today's tribal politics, human rights and environmental issues) and interpreting it through a native and satirical lens.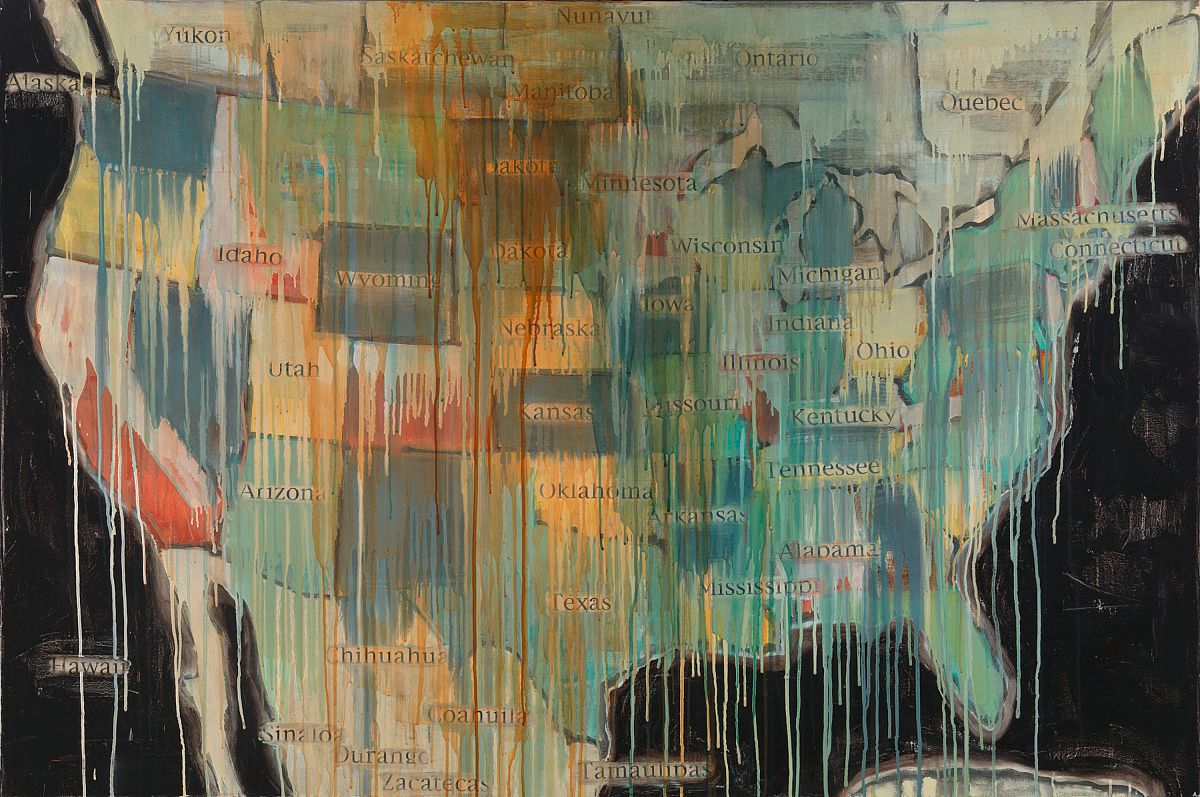 Smith discovered the powerful potential of maps as mediums to tell compelling stories. In one extraordinary piece titled State Names, she obscures a map of North America using newspaper clippings and layers of oil paint. By deliberately eliminating all state names with European origin and leaving only Indigenous states visible, she brings attention to the historical injustices endured by Native Americans.
When encountering the artwork, viewers become attuned to the blurred state boundaries, black oceans, and dripping paint, evoking a visceral sense of contested land and historical bloodshed. Juane utilises these maps as a powerful catalyst to confront the political treatment of Native communities, serving as poignant symbols of the painful history of stolen lands. Her work stimulates viewers to reconsider notions of identity, heritage, and history, thereby contributing to the noble endeavour of reducing inequality —an imperative within the United Nations Sustainable Development Goal.
Smith's work is a powerful critique of the alarming disregard for treaties between the U.S. government and Native Americans. Her work demonstrates a clear connection between the reckless plundering and exploiting of land; the struggles Indigenous communities face, and the urgent need to address Climate Change, a United Nations Sustainable Development Goal.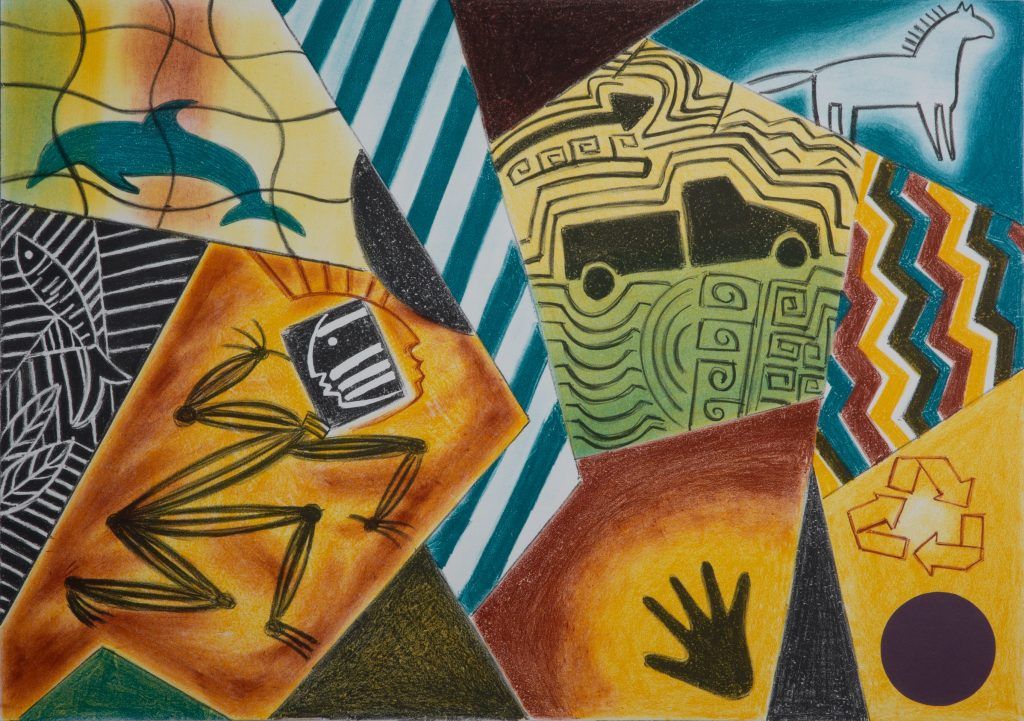 Ode to Chief Seattle is part of a series of ten mixed-media artworks named after Chief Sealth, the Suquamish and Duwamish chief for whom the city of Seattle is named. He is renowned for a speech he gave in 1854 in response to the American Government's land treaty to buy the native lands proposed by Issac Stevens, the Governor of Washington Territory, where he stated, "The air is precious to the red man, for all things share the same breath—the beast, the tree, the man, they all share the same breath...We are part of the earth, and it is part of us."
In her landscape series, Smith departs from the gentler forms of her previous work, introducing visual tension through pastels. These pieces skillfully juxtapose geometric and organic forms, interlaced with destruction symbols that evoke anxiety and urgency. She creates a powerful visual narrative that both awakens and challenges viewers to contemplate the environmental consequences we face.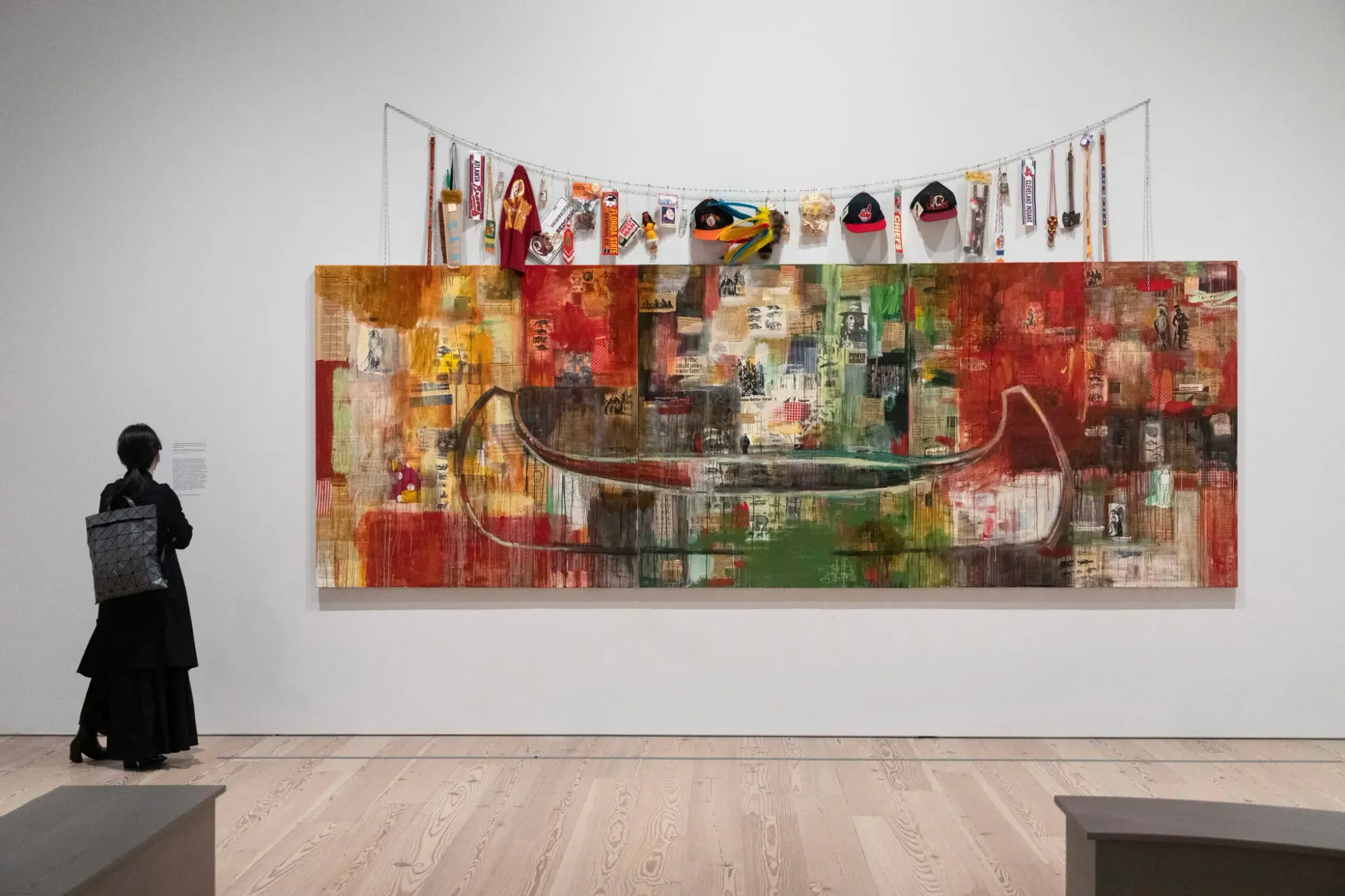 Jaune Quick-to-See Smith: Memory Map includes 130 pieces from over five decades and is the first retrospective of a native artist that the Whitney Museum of American Art has organised, forcing uncomfortable questions on why this wasn't done before or why are Indigenous artists not on anyone's radar?

At the core of her work, she shares a story, bringing visibility and encouraging conversation and inclusion of the Native American perspective.