Artist Yeil Ya-Tseen Nicholas Galanin recently made headlines when he dug a grave on Australia's Cockatoo Island, Sydney's Hyde Park. For the 22nd Sydney Biennial, the Alaskan artist created an installation of an imagined grave for Captain James Cook's monument. Cook was an 18th century British Royal Navy Captain who sailed to the Great Barrier Reef area of Australia and "discovered" many Pacific Islands, such as New Zealand and Tonga. The artist Galanin wanted to question the celebration of the statue. Entitled Shadow on the Land, an excavation and bush burial (2020), the piece appears as a large hole in the shape of the controversial statue on Cockatoo Island in Australia. Galanin made the site appear as if it were an archaeological dig where the shadow of Cook's monument has been excavated. He explains that in doing so, the work "inverts the gaze of archaeology, which has often framed Indigenous culture as belonging to the past" (Biennale of Sydney). Indigenous culture is still alive but continues to be affected by colonialism.
Galanin is a native Tlingit-Unangax̂ artist from Sitka, Alaska. His artwork explores his own Indigenous culture and others: "we share similar colonial struggles with racism, erasure, and other disparities implemented and upheld by colonial governments" (Vulture). Galanin wants viewers to recognize the collective history and pain that colonialism has caused. His new work asks us to consider: what do colonial monuments represent, and who are they for?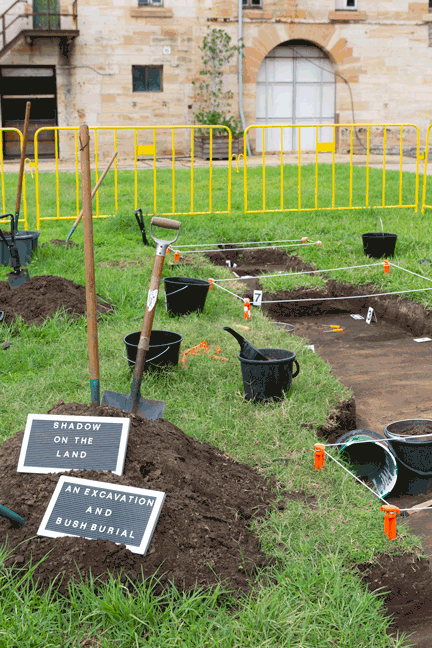 Galanin's installation Shadow on the Land comes at an apt time, as many Black Lives Matter protesters have been calling for the removal of colonial and confederate statues, monuments and symbols. In the past month, protesters have been covering monuments in graffiti, protesting, and even removing statues themselves. Some city officials support the removals, while others have raised concerns over the preservation of history. However, many join calls to end racist practices and want to take down the symbolic celebration of slave owners, colonizers, and white supremacy. Change is in the air, and protesters call for accountability and awareness surrounding a grievous colonial past. Many of these monuments, from Europe to Australia and the U.S., memorialize white men who murdered and enslaved Indigenous people and forcefully took their land away from them.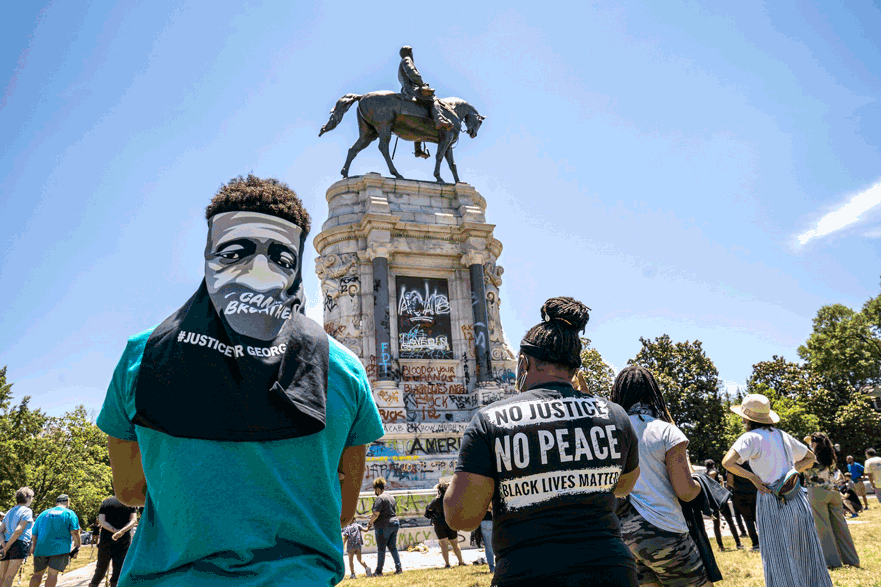 As protests ensue and monuments are toppled, Galanin's work is the icing on the cake. Galanin draws attention to colonialism's abhorrent past and reminds the public that Indigenous people are still very much alive and continue to suffer at the hands of colonialism. His new work, Shadow on the Land, asks us to look at and question past European invasions and a Eurocentric society. The piece serves as an invitation to lay brutal and destructive pasts to rest rather than remain in celebration. Shadow on the Land imagines a future where the land and its native people might heal from the colonial wounds.
Shadow on the Land, an excavation and bush burial is on view on Cockatoo Island through September 6.