Jon Key has always been an artistic person. As a child, Key remembers making crafts with his identical twin before venturing into theatre, music, and the magic of HTML. As Key grew up, he expanded his interests and began creating work that reflects not only his identity as a queer Black man but what this means in the context of living in America.
Now, using paint, silkscreens, and collaging techniques, Key's work consistently touches on the UN's Sustainable Development Goals of Reduced Inequalities and Peace, Justice and Strong Institutions to emphasize his desire to portray the future of Black and queer Americans and the fragmented American Dream.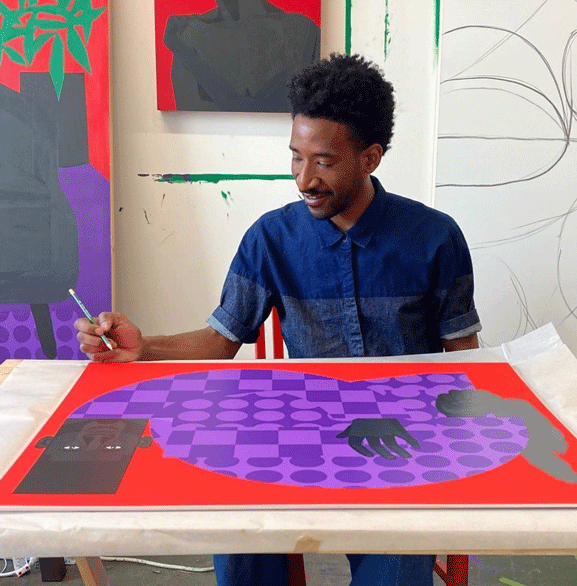 Key has a very distinct style inspired by the likings of Henri Rousseau, painting lush dreamscapes into many of his pieces. His work uses a geometric and graphic style, combining both nature and hard shapes. It would be hard to find a piece without a green, black, violet or red catching your eye as Key uses these four colours to represent his identity and passion through his work.
To Key, green represents the deep south, black represents race, violet represents queerness and red represents his family. In fact, Key attributes a lot of who he is to his large extended family that he grew up with and became fascinated in painting portraits  trying to find physical differences between him and his twin brother. In an interview with It's Nice That Key stated, "all of the story and meaning behind my work is truly inspired by my life and my own personal history."
In fact, not only does Key use colour and shape to express his identity and connection to America but uses the actual space of the canvas.
In nearly all of his work, Key designs his subjects as if they truly are trapped in the canvas, having to bend their bodies to fit the frame. Key does this with a purpose, representing how limiting it can be to be a person of colour in Alabama, where Key grew up.
It was not only his upbringing that inspired Key but violence towards LGBTQ2+ communities and people of colour that began shaping his work and continuing to allow him to ask questions about what it means to take up space as a queer and Black man.
In 2016, after a man shot and killed 49 people at the Orlando Pulse nightclub, Key began to examine what safe spaces really look like for LGBTQ2+ people and people of colour, and how they use these spaces.
Currently, the Pulse club massacre is on record as one of the deadliest mass shootings of LGBTQ2+ people in the United States. And while the law enforcement officials deemed that the attack was not motivated by homophobia, it still raised questions about where people in marginalized communities can be truly safe and themselves in the country.
According to Pew Forum, Alabama is one of the least accepting states of homosexuality and their current laws do not recognize attacks against the LGBTQ2+ community as hate crimes.
Key's exhibition, Violet Mythologies and Other Truths was created in response.
"[In 2016] there was a lot of fear and anxiety responding to mass shootings, police violence and the stripping of LGBTQ+ rights," Key told MAAKE Magazine.  "As I continued to build the world for [the Man in the Violet], I realized I can create spaces that reflect my community and what I wanted to see in the world."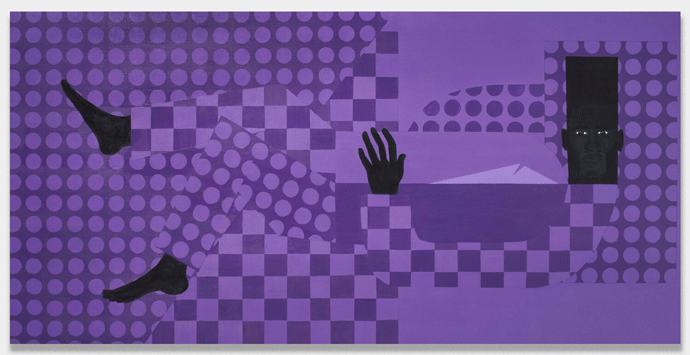 "My work challenges space, perception and the performance of the figure. The Man in the Violet figure, specifically in my earlier works, responds and contorts to the opaque space that he is, but is looking directly at the viewer with unrelenting strength, power and will."
Key now works alongside his twin brother Jarret Key who is also an artist, confounding and leading Codify Art, which is a collective that showcases the works of people from marginalized communities.
Codify Art represents artists, designers, directors and poets who advocate for "dynamic dialogue," and even launched a mutual aid fund for Black and queer artists who have been affected by COVID-19 in 2020. They continue to run art supply drives and host workshops for both adults and children.
Key told Maake Magazine that he feels "every day the world is becoming more aware of their roles in oppression and structural racism."
"This does not mean the end is in sight, but I hope that the continuation of self-education, financially supporting QTPOC/BIPOC artists and organizations, and advocating for greater empathy for each other will continue to build."