As the COP26 summit goes ahead in Glasgow, Scotland, world leaders practice their hand wringing while sharing polished speeches about the necessity of collaboration to stop climate change. To reach their global target of securing net-zero emissions by 2030, nations of the world will have to quickly transition out of a resource-based economy that degrades the environment and displaces communities.

The United Nations Sustainable Development Goal on Responsible Consumption and Production will mean more than a slow decrease in the coal burning, gas-guzzling fuel that drives the engine of capitalism. It will mean taking that engine apart and rebuilding a reality around Sustainable Cities and Communities (SDG 11) that focus on protecting all Life on Land (UN Goal 15) as well as Clean Water & Sanitation (UN Goal 6).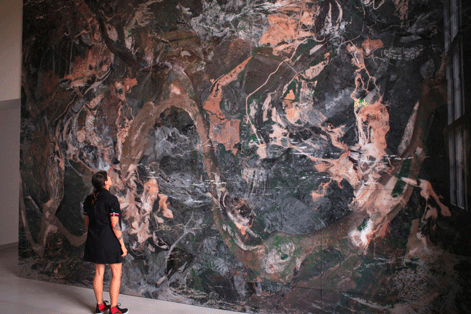 Carolina Caycedo's piece entitled "The Collapsing of a Model" is, according to her artist statement:
"A diptych documenting two catastrophes caused by the collapses of the Hidroituango dam on the Cauca River in Colombia and the Brumadinho mining dam in Brazil, both deeply affecting humans and non-humans through death, displacement, forced evictions and changing ecosystems. The diptych uses mapping, military technology, aerial and satellite surveillance imagery, to trace the flow of money at national and international scales, and the corporate and government interests that underpin its infrastructure."
The piece is currently on display courtesy of ArtworxTO's "Year of Public Art'', an initiative by the City of Toronto to promote art in the city. Union Station, a connecting hub for the metropolis that operates like Grand Central Station in New York City, transports both city dwellers and people from outside Toronto into its financial heart. It may be circumstantial, but the positioning of this work at as important an urban artery as Union Station, situated at the foot of Canada's Wall Street, is incredibly impactful.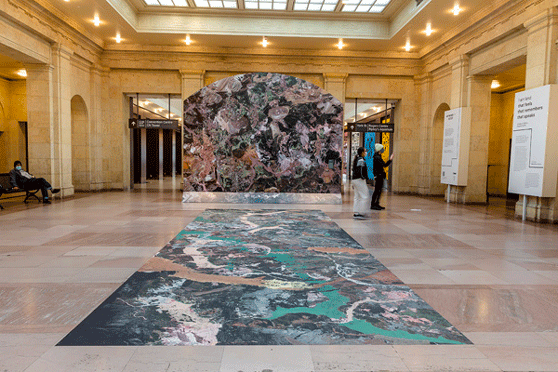 Vale, the Canadian mining megalith whose projects were responsible for both disasters, received their funding from Export Development Canada, a state-owned credit agency whose mandate is to support and develop trade between Canada and other countries. What exactly did Vale Canada export to other countries?
In May of 2018, the 4.5 billion-dollar Hidroituango dam displaced more than 100,000 people when its failure led to massive flooding and soil erosion that will impact that ecosystem for years to come. In January 2019, the Brumadinho mining dam also failed, flushing a tsunami of mud and toxic iron ore waste into nearby towns and the Paraopeba river, resulting in the deaths of 270 people.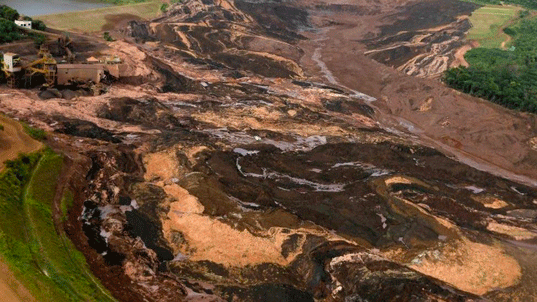 Looking at the aerial footage above, one can see the same trail of disaster reflected in Caycedo's work, a satellite's envisioning of the ecological devastation caused by manmade incompetence and insatiable hunger for energy. The scale of the piece is immense, bringing to mind both the size of the disaster and the repercussions on a global level, and for me, also speaks to the size of the challenge before us on a planetary scale.
According to a 2021 Global Citizen article, BIPOC populations are disproportionately experiencing the impacts of climate change, through the flooding of their homes, contamination or vanishing of drinking water, disrupted local economies and extreme heatwaves. It points to racial disparities stemming from global inequalities that limit poor or working-class peoples' ability to anticipate and adapt to climate change, as well as centuries of colonialism based on White supremacy, or what the late Nobel Prize-winning human rights activist Archbishop Desmond Tutu referred to as "climate apartheid", as major factors. Caycedo, when speaking in a Q&A with the Art Gallery of Guelph on the impacts of colonialism in her work, stated the following:
"Sites of resistance are built-in processes of co-creation and the result of working side by side with social movements and communities. I'm regularly incorporating into my learning process various Indigenous, ecofeminist, and other intersectional frameworks that analyze pressing ecological issues such as climate change, nature rights, green capitalism, extractive economies, environmental justice, among many others. The unprecedented environmental and pandemic challenges of our time require a constant and critical action; it demands sites of resistance and mutual care."
How many of our majority cis-gendered White male leadership would share Caycedo's recognition of nature within an Indigenous, ecofeminist and intersectional framework that understands "all bodies of water are connected [and are] what links humans with other ecosystems?"
What Caycedo's work exposes is the institutional systems in place that allow for planetary degradation for profit, as well as the economic drivers and racial disparities that, until recently, have justified it as a necessity for the advancement of our civilization. In the same Q&A, when asked what she hoped viewers take away from her work, Caycedo had this to say:
"I hope to raise awareness about how the current extractivist economic model, as well as the mining-energetic one, are models built upon structures of death; death of entire ecosystems, as well of death of Indigenous, Black, Brown and other POC communities. I want to centre the debate in public rural spaces, multiple ecosystems, relations of power, the need of a just energy transition model, and the aim for a diversity of models based on sustenance, rather than extraction."
The model that is collapsing is the ecosystem that sustains life on Earth. The model that needs to collapse in order to save it is the carbon-based fuel economy that we've relied upon to advance our technologies; one that threatens to break the natural world around us. At COP26, my hope is that our leadership comes away with a plan to collapse our old model so that future generations will have a chance to enjoy the one nature has already given us.
---
To see more of Caycedo's work, visit her website here.