The Transformative Chic: The Everlasting Cheongsam Exhibition shows how the cheongsam modernizes and changes while retaining the essential classic characteristics. It highlights how cultural items are not meant to gather dust in attics, instead meant to be shared and invite audiences in for cultural appreciation.
Cultural representation is necessary to accomplish the United Nations' Sustainable Development Goal (SDG) 10: Reducing Inequalities. The United Cities and Local Governments (UCLG) wrote in 2018 that cultural participation could empower and promote inclusivity.
Artists can give voice to marginalized communities and create positive narratives, which is the exhibit's intention.
The exhibition began on June 2nd, 2021, lasting until June 18th in Vancouver's Pendulum Gallery and July 31st at Toronto's The Oval in Yorkville Village. It displayed modern and innovative cheongsam designs from nine Hong Kong artists.
Rather than displaying the traditional Shanghai-style Cheongsam, called the qipao, the designers created contemporary cheongsams to show how the piece is not just a historical item.
"We know about cheongsam; we want to present it in a very nice way," Hong Kong designer Grace Choi said. "Cheongsam is a very traditional style, so for us young designers, we want to present it more fashionably."
"[Cheongsam] is a living heritage," the Hong Kong Economic and Trade Office Director Emily Mo said. "It's dynamic; it's brilliant, it's transformative.
"The general community, when they pass this shopping mall, or they just walk by the gallery; they can have a taste of the Hong Kong fashion nowadays."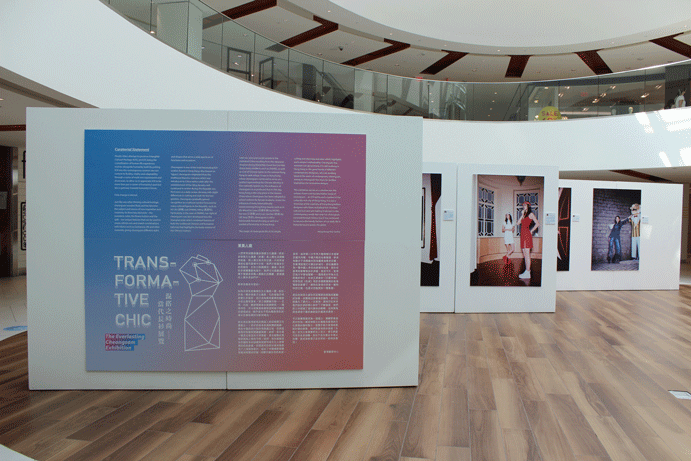 A dress with a history

While the qipao or cheongsam's history is long and complex, stemming from Manchu origins, Mo said it is now a symbol of Chinese culture.
Chinese American International School board member Sally Yu Leung wrote in "The Last Empress in Qipao: From Manchu to China Chic" that the term qipao, meaning "banner dress", can be traced to 1583 under Nurhaci, a Tungusic Jurchen member. In 1626, Nurhaci's eighth son Huang Taiji renamed the tribal name from Jurchen to Manchu.
When the Manchu took over Han China and began the Qing dynasty in 1644, they required all men to wear the Manchu dress and braid their hair in a queue. However, this dress is vastly different from the traditional Chinese qipao.
The Manchu dress had a rectangular shape, designed to hide the body's silhouette. But by the late Qing dynasty, the exhibition indicated, "Under the influence of Western fashion, the silhouette of dress grew slimmer and revealed the figure more."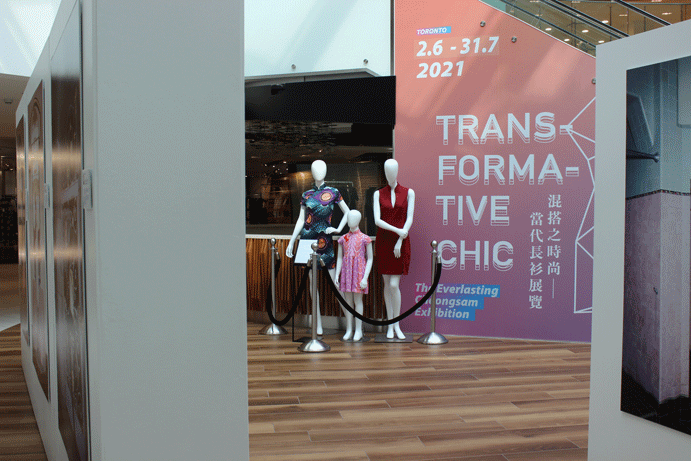 After the 1911 revolution and subsequent end to the Qing dynasty, the qipao underwent more drastic changes. During the May Fourth Movement and the early 1920s, women began wearing men's robes to assert equality. The exhibition notes that the 1930s design reflected the additional Western influence with slimmed waists, side slits, and a sweep that matched the hip's width.
When the political situation escalated in mainland China during the 1940s due to the Chinese civil war, many skilled tailors left Shanghai and relocated to Hong Kong.
"Their distinguished workmanship and aesthetic sense raised the technological level of cheongsam production to new heights and made an important contribution to the development of the cheongsam business in Hong Kong," the exhibit read.
The fit of the dress

By the 1950s, the essential characteristics emerged since households could afford their own sewing machines to make their own cheongsams. While colours and patterns often differ, cheongsams all feature a mandarin standup collar, asymmetrical openings, frog closures, and side slits. They also often use traditional shell fabrics with decorative motifs.
The exhibition focuses on reintroducing the old tradition with modern elements since the cheongsam is still commonly worn in Hong Kong. Mo wore it during her high school days. She said, "Cheongsam is not just a costume for special occasions, it remains very well in our daily life."
But the typical cheongsam style is designed to be tight-fitting. For Choi's label Yi-Ming Asia she created a maternity collection that can be worn during and after pregnancy. The design features a wrap dress style with an open collar.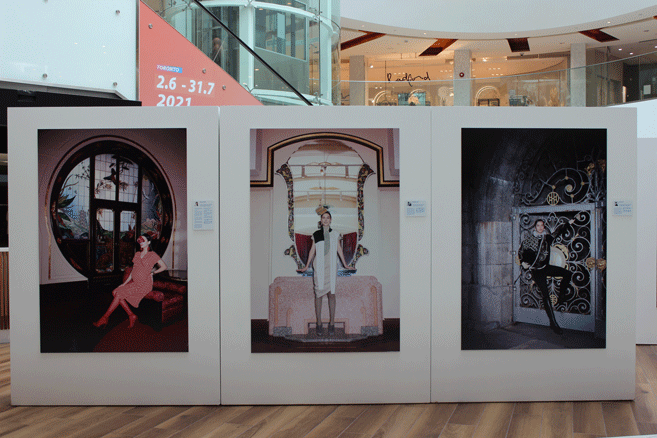 Choi also aims to create fun and playful designs for children. "Through the kids' style, we can teach them about what is cheongsam, what is the meaning of cheongsam," Choi said. "When they grow up, there are less and less people who appreciate the cheongsam, and with this, the culture will be gone with time."
"Let them not forget about our special culture," Choi added. Since the development of the cheongsam reflects the history of China, Choi said when children wear a cheongsam, they would also learn about their heritage.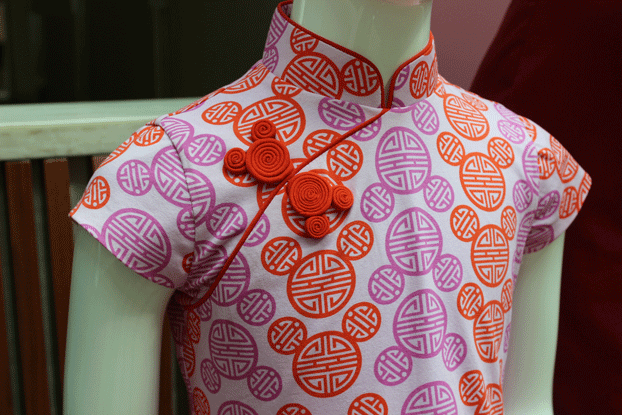 Mo said one main goal of the exhibition is to introduce excitement and interest in Chinese culture to the Canadian community. She wanted to show how cheongsam is a part of daily life.
"When we present some of the art of cultural pieces that are beautiful, and a community appreciates, it helps people understand our culture and like it," Mo said.

Choi reflected on how formal wear is typically characterized as Western-style clothing. "But in the other way, we want to also introduce the cheongsam style to Western people to learn about our style of dress," she said. "[The cheongsam] can be really presentable, beautiful, to different occasions."
"I think this is also a good way to introduce a more proper, positive image of the cheongsam to non-Chinese people about that."
Choi worried that cheongsams are primarily worn in costume party settings, often sexualized to be shorter with larger slits based on depictions in mainstream media. These images also propagate over-sexualization and fetishization of Chinese and Asian women.  
"To us, [cheongsam] is a very positive and a very formal dress as a traditional way with a long history background," Choi said. "We hope they will appreciate this long history and culture and wear a more nice image and elegant style to different locations."
By highlighting positive and beautiful facets of the culture through design, Choi hopes to reduce social inequalities, relating to the UN's SDG 10.

"Cheongsam also represents how Chinese people deserve respect. It is not just a sexy image; it is also a very elegant, formal, and positive image," she said. "This represents how we can also succeed and do good in the world." Choi hopes the Chinese diaspora in Canada feels empowered by the exhibition.  
This exhibit welcomes all viewers to purchase cheongsams from Chinese and Chinese-owned tailors and designers. Mo said anyone could wear cheongsams as long as they respect the culture.
"I hope that holding this kind of exhibition to promote our culture can positively help the Canadian friends to understand us, understand our culture," Mo said.