When thousands of fish were found to have died in Lake Erie in 2014 due to plastics in the water, American artist Sandra Hansen began investigating pollution in local waterways, the Great Lakes, the Northern Pacific Gyre - and creating art with it. Sandra Hansen (b. 1954) is an eco-artist, papermaker, environmentalist, and public speaker from the city of Holland in western Michigan. She brings attention to plastic waste pollution and its devastating effects on marine ecosystems by recycling, upcycling and repurposing polyethylene plastic in her work.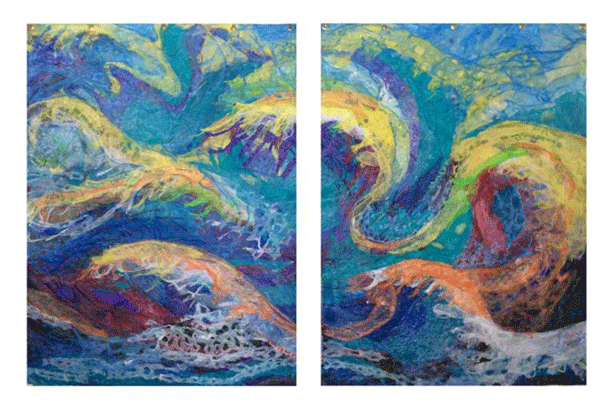 As Hansen immersed herself in water pollution issues, her own work began changing. Abstracts of water became the motif of her art, whether it was in the form of waves, bubbles, waterways or the sea. Oil paintings of fish mired in algae infused with pollutants marked her first foray into eco-art. For example, her work Algae Bloom (2014) features a dead silvery-white fish floating in Lake Erie on a blanket of green algae, an algal bloom caused by agricultural and industrial waste runoff.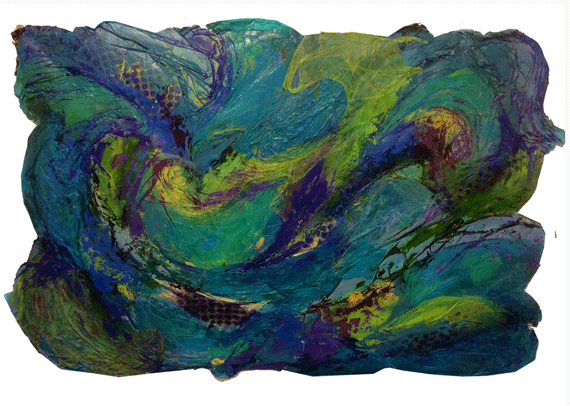 Feeling that she needed to utilize more environmentally sound materials, Hansen set about fashioning her canvases of water with salvaged polyethylene bags. By calling attention to a critical pollution issue through the creation of environmentally sound and eco-friendly plastic and paper works using recycled and upcycled found materials, Hansen engages with the UN Sustainable Development Goals  6, 12, and 14: Clean Water and Sanitation, Responsible Consumption and Production and Life Below Water.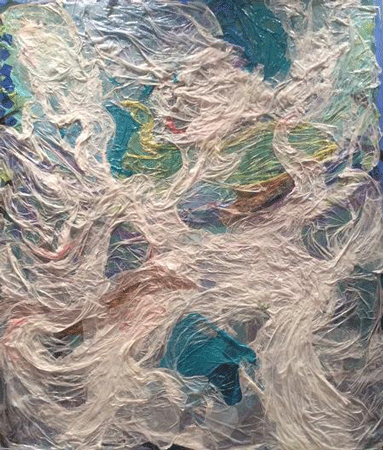 One of the projects she has created is a series of eight plastic "paintings" she ironically calls Our Exquisite Pollution. To create the pieces comprising this series, Hansen took salvaged plastic bags, slashing and fringing them into shapes reminiscent of sea foam, swirling and layering her materials to form abstract, biomorphic works of art. Fabric, ink and paint provide additional colour, definition and texture. Each painting incorporates an average of 300 salvaged bags, representing the minimum number of polyethylene bags the average person uses annually.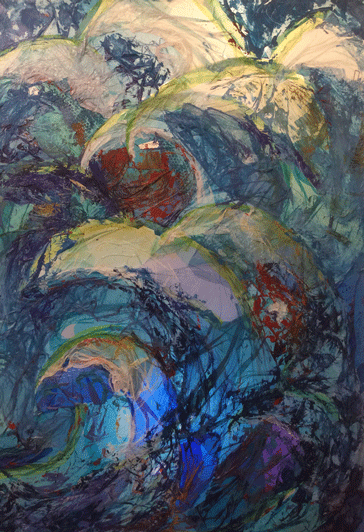 Durable and flexible, polyethylene is one of the most widely produced plastics in the world and the most common plastic in use today. It is the chemical compound primarily used for packaging, trash and shopping bags, cling-wraps, food bags, agricultural mulch, wire and cable insulation, squeeze bottles, children's toys, and housewares. It is virtually non-biodegradable and can be toxic if inhaled or absorbed as a vapour or liquid; killing fish and other marine life. Hansen takes this noxious substance and makes something beautiful from it.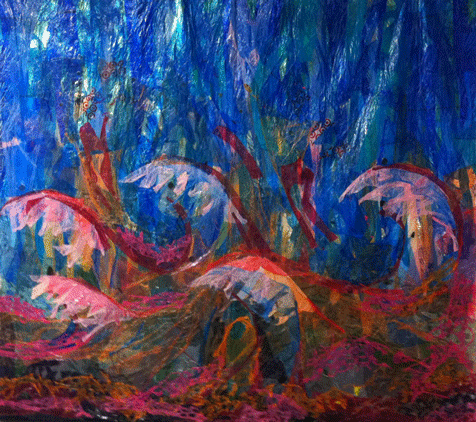 Hansen's Wave 4, part of the Our Exquisite Pollution series, is a nod to the nineteenth century Japanese Ukiyo-e artist, Hokusai (1760-1849) and his woodblock print, The Great Wave off Kanagawa (ca. 1830-1833). Although sometimes assumed to be a tsunami, it is likely an immense rogue wave. In Japanese culture, a wave or seigaiha symbolizes power and resilience, the irresistible force of nature. In Wave 4, Hansen reimagines Hokusai's print incorporating polyethylene as well as latex gloves, which also make up a portion of the plastic polluting earth's waters, to embody the wave. Human-generated detritus has become the enormous, unrelenting wave in this work.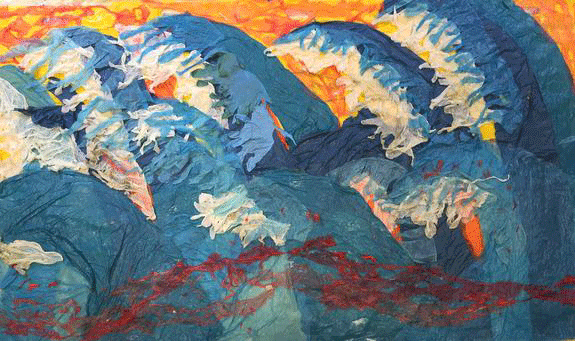 Another piece in the Our Exquisite Pollution series, Animas River, Durango, commemorates with recycled polyethylene and plastic netting an industrial chemical pollution accident. On August 5, 2015, the U.S. Environmental Protection Agency and its contractor tragically polluted the Animas River in Durango, Colorado, while attempting to clean up an old mining site. Three million gallons of toxic wastewater and tailings with heavy metals were released into the river. The water was turned a bright golden yellow and the rocks became covered in garish slime.
As the accident spread, it affected not only waterways in Colorado but Utah, New Mexico, and the Navajo Nation as well. Hansen devised her painting to memorialize the event. Animas means "soul" in Latin. The painting portrays a fractured river as though personifying the trust lost in a government that not only caused but tried to minimize the horrific accident. The Our Exquisite Pollution series explores "the dichotomy of plastic-based pollution in opposition to the natural beauty, fluidity and transparency of both plastic bags and water". These "plastic bag paintings" are both aesthetically pleasing yet speak to the incomprehensible problem of polyethylene plastics polluting our waterways.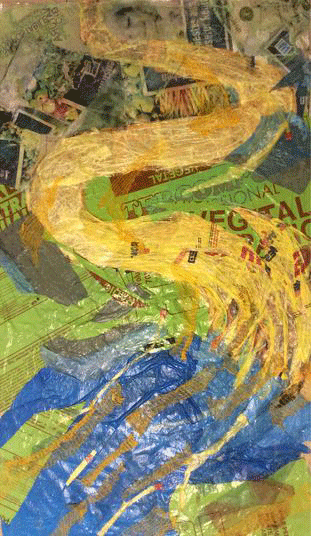 At the microscopic level, a complete breakdown of the material may take thousands of years. In the meantime, plastic bags, bottles and other debris decompose through wind and wave action and the microplastics formed permeate the environment. No one knows the long-term ecological and economic impact. Estimates to abate plastic pollution in the Great Lakes alone are in excess of $400 million annually.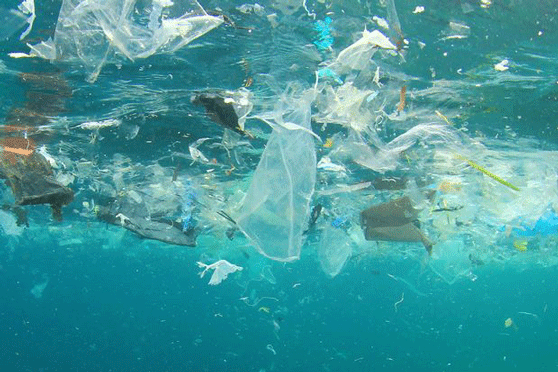 As of 2017, over 100 million tons of polyethylene resins were produced per annum, accounting for 34% of the total plastics market. Every year, 28 million tons of plastics out of the 1 trillion plastic bags produced worldwide end up in our water systems through littering, illegal dumping, discharges from storm drains and sewage outfalls. Ships release 20% while 80% comes from litter, industrial discharge, agricultural runoff and trash mismanagement. Much of this will break down into microplastics but these may be even more harmful to the environment, wildlife and humans.
After studying papermaking in 2015, Hansen became a papermaker, giving up solvents, gel mediums, and paints to work in a more environmentally sound manner.  She switched to paper art, repurposing plastic debris by putting polyethylene directly into the pulp with leaves and bark. She also designed an ecologically sustainable pulp pouring system that recycles and reuses water yet still enables her to make large sheets of paper with which to work.
"The beauty of the paper shows us the beauty of each of the objects that we love until they decay into pollution," Hansen says.
She has continued the water pollution theme begun with the plastic paintings in the Our Exquisite Pollution series in mixed media paper works incorporating found objects and natural pigments. An example of this is a gorgeous yet unsettling piece entitled Fire and Water (2015) which refers to the Cuyahoga River in Ohio that was once so badly polluted it infamously caught fire.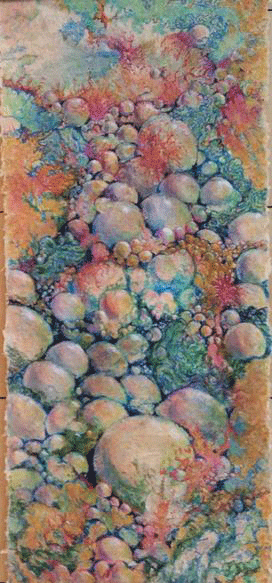 Hansen uses her leftover paper scraps in ceramic bowls and to make handmade journals, so nothing is wasted. Each journal is made using text blocks–the precut and bound inside pages of a book– from Kagzi Industries in Jaipur, India, a family-owned, ecologically sustainable papermaking factory where Hansen spent an artist residency in 2017.
That experience inspired Hansen to purchase text blocks and use her own handmade paper and original drawings for the covers to craft her journals. The text blocks are fastened with ecologically sound and archival wheat paste glue or PH glue and use recycled, upcycled and repurposed materials.
To see more of Sandra Hansen's art, such as her Women of the Civil Rights Movement installation, visit her website, here.