As we explore traditional handcrafts of South Asia, many come to mind as the region's art signifies processing materials by hand using hand tools. The craft through which art is cultivated holds a deeper meaning to the natives as it highlights their cultural ancestry. Materials that have been utilized come from ancient and revised traditional art crafts as this handicraft is frozen in society, preserving cultural heritage in forms of ideas and work ways. These highlight the region's values, fashion and most importantly, self-image.
Artisans possess technical data of work and materials on which clients depend on manual skills. These tools of power drive the workforce as the theme-based craft is comprehensive. These artforms highlight diverse types of craft known as Naqshi work, Dabka and Tilla work. Of the three, Dabka and Tilla work involves needlework, the craft in which the needle is the medium of construction.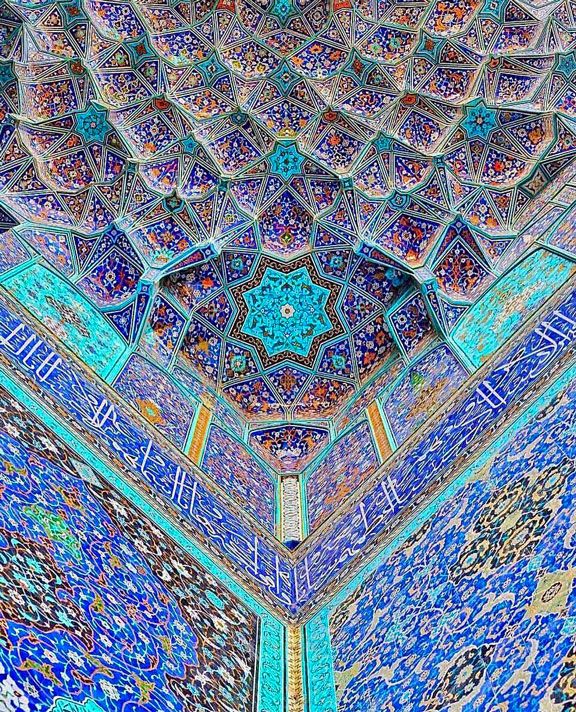 The art of Naqshi is known as illumination, closely related to calligraphy, holding illustrious history in the arts of Muslims. Naqshi work uses ornaments to design, etch and carve out patterns that are delicately painted. Artisans have decorated the Quranic words in distinctive designs and colours. Few civilizations offer a wide and rich range of art as the religion of Islam does. Naqshi work includes the art of decoration and writing with significant and delicate motifs that began in the Byzantine Empire. Muslims explored illumination craft as it held a strong aesthetic appeal. It went through the initial stages of painting. However, political instability affected ateliers that performed the artwork during the political and technological onslaught from 750 to 17th centuries AD. During this time, due to a lack of a peaceful environment and of patronage, the artistic vocation gradually declined.
Soon after its independence in 1947, the nation of Pakistan pressed upon attention and demand for the development of arts and crafts. With hopes of gaining an income, illuminators started to work in small pockets finding their foothold. A Naqshi work exhibition was recently held in the Co-opera Art Gallery in Lahore, which showcased the talented artists who ventured into the time-consuming and delicate craftsmanship. The guild hosting the event aims to revive the glory of Muslim artisans in the field of illumination. Since its inception, classes have been held to teach the craft at national and international levels to benefit calligraphers and artists, preserving history, culture and the craft at hand. Illuminators incorporate traditional classical styles of roundels, medallions, palmettes and arrow points. The colours used in the art pieces also highlight the vibrant nature of the traditional style and genre of the work done so on vases, walls, crockery and many more.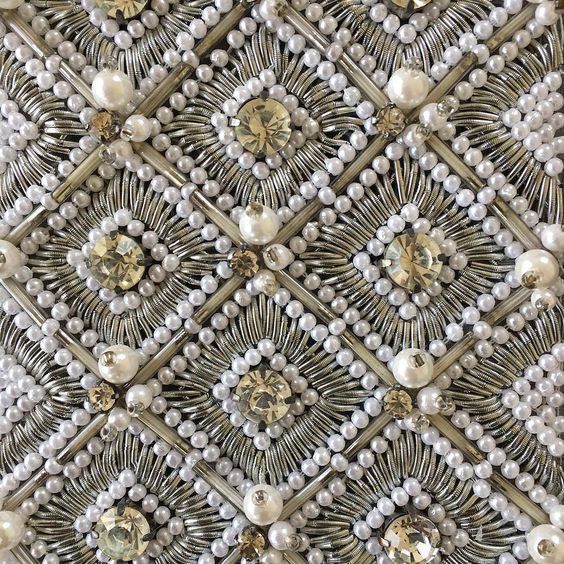 Moving on to a more intricate style of craft done so by hand, we come towards Dabka and Tilla work. The word Dabka constitutes a spring of thread, or a coiled wire used to sew in creating intricate patterns and designs. These wired threads are used for embroidery on a piece of fabric. It is an embroidery more popularly known as needle and thread work originating from the lands of Rajasthan. Mostly done in gold and silver, the needlework is crafted after the fabric is hand printed with precise and meticulous designs. The form of craft is used to make wedding dresses, formals and even decorative fabrics for house interiors famous in the South Asian region.
Dabka work was introduced by the Mughals in the 16th century, like Zaridosi work, it highlights its opulence. Inspired by Persian works (and words), as Zari means gold while Dosi means embroidery. The metallic threads are used on velvet and silk fabrics along with incorporating precious stones that make luxury items worn exclusively at weddings and formal events as a traditional piece of clothing.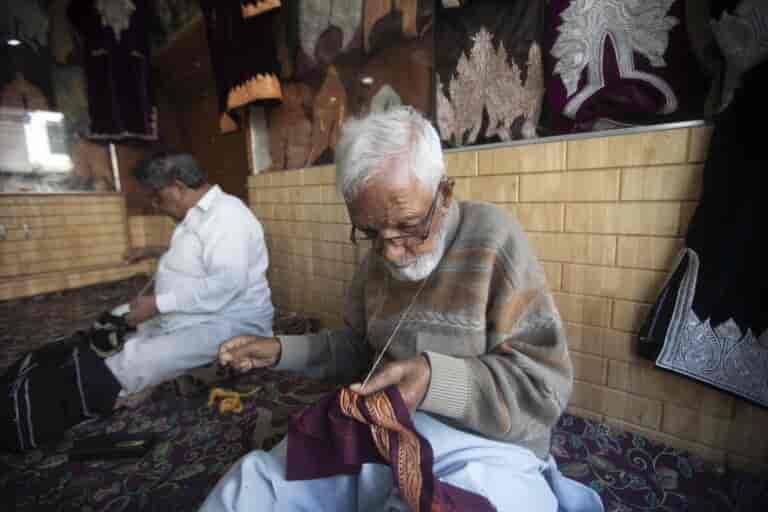 Tilla work is another form of South Asian hand art. It is the traditional craft of Kashmir used to adorn shawls and clothes. Gold embroidery is embedded upon shalwar kameez, sarees and other garments native to South Asians. It involves gold and silver metallic threads as the artisans decorate the cloth with intricate patterns. A bride's dress is considered incomplete without Tilla work. Mohammad Shafi Mir, a Tilla artisan became the master of embroidery in Kashmir as he started to learn the craft as a child. After ageing now, he has taught the skill to many across Kashmir, he states, "Art used to be considered even better than education in Kashmir. Nobody would prefer doing jobs, working for other people back then." Although these crafts are popular, it does not pay well without a label or a brand.
In advocating for more economic opportunities to provide sustenance to preserving historical crafts, the ancient handwork of South Asia reflects upon the United Nations Sustainable Development Goals for Decent Work and Economic Growth and Sustainable Cities and Communities. Craftsmanship has been the main source of income for artisans back in the day and plays a big role in the fashion industry as weddings provide people with great business by buying luxury wear incorporating needlework as mentioned above. These also include everyday wear that highlights embroidery in casual dresses. Furthermore, Dabka, Tilla and Naqshi work also contribute to preserving forms of art sustaining communities and culture, providing a clear direction to the art literate audience and enhancing the image of South Asian states.
Therefore, we see the traditional handwork of the region highlighting Naqshi, Dabka and Tilla's work. While many more forms of handwork exist, these highlight great opulence and provide popularity among the natives of the land. Incorporated for daily wear, casuals, formals and especially bridal wear, the work has become a symbol of luxury as it takes hours to intricately carve out patterns and designs.
More forms of handicrafts in South Asia can be seen here.