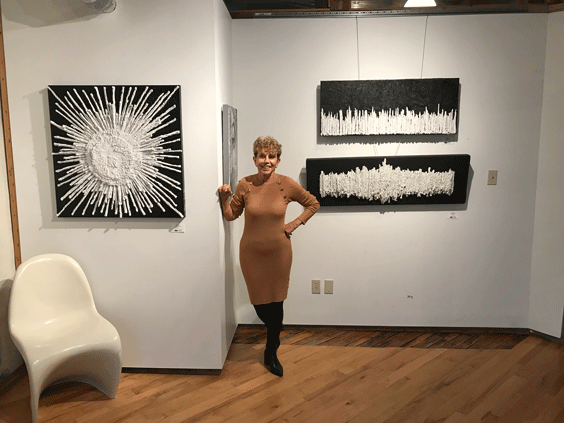 As de rigueur as it is to blame the Boomer generation for the threat of climate change, it's important to remember that there are members of that group who are also doing their part to address it. In that spirit, it's perhaps fitting that Del Foxton, a self-taught artist and member of the aforementioned generation, is informed by an ancient form of handmade paper production in her modern-day environmentally responsible practice.
A retiree, Foxton lives between Canada, Florida and The Bahamas, the latter locale being the birthplace of her 17-year-long upcycling practice and her brilliant handmade wall sculptures. Her repurposing of materials exemplifies the eco-friendly values behind the United Nations Sustainable Development Goal on Sustainable Consumption and Production. Recently, she exhibited her work in a group show at Heritage Alton Mills Art Centre for their annual Headwaters Arts Fall Festival Raising The Bar, a juried exhibition of 80 different works from 45 local artists.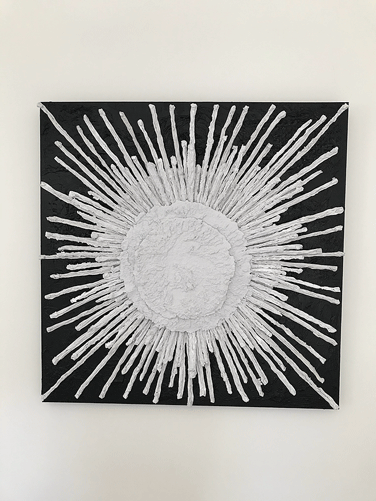 "Once I transitioned from a corporate background to a quiet island in The Bahamas, my creativity blossomed," says Foxton of her burgeoning practice in an interview with Arts Help. "There was limited recycling on the island and I needed to address the mounds of paper waste produced by my career and family."

An internet excavation led her to a method of paper production that began circa 105 AD in China and spread around the world as a result of the silk trade. "Over time the process was industrialized but the original method is kept alive today by global artisans," says Foxton, who reached out to these individuals and connected with them through conferences and associations.

"I am now one of the global artisans keeping this ancient art form alive, and I'm delighted that in my small way I can lessen my carbon footprint while indulging my artistic passions."

Foxton employs this knowledge in her practice by using barrels of water to transform her primary materials, discarded paper and plantlife, into a form of paper pulp. That pulp then becomes the foundation of her sculptural work, on and off-canvas.
Every great artist needs a dedicated workspace for their endeavours and Foxton has a studio in Canada, Adagio Beach Cottage Studio in Florida, and her independent Gallery and studio on Grand Bahama Island. "As an outgrowth of my eco-philosophy at Adagio Gallery, I specialize in transforming paper waste into innovative, eco-friendly wall structures for home and office," Foxton explains. "Clients and galleries have welcomed art that honours the earth that sustains us."

Since her early beginnings in 2004, Foxton has continued her artistic development with international teachers in a variety of mediums. Working with organizations such as The Bahamas National Trust, an entity responsible for protecting and educating the populace about The Bahamas' natural resources, Foxton passes on her knowledge to the next generation of eco-conscious artists.
"I'm pleased to have found a community through art associations in the Bahamas, Canada and Florida, that provide friendship, guidance and exhibiting opportunities," Foxton says, particularly enthused about her activities through The Bahamas National Trust. "The Bahamas National Trust has many programs that allow me to share my passion with a new generation of young artists, and it's fun to watch children mess with the paper pulp and create something unique."
There's a prevailing theory that the Boomer generation doesn't care about climate change because they won't be around to live through the worst of it, but the existence of a "Del Foxton" complicates that equation. As an elder artist whose experience of nature isn't just one of experiencing it, but also refashioning its detritus into something that harkens back to its original beauty, Foxton defies that narrative.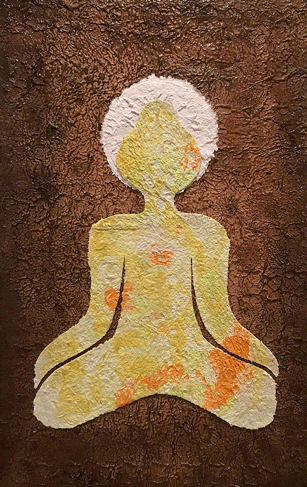 I asked for a final summation of her practice and why she feels so strongly about making environmental stewardship a hallmark of her life and art.
"My creative energies are stirred when I experiment with things which may be considered discards from the environment, seaweed washed on the shore, clippings from the garden hedge or household and career paper waste. I attempt with my artistry to bring pleasure and a feeling that all is well with the world. This may not be the reality, but just being in the moment makes it so for me and I want to share that feeling thoroughly in my art."
---
To learn more about Del Foxton's practice, you can follow her on the following platforms:
@delfoxton on Instagram
@delfoxton on LinkedIn
@ms.delfoxton on Facebook
@delfoxton on TikTok