Born in 1972, Japanese artist Chiharu Shiota uses art as the vehicle to express her emotions in ways that words cannot. Shiota's work centers around fundamental themes of life, death and relationships, and explores human existence through creating large-scale installations - elements that touch upon the United Nations Sustainable Development Goal (SDG) prioritizing Good Health and Well-Being. Since her diagnosis with cancer, creating art helps her overcome major obstacles, with her life being a source of inspiration for her work. By viewing her work, others are able to enter into intricate connections with Shiota herself. Since Shiota's diagnosis, she has committed herself to creating honest artworks, resulting in exceptionally beautiful and highly personal pieces that draw with thread through the air.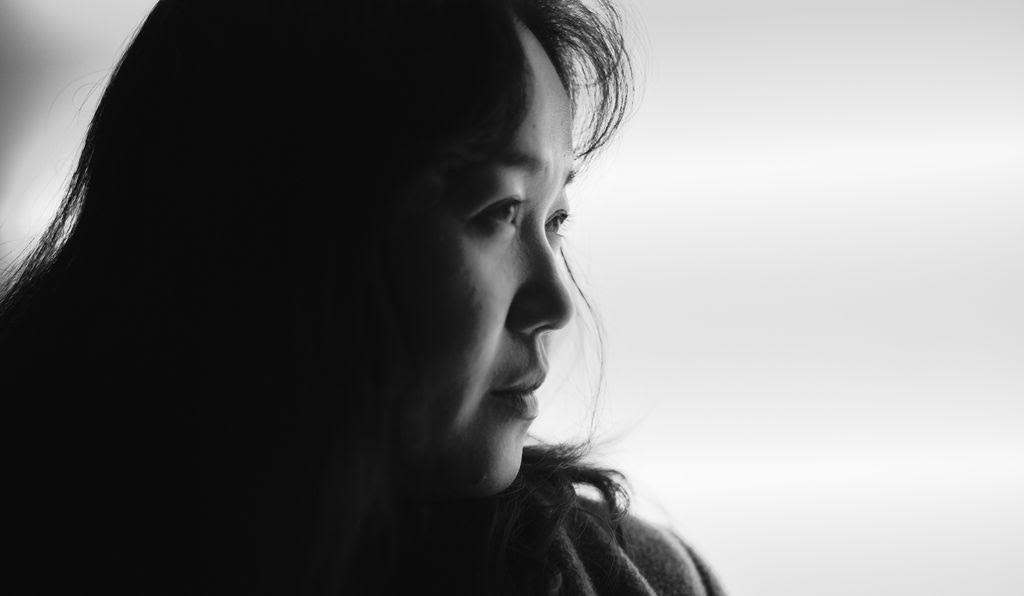 While she now works almost exclusively with thread, this was not always the case. Having begun her studies at Kyoto Seika University in Japan with a semester abroad at the Canberra School of Art, Australian National University, she focused on painting and performance. At the time, she aspired to become a painter. While she states that she appreciates the rich history of painting, she feels that it is no longer connected to her own history and finds a sense of incompleteness in this medium.
When painting no longer served to bring her meaning, she then began to step into an infinite 3D universe that her bold installations offered and finally felt liberated because of it. She remains, however, motivated by the power of memory – a concept that comes up repeatedly in her work. While her signature works remain to be installations created with string, she also works by drawing and sculpting.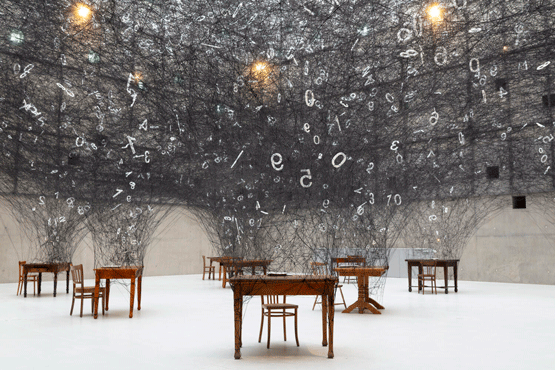 Leaving for Germany, Shiota studied under Marina Abramović. This experience encouraged her to prioritize the power of absence in her work, which brings us to her yarn-web creations. As a type of drawing through space, the webs she creates result in a psychological experience with colour being paramount. Relying time and time again on the colours red, white and black, colour is the center of her work.
Red readily suggests blood, an ongoing journey and the red string of the 'fated path' highlighted in Japanese, Chinese, and Korean cultures. Black and white, on the other hand, link to death and hopeful energy, respectively. Viewers of Shiota's work have the opportunity to draw from their own experiences and feelings towards these colours. Her work is powerful because of its ability to connect to individuals and the sense of self-awareness it provokes through the weaving of thread. Not only does this connect to the deeper psychological and emotional level of the SDG on Good Health and Well-Being, but it also touches on the importance and reality of human connections with others we all have in society that makes the SDG on Partnership for the Goals necessary.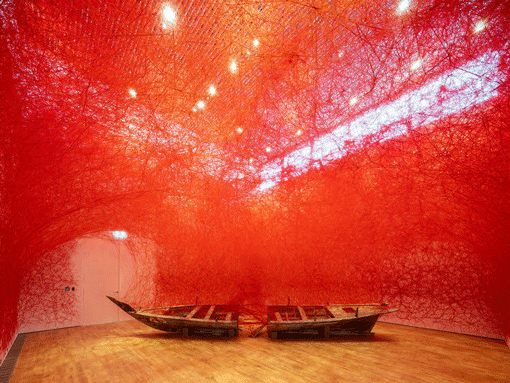 Weaving string around frames of metal, Shiota creates both small and large-scale installations. The attention surrounding her work has grown due to her skill in creating highly sophisticated works that simultaneously appear both fragile and ambitious, and by her appearance in the 2015 Venice Biennale as part of the Japan Pavilion. Everyday items are incorporated into her work and include chairs, beds and keys. These objects remind viewers of the stories they carry, hold within them and connect us with. While the artist no longer creates paintings, she finds that the lines she creates with yarn imitate the stroke of the paintbrush weaving stories in their own way.
"Threads become entangled, occasionally they brittle and lighten up as if to connect the mental universe that exists within me to the cosmos outside."
(Excerpt from Chiharu Shiota, Shiota Chiharu: The Soul Trembles, Mori Art Museum)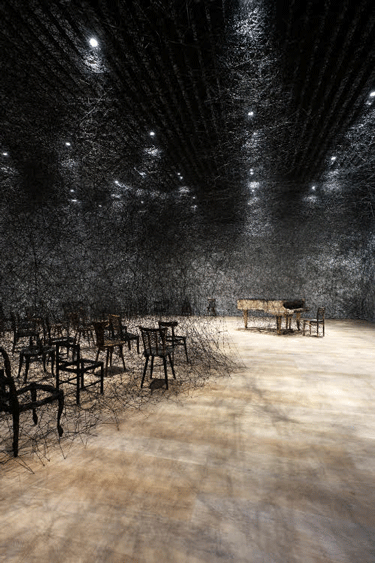 She has been living and working in Berlin for more than two decades and considers her move to Germany as the incited action that has allowed her to understand herself better. Using yarn, Shiota finds that the material acts as a mirror of her feelings, speaking to the tension we often see in human relationships. It is this ability of her works to visually articulate such complex feelings that commands so much of our attention. When exhibitions end and her thread dismantled, Shiota finds contentment in her work living on in the memories of others.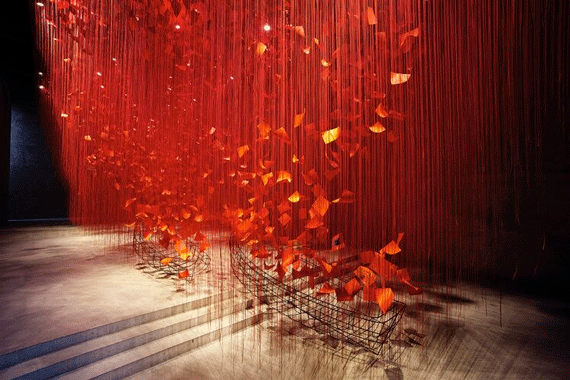 If you want to see more of Chiharu Shiota's work and see how they touch on the concept of good health, well-being and connection, you can visit her website and Instagram.