The demonstration of resilience, survival and empowerment in Australian aboriginal art is captivating in its portrayal of cultural power and provides important perspectives to fight against racism and social injustice.
Artist Dylan Mooney's exhibition currently at the Museum of Brisbane, Blak Superheroes, uses comic-book style illustrations of First Nations Australian characters depicted as superheroes to address and amplify stories of representation and power.  
Dylan Mooney was born in 1995 and is a Yuwi man from Mackay in Queensland, Australia, with cultural connections to Darnley Island in the Torres Strait and the South Sea Islands. As a multimedia artist, Mooney uses personal and cultural inspirations to demonstrate the heroism of Australian Indigenous Peoples and to counteract the devastating effects colonization has had on the culture and identity of Indigenous Australians.
Mooney's work encompasses drawing, printmaking and street art, while also using digital illustration. Some of the characters Mooney has created represent LGBTQIA+ communities, while also referencing the strength of minority cultures. All demonstrate a power and strength that is uniquely their own.  
Dylan Mooney speaks on his exhibit, Blak Superheroes, which I was fortunate to see firsthand at the Museum of Brisbane: "Blak Superheroes addresses and amplifies stories of representation, creating change that uplifts ourselves and the mob. Aboriginal and Torres Strait Islander peoples have had important roles throughout history to the present day. Blak characters' representation in history has always been in the background, never the focal point, and characterized by racist stereotypes. These works reflect the resilience, innovation, and empowerment of Aboriginal and Torres Strait Islander peoples to not only survive but to thrive in so-called Australia."
Mooney's artistic focus on the significance of Aboriginal and Torres Strait Islanders from history to present-day addresses the United Nations Sustainable Development Goal for Reduced Inequalities.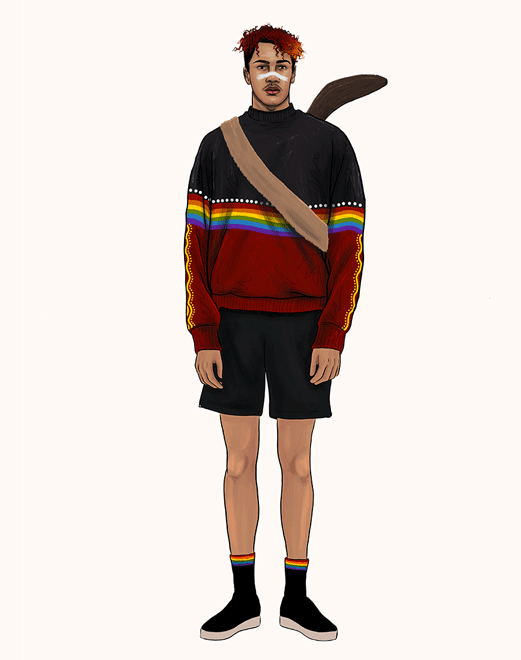 ‌In further support of Aboriginal and Torres Strait Islander peoples of Australia, donations are accepted at ANTaR, a national advocacy organization dedicated specifically to the rights and overcoming the disadvantage of Aboriginal and Torres Strait Islander people. Additionally, NACCHO, the National Aboriginal Community Controlled Health Organization, works to provide comprehensive primary health care for Aboriginal and Torres Strait Islander people focusing on the cultural, physical, social and emotional wellbeing of aboriginal people in aboriginal hands.
For more of Dylan Mooney's art visit his Instagram at dylanmooney__.