London-based creative Elissa Brunato is a self-described concept designer, sustainable material explorer, and design researcher. With a background in embroidery design and production, she has worked at both Ready-to-Wear and Haute Couture Studios as well as artisanal workshops in India, China, and Italy. With her previous work experience, Brunato came to recognize the "global environmental implications," caused by designed based industries. Additionally, "she gained an understanding of how materials travel through disjointed and often fragmented supply chains, and saw how craft practices and local landscapes are affected by industrial pressures."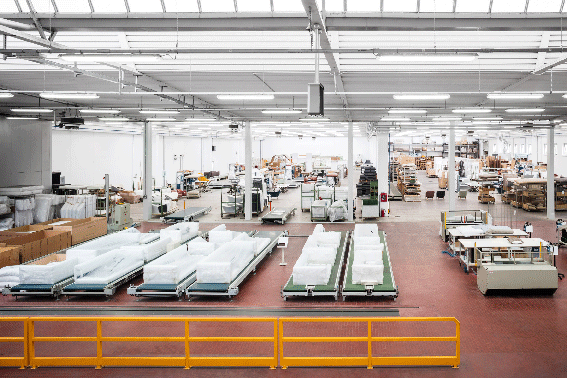 Concerned about the environmental impacts created by major production industries, Brunato redirected her career. She now researches methods for sustainable materiality and studies how "human demands meet wider ecological systems." Her past work includes the project Deliciously Red, a visual installation that investigates the production of industry grade red food colouring, which is a pigment commonly derived from Cochineal bug blood. In the 2018 performative installation Global Nanolamination Centre Ltd, Brunato investigates standard processes in food packaging industries. She studies the apple which "is a fruit that naturally forms a wax coating around its peel as a means of self-defence," but in today's food industry apples are coated with petroleum-based wax. Brunato explores how cellulose nanotechnologies provide an alternative to the petroleum-wax coating of fruit. Global Nanolamination Centre Ltd encourages new sustainable processes food packaging.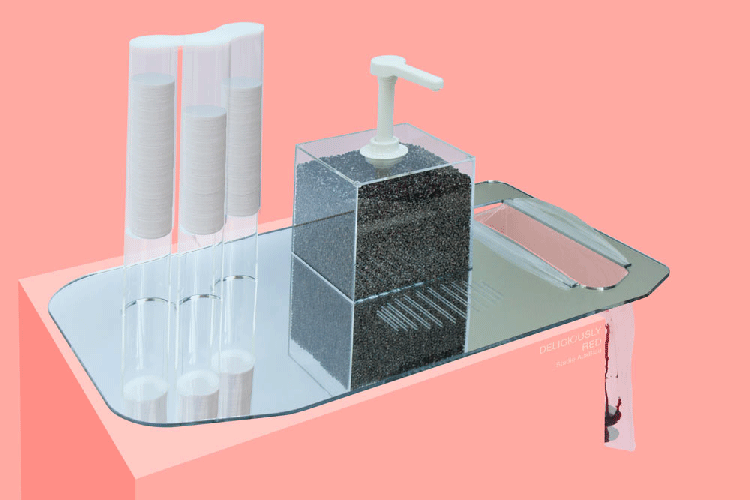 In 2019, Brunato graduated from Central Saint Martins' Master of Arts Material Futures program––a design-focused course dedicated to multi-disciplinary learning and exploring. As a student of Material Futures, she explored intersections between science, technology, ecology, and sociology to research and discover new sustainable materials to be used as the building blocks of environmentally considerate textile, industrial, and speculative design. Past participants of the program have developed diverse projects which range from researching how dust can be formulated to create sedimentary rocks to exploring how discarded rice husks can be recycled and used to manufacture pencils and chopsticks.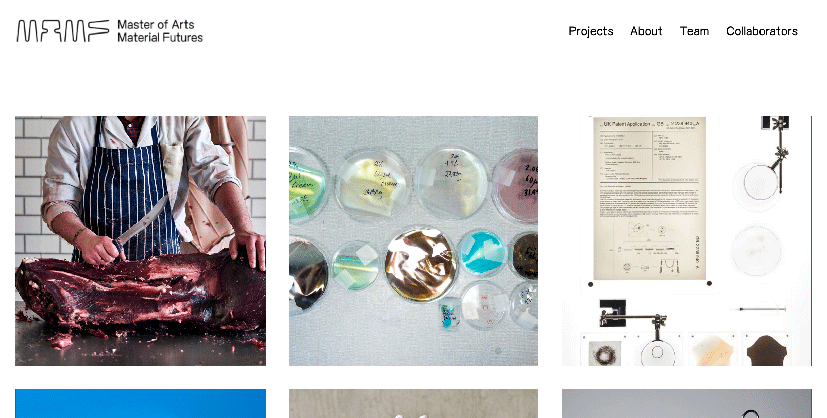 Brunato's MA research focuses on a decorative object that is frequently used in fashion design for its alluring quality––the sequin. Recognizing the environmentally harmful use of petroleum-derived sequins, her compelling and proactive explorations consider the research question: "Can nature offer possibilities for sustainable shimmering sequins?" The answer is yes; with the guidance of material scientists Hjalmar Granberg and Tiffany Abitbol, Brunato discovered how to use bio technologies to create visually beautiful, yet compostable Bio Iridescent Sequins from wood through "a waste-free process."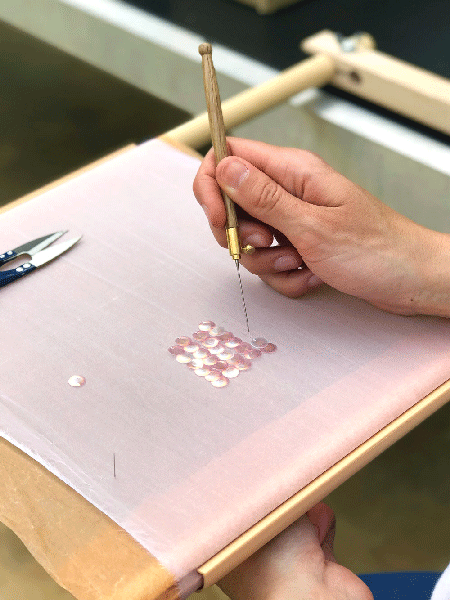 For centuries, coin-like beads have adorned the garments of people throughout various cultural epochs and geographical places––from Ancient Egypt to 17th century England to the post World War I America flapper era. Once made from precious metals like gold, these aesthetic beads were believed to be "multifunctional," and were worn as symbols to demonstrate a wearer's social status. Some also believed embellishing clothing with metals to be "a theft deterrent," and anchor for spiritual growth. Freya Hutchins from Hypernature, paraphrases Brunato's research findings explaining "Brunato's research reveals how sequins tell the story of an age-old "human desire to attain nature's beauty," and that "our attraction to glimmering surfaces might even relate back to our primary need for water."

Within the last century, sequin adorned items have consistently graced both high-end and fast-fashion clothing and lifestyle markets––sequins are accessories used to ornament everything from children's toys to decorative pillows, and haute couture red carpet gowns. Contemporary sequined-based items have a narrow consumer use phase. As a material, sequins are purely decorative as opposed to practical, and they are generally worn (used) for special occasions harbouring short-term life cycles of use. Today, the materials used to make sequins derive from Polyvinyl Chloride plastics: synthetic resin materials used to create numerous industrial and everyday products that are believed to contain toxic chemicals. Furthermore, the shimmer coating used to give sequins their attractive quality " is obtained through chemical or metallic coatings." Once disposed, these materials live on in landfills. They are not biodegradable, they draw from "a raw material source that is finite" making their materiality harmful to ecosystems. Sequins are an abundantly consumable item; however, their impracticality demonstrates that there are ethical issues that arise from their continual use in fashion.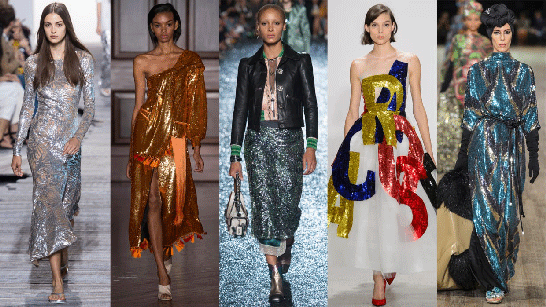 Sustainable & Social editor Amy Nguyen argues that "sequins are far from an ethical embellishment…" Rather, according to Ngyuen, "33 percent of material is wasted," due to the punching process that is used to create sequins. Furthermore, the task of creating fully sequined garments is laborious, and the overuse of sequins in fast fashion brings attention to issues with ethical production practices. As Ngyuen states, "it is unlikely those that have individually stitched each sequin will have been paid a fair wage," when employed by high street fashion companies.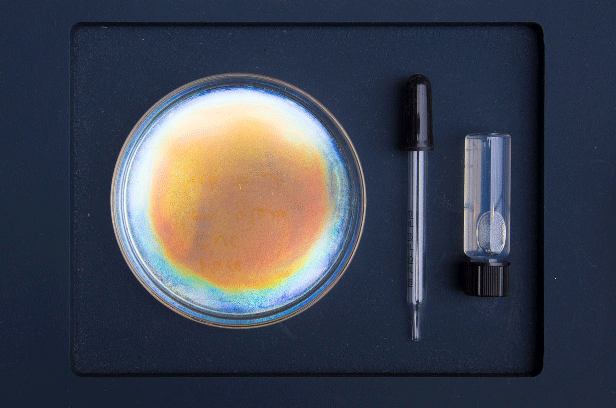 With Bio Iridescent Sequin, Brunato creates sequins with attractive and luminous aesthetics in a "natural way," through a process that is not reliant on finite petroleum resources or precious metals." Developing a process that makes "sense for a future consumer model," her Bio Iridescent Sequin is a new approach to aesthetic sustainability and breaks "down preconceived notions that generalize how," sustainable products look and behave. According to Brunato, the sequins are formed "in different shaped moulds, so there is no excess waste from offcuts produced." Deriving inspiration from nature––thinking about how iridescent materials exist in nature from beetle shells to peacock feathers––Brunato and her scientific partners administered a way to use cellulose extracted from trees to form the sequins. India Block explains that "cellulose's crystalline form refracts light and makes the sequins naturally shimmery, without the need for chemical treatment."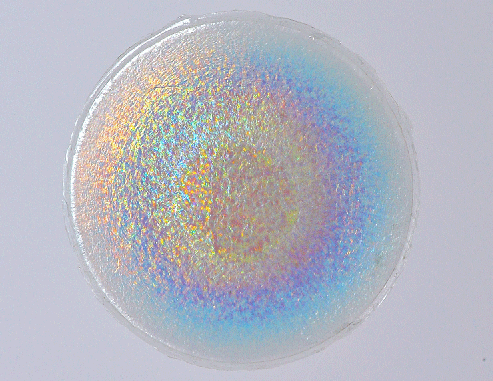 While Brunato has not yet partnered with a designer to activate the use of the Bio Iridescent Sequin in a marketable scale, the technology shows great promise. As Brunato articulates, cellulose is "a material that can also come from waste. you can obtain it from leftover vegetable skins, paper or denim." In the future, there is hope that manufacturing systems can work in harmony with "surrounding waste streams," to dervise sustainable materials in.
Through innovative design, interdisciplinary research, and collaborative work with leading nanotechnology  scientists, Brunato has discovered a compelling form of sustainable materiality that bridges diverse fields of thought and production. Her practice and efforts to find renewable and sustainable resources show that artistic thinking can aid in the fight towards making our planet liveable, healthy, and proactive.