Artist Ellen Cisneros, based in Meanjin (Australia) identifies as a multidisciplinary artist working in painting, drawing, and sculpture. Their work spans across disciplines, but the goal remains the same: to champion and celebrate mental health awareness, openness, and one's cultural heritage. They are also a part of a larger collective of artists with whom they frequently collaborate on projects.

A recent exhibition named Are we friends? (2019) where Cisneros' work was displayed, is an example of such collaboration. The exhibition spoke on diverging themes of heritage, sexuality and identity. A large emphasis is placed on friendship — its prominence not only in our everyday lives, but also in our work, as well as its influence over how we navigate and perform social scripts. As written on their website: "Intimate and confessional in nature, their works encourage us to question both our relationships with others and our relationship with the self...asking us to consider how we feel rather than what we think."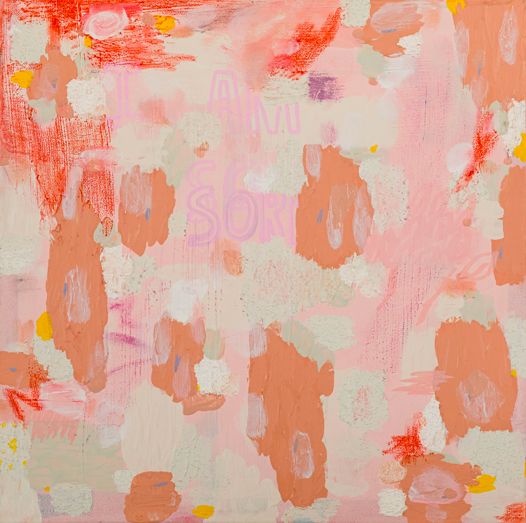 Viewers are first greeted by an eye-catchingly colourful canvas with "I am sorry" painted faintly in the background. Arbitrarily placed pops of red liven up an otherwise pink-heavy canvas. The message here is blatant: apologies are, more often than not, necessitated in a friendship.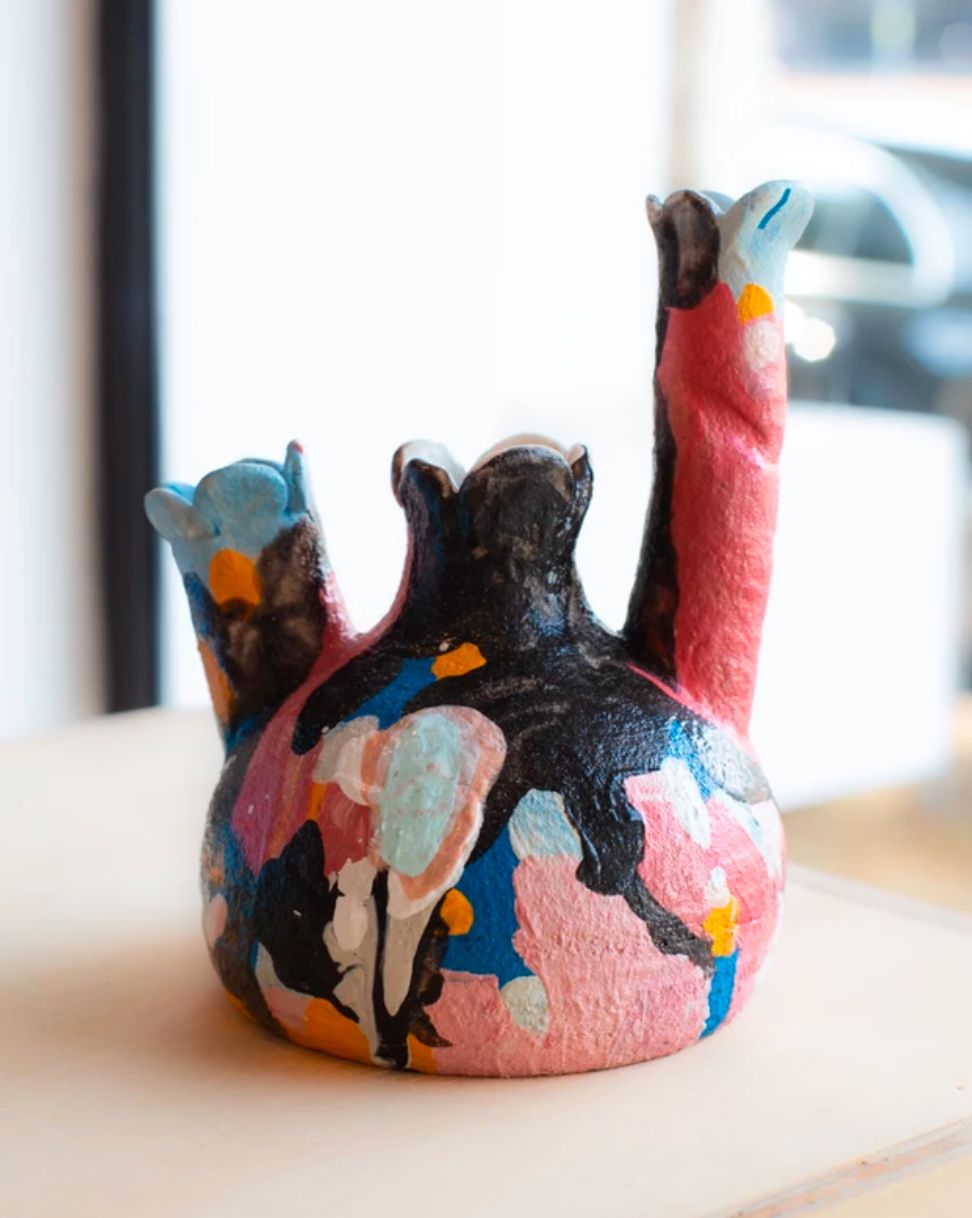 As a multidisciplinary artist, pottery was also displayed at the exhibition. This particular piece was a collaboration between Cisneros and Kaomoji Ceramics by Wendy Ma. In true Cisneros fashion, a juxtaposition of bright pastel colours was used. The vase looks to be a decorative vase, with no other function. It is speckled with pops of black, royal blue, pink, teal, grey and orange. In keeping with the theme of the exhibition, the piece utilizes similar colours to So Sorry.

In their painting Connection > Competition and Comparison, Cisneros emphasizes connection in friendship over competition and comparing one another to each other, as made evident by the use of ">" in the title. The use of primary colours ensures that there is nothing distracting from the message therein. Cleverly juxtaposed, the three Cs link together, suggesting the interconnectivity and comradery of a friendship.
Cisneros' work is indicative of the United Nations 17 Sustainable Development Goals, particularly Good Health and Well-Being and Reduced Inequalities. Fostering healthy friendships is key to one's overall well-being. Friendships, especially in the context of the pandemic and today's uncertain climate, are integral to one's mental and physical health. Although not mentioned in this particular exhibition, Cisneros' art also touches heavily upon Reduced Inequalities, with much of their oeuvre addressing gender equality and the LGBTQIA2S+ movement.
Overall, Cisneros' Are we friends? exhibition was a cohesive display on fostering friendship and connection; easily palpable and relatable to a wide audience. Their distinctive use of pastel colours, as seen in said exhibition, has served to solidify them as a standout amongst their peers in the Australian art scene.
See more of Cisneros' work here.