By nature, film plays a significant role in advancing the fashion industry. In addition to shaping the audience's tastes and triggering fashion trends, the art of costume design has influenced fashion designers since film's inception by introducing new ways of looking at fashion and its purpose.
Whereas fashion design is mainly concerned with the art of clothing, costume designers are storytellers, working with the additional elements of character and narrative. Thus a unique method and purpose to fashion design arise with each film, as the clothes worn by movie characters become a visual depiction of their identity and an oftentimes essential narrative tool.
Wong Kar-Wai's melancholic romance, In The Mood For Love (2000) expresses its story through everything but words. Music, colour, framing, and primarily, fashion, guide the film as it unfolds. In discovering an affair between their spouses, the characters played by Maggie Cheung and Tony Leung develop a quiet affection for one another, restrained by the fear of intrusive gossip and judgements of their neighbors in 1960's Hong-Kong. In following the rhythmic routines of the characters, time becomes elusive, yet days change with Maggie Cheung's wardrobe, lending a sense of passing time to the film.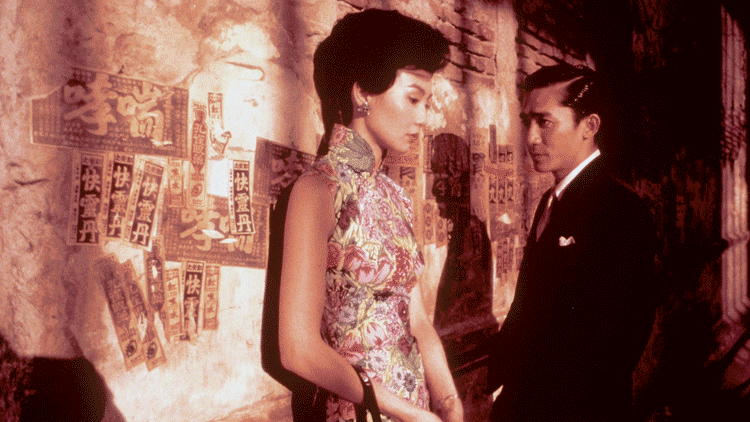 With William Chang Suk-ping as both production and costume designer, the clothes worn by the characters become an extension of the claustrophobic set. Leung is never seen out of his tailored suits, and Cheung is consistently well-dressed no matter the environment or company. Their wardrobe is clean and uniform, as a response to the confining social environment in which reputation was everything and any detail or misstep could ruin it, adding further tension to the secrecy of their affair-like kinship. Fashion provides an additional service to the plot by acting as a catalyst for a pivotal revelation as well as revealing information about the characters themselves. The clothes are a window to their identity. As explained by director Wong Kar-Wai, "The dress is not just a dress. It's Maggie's character's mood. It's as if she's wearing this mood that day." When costume design is used to craft both story and character as it does in In The Mood For Love, the result is an amalgamation of emotion and fabric. An entire film can be captured in the clothes of its characters, translating the power of stories to fashion and inspiring countless fashion designers along the way.
When it comes to innovative fashion in cinema, look no further than Ridley Scott's Blade Runner (1982). The fashion of the film is an integral element to the then-dystopian city of Los Angeles, 2019. The fashion acts as part of the city itself, adding to the crumbling skyscrapers, neon lights, and dark, smokey atmosphere while individually defining each of the characters, ranging from minimalist to camp. The blend of retro and future fashions, owing to the neo-noir, cyberpunk genre of the film has become a constant inspiration to fashion designers since its release in 1982 including Jeremy Scott. The creative director of Moschino recounts his first time watching Blade Runner as being "never the same after that… I was mesmerized by the mix of what was then futuristic with what was already retro, that is what makes 'Blade Runner' the gold standard (among) sci-fi dystopian worlds, as it's believable. Because we do not live in a world where everything is from today ... We live in a chaotic world of various decades of architecture, automotive design, and fashion, combining and colliding all (in) that same moment."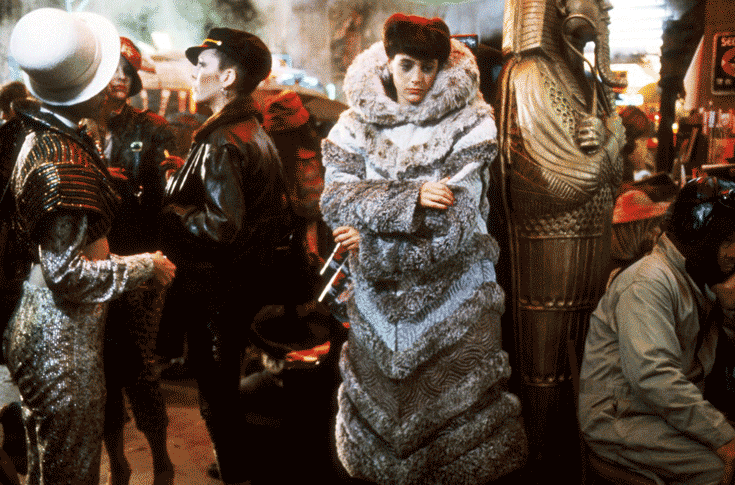 The film's first homage in fashion came only months after its release in Vivienne Westwood and Malcolm McLaren's Punkature (1983) collection on a skirt bearing the recognizable face of the smiling geisha, visible on an electronic billboard in the film's opening scene. Since this first reference to the film in the fashion world, costume designers Michael Kaplan and Charles Knode saw references to their work in Blade Runner walk across runways for decades, with Knode's favourite being Givenchy by Alexander McQueen's Fall/Winter 1998 collection due to it being "original in its own right." The collection largely pulled from the style of Rachel, played by Sean Young, featuring varied patterns, and an array of textures including fur and latex on a structured silhouette of bold shoulders and a clenched waist. The collection radiates Rachel's sophistication and captures the brooding dystopian atmosphere of the film while creating a line that is entirely its own.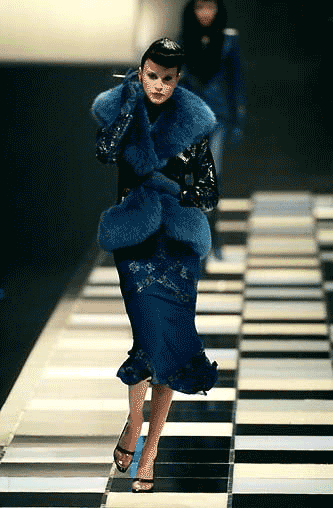 Wes Anderson's unique approach to filmmaking, present in even his earliest films has categorized him as one of the industry's most original working directors, and the fashion in Anderson's films is not exempt from the director's highly stylized aesthetic. The "Wes Anderson look" as it has come to be known in fashion, follows closely behind the storybook whimsy of the narrative and visual style, pulling from 70s fashion to nerd chic. Abiding by Anderson's directions to not shop for anything and to make everything, his costume designers Karen Patch and Milena Canonero oftentimes collaborate with high-end brands such as Prada and Fendi to bring their original concepts to life, elevating them to haute couture with pieces including Gweneth Paltrow's staple fur coat from The Royal Tenenbaums (2001) made by Fendi.
In developing a unique look in fashion, numerous designers have found inspiration in the saccharine daydream that is Anderson's style, bringing the films onto the runway. The Anna Sui Fall/Winter 2014 collection recalls The Grand Budapest Hotel (2014), using hints of the film's colour palette along with symmetrical geometric patterns. The collection is particularly influenced by the style of Tilda Swinton's character which in itself is influenced by the paintings of Gustav Klimt. Throughout multiple films, Anderson and Canonero pair worker uniforms with high fashion, leading Gucci to pull from the bellhop's attire in The Grand Budapest Hotel for their Fall/Winter 2015 collection. The same collection draws inspiration from Anderson's earlier work as well, recreating Gweneth Paltrow's iconic look from The Royal Tenenbaums.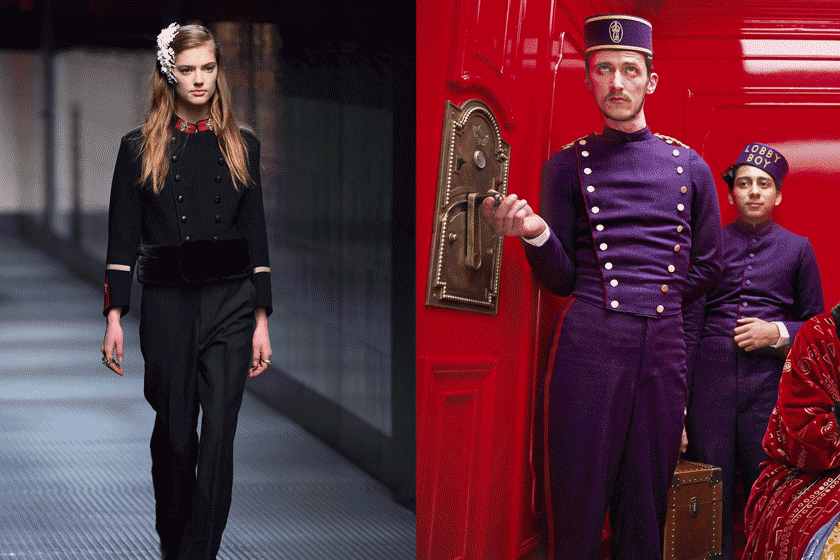 Although Wes Anderson has proven himself to be a unique voice in fashion, Alfred Hitchcock understood the importance of fashion in film, unlike any other director. Embedded in each of his scripts alongside his legendary films were notes outlining the costumes in detail. His films are littered with subtle details and the costumes are no exception. Having worked primarily with costume designer Edith Head, the pair is responsible for some of cinema's most iconic fashion moments, so it's no surprise that homages to their work pop up on the runway to this day.
One of the largest names in fashion, Alexander McQueen, launched his career with a collection inspired by Hitchcock's 1963 thriller, The Birds. McQueen's 1995 Spring/Summer collection of the same name took what he described as the "very sleek, feminine 1950s silhouette" of the film and pushed it to the extreme, additionally printing tire track marks on select pieces, a reference to a roadkill scene in the movie. Hitchcock's films and his stylish female heroines would go on to inspire Mcqueen throughout his career, namely his Autumn/Winter 2005 collection and Prada Autumn/Winter 2013 collection.