Elan Pottery is a small business in Frederick, Maryland. Known for the comforting shape and unique patterns on their mugs, Elan Pottery has quickly taken off amongst pottery collectors and small business supporters. Leigh Anne Thompson, the main ceramicist, is instilling joy in every day through your morning cup of coffee or tea.
"Elan" is an English word that means "vigorous spirit or enthusiasm." It originates from the Middle French term "eslan," meaning to rush or dash. Enthusiasm and energetic spirit are embodied in Elan Pottery creations for "Elan" was Thompson's childhood nickname. Leigh Anne Thompson began Elan Pottery in 2001 when she had a successful sale at a New England Renaissance Faire. After her encouraging success, Thompson travelled the U.S. for ten years selling her wares at fairs and small shows. This sense of adventure and lively spirit is reflected in work produced by Elan Pottery.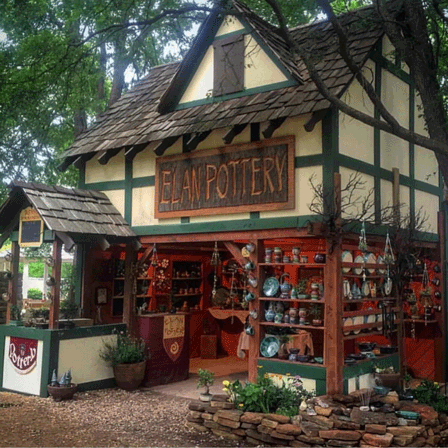 Today, Leigh Anne Thompson runs Elan Pottery with her partner, Steven, in Frederick, Maryland. Thompson does the creating and decorating while Steven glazes. Much of their work is inspired by their travels and passion for finding joy in the "every day." As a result, a majority of Elan Pottery products are focussed on the morning routine. The bulk of their production efforts go towards creating and selling their classic pot-belly rounded mugs. The beautifully rounded edges and sides of each mug creates a feeling of comfort. Round and gentle shapes encourage thoughts of welcome and warmth.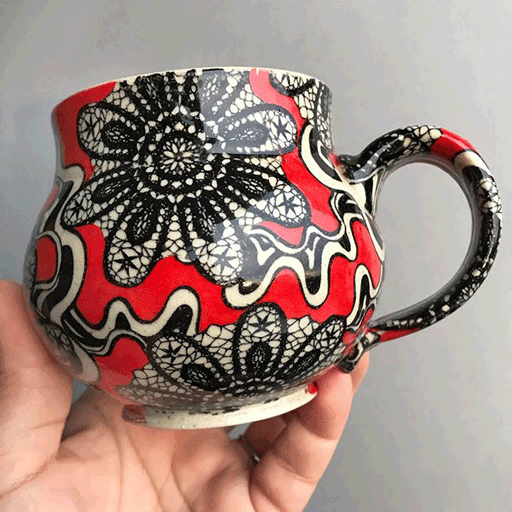 The mugs are typically decorated with the Elan Pottery underglaze transfers. Underglaze is an excellent decorating medium because it is highly controllable, allowing for more detailed decorations. Thompson's patterns vary from palm leaves and lemon slices in the summer to her classic skulls during the spookier months. The painted underglaze backgrounds are bright and contrast beautifully against the black underglaze transfers. After the underglaze decoration is fired on the mugs, a transparent glaze is applied and fired to create a shiny exterior. Below is an example of one of Thompson's spookier mugs. The yellow background is painted underglaze, and the skulls and flowers are underglaze transfers.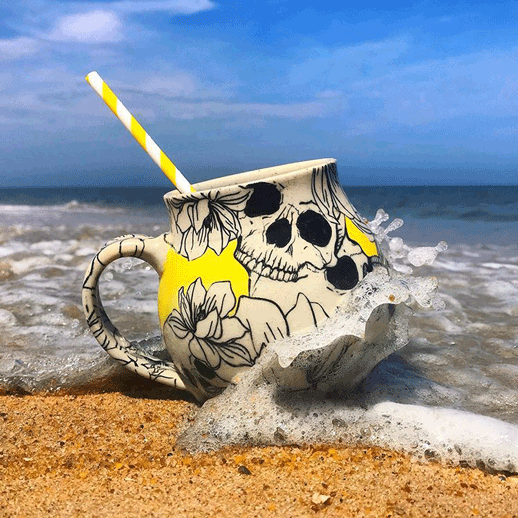 In addition to underglaze transfers, Thompson uses a form of sgraffito, a traditional pottery decoration technique. Sgraffito is an artistic technique dating back to before the Renaissance period. A carving tool is used to carve patterns out of clay pieces after the underglaze has been painted but not yet fired. Sgraffito creates a three-dimensional effect and physical feel for the holder of the mug. The energy of the ridges formed enhances the physical connection between the mug and the user. The scarlet red mug pictured below features the sgraffito technique. Thompson calls these mugs her carved mugs. The red underglaze was carved away before firing to create a bumpy yet controlled texture to the outside of this mug. The patterned texture leads to an energetic piece that is continually moving both the user's eye and physical connection.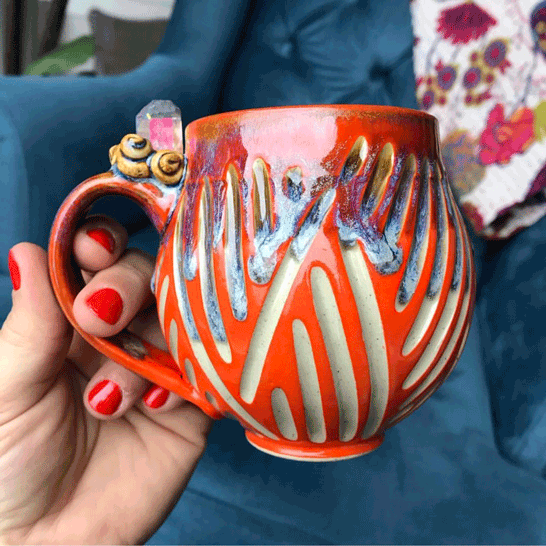 A large part of creating for artists is considering how their piece will be interacted with and observed. Ceramicists, specifically those who make functional pottery, consider the physical interaction with their work as a large part of the "why" behind the art. For instance, Elan Pottery highly regards the "everyday" life; therefore, they primarily focus on functional mugs, for drinking vessels tend to be a daily use item. Moreover, they prioritize the joy and significance behind everyday moments, like drinking a cup of coffee, which can be overlooked. The lively colours, unique patterns, intriguing textures, and comforting shapes of Elan pottery mugs embody the essence of "elan."
Although Elan Pottery is headquartered in a small town, its reach is far, and their work is famous. Thompson runs her business with store restocks, meaning she will stock her online store with hundreds of mugs every few weeks and customers can order from there. However, her mugs are highly loved causing the shop to sell out quickly, sometimes only a day. If you are looking for a new mug to inspire an appreciation for the "every day," check out @elanpottery on Instagram to stay up to date on shop restocks.