With the conclusion of the TOward TOmorrow global art contest, a collaboration between Arts Help, UN SDG Action Campaign, Toward.2030, Lavazza Group, and Juxtapoz Magazine, the 17 finalists have been selected. The artists used their crafts to each emulate one of the Sustainable Development Goals (SDG). Each artists' work empowers the mission of both the SDG and organization that selected it. Global submissions poured in as artists were inspired by the drive to make impactful art that would have a powerful reach.
The grand prize winner will be announced by July 10th, and receive 10,000 euros along with an exciting editorial in Juxtapoz Magazine, a post feature on Arts Help Instagram and an opportunity to be exhibited.
TOward TOmorrow Finalists:

1. SDG#1 No Poverty: Roula Abdo- Lebanon
Roula Abdo submitted a stunning mural of a child with a backpack full of dreams, illustrating the ramifications of poverty on children and their ability to create change. The young boy is painted in shades of grey, but his backpack is full of colorful potential and wealth. The image's scale is much larger than an average canvas, magnifying the child's suffering. Bill Shipsey of Art for Amnesty, praised Abdo's work for embodying the immortal words of WB Yeats, which managed to "engross the present and dominate the memory."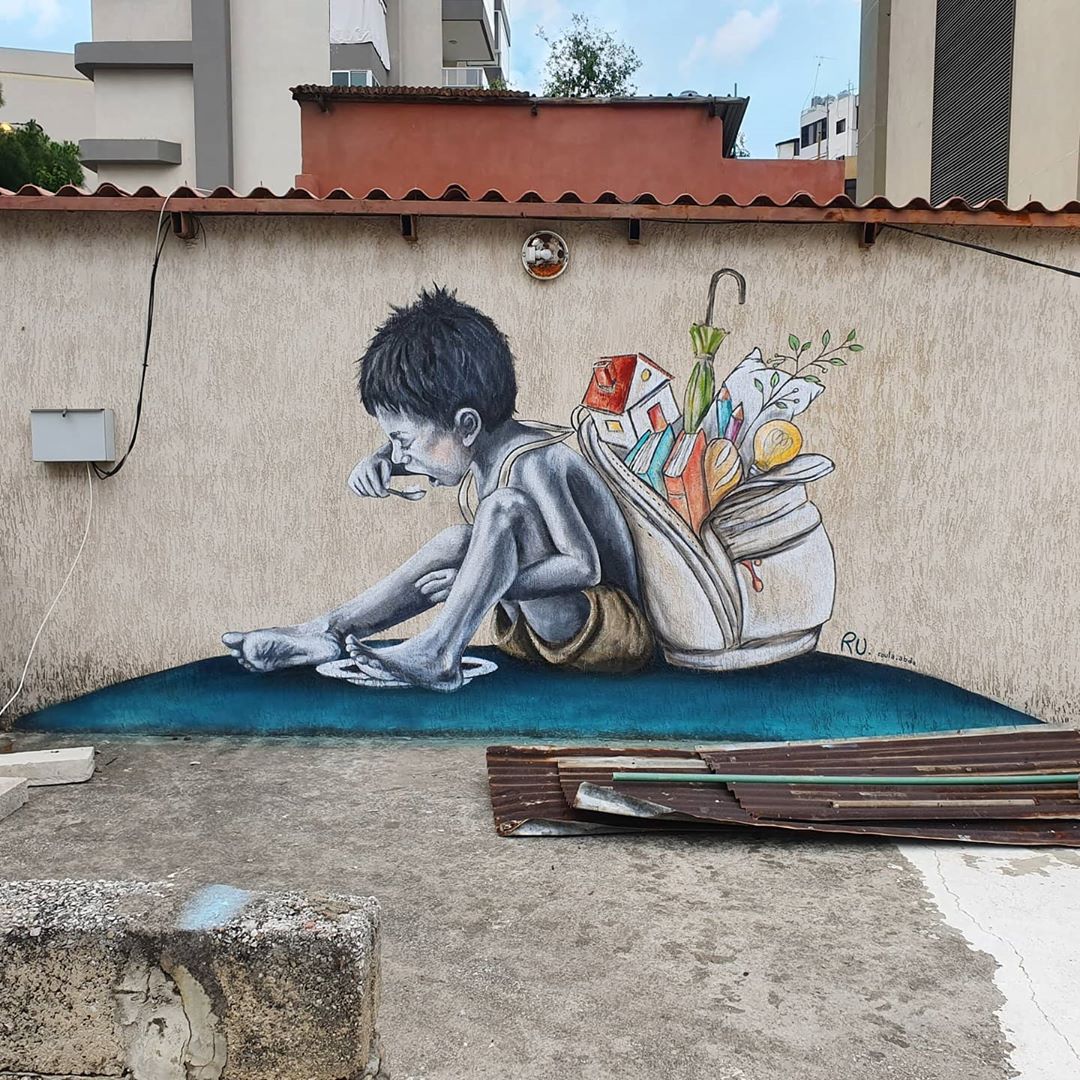 2.  SDG#2 Zero Hunger: Novemto Komo- Indonesia
Novemto Komo's mixed media work titled Youth for Tomorrow (2020)  highlights the goals and challenges of sustainable agriculture. Using symbolic images such as maize and a colorful rain jacket, Komo creates a single image of struggle that unites the many global issues in agriculture. Judged by Food for Soul's Lara Gilmore, the work "reimagines" the overlooked aspects of global agriculture, from the urbanization of youths away from farms to the environmental impact of bees.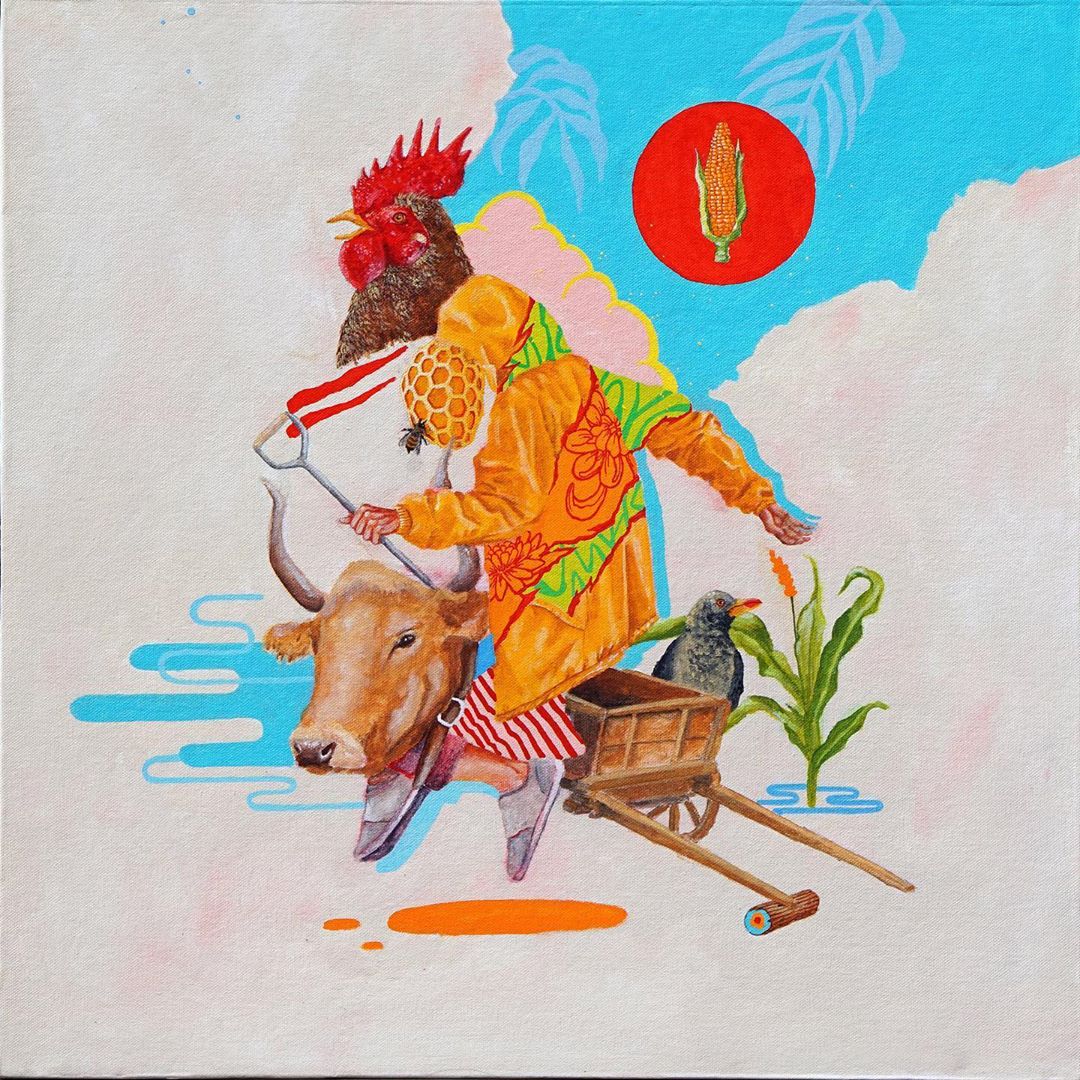 3. SDG#3 Good Health and Wellbeing: Tejal Naruka-India
India-based artist Tejal Naruka tackled the difficult task of representing the conflicting forces of hope and despair in this acrylic work. Naruka portrays a face, half in vibrant color and half in a silhouetted shadow, capturing the duality and hidden pain of mental illness. Ben Hawley from The Campaign Against Living Miserably (C.A.L.M.) highlighted that the piece "demonstrates the dichotomy of the challenge many people face between light and dark" in their celebration of Naruka's work.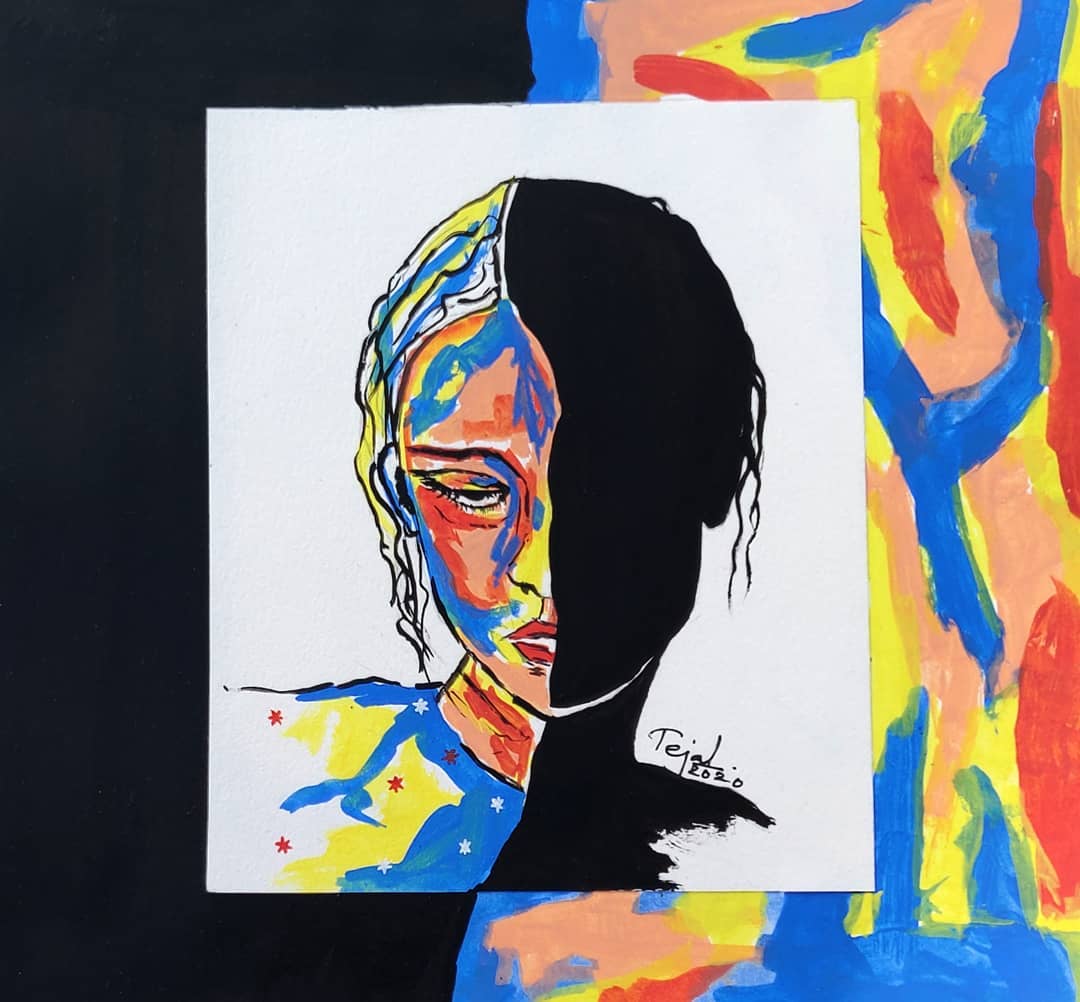 4. SDG#4 Quality Education: Adriana Delfin-Mexico
Hailing from culturally rich Mexico, painter Adriana Delfin captured the often overlooked aspects of spirituality and self-awareness in education in her captivating acrylic work. A child paints across the star-studded sky "We All Come From the Stars," a reminder that compassion and unity are part of human nature, and must be nurtured. Tiphanie Da Costa Silva of Casa Amarela loved this unique interpretation of education, and praised Delfin on uniting her "artistic sensibility and truth of statement."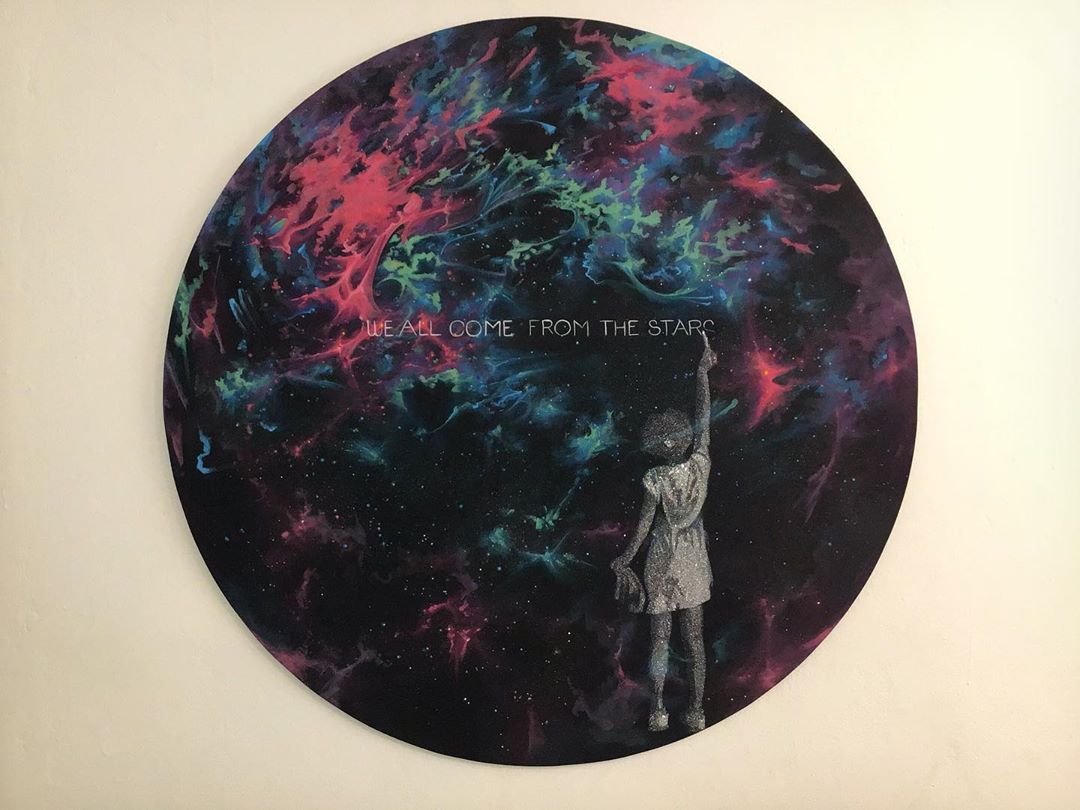 5. SDG#5 Gender Equality: Jofre Oliveras
Jofre Oliveras' Jar Woman discusses one of the biggest issues in the fight for gender equality: the objectification of the female body. Oliveras uses a portrait of a woman sitting with her back to the viewer to portray her likeness to a porcelain vase or luxury item. The Aravani Art Project was tasked with selecting the artwork that best exemplified this goal, Poornima Sukumar selected Oliveras' work for a brilliant execution of an everyday fight for equality.
SDG#6 Clean Water and Sanitation: Octavi Serra-Spain
Octavi Serra's sculpture, which combined a  toilet and water dispenser served to show the disparity between innovations in technology and the harsh reality of living standards around the world. The toilet sits where a water tank would connect to the dispenser, a sight reminiscent of Duchamp's Fountain. Viva Con Agua's Micheal Fritz praised the work, and encouraged viewers to further contemplate " the inter-connectivity of water sanitation and hygiene."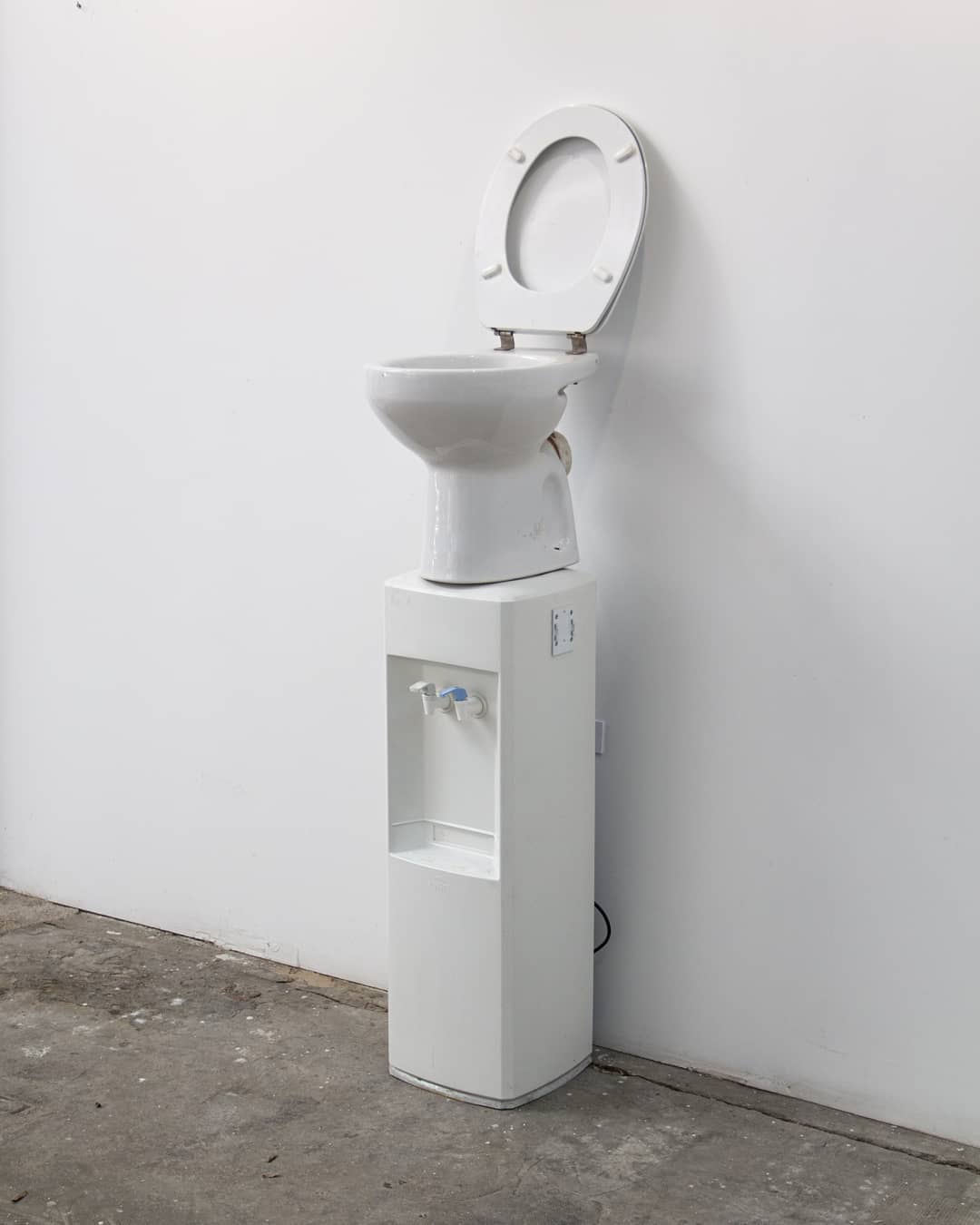 SDG#7 Affordable and Clean Energy: Amanda Lynn and Lady Mags- USA
The female artist team transformed the concept of light and energy into metaphorical and physical manifestation in their unique portrait. A halo of neon rays and energy radiates off a woman composed of swathes of bright color, drawing feelings of both power and spirituality from the portrait.  Their piece's emphasis on the intersectionality of energy and womanhood attracted the attention of SDG7's judge and Little Sun's Foundation Director Felix Hallwachs.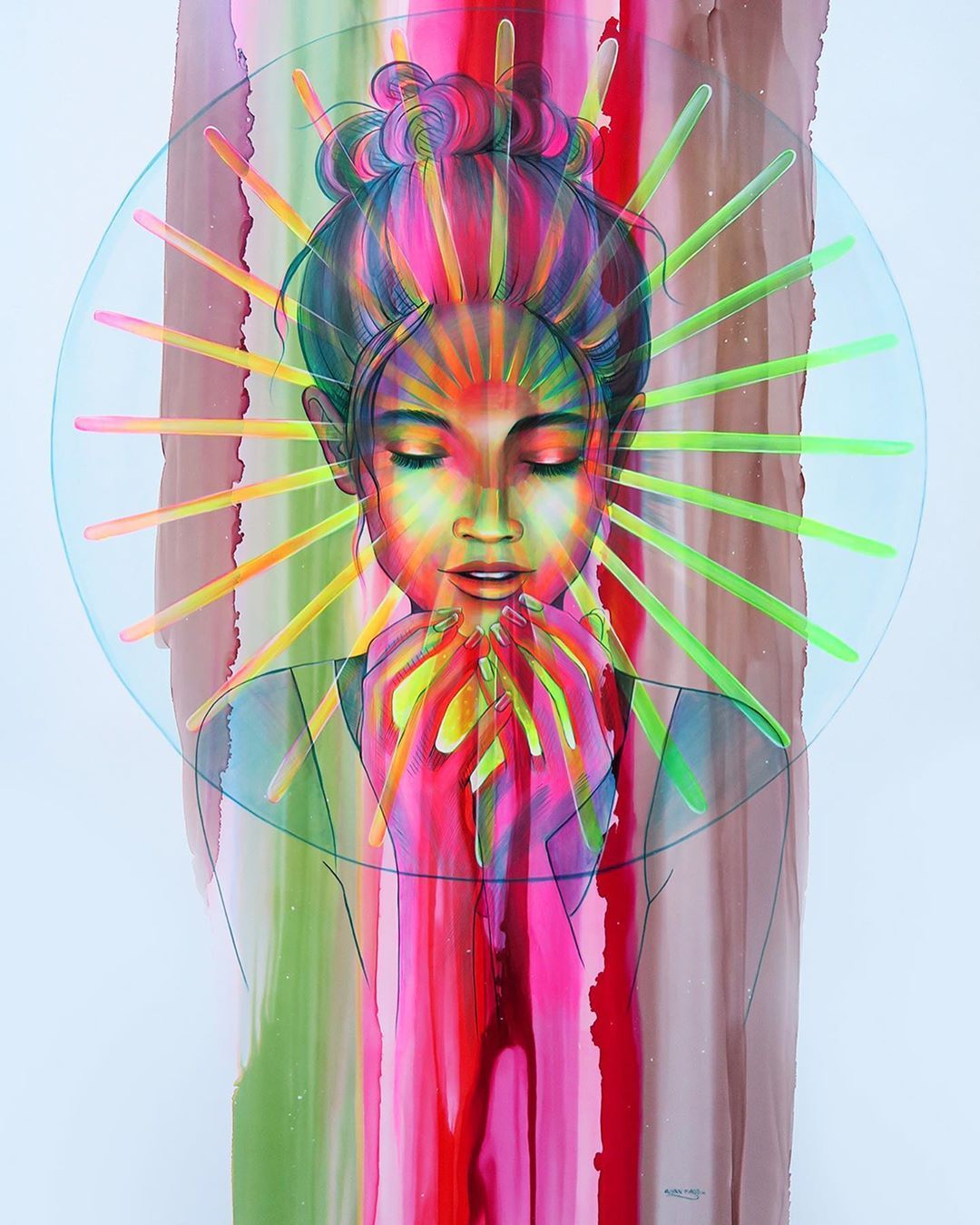 SDG#8 Decent Work and Economic Growth: Out IAM-Portugal
This Portuguese artist was devastated to learn the issues of child labor through examination of the fashion industry, and sought to represent that injustice. The haunting image features a child surrounded by the hands of industrialization, holding the tools that will subject the child to a lifetime of labor. Judged by Jo Hook of TEMWA, the piece exemplified the artist's powerful statements with visual manifestations.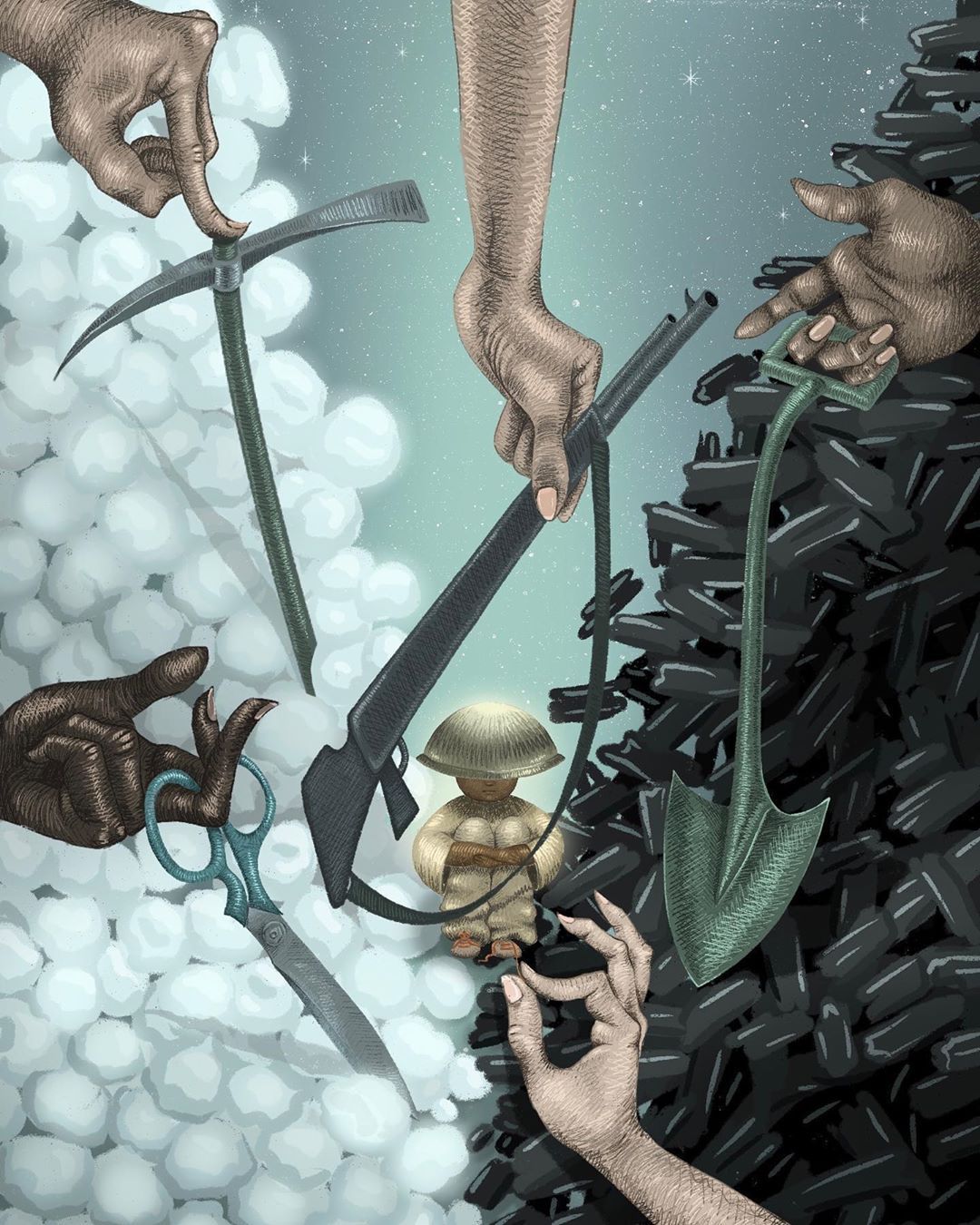 SDG#9 Industry Innovation and Infrastructure: Chiara Boragine-Italy
Chiara Boragine's colorful work The Key Tree centered around the goals of sustainable industrialization and development. Combining multiple forms of media to create a booming industrial skyline wrapped around an abstract depiction of Earth, Boragine highlights the overwhelming dominance of the modern world, and emphasizes the need to protect it. Love Welcomes CEO Abi Hewitt selected the piece for its effective composition and powerful depiction of the industrial revolution.
SDG#10 Reduced Inequalities: Malek Mattar- Palestine
Palestinian, painter Malek Mattar used her work to represent a future community transcending race and color. Girls of all colors dance together in a field of flowers, evoking a sense of unity and acceptance seldom seen in the modern world. Judge Talia Kaufmann of Skateistan stressed the effective execution of the SDG's final goal when choosing the piece.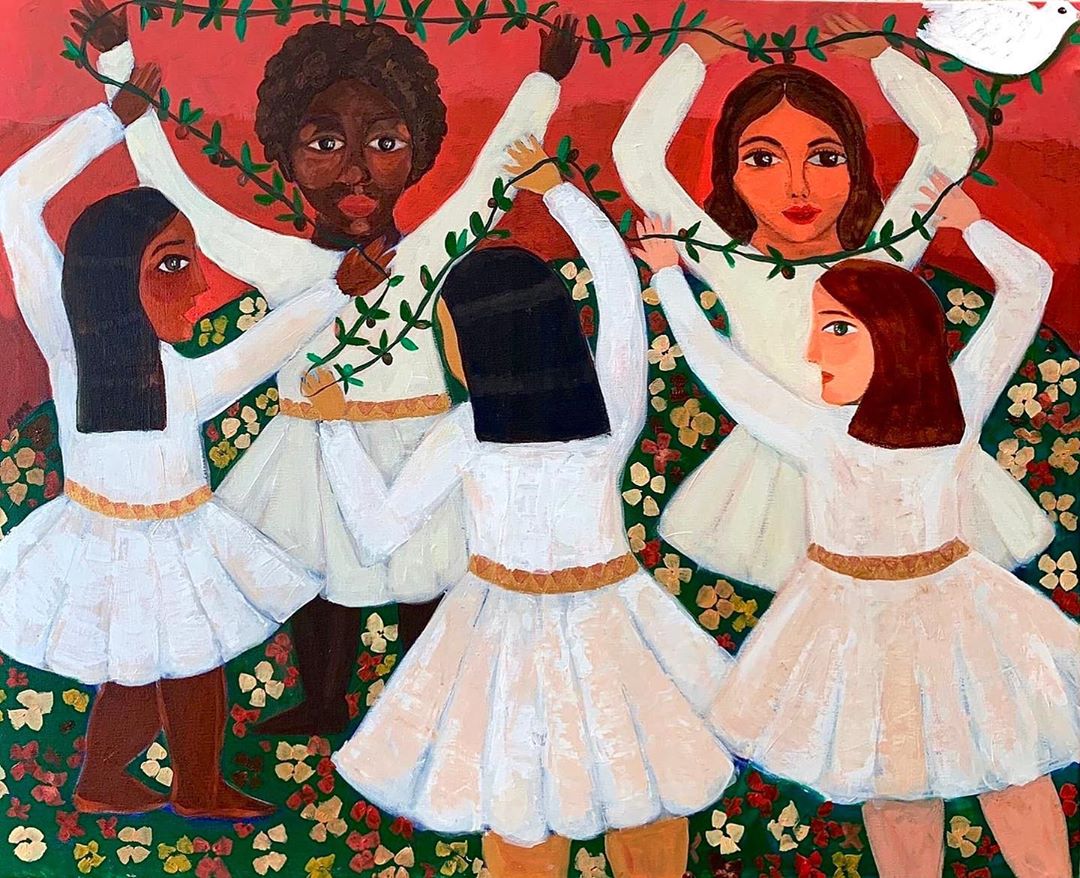 SDG #11 Sustainable Cities and Communities: Gabriel Pitcher-United Kingdom
UK painter Gabriel Pitcher submitted a work unlike any other, a regal portrait of East London youth worker Steve Barnabis. Pitcher's image exhibits both technical skill and unrestrained emotion, culminating in a regal and awe-inspiring portrait. Board chair Zahra Sherzad of The Heliotrope Foundation picked the work, and Pitcher explained a desire to subvert the common use of portraiture for the grand and wealthy and instead honor the work of a grassroots activist and community leader.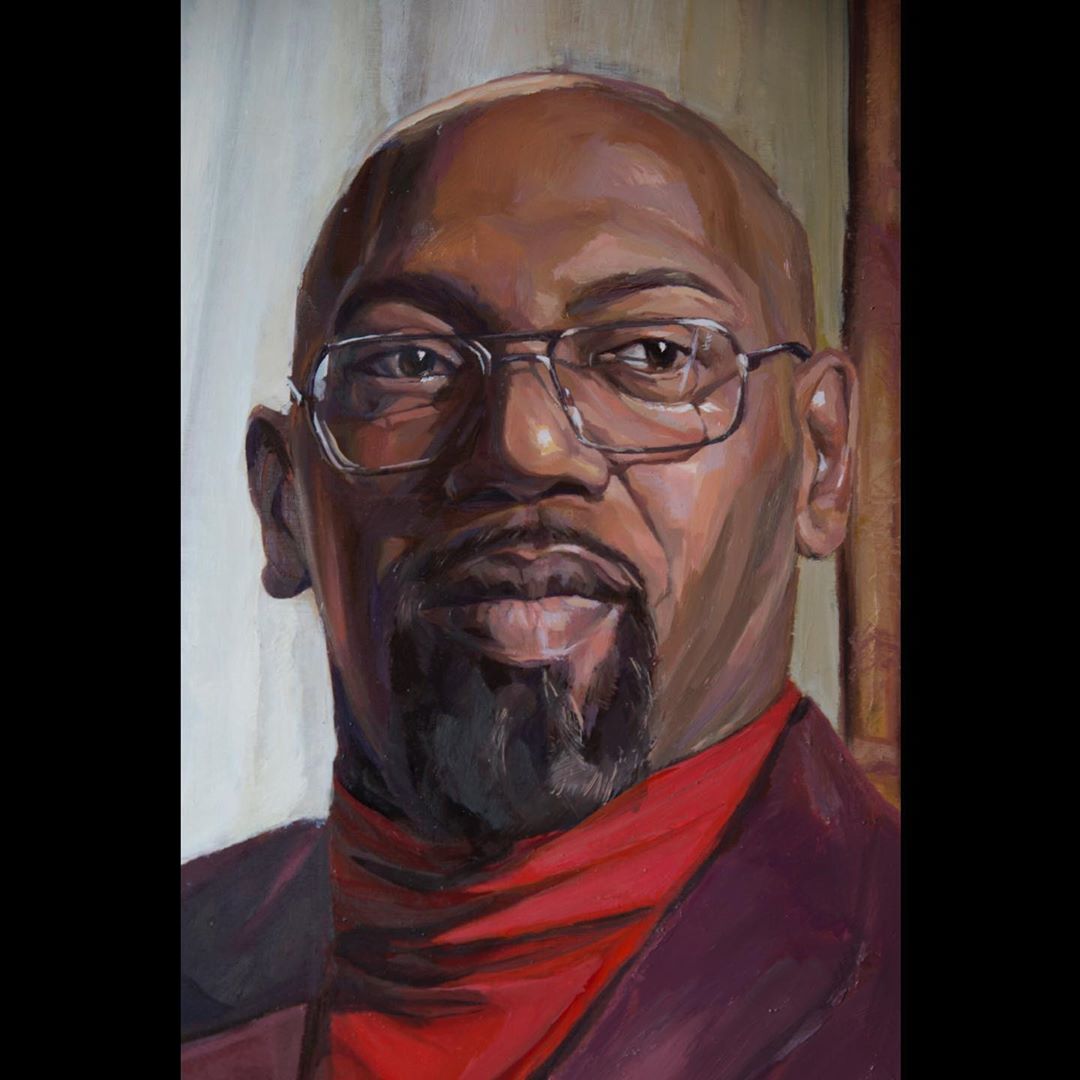 12. SDG#12 Responsible Consumption and Production: Raajadharshini-India
Based in India, artist Raajadharshini submitted one of the most poetic artistic statements to accompany the piece, explaining the destructive rate of plastic consumption. Raajadharshini's picture is melded visually, weaving together unexpected aspects of a silver, sequined shirt and cart full of trash bags. Helen Buckland of The  Sumatran Orangutan Society acknowledged the complexity of the work and commented on "the playfulness yet sincerity with subject and meaning."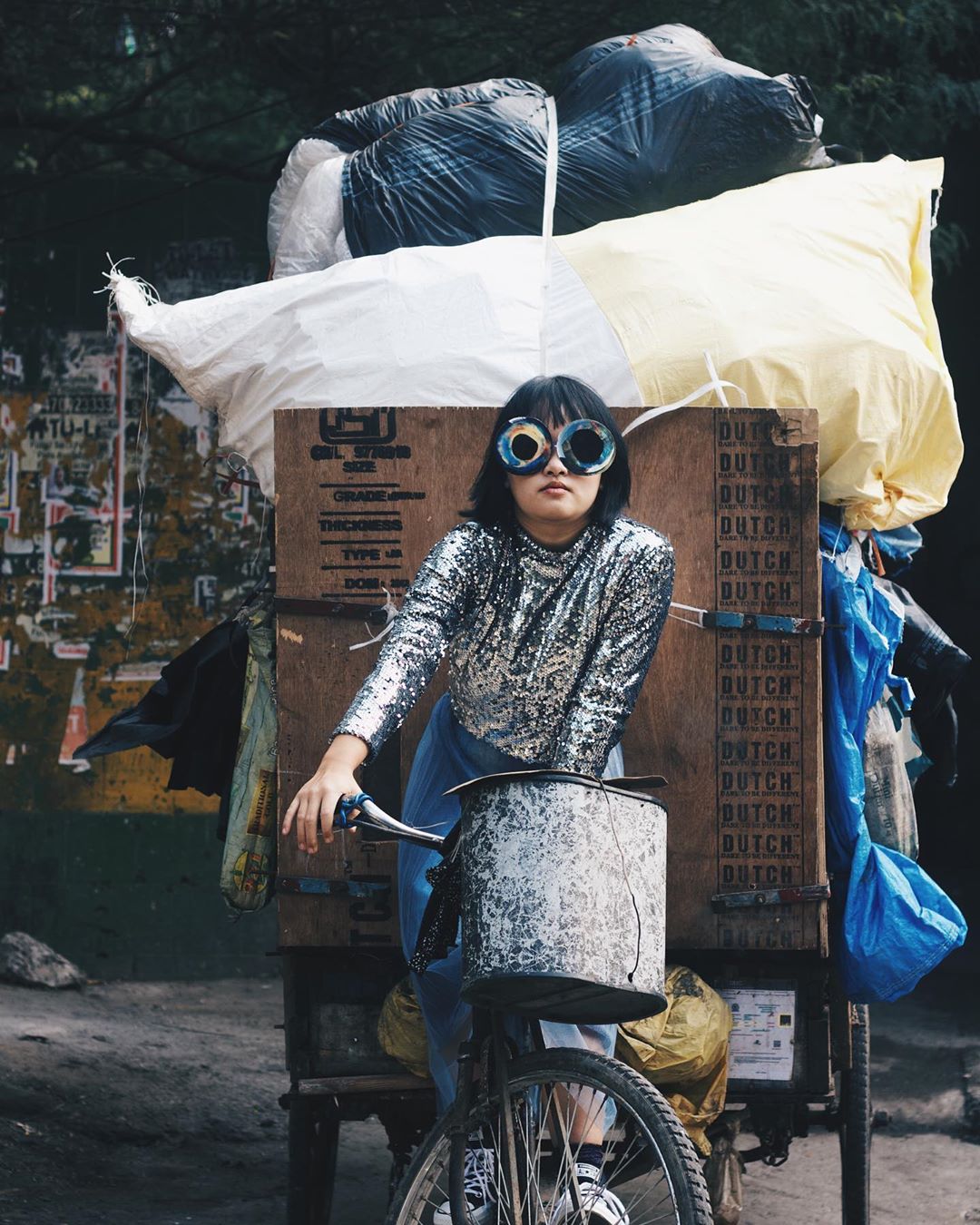 SDG#13 Climate Action: Wong Khing Chong- Singapore
The Singaporean artist engaged one of the most prominent global issues in a photo collage demonstrating how climate change disproportionately impacts developing nations. A child on a neon pool-float drifts towards an Arctic bank of penguins. The intruding float is vibrant and stands out sharply against the tundra, emphasizing how unprecedented disasters may occur if climate change is not prevented. The judging NGO, Gervanne Leridon of African Artists for Development, named the work "a subtle mixture of genres which forces us to act quickly so that this artwork doesn't become our reality."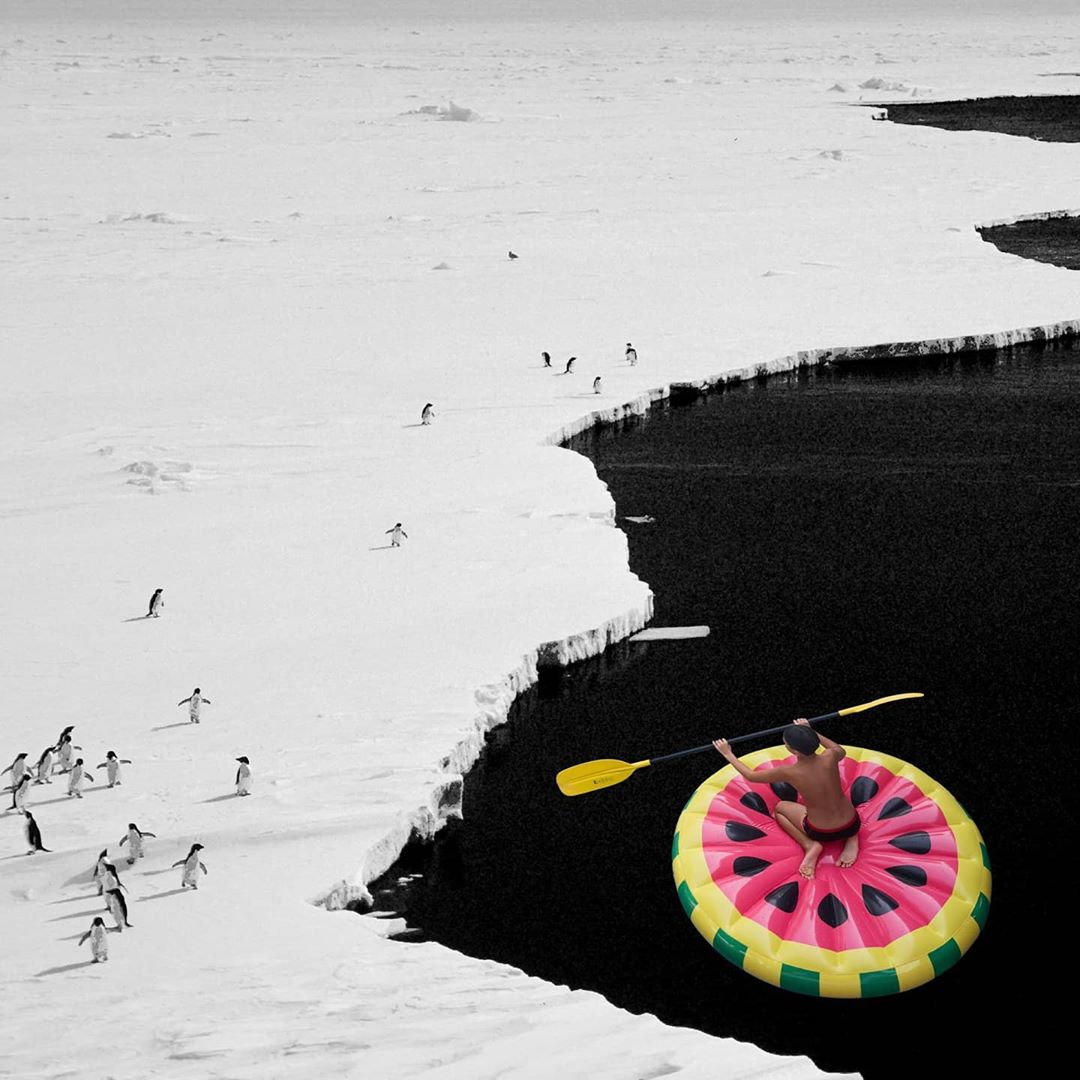 SDG#14 Life Below Water: Ajax Atlas-USA
American artist Ajax Atlas submitted a one-of-a-kind work titled The Day The Ocean Freed Itself From Man, a testament to the power and predicament of the natural world. Sea creatures of all shapes and sizes aid a majestic whale restricted by fishing wire, all working in unity to break the hold of man. Founder Tré Packard of The Pangeaseed Foundation complimented Atlas' integration of climate environmental activism into artistry.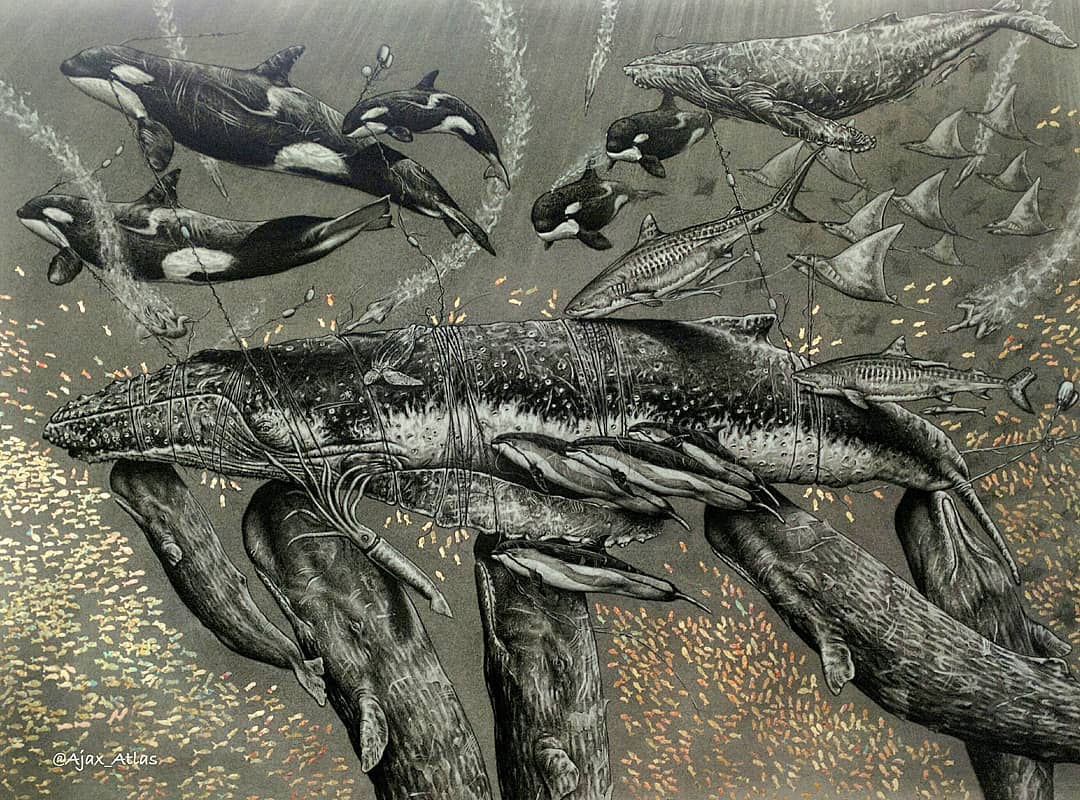 SDG#15 Life On Land: Dima Kashtalyan
Dima Kashtalyan, an artist from Belarus, sought to demonstrate the issues around wildlife on land without portraying negative imagery.  Third Millennium Alliance commented on the artist's style, "a technique and color palette that are reminiscent of old biological lithographs from the early 20th century, when naturalists and researchers started to use art to depict the beauty of the unique flora and fauna."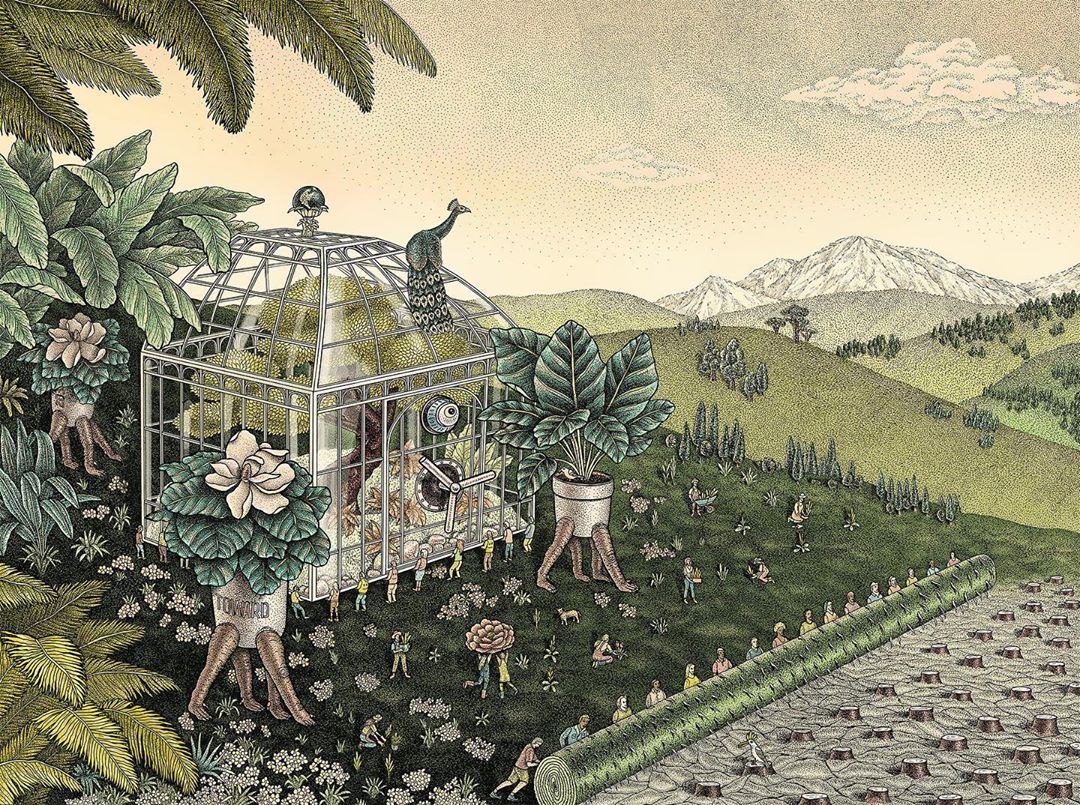 SDG#16 Peace Justice and Strong Institutions: Prickly Sauce- United Kingdom
A UK-based innovative artist, Prickly Sauce, used bound and intertwined hands to represent Peace, Justice, and their interconnected impact on ordinary human lives. The bound, blue hands of justice clutch the peace sign of red hands, a simple but powerful statement on civil liberties. Prerana Reddy of A Blade of Grass highlighted the power of public resistance and solidarity when selecting this piece.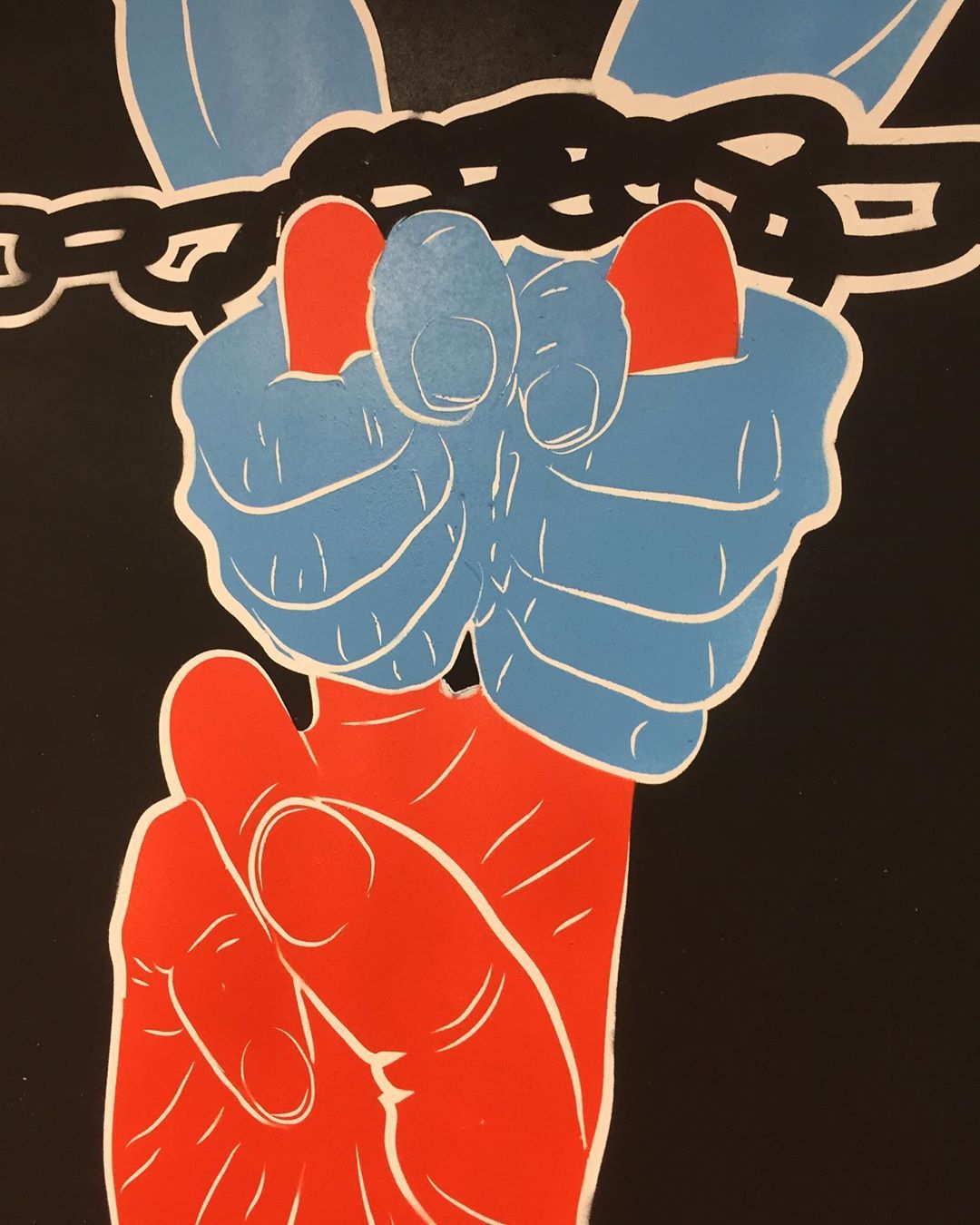 SDG#17 Partnerships for the Goals: Strider Patton- USA
American artist Strider Patton's sculptural piece Synergy took a bigger-picture approach and created the perfect abstraction to represent global cooperation and interactions. Intertwining rings are linked together by an abstract path of lines, resembling a tree trunk and branches. In the image, Patton also modeled shadows and depth for the work, giving a better sense of the work's physicality. Chosen by Simon Butler of Migrate Art, the piece is featured for the fact "it also encourages slower, thoughtful contemplation."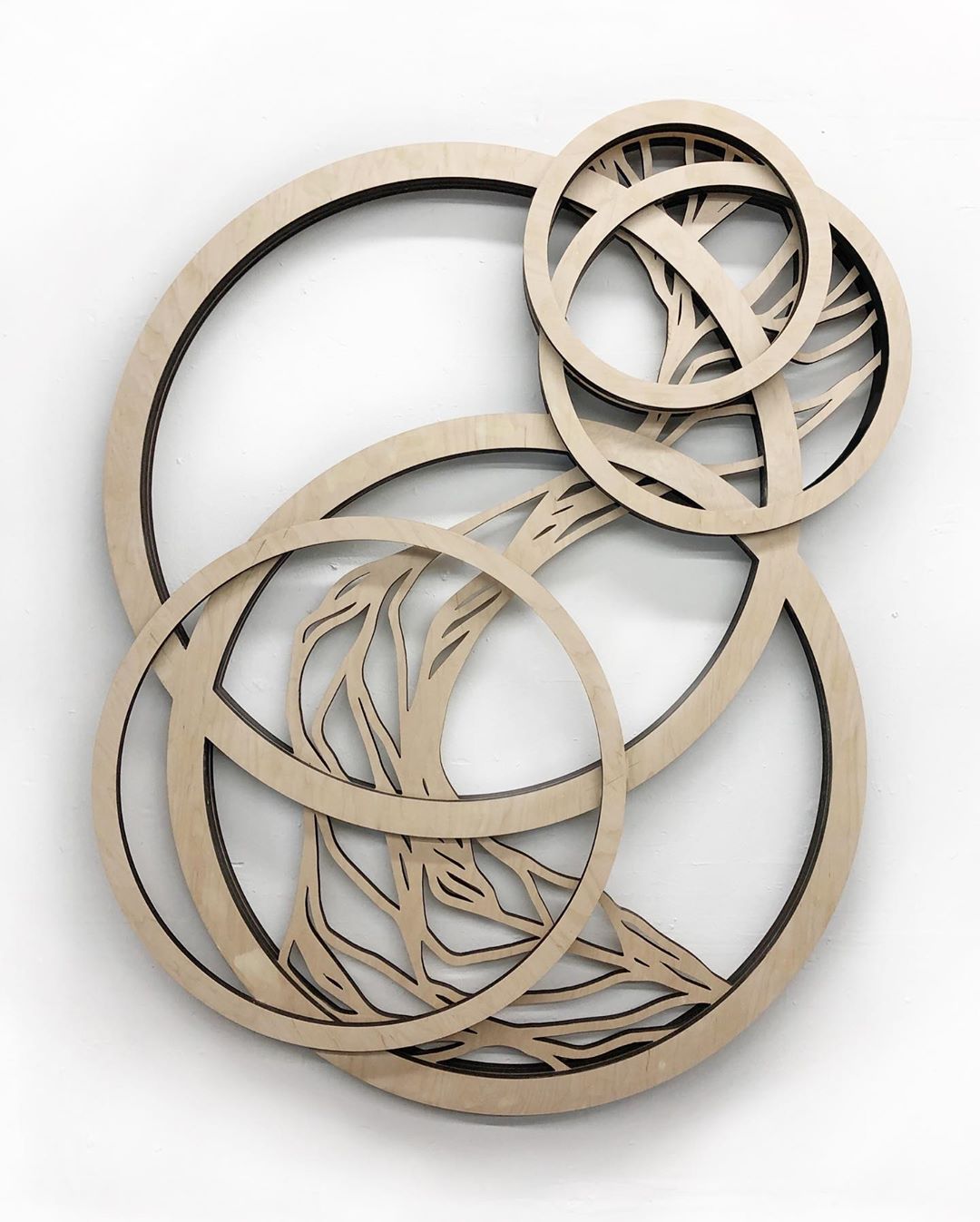 Stay tuned for the next phase of the TOward TOmorrow competition, where the final winner will be revealed and featured globally in the media.