After a long and storied career, Supreme Court Justice Ruth Bader Ginsburg passed away on September 18th, 2020. A devoted feminist and passionate advocate of women's rights, Ginsburg's vote secured several key rulings that ensured women were treated fairly in the workplace. In 1996, Ginsburg authored the court's opinion on United States v. Virginia, 518 U.S. 515, a landmark ruling which granted women entrance to the previously all-male Virginia Military Institute (VMI). In 2007, Ginsburg wrote a dissent on the court's Ledbetter v. Goodyear Tire & Rubber Co. decision. Her remarks became the inspiration for the Lilly Ledbetter Fair Pay Act, better known as the Equal Pay Act.
Throughout the 2000s, Ginsburg also made several key votes on search and seizure, abortion rights, voter discrimination, and health care cases. Her passion for equality came, in part, from her own experiences with discrimination: in 1960, Supreme Court Justice Felix Frankfurter denied her a clerical position due to her gender. Despite applying for hundreds of positions, few companies were willing to employ a woman, much less one who had a toddler at home. Ginsburg finally received employment in 1963 and continued to shatter expectations throughout her career. She was the first female tenured professor at Columbia University and the first female member of the highly praised Harvard Law Review. In 1993, she became the second woman to serve on the Supreme Court (the first was Sandra Day O'Connor) and, with her death, became the first woman and first Jewish person to lie in State.
For many, Ginsburg was a pop culture icon and an inspiration to women around the world. As America mourns her death, many have honoured her legacy the best way they know how: through art.
The Notorious RBG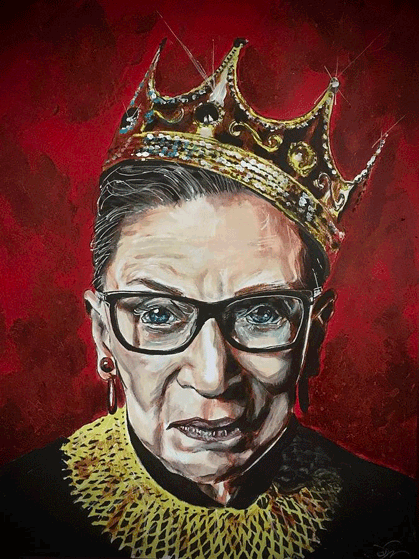 Joel Tesch's piece is a powerful testament to RBG – and a sly reference to pop culture. In 2017, Ginsburg earned the nickname "The Notorious RBG" thanks to an NYU Law School student. The name is a play on The Notorious B.I.G. – the rap legend who died in a drive-by shooting. According to sources, Ginsburg knew of Biggie Smalls and was pleased by the moniker. In 2017, she told Charlie Rose that the comparison "seems altogether natural."
Tesch's work draws multiple comparisons between the two. In the unnamed piece, Ginsburg stares at the audience, donned in a crown and her favourite jabot. Everything – from the colours to RBG's crown – is a clear reference to Baron Claiborne's 1997 photo "King of New York." While the rapper and the justice died decades apart, it's not hard to imagine that both would be flattered by the comparison.
"Good Trouble" at the Southern Poverty Law Center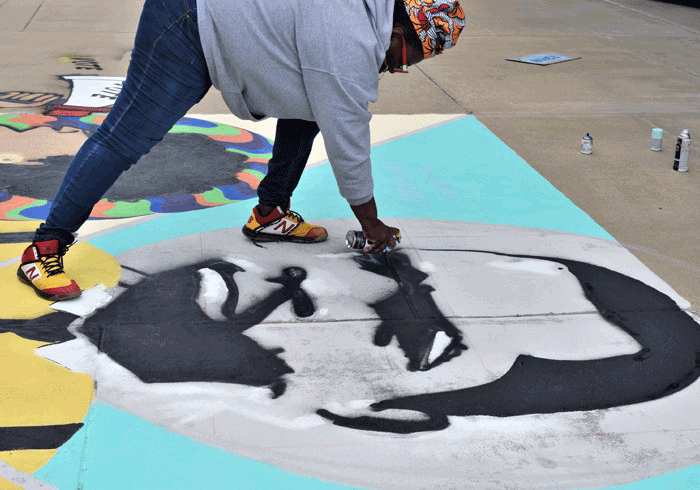 On October 2nd, 2020 artist Michelle Browder unveiled a new mural at the Southern Poverty Law Center. The John Lewis Voting Rights Mural pays homage to the Civil Rights icons we lost in 2020 – Congressman John Lewis and Ruth Bader Ginsburg. Lewis dominates the piece, looking at protestors who hold signs and shout slogans that encourage the public to vote. Ginsburg is featured on a blank piece of concrete with the quote "Real change, enduring change, happens one step at a time." The line comes from Irin Carmon and Shana Knizhnik's 2015 book Notorious RBG: The Life and Times of Ruth Bader Ginsburg.
Instagram's Salini Perera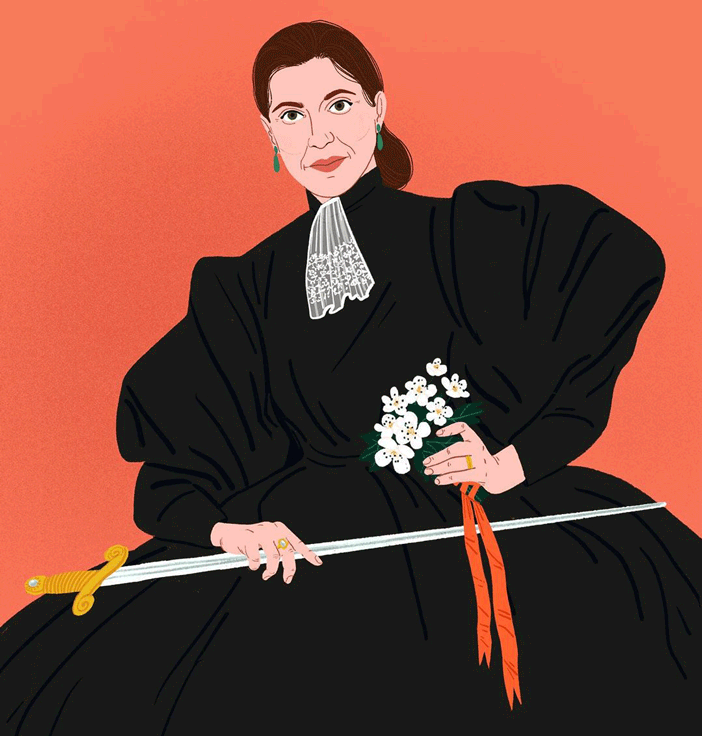 Picture book artist and Canada-based illustrator @salini.banana (a.k.a Salini Perera) has a more whimsical take on the late Supreme Court Justice. Here, Perera depicts a young Ginsburg with a jabot from this 2016 picture. The warm tones and fierce posture remind viewers of fantasy illustrations. Sword in hand, Ginsburg resembles a knight: a fierce defender of women's rights and protector of those without a voice.
The Ruth Bader Ginsburg Memorial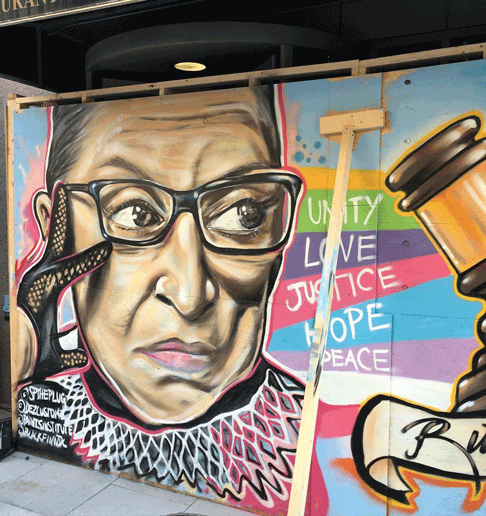 In Washington D.C., just outside the Black Lives Matter Plaza, two innovative artists created a mural out of wood and numerous boxes of spray paint. It took Shawn Perkins and David Zambrano just twenty-four hours to finish their tribute to the late justice, and the results are stunning. Ginsburg, in her iconic glasses and collar, glances to the side, where the words "unity, love, justice, hope, and peace" stand for all to see. According to Shawn Perkins' Instagram, the mural was created to: "…uplift the community through the arts with @paintsinstitute as well as honoring Ruth Bader Ginsburg."
A Touch of Lace
One of Ruth Bader Ginsburg's lace collars, known as a jabot, is on display at the Museum of the Jewish People in Tel Aviv. The collar and a signed copy of her memoir, My Own Words, will be on display throughout December. Throughout her career, Ginsburg used her jabots to communicate her opinion on Supreme Court decisions. Ginsburg expressed great care and curatorship through her lace collars, and they became part of her signature look. You can watch a full explanation of her jobots and their cultural significance here.
While many artists, celebrities, and politicians have celebrated RBG's life and legacy, it's time for the public to pick up where she left off. The best way to remember this Civil Rights icon is to vote in the upcoming election. In the words of Kerry Washington: "Her rest is earned. It is our turn to fight."