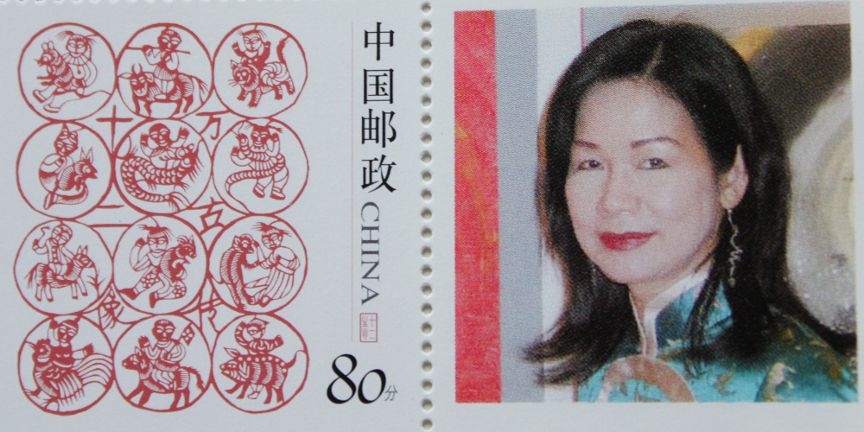 As a Chinese artist living in Canada for over thirty years, Ngan Siu-Mui faced dual hardships: moving to a new land and carving out a place for her craft.

In 2009, the 中国创业家协会、世界华人创业楷模协会 (World Chinese Venture Association) recognized Ngan's efforts and she was chosen as one of the 60 Domestic and Oversea Chinese who have made an outstanding contribution to culture in both China and globally.

While calligraphy class was a part of her school curriculum, Ngan was drawn into the craft through poetry. "Learning Chinese literature made me an artist," she tells Arts Help.

A master of Chinese watercolour and calligraphy, Ngan studied under Chao Shao-Ang of Lingnan school and Leung Tse-Kong of Xiao Feng Art School. She also studied with Taiwanese tea master Lin Easu. Her talent was recognized by her teachers, and she began seriously studying painting and calligraphy in her early twenties.

Originally from Hong Kong, Ngan moved to Montreal in 1988 for her children's education. She said the education style in Hong Kong created too much stress and pressure on their students.

"I don't want my kids to suffer in that kind of system," Ngan said. "I'm not willing to move out from my culture, but there was no choice."

Ngan struggled as an artist in Montreal. She was told to sell her art for cheap in Canada because few recognized Chinese calligraphy or traditional watercolour. Ngan said the expectation for Chinese restaurants to sell food at a fraction of Western dishes was also a standard in the art field.

Olav Velthuis, professor at the University of Amsterdam, wrote that there were two popular Chinese art styles among the Western audience in the 1990s: Cynical Realism and Political Pop. Foreign diplomats and businessmen were interested in these artworks, but less so in traditional styles and calligraphy.

Wang Lin and Ye Yongqing wrote in Chinese Art and the Market in the 1990s that Low-income Chinese artists would typically adopt the Western classical and realistic oil painting style to make money. They would sell their art to foreign art dealers for cheap, but their works would be resold for higher prices later on.

"Even if Chinese paintings of a higher caliber can freely compete in an international auction, even if Chinese domestic legislation on the market regulation of art and culture becomes increasingly transparent, and even if collectors and consumers are willing to pay high prices, nothing can remedy the tremendous cultural deficit of the Chinese-speaking world in modern history—it is precisely this that has induced the Westerners' bias and their sense of superiority in cultural values," they write.

The 2000s began to see a shift. Economist Andrés Solimano wrote in The Evolution of Contemporary Arts Markets that there was an increasing demand for Chinese art due to an increasing interest in the West for Chinese art, especially when Westerners are exposed to it in their travels to China.

He wrote that the increase in interest and purchasing power can lead to more cultural appreciation. Evidently, to achieve the United Nations Sustainable Development Goal (SDG) 10: Reduced Inequalities, there needs to be more exposure to arts from various cultures.

However, Canada Council for the Arts found in 2016 that racialized artists make a median income of 72 cents for a non-racialized artist's 1 dollar. Price disparities also remain for Indigenous artists. Ngan, too, experiences these inequalites.

Rather than conforming with the low market price, Ngan decided to teach. She opened her art school, Ngan Siu-Mui Art School, and taught individuals from all backgrounds Chinese painting and calligraphy.

Ngan hopes when Westerners study under her, they will gain a greater appreciation for both Chinese culture and art. In this interview, Ngan spoke about her experiences as a Chinese diaspora artist.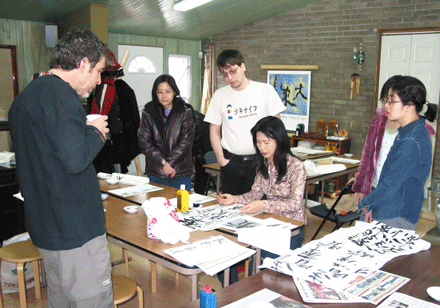 What defines your Chinese calligraphy style?

Calligraphy, for me, is an extra art, the most extra art with an image in mind. There are two levels. First is the formal level that I must achieve, like getting the script right. But the second level, when we are capable of the five scripts, is the ideal image.

All the images are from nature, from our daily lives. If, as a calligrapher, you can never connect your art to nature and to your daily life, I don't think you can be a good calligrapher. At the highest level, everyday we look for images. We look for emotion.

I aim to capture nature's movement in calligraphy, and that is the core ideal image.

All ancient calligraphers talk about movement from nature. Chinese characters were all inspired by nature, all the first characters were pictographs. So calligraphy cannot be separated from nature.

But now I know more and more people put calligraphy as writing. More Chinese people who come to me to learn calligraphy are here to learn how to write. But Western students who don't understand the Chinese character or language, they are more interested in finding out the ideal image for Chinese calligraphy.

I call it a biological art because we need our physical body involved. We create it in the moment. After time, it is impossible to recreate the same thing. Even through tracing, you cannot do it exactly. The movement changes so much.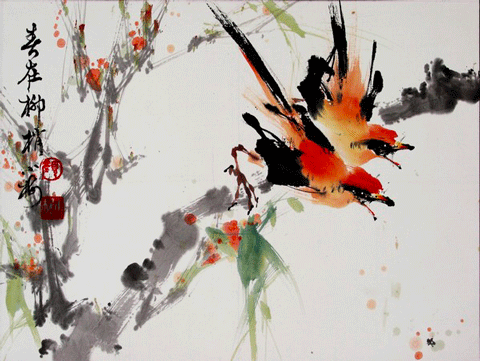 How has living in Montreal affected your art style?

I have to think about how to survive as an artist in Montreal. Chinese paintings — don't even talk about calligraphy — never have a proper price. You always had to sell them for cheap.

The only way I can keep my art status while making a living is by teaching. In the beginning, 90% of my students were Westerners. In 1988, I had no Chinese students at all. That's because my tuition fee was the same as the Western art academies. Unfortunately, Chinese immigrants would find it too expensive.

I really dug into the difference between Western and Chinese art. At the Hong Kong art academies, they told us to throw away the [Chinese calligraphy] brush because they set up their theory through the Western arts.

Here, I teach calligraphy and painting. I must find out what was the unique quality of Chinese art. In class, I explain to my Western students that we are not comparing which art is better, but that Chinese art is unique. You must not use the Western theories to explain Chinese art.

Ngan said this was the consequence of British colonialism of Hong Kong, placing a greater emphasis on the Western arts over Chinese traditional art.

Ma So Mui wrote in Identity and the Visual Arts Curriculum in Colonial and Postcolonial Hong Kong that in the 1960s, British expatriates Michael Griffith and Helen Stewart mainly drafted the Hong Kong art curriculum syllabi to closely follow British art education.

They focused on Western modernist art styles which conflicted with traditional Chinese artistic views. There were several points of contention, like the practice of copying from great masters. This is necessary to learn foundational basics in traditional Chinese art, but it was seen as a deterrent for originality and self expression according to the new syllabi.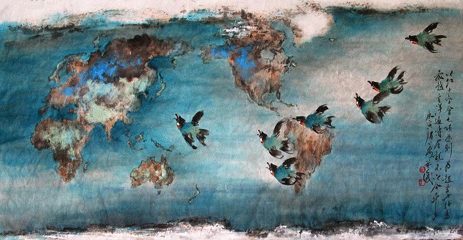 With international acclaim and recognition, Ngan has achieved great success, but her artistic journey is not finished. She said her many years spent in Montreal have likely had great influences on her art style, but she is still, first and foremost, born and educated in the East.

"These days, I go back to my traditional art because I feel how much I love it," she said. "I am more confident in my Chinese art."