Conservation is the act of caring for our resources to ensure diverse species and ecosystems remain for future generations. For wildlife, the Earth, and for humanity to thrive, conservation is essential and deserving of increased awareness and education.
One organization which brings to light and advocates for conservation is Artists for Conservation. Known as the world's leading artist group supporting the environment, the organization represents "500 of the world's leading nature/wildlife artists from 30 countries," as stated in their website.
I had the pleasure of speaking with Lynn Branson, an artist working with Artists for Conservation. Lynn Branson is a sculptor from Vancouver Island in British Columbia, Canada. Branson's work utilizes the beauty of the natural materials themselves, with her stunningly sculpted forms emerging from tree roots and set into the textured burls and grains of wood, driftwood and natural debris.
Branson's inspiration and motivation to create comes from authors and artists, her favourite being American wood carver, Mark Lindquist, as well as Monet, Georgia O'Keeffe, Courtney Milne, Robert Bateman and Emily Carr. Branson's inspiration also stems from nature itself.  She explains, "Nature gives me everything I need to create. It can be a sighting of a bird, the crashing of waves, decaying wood, a magnificent sunset or sunrise, a tiny droplet of rain, changing colors. It is all there to see. Living at the water's edge is ever changing." Branson also expresses gratitude for her supportive family including her son, daughter and three grandchildren.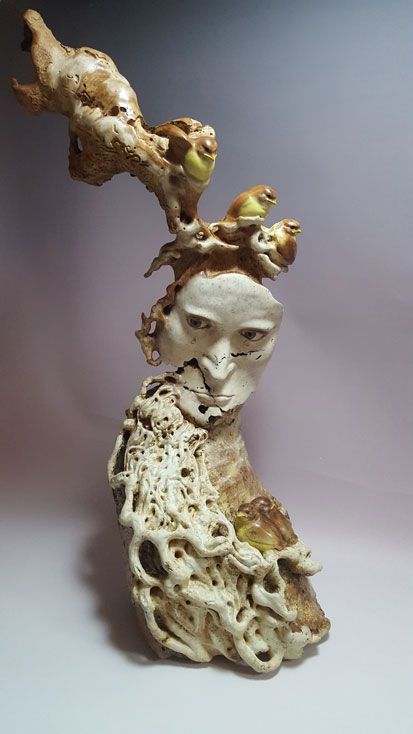 Lynn Branson recollects her first experience at sculpting, which came about as a result of her childhood explorations. Branson recalls, "I was always making something from nothing. Changing buttons to give a blouse a different look. Creating my own doll clothes, building dollhouses and more." She was always drawn to the natural material of wood, admiring the grain and textures it creates. At 14 years old, Branson remembers pounding nails together into a slab of wood creating the shape of a duck which her parents proudly displayed outside the entrance of their home. Branson's sculptures have since evolved, but the medium of wood has always stuck with her. She explains, "Each piece of wood is different, bringing with it many challenges, they have an organic look while considered fine art."
When asked about how she creates her art and how it has changed over time, Branson explained, "When I first started my whittling, I used knives. I progressed to chisels and high speed grinders. Now, my cabinets are full of every tool imaginable. I have one regret, that is I never went to use air driven tools. My back would have been grateful. I often have to use a chainsaw to get wood to the size needed."
What can we expect from Branson in the future? Upon reflecting on the artist's dream project she stated, "Right now my dream project is to work on a five hundred pound piece of maple wood in my carport. It took a team of men to deliver it to me. It is a perfect elephant head and trunk. I've yet to get much further than taking the bark off. I dream of finishing it!"
Lynn Branson's work effectively highlights the United Nations Sustainable Development Goal for Responsible Consumption and Production, as she uses natural materials that do not pollute the environment or produce waste. Branson's work also demonstrates the goal of Life on Land, as she uses wildlife as the main subject matter in her sculptures. This is seen in her work, Within the Grain of Time, where a Great Horned Owl is featured in the Blakely Burl Tree.
What role does Branson's art play in society? The artist states that she's always had respect and love for nature and its inhabitants.
"I find there has never been a more important time to have a voice to protect and bring about awareness of the fragility of our world. There is such beauty in our world, if one of my sculptures brings joy to someone viewing it, then perhaps I am doing my part."
Branson supports multiple non-profit organizations including North Island Wildlife Rescue in Parksville, British Columbia, a world-class rehabilitation facility caring for animals with all types of needs. Another organization specializing in wildlife rehabilitation and education is Mars Wildlife Rescue Hospital, located in Merville, British Columbia. Both organizations accept donations through the links provided.
The work of Lynn Branson is not only visually stunning and skillful, but also emphasizes the beauty inherent in wood and other natural materials. The artist's advocacy for nature and wildlife is a reminder to viewers of the importance of conservation, and there is no better time than now to expand awareness and education for the support and maintenance of diverse ecosystems.