When Mary Sui Yee Wong joined the contemporary art world in her thirties, she saw the prevalence of White narratives and the lack of voices from people of colour. She didn't find works that represented her lived experiences, so she began creating pieces drawing from her personal life, illustrating dynamic stories about gender and racial inequalities.
As the United Nations' Sustainable Development Goal (SDG) 5 on Gender Equality and 10 concerning Reduced Inequalities outlines, it is necessary for social infrastructures to include diverse voices. Wong's installations are thus significant for the art world.
This is the second part of the interview with Mary Sui Yee Wong, continuing from the previous article Mary Sui Yee Wong Talks Anti-Asian Hate and Art: Interview Part One. This piece showcases the artist's works created over the past 30 years and the elements of race, identity, community and gender that they touch.
She Takes His Bed (1997)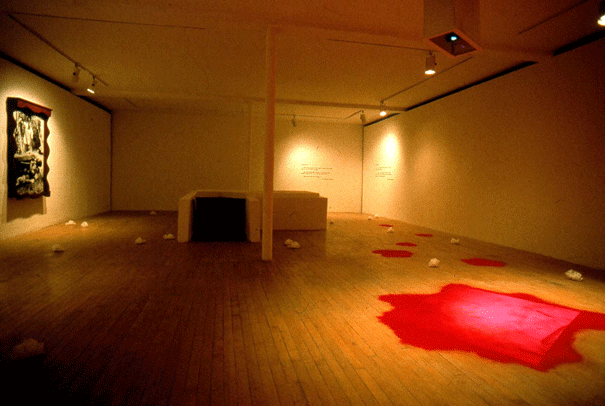 After Wong had her daughter, she was moved to create this piece. "I was thinking about all of that, the relationship between a father and daughter," she said. "It's about a father and his expectations and myself."
"It's a very complicated piece," Wong said, reflecting on the gender and race elements affecting her identity construction.
On the wall hangs a wooden frame resembling a child's bed. Within it is a blown-up photograph of Wong's father performing a martial arts act. "My father carries this photograph with him everywhere he goes, even when he was 90 years old," Wong said. "This was the image I had to live with of my dad."
Wong was separated from her father for some time in her childhood as her father arrived in Canada first to find work. "[The installation] speaks to my desire for my dad to provide me with safety and comfort," Wong said.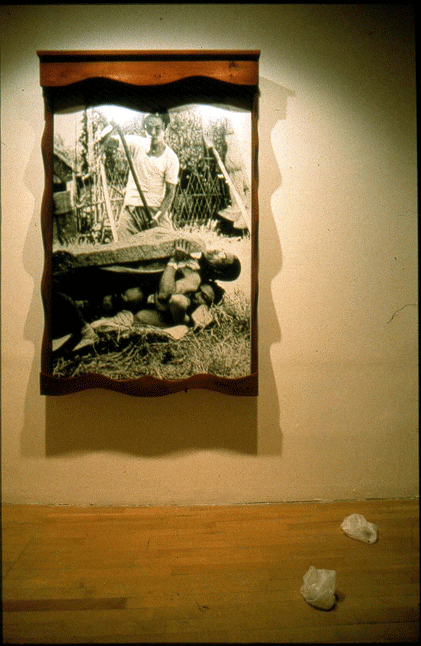 There are two letters on the wall, one she wrote as a child in Chinese and one she wished she wrote, but now in English. Wong wrote about her desire for safety and pain, juxtaposing her experience because her father was not there against the image of him within the bed frame as a strong man.
An image of Wong's back with texts from the Three Character Classic is projected onto the ground, highlighting her father's gift to her about how to be a better person.
"But ironically, in that kind of Confucius thinking, it is incredibly oppressive for a woman," Wong said.
She found there to be no space for an identity as an individual woman. "You could be identified through your relevance to others, as a mother, daughter or sister, but not as yourself."
"Especially as a young diaspora Chinese growing up in North America, I saw my own peers focused on being themselves and asserting their identity," Wong said. "But I didn't know who I was."
Cultivating the land (1991)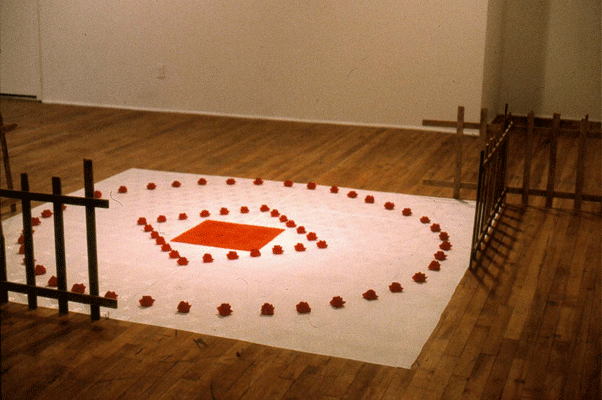 "This is a piece that was actually in response to something that was happening in Vancouver at the time," Wong said. She already moved to Montreal but she saw a wave in the late 1980s and early 1990s of affluent Chinese individuals buying houses. There was a backlash from news media against the rapid Chinese immigration, such as an article from the New York Times in 1999 titled Vancouver Is Astir Over Chinese Abuse of Immigration Law.
Wong was reminded of the discrimination they faced when they moved to their new home.
"How did we survive the way we were mistreated?"
"With the piece I installed I wrote a story," she said. "The story is an account of what my mother and father went through when they first bought their house." When Wong's family moved out of Chinatown and into a predominantly White community, they faced discrimination from their neighbours.  
"[The neighbours] built a fence across our garage, they harassed my parents and they did a lot of things to make us feel unwelcome," Wong said. Her father wanted to move but her mother was resolute for them to stay and treat the neighbours with kindness because they needed to save face, a key concept in Chinese culture Wong explores in her work.
Through her mother's continuous efforts to bridge the divide with their neighbours, like bringing them Chinese herbal medicine when they were sick, the neighbours eventually changed how they treated the Wong family. In fact, Wong said that the neighbours now help her parents with the lawn.
"They helped cultivate the land on my parent's property and my parents cultivated the relationship by facing the discrimination," Wong said.
Once again, Wong used dyed rice as the main medium to spell the Chinese character for ground, 地, on the white silk pasted to the floor as a garden space. By using Chinese characters, Wong adds nuance and double meanings that would mean different messages for different audiences.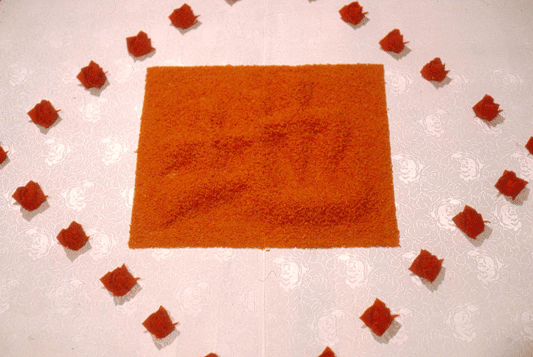 "For the Western audience, it wasn't intended for them to apprehend how the Chinese language is used because it relies on an understanding of calligraphy," Wong said. "It's a demonstration that there's more nuance to the Chinese culture than White people allow."
In English, land has one meaning but the Chinese character can be used to construct other meanings. For example, 地道 means genuine and 地理 means geography.  
However, Wong does not seek to alienate the Western audience, in fact using cultural cues like silk and rice to bridge the linguistic divides. "It's about multiple entry points for very specifically different audience members," Wong said.
Well Wishers (1992)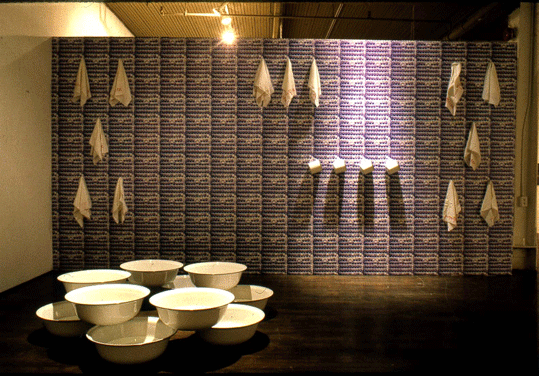 This installation was born out of Wong's research into the Chinoiserie and Orientalism in Western culture. "At one point, China was so popular in the Western world that [the Westerners] decided to take it upon themselves [to recreate pieces]," Wong said.
She stumbled across Thomas Minton, a British man who began making pottery to look like it came from China. He famously created the Blue Willow Pattern which only resembles Chinese china design on the bare surface level. There is no cohesive structure to the design but a mismatch of nature in the popular blue and white colours.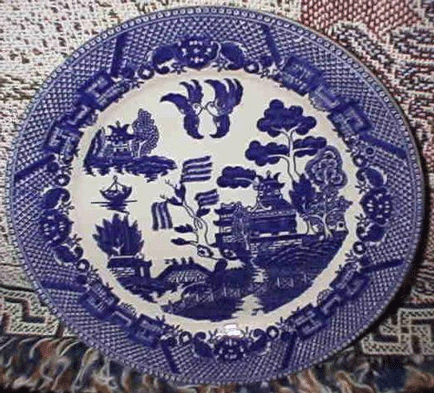 "This is a perfect example of the Western gaze," Wong said. "He designed this pattern, he sent it to factories in China, had the Chinese produce this chinaware, and sold it in England."
In this installation, Wong explored cultural appropriation and how the Chinese diaspora still claimed a space for themselves.
"I created this installation to make it look as if you wandered into a bathhouse," Wong said. "This is the way our ancestors in the 1900s dealt with discrimination and racial inequalities. They went to their bathhouses to share their difficult experiences at the end of the day."
Relating to Cultivating the Land, this piece also highlights the idea of "wanting face or respectability," 要面子. "Why would people put up with mistreatment? They still want their pride but they need to put up with that," Wong said.
"Even though these people were hurting and feeling oppressed they had to wish their enemies well just to save face."
Wong also brings up how "to face an issue" 面对 relates to "saving face" 留面子.
There are many-layered meanings, especially in the Chinese language, that Wong taps into for her work. "I'm also playing with the literalness of the face, like washing your face, cleaning yourself."
"A viewer would have to learn the history but they can't just walk away with a full understanding of what it means."
"For a Chinese person who has that knowledge of saving face, you can see there's a different way of seeing this work than a White person. But it also allows a White person to learn about our philosophy and our culture."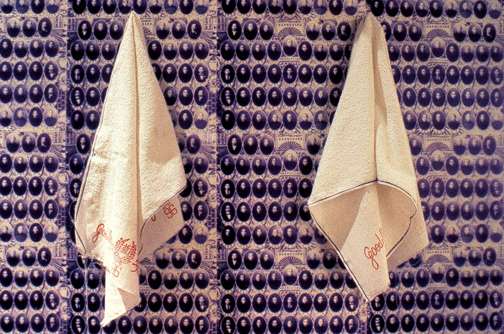 Wong also included towels that are commonly used in Hong Kong in her installation. On one side of the towel, it says "Good morning" in English and on the other side, it says "Wishing you a Good Morning" in Chinese. "I wanted to think about what it means for a Chinese person to buy and display them versus white people," Wong said.
The key part of the installation is the bathhouse wall. Using a photo of Chinese men who came to Canada to work on the railway, taken from the Canadian archive, Wong changed the colours into blue and white to make a tile wall.
"It looks like a pattern but when you come closer there's real content," Wong said, unlike Minton's design that seems like a china pattern with no meaning or substance.
White China (1993)
"This installation rose from the news at the time about residential schools and the atrocities happening to the Indigenous people within the Catholic religious system," Wong said. "It provoked me to speak about my own experience having gone to a school in the Catholic system."
From the ages of four to seven, Wong attended a Catholic school run by Chinese Catholic nuns in Hong Kong. She cites it as one of the most traumatic experiences in her life.
The installation is shaped like a classroom setting indicated by the placement of the steel plates and spoons. In each plate is a word written in white flour, which was the Lord's Prayer, leading to the last line of the Lord's Prayer in English on the serving platter.
Wong specifically used stainless steel plates and Chinese soup spoons as visual cues since stainless steel plates are more often used in Asian restaurants. Wong chose to use plates "because I was fed this culture," Wong said. "I was force-fed."
"There's also an interesting significance already ascribed to this material. I choose materials that point to these discriminatory visions and perceptions."
Wong wanted to choose materials that pointed to discriminatory perceptions, such as the stereotype of the Chinese immigrants as low, working-class folk but also efficient, similar to steel.
"This piece is called White China because the Westerners always liked our chinaware," Wong said. Yet Wong noted that the Western gaze views Chinese people like steel; only valued for utilitarian uses, especially in the construction of the steel railway.
"This piece is about colonialization and appropriation without acknowledging Chinese history and value to society."
Letters to Lily (1989)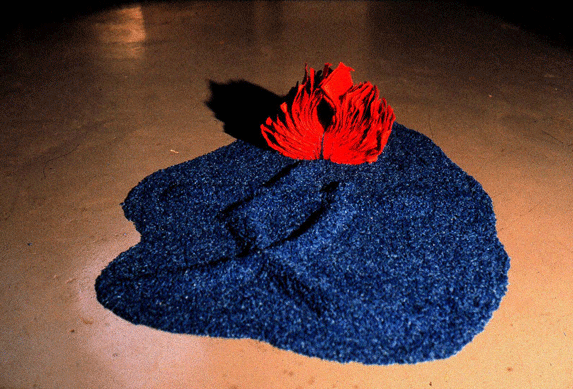 Wong was inspired by her classmate Lyllie Sue's performance about constructing identity. "I was so moved by that performance and how atrociously we are treated as humans just because we're people of colour that I decided to make this artwork," Wong said.
"I made this artwork to speak to her, to tell her that you're not alone. I understand that experience."
Using handmade paper and dyed rice, Wong wanted to use symbolic meanings and visuals to highlight the exoticization of women, especially in the Western world. She wrote the word "woman" in Chinese, 女, with the dyed blue rice shaped like a pool with the origami lily flower at the head.
Wong sought to address the gender inequality and fetishization of Asian women, being delegated flower names and treated like exoticized dolls. This exoticization and aestheticization are represented by the rice which is no longer edible when dyed.
Not only is the fetishization of Asian women disrespectful, but it is also incredibly dangerous. In March, eight women were victims of suspected anti-Asian hate crimes because of the criminal's so-called 'sexual addiction.' After this attack, CTV reported that many Asian women came forward with stories about sexual harassment motivated by racial narratives depicting Asian women as docile and submissive objects.
While Wong's installation was created in 1989, the message is as important as ever: the fetishization of Asian women is dehumanizing, yet it remains.
Mary Sui Yee Wong's artworks are on display in an online archive that can be visited, here.