South Africa has a plastic waste problem. According to WWF, the country generates 2.4 million tons of plastic waste per year. But luckily, one South African artist is taking matters into his own hands by tackling the problem through recycled plastic waste.
For close to two decades, Mbongeni Buthelezi has made waves in the art world with his unique pieces which highlight the importance of taking care of our planet. Through his work, Buthezi aligns with the United Nations Sustainable Development Goal for Sustainable Cities and Communities which seeks to reduce the adverse per capita environmental impact of cities and pay attention to air quality and waste management.
Buthelezi hopes to inspire individuals and businesses to think differently about how they use and dispose of plastic. He also encourages more sustainable choices for the future.
As a young boy growing up in rural Kwazulu Natal, Buthelezi's passion for art started as a way to have fun and pass the time. He made clay figurines of the livestock in the village igniting his passion to create. It was during this time that he noticed the plastic pollution in his surroundings when he saw cows dying from consuming plastics.
At 22, Buthelezi enrolled in a community art school but unfortunately, the school did not receive support from the state because of the ongoing apartheid at the time. Despite lacking resources, he found innovative ways to express his artistic vision. His school taught him the basics of art techniques, including making collages using old magazines which he shared in an interview with CNN.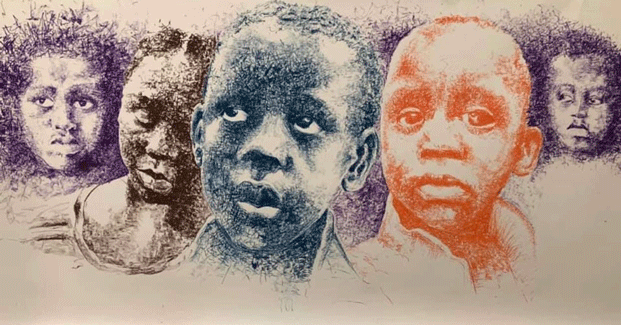 However, Buthelezi's journey was not always about his love for the environment and sustainability. In an interview with the city of Johannesburg, he expressed how he experimented with plastic waste because he was a broke college student who could not afford to purchase art materials. It was the discovery of plastic waste at the dumping site next to his studio that truly ignited the South African artist's creative spark. He saw the potential in the colourful and durable material and experimented with it, using it to create intricate and unique collages.
Buthelezi's work begins by collecting plastic waste from recycling yards in Johannesburg which he then washes and sorts into different colours in his art studio. Instead of expensive oil paints, Buthelezi creates his pieces using the plastic litter that he collects. He has perfected a technique that involves melting the plastic with an electric heat gun and applying it to a recycled canvas. This innovative approach not only produces stunning works of art but is also more eco-friendly than traditional methods that involve burning plastic, which can release harmful toxins into the atmosphere.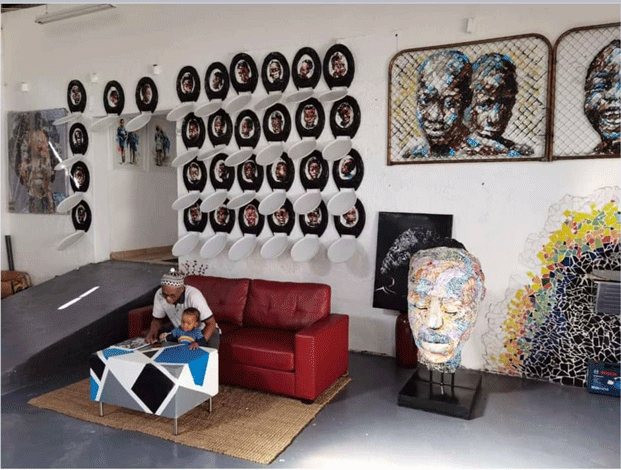 Buthelezi's creative work also involves the layering and positioning of recycled plastic pieces to create stunning portraits and mosaics that can easily pass as oil paintings. There is nothing easy about creating brush strokes and it can take about 5000 pieces of recycled plastic to create one artwork.
Various exhibitions and prestigious art centres including the KZN Society of Arts, have featured and celebrated his artworks. One of his most acclaimed works is the collaborative piece created with South African artist Mike Hlabangwane, titled Fusion, which adorns the entire wall of The Leonardo (the tallest building in Johannesburg). Fusion portrays the rich cultural journey and legacy of South Africa and has received immense praise from the art community.
Other artworks that have received a lot of buzzes are Lot 68 and Lot 81, a series he created reflecting the contemporary lifestyle of South Africans. Lot 81 is a piece portraying a typical street corner in Joburg. While Lot 68 is a portrait of a boy and his dog.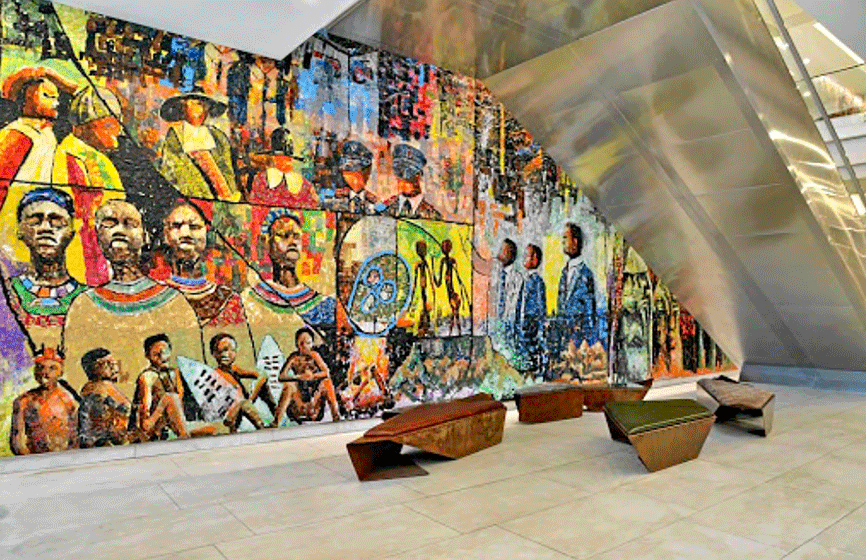 Overall, Mbongeni is an exceptional artist who views his art pieces as a medium to tell stories while advocating for social and climate change. His childhood and the adversity he faced in college have only strengthened his resolve to use art in saving the planet. Buthelezi believes that it is his job as an artist to reflect the state of society including its ugly truths.