There is a mysterious and magical quality to Michel Saulnier's public sculpture, Petit Frere, Bear & Planet, located outside of the Toronto Marriott Markham at 170 Enterprise Blvd, Markham. With the support of The Remington Group, and his technician, Bernard Paquet, Saulnier has created an enchanting public art experience for Downtown Markham's residents and hotel visitors. As an exemplary extension of Saulnier's playful and imaginary sculptural practice, Petit Frere, Bear & Planet speaks to audiences through its endearing personality. Created with a mixture of materials such as brass, aluminum, stainless steel, and LED lights, Petit Frere, Bear & Planet stands nearly 22 metres tall –– a vibrant illusion and curious character. The piece's centre is a 3-D depiction of a toylike bear made from the same lightweight mesh-metal material used to construct the aircraft's frames. The bear appears to float through the universe with one foot atop a large brass sphere and the other lifted in the air. The brass sphere resembles earth or, at the very least, an other-worldly planet –– a ship guiding the bear on a journey through the cosmos.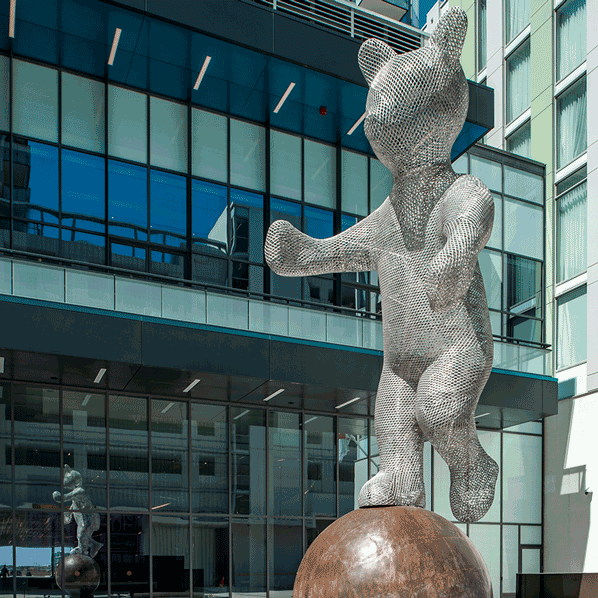 Despite its still structure, Petit Frere, Bear & Planet appears to gesture and wave to the people who visit it. Perhaps the bear is actually waving to the surrounding stars and planets it greets on its cosmic adventure. Whatever the story, Bear & Planet inspires the imagination of its viewer. The changing environmental conditions that encircle Petit Frere, Bear & Planet add a further dimension to the artwork's creative vision. At night, the structure's configuration of LED lights glow, and visitors get a glimpse at the blue illumination peaking through the body of the sculpture. Given its location next to a hotel, Petit Frere, Bear & Planet welcomes everchanging and transient viewers. For the artist Michel Saulnier, the bear is an animal that symbolizes positivity and protection. The bear is also a motif that frequently appears throughout his practice. As the title would suggest, Petit Frere, Bear & Planet is like a little brother to other works Saulnier has created. Bear is a friend watching over Downtown Markham's visitors –– an image of strength and protection. At the same time, the sculpture, Petit Frere, Bear & Planet, provides adults, parents, and children alike with the courage to step outside of their reality and raise their imagination.
Arts Help journalist Mallory Gemmel spoke virtually with Michel Saulnier to discuss his work in Downtown Markham, his history as an artist, and his material practice.
It's lovely to speak with you. I'm impressed by your long history as a multimedia artist, and I wanted to start by asking you to describe a bit of your history as an artist. I'm curious, how has your career path unfolded?
When I started, I studied the history of art. Then I decided to make paintings, and eventually, I decided to change my career. I studied art history until I got my master's degree, but I was also interested in contemporary art. After this, I began painting and working with objects. I decided to start making sculptures, and it was different. I didn't know enough about how to make sculptures. I decided to come here to Saint-Jean-Port-Joli. It's a place where there is a long tradition of wood sculpture, and I was very interested in wood. The big local sculpture school was closed for a long time, and for one or two years, there was nothing there, but I had the opportunity to work there eventually and learn with another sculptor. Finally, I decided to stay here. I hadn't had a studio before in Montreal.
My professional life was there, but I thought maybe I should try to stay in the countryside, perhaps it would be easier for me. Ten years later, sometime in the 1990s, I started to make public art, and I had the money and opportunity here in Saint-Jean-Port-Joli to do so. I had assistants, a system of people to help me, talk with me, and work with me. And so, I am a painter, sculptor, and I make public work. I have also taught for twenty years. However, I decided maybe four or five years ago to stop teaching and to come back completely to my art, to my practice. For a while, I had two studios. Downtown Markham's work was made in Compton, Cantons de L'Est, another little village where my technician Bernard Paquet is living. I continue to work slowly and quietly here in my studio, making concepts for different projects. My life is quiet now.
What did you teach primarily? Were you teaching sculpture?
History of Art at the beginning, in the end, I started to teach sculpture and different things, drawing, painting, but the best for me is the history of art.
Did you teach a specific period or time frame of art history?
I very much like actual Contemporary art. But also, I'm very comfortable with the Renaissance, Modern art, all manners. And I was a great enthusiast about teaching this history. I think I was a good teacher because many of my students continued studying art history.
As someone who has an arts education, I am always interested to know why artists choose to study and create art. What led you to this career?
At the time of my study, it was easier to have this career and decide to continue because everything was more open. Everything was possible. If I were young now, I don't know if I would do the same. I would probably do the same, but I think it's not as easy for young artists now. I still think that when you study art, you have to learn how to organize and put yourself in different situations. You hear better and understand everything better. It's a perfect formation, I think. In the beginning, I wanted my studies to guide me to be an art critic and writer. But in the end, I had to work with art and materials instead.
I know you started your practice as a painter, and I was curious to know more about why you transitioned into sculpture. Was there something that resonated with you about sculpture?
I think the first thing is that I was not satisfied with painting. Not only because it requires a flat plane, I like objects, but also, I was always making a new painting after painting. I could not stop, and it was too much. It became crazy at one moment because it was layer after layer, painting after painting. With painting, it's about addition. With sculpture, it's about subtraction. You take off material, and you have to find the image. I was much more comfortable with this, but I also liked the relationship with the wood material, clay, and everything. I like working with sculpture. It's more physical.
Do prints present a different artistic challenge? Do you utilize a silkscreen or press print?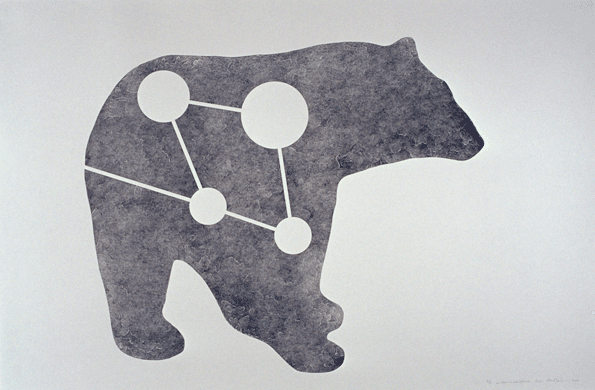 I prefer press print. I use an aluminum plate, and I engrave it with electric tools, the same ones that I would use for wood. In this sense, it is not very orthodox. For the rest of the process, I use a reel press big enough for this scale (the bear is 5 feet long). In my printmaking, I always keep an influence from works of sculpture.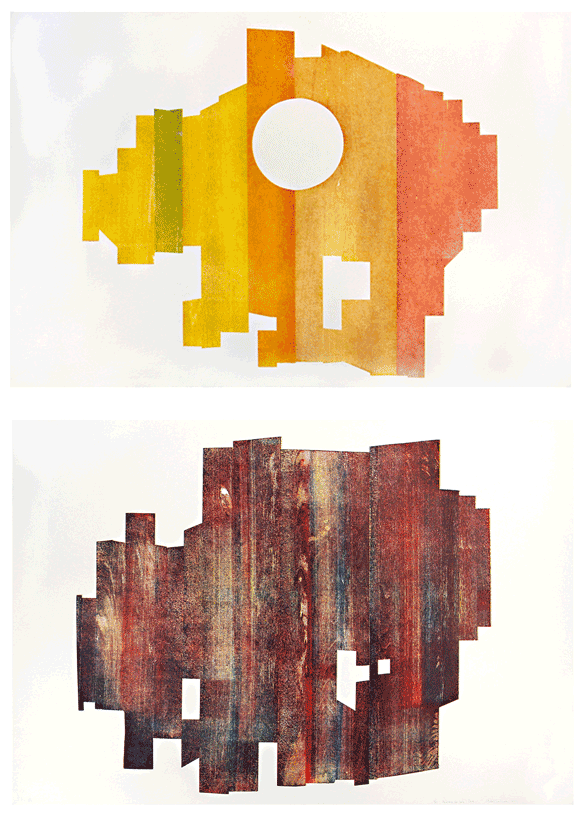 Is printmaking a newer medium for you?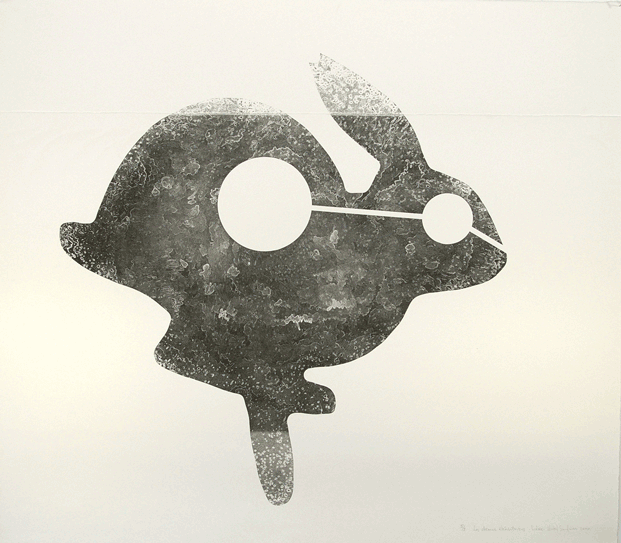 No. I've had invitations from Quebec City to do a residency, and I've gone three times. I now have a print machine. The first time was in 2003, just before I left for a residency in Germany, I did three or four big works, but I didn't have the opportunity to show or to come back to the work. After many years, I looked at this image, and I thought it was nice. And that's why I continue now.
The motif of a bear frequently appears in different configurations throughout your work. Is there symbolism behind these bears?
The first bear I did it was during a symposium with the public and a crowd of people. I was working as a painter at this time. I had people behind me, and it was very hard to keep my concentration. It was my first experiment working with the public behind me. And at that time, I decided to make something to protect myself from the public. I was thinking of making a dog, like a Chien de Garde. Finally, the dog became a bear. I was in a rural context, so I found a way to have a big woodblock. I bought a little chainsaw, and I did my first sculpture, but also at that moment, my first bear. I think two or three years later, I realized the impact of this bear, and I did another work, another piece with three bears. After this, I continued, and of course, I have made some very big bears now. It's still something, it's a motif. This animal, I keep very close, and I continue to work with the bear. Sometimes, it's something I need to do to make a bear. I always try to have a new message. The message of the bear is only positive.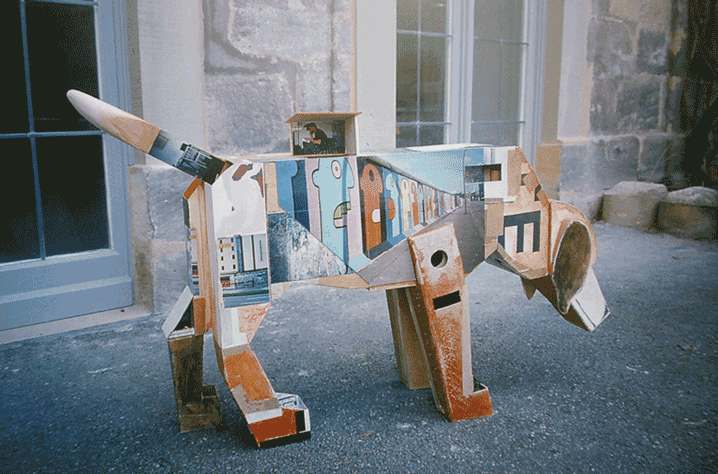 This brings me to ask about your work, Petit Frere, Bear & Planet at Toronto Marriott Markham. Can you describe the piece by giving some insight into the work and what this artwork means to you?
I got a phone call sometime in 2016 from a curator in Montreal who put me in contact with the Remington Art Collection curator Shelley Sheir. Shelley was my contact for the Downtown Markham project. She wanted to have a version of the sculpture I made, Je Suis Là, for the children's hospital Centre Universitaire de santé McGill in Montreal. She saw it on her way from the airport going into Montreal and felt she wanted one for the project. At that time, I was very surprised, but I said, "why not!" I was not comfortable creating a work with the same idea and shape. I made a new proposal with a bear and little changes. Initially, the bear was wearing another bear on his shoulder. I tried to make a variation, but in the end, the group wanted something closer to the original sculpture. So, I decided to continue with the original design, but I knew it could not be the same scale and needed changes. Petit Frere, Bear & Planet is like the mirror to Je Suis Là. It stands on the opposite leg. I still thought about the smaller bear's idea, so I said maybe this work in Markham can become like its title, "le petit frère," the little brother of the one in Montreal. And referencing the idea of the planet that the bear is walking on, I thought the relationship between the two sculptures could become a kind of constellation. I started to have this idea of putting this animal in different places like a constellation.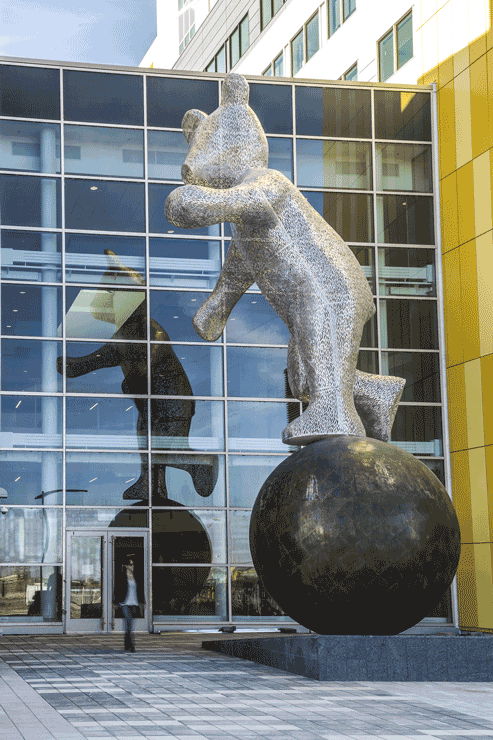 You frequently use wood and metals to create your sculptures. Can you explain how you use these materials?
I came here, to my village, to learn about wood, but whenever I have the opportunity to make public artworks, I am always asked to make a work that will continue in the future or one that will last. I had to find other materials. Like, aluminum. It is a nice medium. I found this technique where I create the masterwork in wood, and then I shape the form in aluminum. For me, this material was a good compromise. Also, I work with steel brass, like in Petit Frere, Bear & Planet in Downtown Markham, the material of the planet, the ball. I like aluminum and brass; they are my best materials because they are easy to shape and weld. For Petit Frere, Bear & Planet, the bear's material is this kind of aluminum used to make airplanes. It's a very light material and very strong. So, we found it, and we tried to shape the form of the bear. It worked well, and I will certainly use it again. It's actually better for the work's engineering because the wind and light can pass through the bear.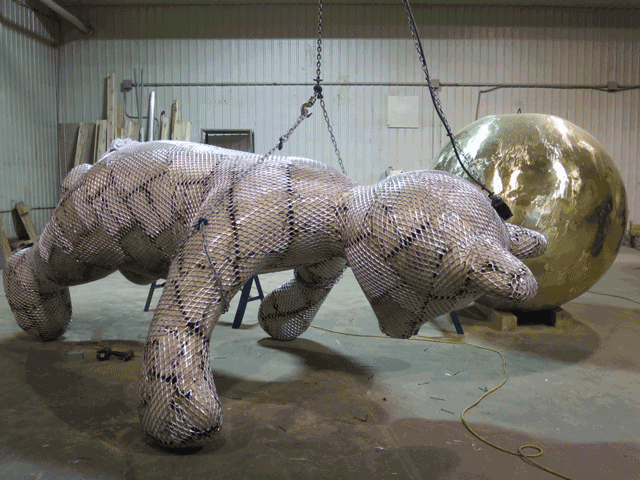 Making a public artwork that is the scale of Petit Frere, Bear & Planet in Toronto Marriott Markham is a long, laborious, and collaborative process. What does creating a project such as this entail? Once you have an idea of public artwork, what are the steps that follow to make the piece an actuality?
That's interesting because the beginning work is quiet, and I'm alone in my studio. I play with different ideas and try associations. After this, there is a new step when I decide to work with an idea. I have to make a model show the sculpture in the context of a building or landscape. Then I need to write the texts to organize the project, the budget, the destination and everything, the people who will work for me. I can do everything in the office of my studio. When the proposal of public artwork is done, there is usually a presentation and competition to compete with two, three, or five artists for funding. Suppose you are the winner, the big job starts. Petit Frere, Bear & Planet, was different because I was asked to do the project.
Do you collaborate with other creators, say metal sculptors, to create your finished works?
For Petit Frere, Bear & Planet in Downtown Markham, there were maybe two, three, or five assistant artisans working for me. I have one assistant, Bernard Paquet, who always works for me, but at that time, I had other workers help him. I used to go work at the other studio with them, but I've worked with my assistant Bernard for more than fifteen years.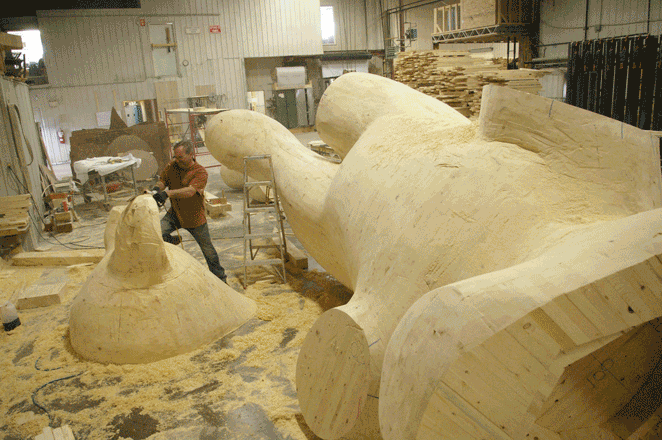 I read that your first public artwork was mounted in Toulouse, France, in 1989. Since then, you have had an impressive career creating numerous public artworks in Montreal, other parts of Canada, and internationally. What draws you to creating public sculptures or making art for the public?
For me, at the beginning, and still now, the first motivation is the aim to do something where you are not sure what will happen, you know? Every time you make a public artwork, you have to find a new solution. I like this challenge. It's an uncomfortable situation. I don't know why I like it because there is a stress that comes with it. Sometimes I can stay within the budget of a project, but I often pass through the budget. So, it's a really big stress. The only way for me to accept this is to have other projects and continue with the new project.
You find yourself moving from one project to the next? Is it a challenge to keep up with the work?
Yes, it's a challenge. I also like the idea of public artworks. If you have an exhibition in a gallery or a museum, there will not be many people who will visit or see the work. After a while, the exhibit is finished. For public work, the work is there forever, if there is no trouble. This is nice, with public artwork, you work a lot, but not for nothing. There is always something that you will experiment with and experience. You will always find something new out of this, but there is a lot of frustration. There is also a system of people working with you. You have to find new projects to support your team.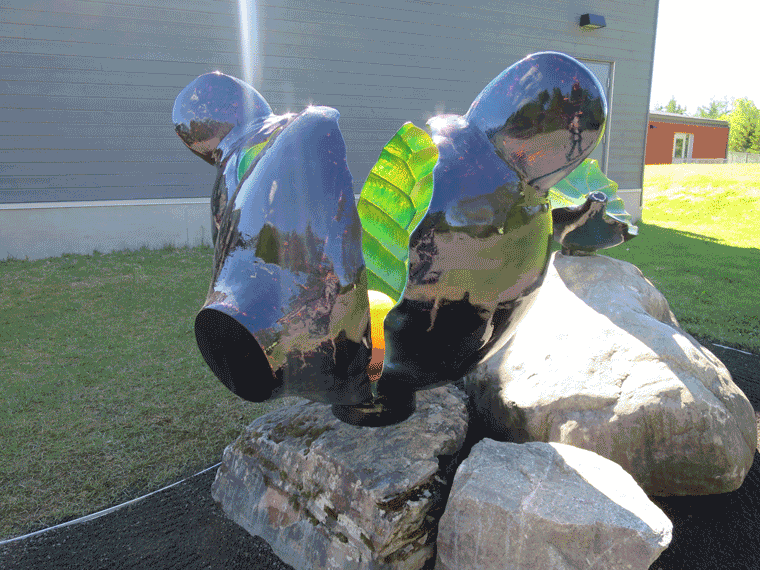 What do you hope viewers of Petit Frere, Bear & Planet will take away from experiencing the artwork?
I hope that the viewer will find a friend. In this context, the sculpture is in a suburban area. So, I hope somebody will find the sculpture, find the connection to the brother and maybe realize the connection with other bears somewhere else. I hope viewers will find something new in relation to the suburban space and with the future. I like to do something like this, not to give all the answers, but to create and offer ideas and connections. I'm happy when viewers find connections to my works two, three, or four years later.
Petit Frere, Bear & Planet is also in a place where there are always new visitors. At the hotel, there will always be new people who will interact with it.
Also, I know that there is also a collection of artworks and street art presented by The Remington Group in Downtown Markham. I was very happy about this special context.  
In a similar way to Petit Frere, Bear & Planet, many of your public artworks often appear in public spaces such as schools, hospitals, and hotels. Can you explain the relationship between these places where your works are exhibited and your conceptual intention as an artist? Is it important to you for your artworks to live in these types of social spaces?
I very much love the context of creating with young people. Also, I like the imagination of childhood. I like to work with people who have less preconceived ideas, those with a head that's a free canvas. When I am selected for a project, I think the imagery I create is perfect for schools or hospitals' contexts.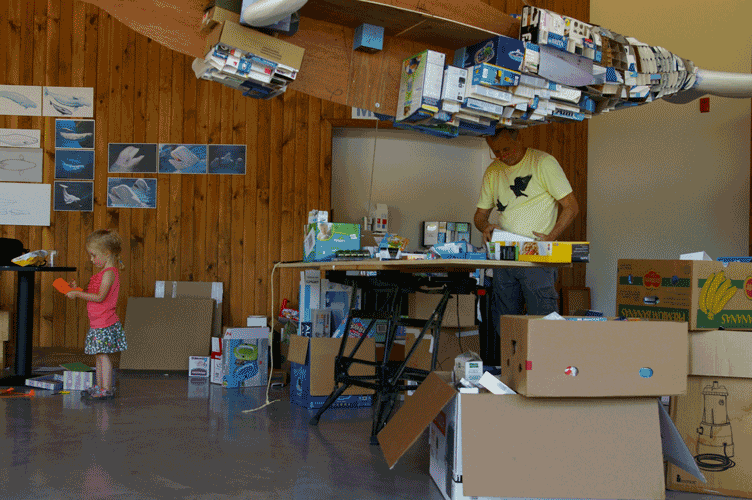 It would seem that throughout your career, you have also been interested in creating spaces for young artists to learn about and explore the role of contemporary art in our culture, from your position as co-founder of the Centre d'artistes Est-Nord-Est in 1982 to your recent Art Mobile project (FAIC). Is working with youth and creating spaces for artistic exchange important to you and your practice?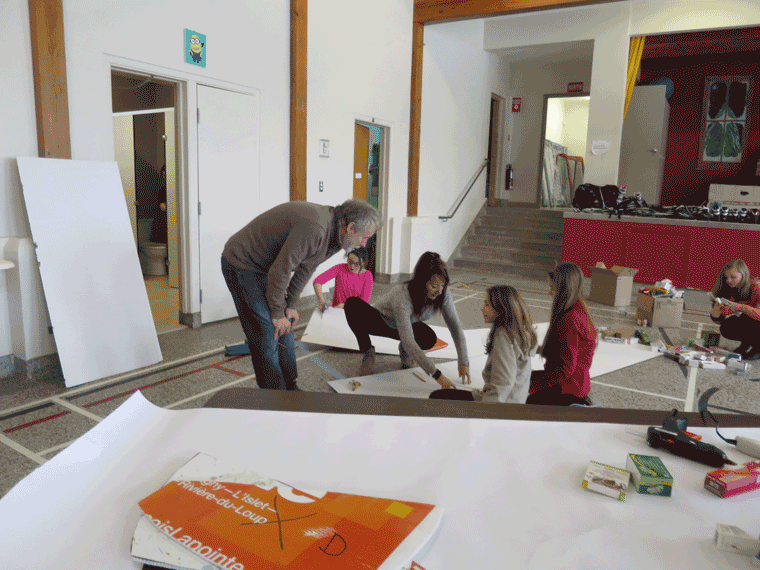 When I came here, to Saint-Jean-Port-Joli, I thought it was nice to be in the countryside, to have the river, and the nice landscape, but I also need a cultural exchange with artists. So, we had this idea to create space for artists from the city who wanted to have a quiet space to work and access the material. It was a big success after a while, and artists wanted to come and stay for two months in the spring, summer, and fall. We got money to build a new centre which is now open all year. I worked for Est-Nord-Est for about twenty years. Later, I worked for about six years with the Biennale de sculpture de Saint-Jean-Port-Joli. I was the creative director for many projects. I did one project with artists from the North. Seven artists from Nunavut came to Saint-Jean-Port-Joli to exchange with artists. Another project was with artists from a village in Bavaria, Germany, Oberammergau, where a school and a group of artists work with wood. I had a one-year residency at the Villa Concordia in Bamberg in 2002-03, where I met a sculptor from Oberammergau. For the project, artists from Germany came to Saint-Jean-Port-Joli and artists from Quebec went to Germany. I like this idea of exchange. I feel I need to have contact with people. I think I've been and I'm still very lucky to make my art in this way, it is necessary.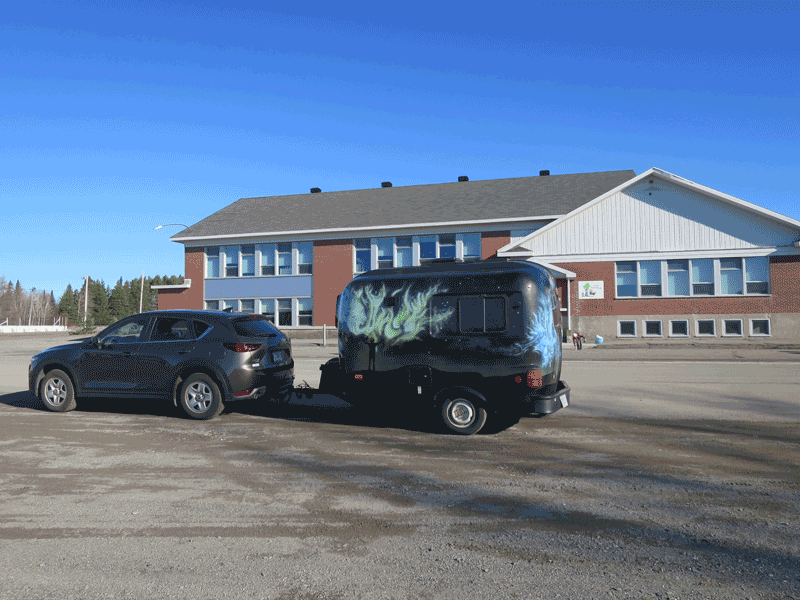 The Art Mobile Project was a very simple idea. I realized last summer with the COVID-19 pandemic that I had fewer projects to work on. I decided to make my little house into a space that could travel and be used for exhibitions. I made a series of small wooden figures with head masks. The inspiration for the mask came from the Plague Masks used by doctors in the middle ages. This work was made in relation to the COVID-19 pandemic and also to these small wood characters that are a tradition that we have here in this village. Essentially every small shop sells these characters. The exhibit became popular, and people started to buy my sculptures. Also, there is a new funding program that I applied for to help diffuse art into the community during this time. I asked for the funding of the program, and I got a yes for an answer. I organized six workshops for youth. The contact is perfect. I got to go to small villages where people have never seen contemporary art. They are so happy about art and open to art.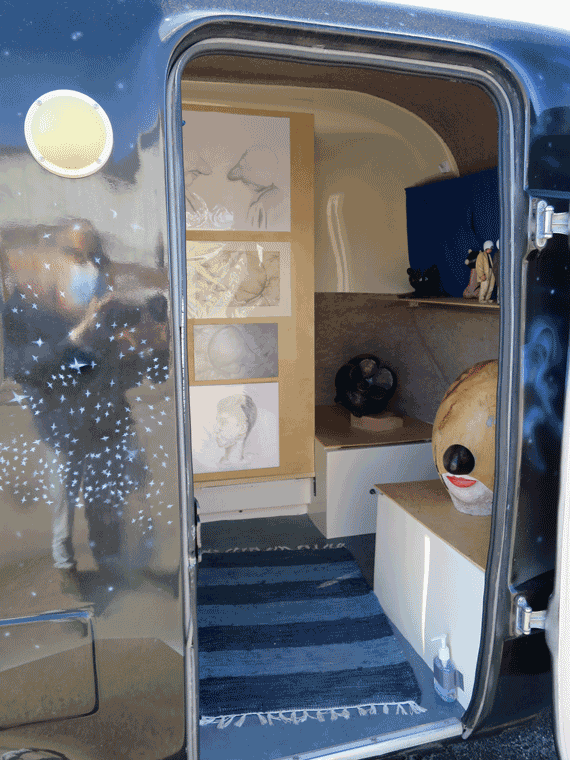 You have described some of your work as projects of social engagement. Can you explain this?
If I look at the past, I see that public art is a kind of social engagement. When I work on the Biennale projects, I am always there to talk with the public. I think it's on me, and maybe it's because of my studies in art history, but I cannot only make art and stay in my studio, I need to exchange and make relations. Art exists only because there is a public and because of social exchange.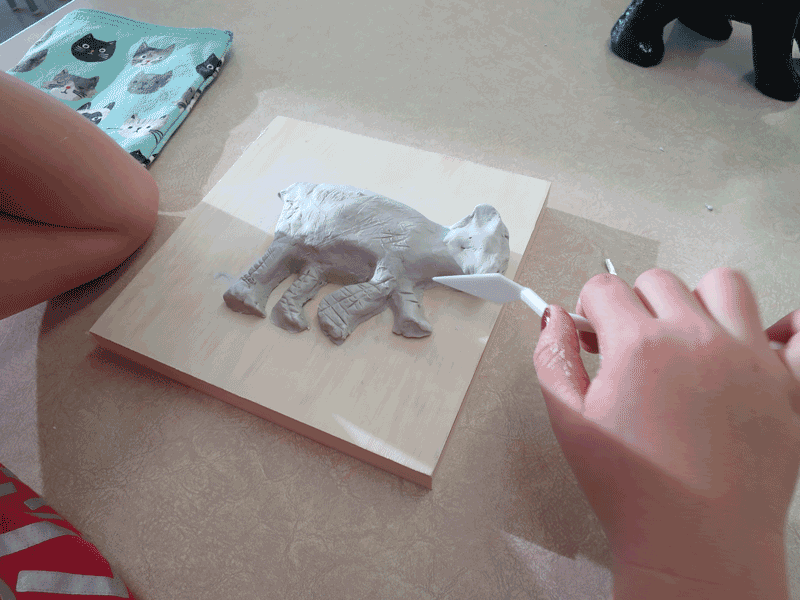 Can you give Arts Help readers an idea of what's next for you? Is there a current or upcoming project that you are excited about?
I was quiet last fall. But now, just before Christmas, I received calls to work on two new public works. I will continue to work on my Art Mobile Project and have my small house as a travelling exhibition space. I want to continue to focus on my work. I think I will start to be very busy soon.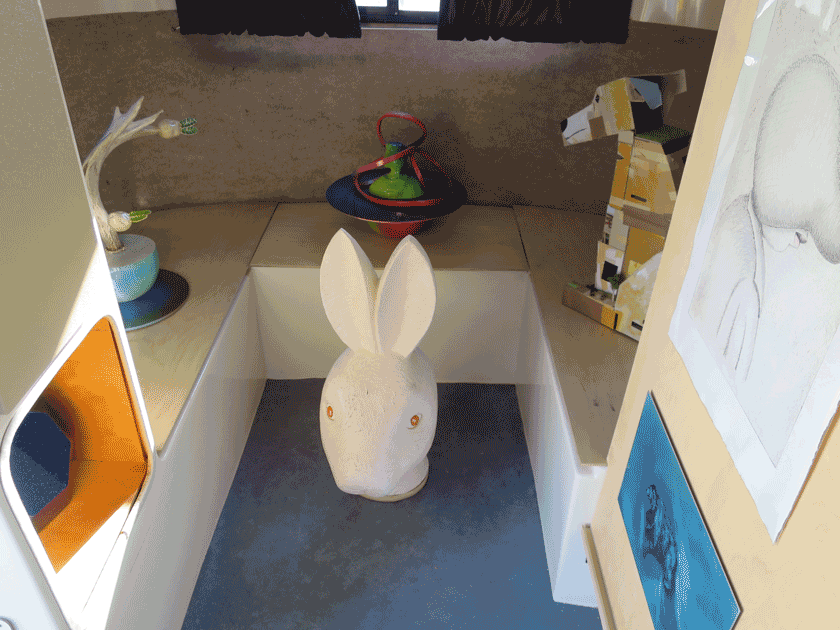 For more information about Michel Saulnier and his work, please visit his website here. For more information about Petit Frere, Bear & Planet, and The Remington Group and Downtown Markham, visit here.
Michel Saulnier
French-Canadian sculptor Michel Saulnier has exhibited work and created public artworks for over three decades in Quebec, other parts of Canada, and internationally. His work has been included in over 40 group exhibitions and eight solo exhibitions across the globe. Saulnier currently has 26 permanent sculptures in his oeuvre, and his work has been acquired into 11 public collections. His impact as an artist extends to Montreal, Quebec City, New York, Japan, Germany, and France. Throughout his career, he has completed artist residencies in Quebec and Bamberg, Germany, and hosted symposiums in Ontario and Tokyo, Japan. Saulnier's artwork has been included in numerous catalogues, including the 2007 publication, edited by John O'Brian and Peter White, Beyond Wilderness: The Group of Seven, Canadian Identity, and Contemporary Art.
Saulnier first began his artistic career studying art history in the 1970s, gaining a Bachelor of Arts from Université Laval and a Master of Arts from Université de Montréal. His original intention of pursuing a career as a writer was cut short when he became interested in making art and working with materials. Subsequent to completing his education, Saulnier relocated to Saint-Jean-Port-Joli, where he currently works and resides. Despite working primarily as a sculptor, his practice is multifarious, and he explores the materiality of painting, sculpture, and printmaking. He has dedicated over 20 years to educating students on contemporary, modern, and renaissance art history, holding teaching positions at Cégep La Pocatière and Cégep de Rimouski. As a respected cultural coordinator, Saulnier co-founded the Centre-Est-Nord-est à St-Jean-Port-Joli. From 2012-2018, he was the Vice-president of the Biennale de Sculpture de St-Jean-Port-Joli. For the past few years, Saulnier has dedicated his time to focus on his work. His practice is often collaborative, and he believes in exchange with other artists, thinkers, and communities is critical. In the summer of 2020, Saulnier began the project, Art Mobile, where he created a travelling exhibition space inside a mobile home. Art Mobile also incited a series of social engagement initiatives to host artists workshops for youth in Quebec's various villages.
---
Arts Help is proudly supported by  The Remington Group