Native American artist Cherish Parrish, a Potawatomi woman of Ottawa descent, uses black ash weaving to bring attention to the plight of endangered black ash trees (fraxicus nigra) in Michigan and the upper Midwest of America. A sixth-generation basket-weaver, Parrish creates baskets using traditional weaving techniques to advocate for the environmental protection of black ash trees from the Emerald Ash Borer (EAB), to prevent further deforestation and to express her tribal heritage. Throughout Parrish's artworks, one can see that she is perfectly in line with the United Nations Sustainable Development Goal (SDG) concerning protecting Life on Land.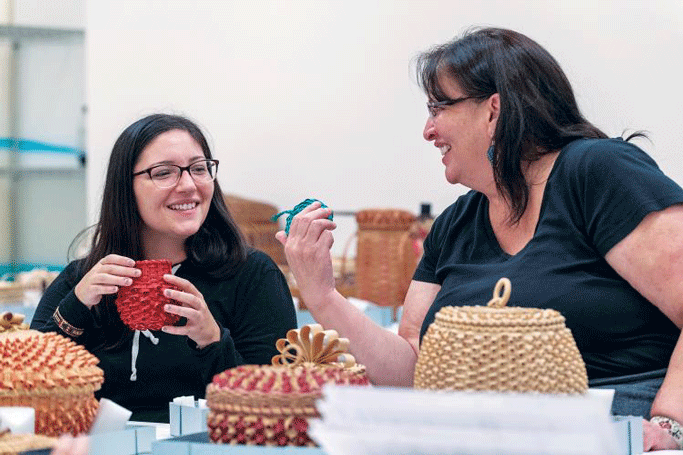 Parrish learned the craft of black ash basketry from her mother, artist Kelly Church at age twelve, with whom she often travels to exhibit her baskets throughout the United States to educate and draw attention to the plight of the black ash tree in the Great Lakes region. A member of the Gun Lake Band of Potawatomi Indians based in Hopkins, in Northern Michigan, Parrish is dedicated to saving the tree and educating people about the EAB, an invasive beetle species that feeds on their bark.
Parrish's basket, The Next Generation – Carriers of Culture (2018) combines the idea of passing on traditional practices with honouring the legacy of Indigenous women. The basket represents the torso of a pregnant woman in her third trimester, illustrating how basket-making promotes community, socialization and the significance of pregnancy in Native American societies. According to Parrish, The Next Generation – Carriers of Culture represents "weaving for the next generation."  It was included in the 2020 group exhibition, Hearts of Our People: Native Women Artists at the Smithsonian American Art Museum that featured traditional arts made by women of various tribes across the United States and Canada.        
Basket-weaving is a communal process in Ashininaabe culture through which a woman becomes a "carrier of her culture,"  similar to the way that a mother is a carrier of culture in the form of her child. Here, Parrish uses basketry in the literal form of a carrier because of the use of baskets as storage containers to carry items. Basket-making plays an important role in the political socialization of indigenous women, attributed to the evolving politicization of women traders and the growing role of market art. They are not only considered "vessels" for giving life, but also hold a significant place in keeping distinct traditions alive.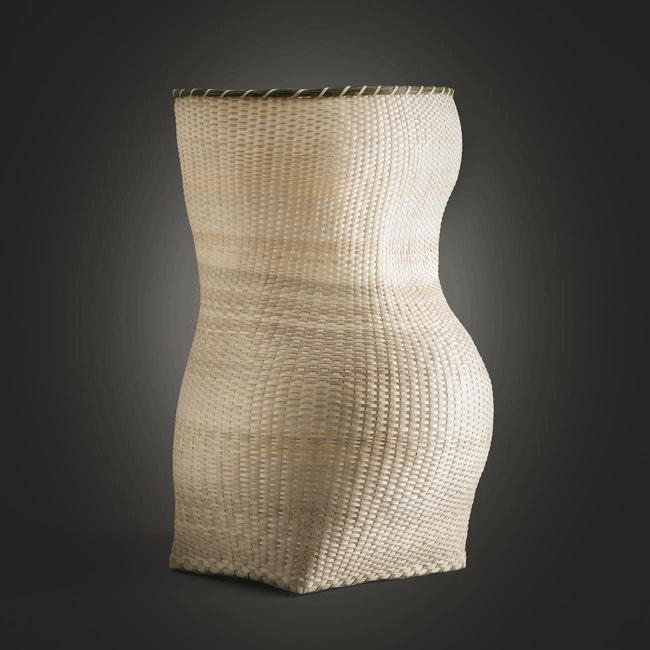 Through collective basket-making and trading, Native American women in the Great Lakes region are able to meet and discuss important topics that are affecting their way of life, build social capital and share networks. In this way, Parrish's artworks perfectly touch the United Nations SDG on Gender Equality, advocating for the social, cultural, economic and political participation of women in society.
Since the 2002 discovery of the EAB in southeast Michigan, Michigan has lost over 20 million black ash trees, and the numbers continue to rise. Native to Asia and the Russian Far East, it is believed this invasive beetle arrived in the United States via solid wood packing materials from Asia. The entire lower peninsula of Michigan is under a "no ash movement" quarantine as EAB are spread by the relocation of contaminated wood to non-infested areas and then infect whole ash lots, killing off once healthy thriving trees.        
In 2006, the Smithsonian's National Museum of the American Indian Arts Program in collaboration with Kelly Church hosted the first EAB conference in Plainwell, Michigan. "Protecting Black Ash Basketmaking: The Threat of the Emerald Ash Borer on Native Cultural Resources"  was a community arts symposium that provided information about the EAB and its effect on black ash trees, and taught the collection of seeds for future use and the preservation of black ash basket-making. Two years later in 2008, a second conference on the Emerald Ash Borer and Black Ash Basketry was held for native basket-weavers across the United States to come to learn and work together.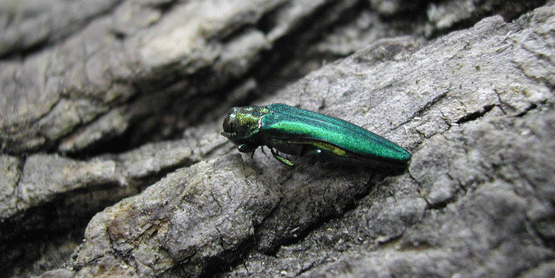 Today, EAB infestations have been detected in over 35 states, the District of Columbia and Canada. They are responsible for the loss of millions of trees in North America. Results of field trials with new insecticide products and application methods have shown that ash trees of all sizes can be effectively and consistently protected over multiple years, even in areas with high densities of EAB infestations. Recent economic analyses have concluded that treating landscape ash trees with effective insecticides are less costly than removing trees.
The EAB continues to threaten the livelihood of a centuries-old traditional art form among Native Americans of Michigan (Anishinaabe) and from all over the Northeastern United States and Canada who use Black Ash trees for basket-weaving. Parrish and Church are involved in conservation efforts and public education programs to protect black ash trees from the threat of the EAB and preserve an ancient native tradition for future generations.