In the past several of decades, women have not been given the same opportunities as their male counterparts. This has occured to the extent where they have had less access to careers, safety and education. Based in Boston, Massatusheets, Photographer, Adriana Nativio explores the themes of femininity, sexuality and performance women go through during their growth with the use of black and white photography.
Born in Cleveland, Ohio, Nativio became fascinated with photography around the age of six where she experimented with her dad's polaroid camera. This initiated her started in the genre of work she focuses on today that allows her to relive her childhood. To further her career in the arts field, she enrolled herself in the Bachelor of Fine Arts in photography at Bowling Green State University in 2017 and a Master of Fine Arts in photography at Massachusetts College of Arts and Design. With the use of the Canon 5D Mark IV and the 4x5 camera, she is able to showcase the difference between us performing differently through a lens compared to us naturally performing in the world.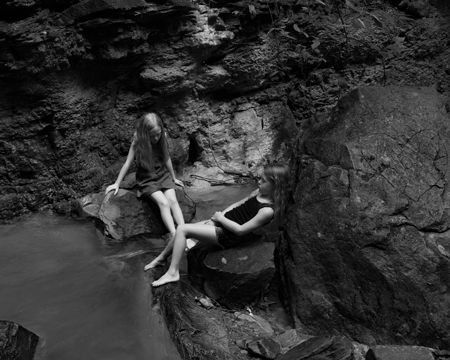 By using natural lighting to accentuate peoples, it emphasizes the important elements that immediately draws the audiences' eyes to the photograph. The majority of her photographs are with women and children, taking mainly lifestyle portraits. With the strategy of treating everyone the same and taking them more seriously, it ultimately plays a huge role in altering their facial expressions when photographing them.
The growth of her passion for femininity first started when she spent her summers with her family where she realized that girls are quite complicated. She found that interestingly enough, "we love each other, but we also resent each other. We help each other, but we also see each other as competition".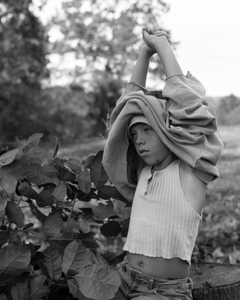 The creation of her series, "Reliving Girlhood" follows two sisters, Jeni and Jae that she met in LaFollette, Tennessee, who go on an adventure and look back at their childhood memories. Although "reliving [her] girlhood is impossible, [her] camera allow[s] [her] to come as close to doing so". The collection of her work she produces highlights the United Nations Sustainable Development Goal of Gender Equality as she continues to shed light on the journey females goes through in their lifetime.
Throughout the past few years, society has been close to achieving gender equality in certain states with increasing opportunities in politics, economics, health and education for females. However, women have simultaneously also been objectified and degraded by the norms created in society, limiting their rights. According to the World Economic Forum's 2021 Global Gender Gap Report, it will take another century for women and men to have equal rights. Gender equality is a necessary human right every individual is entitled to having.
Nativio hopes for the audience to create work regardless of where they are and to not compare themselves to other photographers as every piece they create is astonishing. Much of her work can be seen at group exhibitions around the United States where her work has been displayed in Maine Media Gallery, The Vermont Center for Photography and the University of Hawaii. To see more of her work, visit her website, here.