In a remarkable departure from its seventy-five-year legacy, the Tony Awards, established in 1947, finally shattered a longstanding barrier by recognizing the talent and contributions of non-binary performers.  The extraordinary took place once more on June 11th when actors Alex Newell and J. Harrison Ghee, both proudly identifying as non-binary, triumphantly claimed the most prestigious  theatre awards, defying all odds.
Newell and Harrison's wins are nothing short of boundary breaking and monumental. Amidst an alarming surge of hate crimes targeting the LGBTQ+ community in the United States, the entertainment industry's persistent reluctance towards equal representation, and an unprecedented influx of anti-LGBTQ+ bills and laws, the Tony victories of Newell and Harrison serve as beacons of hope.  Albeit an award for performance, rather than transformative laws, the wins provide the hope that despite what is seen in the media, the world may be moving closer to meeting the United Nations Sustainable Development Goals for Reduced Inequalities and Gender Equality.
For nearly 100 years, since the dawn of major award shows like the Oscars, the Emmys and the Tonys, award seasons have been plagued by the discrimination and underrepresentation of marginalized performers. With social media movements utilizing hashtags like "#OscarsSoWhite" and "#TonysSoWhite,"  the most exclusive and prestigious award shows were forced to contemplate the lack of diversity within each year's nominees and winners.
Recent studies delving into Broadway's extensive databases have brought to light a disheartening reality. These studies have revealed that, much like the Oscars, the Tonys suffer from a lack of diversity, with a staggering 95 per cent of nominees being of White ethnicity in addition to being  riddled with socioeconomic marginalization, nepotism and deep history of racism.
The 2023 Tony Awards proved different for diversity, seemingly in an attempt to break the organization's pattern of lacking diversity and representation. Taking place amid an unprecedented Writer's Guild of America strike that left the Tonys' producers with an unscripted show, a decision made in solidarity with the WGA, the awards handed out altered the trajectory of the staunchly underrepresented history of the Tonys.
In categories aptly described as being traditionally exclusive to cis-gender male performers, openly non-binary actors Harrison Ghee and Newell took home some of the night's biggest awards, a feat that may have been thought impossible a mere couple of years prior.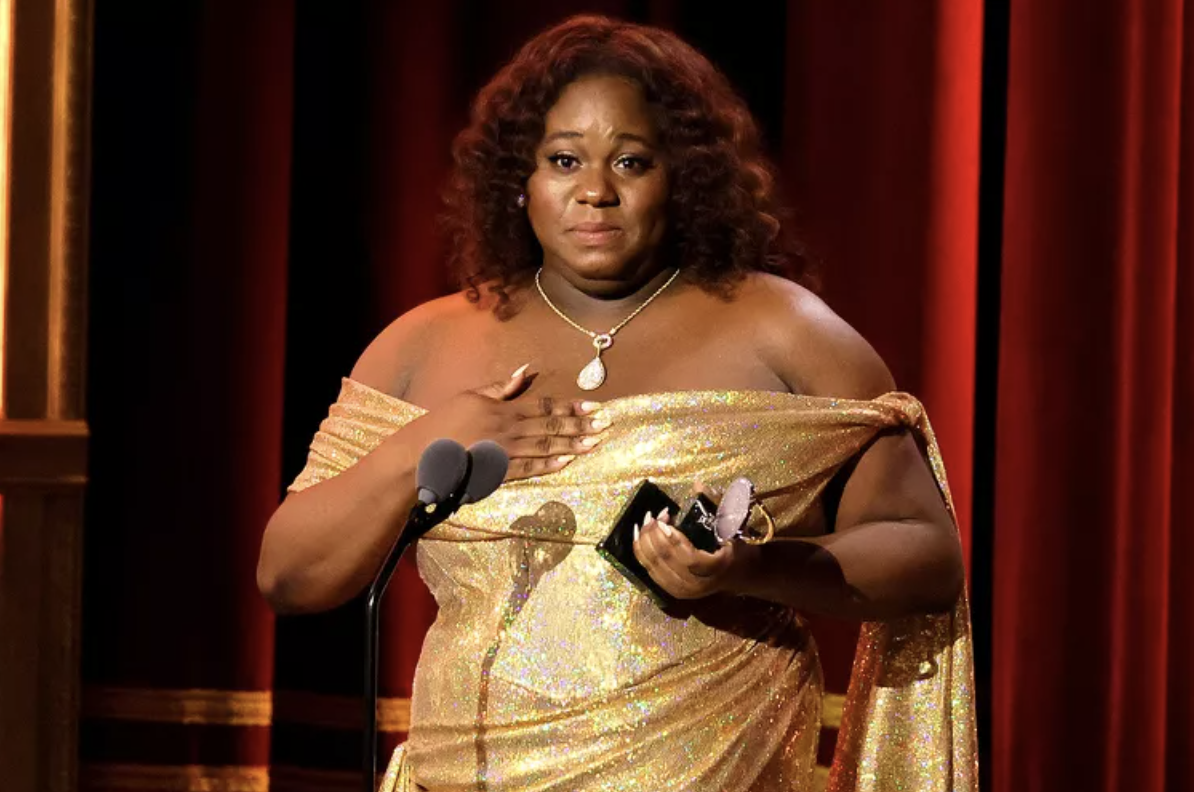 Newell, most notably known for their spectacular performance as "Unique Adams" on Fox's hit musical drama Glee, walked away with the Tony award for featured actor (musical),  for their performance as "Lulu'' in Jack O'Brien's widely inclusive and representative Broadway musical Shucked. In their acceptance speech, Newell spoke of winning a Tony being a lifelong dream but finding it difficult that someone from the LGBTQ+ and non-binary community would have the opportunity. "I should not be up here as a queer non-binary fat little baby from Massachusetts. And to anyone who thinks they can't do it. You can do anything you put your mind to."
Where as Harrison Ghee, best known for their notable career in Broadway and 5th Avenue theatre productions, also took home one of the night's biggest awards. Pictured in a category as the sole non-cis-gendered male nominee, Ghee won lead actor (musical) for their performance as Jerry/Daphne in Casey Nicholaw's Some Like It Hot. Seemingly as shocked as Newell, when accepting their award, Ghee said, "For every trans, non-binary, gender-nonconforming human whoever was told you couldn't be, you couldn't be seen, this is for you."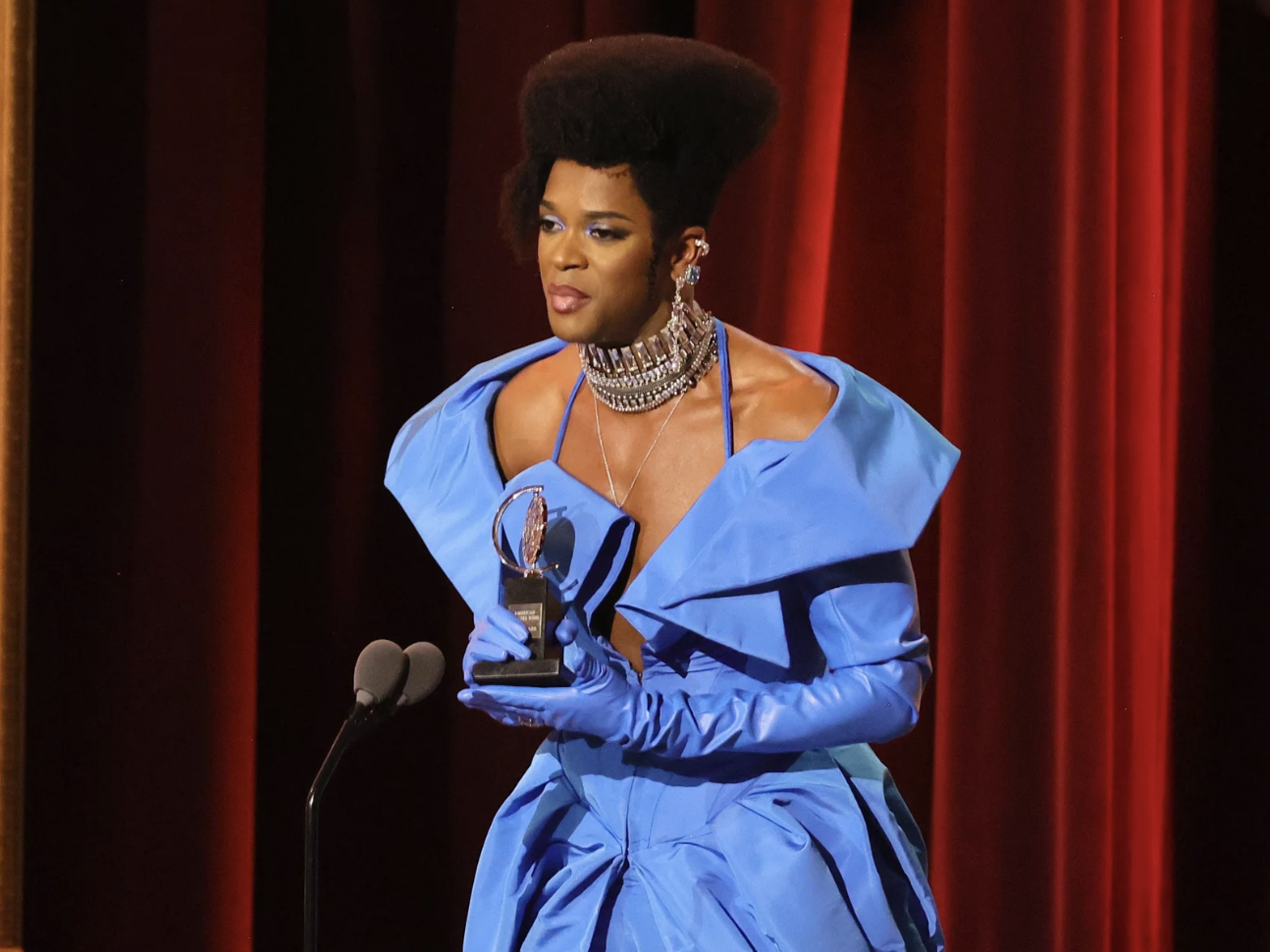 While historic, Newell and Ghee's wins shed light on systemic issues beyond nominating and awarding non-cis gendered performers. Being placed in a category labelled "male," the Tonys seem to be tolerating diversity yet failing to accept that the highly gendered language utilized throughout the show remains equally as damaging.
A step closer to fulfilling the United Nations Sustainable Development Goals for Reduced Inequalities and Gender Equality, Newell and Ghee's respective wins mark a large shift in the way in which the entertainment and performance industries approach inclusivity and diversity. Moving another step even closer to meeting these goals and targets, will the awarding of two non-binary actors for the first time in Tony history push these organization to call into question the gendered nature of the profession? Maybe Newell and Ghee are the catalyst that will see traditionally highly gendered and heterosexual industries step into the modern age and eliminate gender from acting honours.
This may be the first time in the Tonys' 76th year history that two openly non-binary or gender-nonconforming performers take home awards, but Newell and Ghee have not only made history, but both have also opened the door to a formerly closed elite club for non-binary, trans and LGBTQ+ performers across the theatre world.