While many artists create work to serve a modern-day audience through trending colours, themes and mediums, Peju Alatise, a Nigerian-based artist, creates her jarring sculptures to instead serve a message. The sculptress and poet creates pieces that call for the liberty of young Nigerian women and, in her way, boldly addresses the UN's Sustainable Development Goals of gender equality and peace and justice.
Vogue states that "Alatise defines her artistic practice as a search for truth and to this end much of her work centres on women in Nigeria and on the political and religious issues at the heart of the country," which is exactly what one of her most known sculptures, Flying Girls, represents.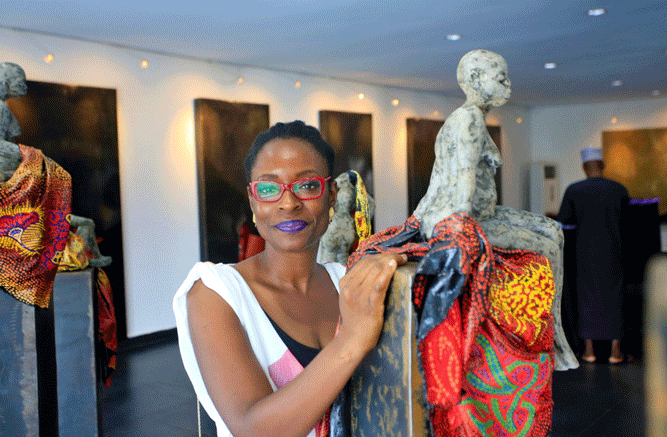 Born in 1975, as one of seven siblings, Alatise was an artistic child but was not interested in pursuing art as a life-long career until she saw an art exhibition by Nigerian artist David Dale. After realizing that her art could be a mode of making money, Alatise became Dale's assistant and worked alongside him in his studio while discovering her own artistic style.
Her upbringing and personal experiences as a woman in Nigeria began to take hold of her paintbrush. Alatise believes that, "Art as political expression is very important. For me as an artist, it is like the sounds of a revolution, but it is just me reacting to what's around me. It is important to be heard."
What she had witnessed in her home country was a lack of action from the Nigerian government addressing the violence towards women and young girls, which disproportionately impacted lower-class girls that were used as servants by other families. Alatise saw that there was very little to help the development of the girl child.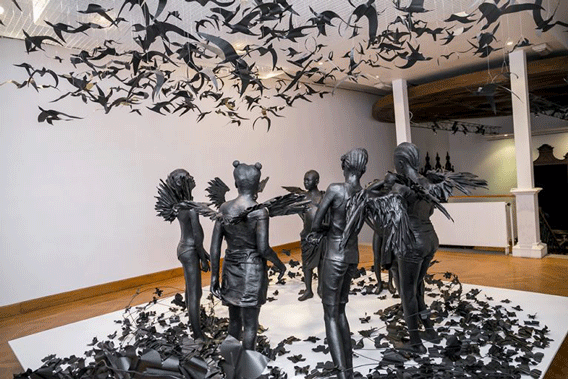 Made from fibreglass, metal, resin and black paint, Flying Girls portrays a character Alatise dreamed of named Sim who lives two lives. In one life, Sim is a nine year old girl who works as a servant in Lagos. In the other she lives freely with birds and butterflies in what Alatise describes as "a moonlit world of escapism."
According to Alatise, domestic slavery is "a modern type of slavery" that happens all over the world, especially in Nigeria. She says oftentimes "girls are taken away from their homes and they are rented out as house keepers and sex slaves." When Sim is in her dream world, she is invincible and has the power to be and do whatever she wants to do. It seems as if it is what Alatise wants every girl to feel through this piece.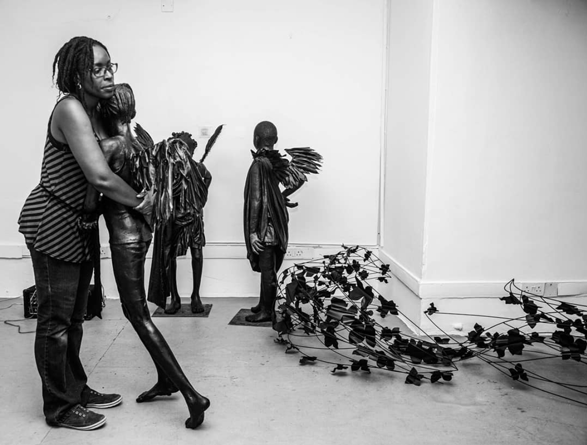 According to the International Labour Organization (ILO), there are as many as 15 million children under the age of 14 working as domestic servants in Nigeria. Many of which are young women.
There are currently many initiatives in the works to slow child labour worldwide. In October of 2020, the ILO created the first international labour standard ever to achieve universal authorization
According to the UN, "in order to achieve Target 8.7 of the Sustainable Development Goals (SDGs), which aims to eliminate all forms of child labour by 2025, we must accelerate actions against child labour in Africa."
Alongside fighting for the freedom of young girls, Alatise is also the founder of the ANAI Foundation (Alter Native Artist Initiative), an organization dedicated to promoting visual arts in Nigeria. According to Alatise's website, the ANAI is also the first "purpose built artist's residency with a well-equipped ceramic studio, which offers sponsored training programs for ceramic artists. She continues to use her work to empower young women today.
To learn more about how Alatise is using her work to address issues in Nigeria, visit her site.