International Women's Day, which takes place on the 8th of March, is a day where exceptional women from across the globe are lauded, celebrated and acknowledged. The day may have already passed this year, but it is nevertheless important to continue to appreciate women who have left a mark in the art space while simultaneously uplifting all women. Philippa Levitt, a lawyer, author, woman's rights activist and talented artist, is a woman who has used her platform to highlight the strength of women.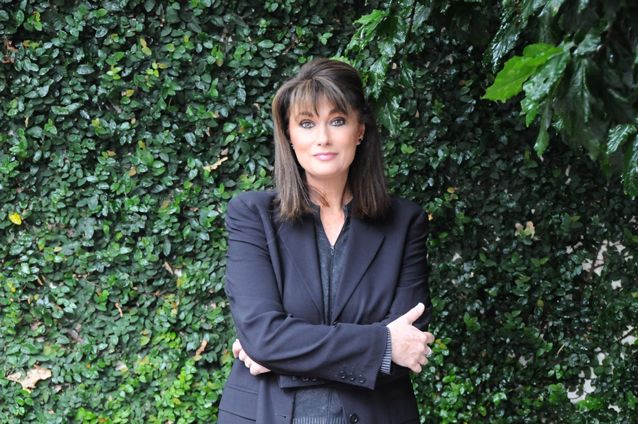 Levitt's interest in the art community started in the late sixties and seventies when she took art lessons with some of the most prominent art teachers in the country, such as the late Nina Campbell-Quine and Sydney Goldblatt. Back then, women were confined to the rigid roles that were set for them by society, and deviating from the norm was an uphill battle that most were not courageous enough to climb. Though Levitt did not initially study art, she did study law — yet another path that was considered abnormal for women at the time.
Levitt had to fight in the male dominated field to be taken seriously. Women rarely got invited to the table, let alone be at the head. Levitt fiercely fought patriarchy and has never been shy to force herself into spaces that were unwelcoming towards women, even starting the first all-female law firm in South Africa. We may have a long way to go when it comes to dismantling the patriarchy, making it all the more imperative to acknowledge and praise women like herself who have crawled so that our generation could not only walk up high, but also dominate these spaces.
Her love for the creative community never diminished. Eventually, her passion for art engulfed her thoughts and she could no longer ignore it. After sometime, she went on to become a full time artist, much to the world's delight. Along her journey, she has been heavily influenced by South African artists namely, William Kentridge, Thonton Kabeya, Bastiaan Van Stenis, Kevin Collins, and Thenji Nkosi's and many more. Globally she is inspired by Robert Mars and James Verbicky, who influenced her recent POP art that was part of the Salon Collectables Group Exhibition, which is still displayed at the Art and About Gallery.
Through her magnificent artwork, Levitt highlights and brings to life uncomfortable conversations and issues that are mostly swept under the rug. During her days as a lawyer, she advocated against gender-based violence, including femicide and the myriad other injustices with which women are faced. Incorporating these issue into her artworks, she aims to be the voice for the voiceless.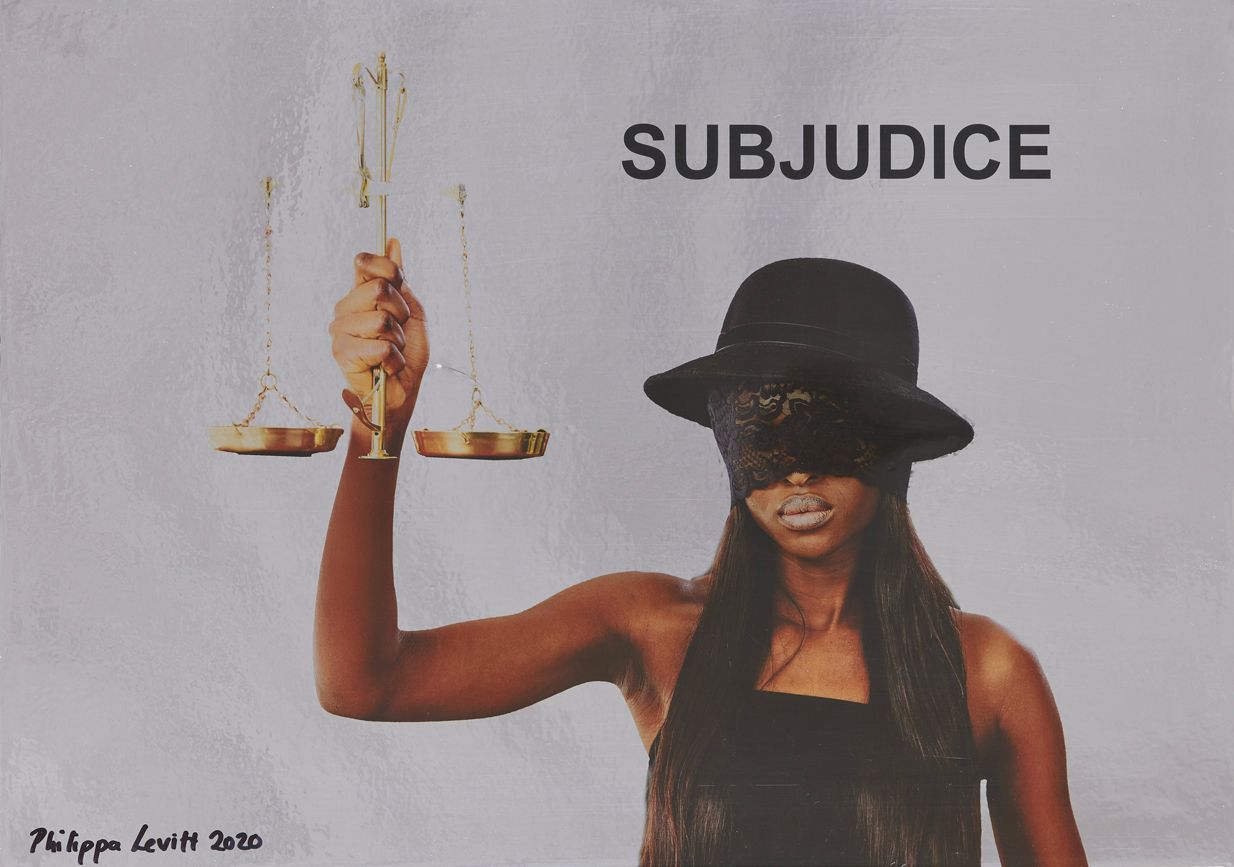 Gender-based violence is regarded as a global epidemic — one that has worsened substantially during the pandemic. Even though there are more women coming forward to speak out about their experiences, conversely, there are women who hidden the evidence of their abuse through layers of makeup in order to protect their abusers. Philippa brings these tragedies to light through her art. In order to change the status quo, uncomfortable issues like this need to be brought to light. Her works coincide with the United Nations Sustainable Development Goal on Gender Equality, as it encourages ending the violence against women and girls.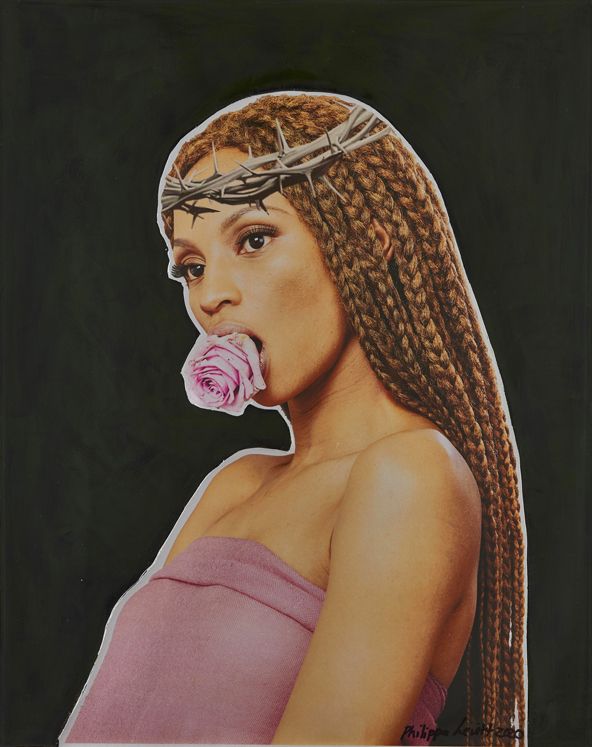 Furthermore, in her work she highlights the stark economic inequality that is prevalent in post-1994 South Africa. South Africa continuously contests for the title of the most economically and socially unequal in the world, and this disparity affects mostly the Black population. The advent of democracy in South Africa came with the illusion that all races will be politically, economically and socially equal. However, such is not the case, and the fallacy is felt most strongly by the Black impoverished majority, who remains in close proximity to white minority.
Levitt tackled this sensitive and often over-simplified issue with her first solo exhibition in 2005. The art installation was located in Rietfontein Village, an informal settlement South of Johannesburg. For her installation she iced an entire shack with wedding cake icing sugar. This installation was recorded and turned into an eight minute video entitled "Engaging the Shadow".

Continuously dedicated her career to uplifting others, Levitt creates works that focus on the United Nations Sustainable Development Goal for No Poverty, which promotes the eradication of extreme poverty.

Levitt has done numerous solo and group exhibitions, and her work is displayed all over the world in cities such as London, New York, Sydney and Melbourne. "Several of my pieces are made on antique medical or philosophical books or on antique legal documents. These are then mounted onto Fabriano paper with or without mapping pins," Philippa states in an interview with Arts Help.

Levitt's work has evolved over the years. She started out working on antique paper, and has now embarked on a digital art journey. Her latest work delves into the realm of NFTs. Her latest artwork is called Crypto Kombat, which she made in collaboration with Don Maxwell Searll. Crypto Kombat is a 107 second video that poses the question: is cryptocurrency really valuable, or is it just fool's gold? This art video serves to counter arguments from both sides and tackles this contentious issue in an ingenious manner. The video will be minted and is expected to be marketed on an NFT platform.
In today's social climate, we often overlook the sacrifices and tireless hard work that women had to endure in order to achieve half as much as men did. Women who fight these injustices that are being experienced by not only themselves, but also other social groups, should be highlighted. As a white woman, Philippa has used her white privilege to speak up on behalf of those who are sidelined, and for that she should be celebrated and given the flowers that she deserves while she is still around to receive them.
See more of Philippa Levitt's work here.