The recent discovery of Indigenous children buried at the Kamloops Indian Residential School is a sobering reminder that Canada's dark history is not far behind us. The trauma from surviving these institutions still haunts many Canadians today, with the last schools not closing until 1996. Albertan artist, Adrian Stimson of the Siksika (Blackfoot) Nation, channels this pain into art.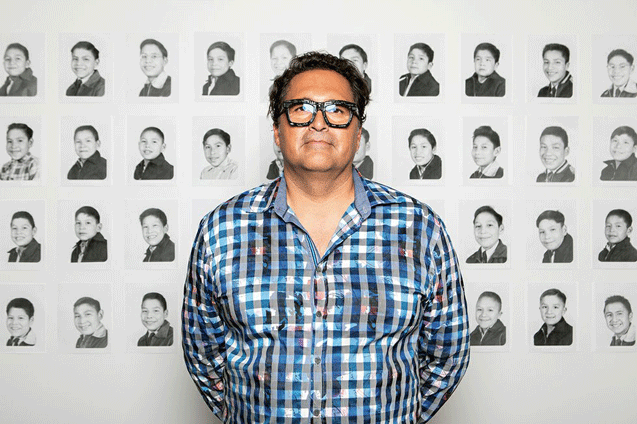 Stimson has attended three residential schools in his life. Now, the interdisciplinary artist uses his experiences to emphasize the need for justice and reconciliation across Canada. Using performance art, paints and installation work, Stimson's art is a reminder that there is so much more that needs to be done to protect the lives of Indigenous peoples while touching on the United Nations Sustainable Development Goals (SDGs) on Reduced Inequalities and Peace, Justice and Strong Institutions.
In 2008, Stimson created Old Sun, an installation made from remnants of the residential school he and many family members once attended. The school was created in 1890, founded through a state-church partnership on Stimson's reserve. The school was known for its high mortality rates and rampant disease.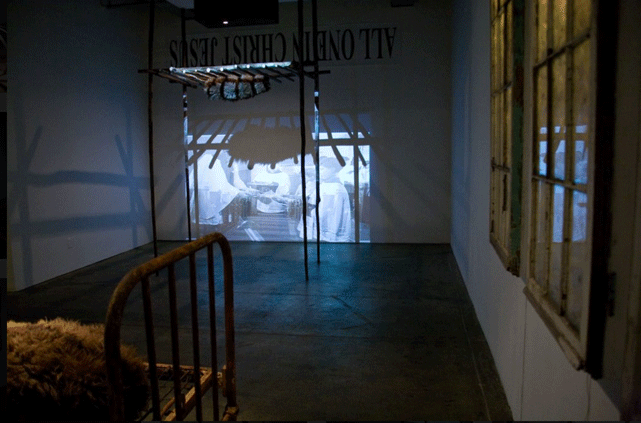 Stimson told TRUCK Contemporary Art that "these fragments [of One Sun] bear witness to the trauma of these schools," and "invoke relationship to this history". Stimson draws on vivid memories of these spaces as he works.
Outside of memorializing his own experiences, Stimson uses symbols within his indigenous culture to recall a side of history left out of many Canadian classrooms. The bison, to Stimson, is a symbol of the Canadian government's attempt to eradicate Indigenous communities and is a motif in much of his work. In the 1800s, bison were over-hunted by settlers to near extinction. Then, conservation efforts were put in place which prevented aboriginal tribes from hunting the animal for sustenance.
"Especially [for] the plains tribes who all relied on the bison, it was the surest and the quickest way to get rid of us — to starve us out," Stimson told CBC in 2018.
"I started to think about that historical slaughter and how...all that energy was then sort of released into the universe. I started to think about that in the sense that as an artist, I'm able to sort of reach into that universe, grab that energy and bring it into myself."
In 2004, Stimson debuted his alter ego, titled "Buffalo Boy," which was a parody of Buffalo Bill. Looking at the history of two-spirited people (a modern pan-Native American term for individuals who do not belong to the heteronormative gender binary) and based on his own research, Stimson created Buffalo Boy to poke fun at the macho West and pay tribute to his grandfather, who was an "Indian Cowboy" in the Calgary Stampede.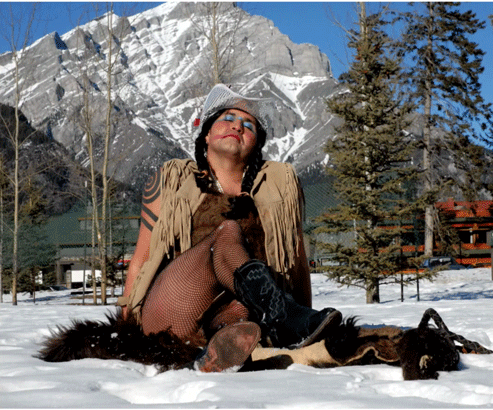 Stimson's alter ego, "Buffalo Boy," works to both represent two-spirit Indigenous folx while poking fun at stereotypes about the Indigenous community. Images courtesy of Stimson.
Earlier this year, Stimson created a piece to represent the history of the Calgary Stampede in collaboration with the University of Calgary's Calgary Atlas Project.
The ten-day event that kicks off in July is the world's largest outdoor rodeo that's been occurring since 1912. However, the Calgary Stampede has a long history of racism, with Indigenous groups being excluded and demoralized at the events.
On the hide of a bison, Stimson paints and burns the alternative history of the stampede, depicting Indigenous figures and a map of the event that recalls a different history.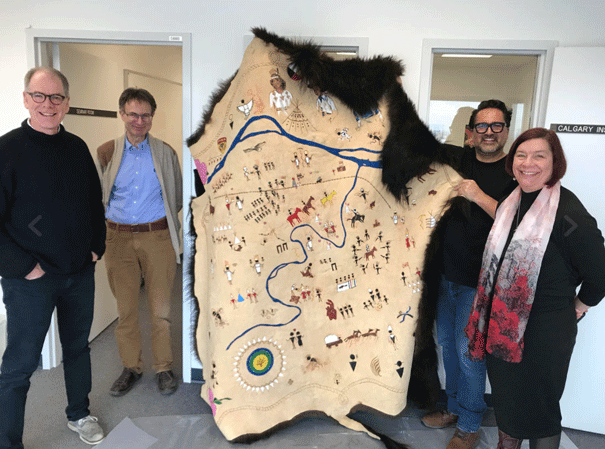 "I set out to decolonize the map inspired by Blackfoot ways of knowing," Stimson told the University of Calgary. "The map highlights stories of the Calgary Stampede that are not often heard: stories that focus on a history which has sometimes been controversial.
But if we're to truly understand and appreciate history, we have to tell all of the stories — be they the good, the bad, or the ugly."