The Liverpool based illustrator and animator, Rosa Kusabbi, undoubtedly delves into the modern experience of being a woman. Her thought-provoking risograph posters include diverse representation, bold colours, elements of Dadaism and punk subculture.  
It is no surprise that following her graduation from John Moores University in 2020, she has been named by the AOI as a "Top 10 Graduate to Watch in 2020" and Females BOLD "Artist of the Month."
Via her mother, Kusabbi was submerged into the art world during childhood. Though she hadn't had similar exposure herself, Kussabbi's mother nurtured her daughter's creative ambitions.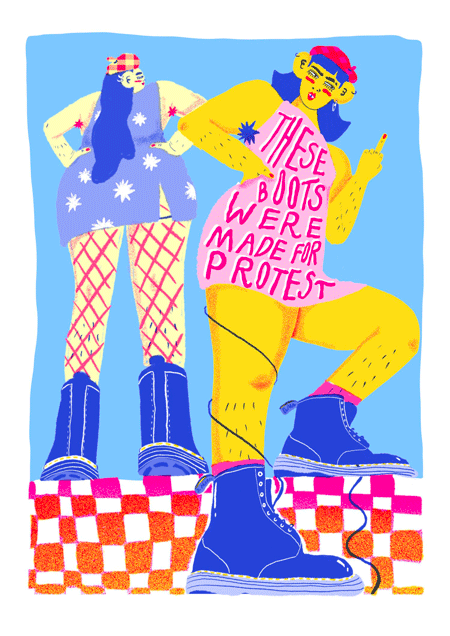 This positivity shines through Kusabbi's work as it celebrates the value of women exploring and having access to creative outlets. Her rebellious sentiment continually challenges women's societal "roles" and expectations, advocating for the United Nations Sustainable Development Goal for Gender Equality and Reduced Inequalities.
Always alluding to profound issues, Kusabbi's style is antagonistically vibrant and spirited. She allows contrasting themes to compliment each other, subtly synthesizing components of satire throughout her work.
Kusabbi's involvement as a Queercore Artist in the UK's longest running LGBTQIA+ Arts and Culture Festival, Homotopia, showcases the humorous or Dadaist dialogue central to her work.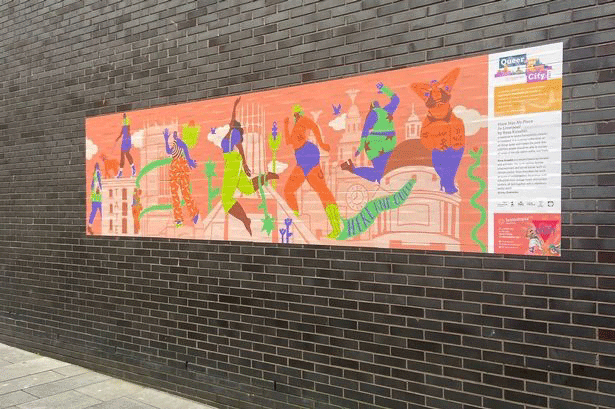 She created the Hate Has No Place in Liverpool banner denoting "Here and Queer" in response to violence against the LGBTQIA+ community in Liverpool. According to Vice, Liverpool's Merseyside Police reported that in 2020-2021 hate crime reports climbed to 834, whereas in 2014-2015 the number was as low as 64. Unfortunately, and ironically, the banner was only displayed for less than two days before being ripped down in an act of hatred.
Always optimistic, she expressed in an interview with Sevenstore that "finding joy and togetherness in the adversity that we may face as queer people is so important. By doing this in my work I hope to make a positive impact: queer joy is a protest."
All of her posters share this ingredient of championing anti-discrimination.
Granted that posters have been used for protesting throughout history, her lively colours and the characters she depicts have suitable political impact. She portrays people with all attributes (race, size, culture, hairiness—to name a few) in attempts to promote inclusivity.

One particular collaboration that stood out was a piece she made for Shado Mag around body hair, a physical feature given to many of her illustrated personas. This collaboration, referencing writer Nicole Jashapara's article "Januhairy: embracing hairiness and its histories," was instigated to open up the discussion on body hair removal, beauty standards, grooming and the ideals of "femininity."
Continuing her artistic renditions of female empowerment, Kusabbi was asked to create stickers for Instagram for International Women's Day. She created an image of a mother, or as she clarified in an interview with People of Print: "a sort of anti-mother—a cool one, with the hairy legs and tattoos and things like that—just not how mums are usually portrayed."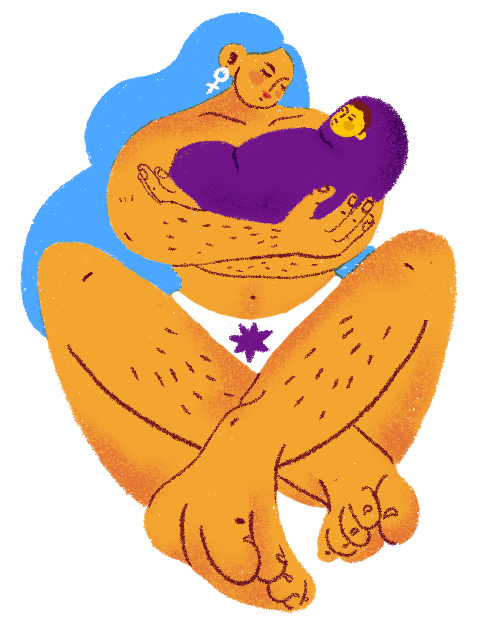 She explains that she felt that it was important to have representation of all aspects of womanhood. Kusabbi underlines that there should be no defined idea of "what a mother should look like" and depicts the character as defying societal expectations that are pressured upon mothers. Additionally, she highlights the critical role mothers play in changing the narrative; she continues to explain in the interview that "whatever values we have as women will pass on to our children as well."
Rosa Kusabbi's work is heavily inspired by 70s and 80s female punk bands, a voice that ignites female creativity and rebellion. Two of her short animations, Typical Girls and Too Many Creeps are based around the songs by The Slits (1979) and Bush Tetras (1983).
The lyrics to "Typical Girls" holds a double meaning; the listing of various ways in which women have been indoctrinated, and the satire component of just how absurd it can be. The animation is subliminally coursing with the message of female empowerment, and imploring women to consider detaching from patriarchal socializations.
"Too Many Creeps," on the other hand, is direct in its message. It examines the mundane realism of the inherent sexualization that young girls and women alike have experienced. In the UK alone, the Office for National Statistics (ONS) reported that in September 2021, these sexual offences had increased by 12% from the previous year. As reported by the Neighbourhood Watch, 34% of these offences (harassment, being threatened or verbally abused) occurred in the streets.
The animation exhibits how women are constrained (down to their clothing) by these "creeps." Kusabbi calls into question why these microaggressions have been normalized to the point that a song challenging these acts made 40 years prior is still pertinent today.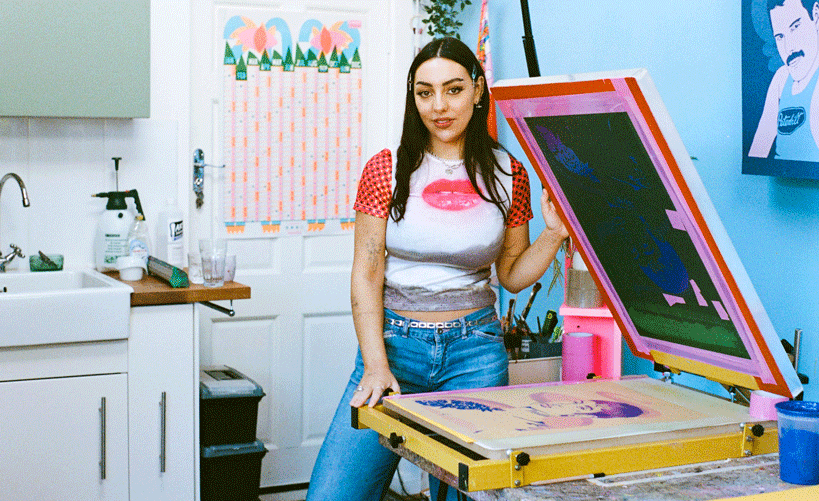 Rosa Kusabbi's personality swirls throughout her own web design, and is a must to look at.
---
Find out more about Rosa Kusabbi through her website, Instagram, and TikTok.