Rosalie Haizlett is an environmental artist and activist whose interest in art began at the age of four years old. Haizlett's grandfather began painting later in his life, became a source of curiosity and inspiration for young Haizlett. After her grandfather's passing,  his landscapes and nature study paintings left a deep impact. The familial inspiration continued with her father, a sculptor and a retired design professor. Growing up in rural West Virginia, there was not many art exhibitions and museums to explore, but Haizlett's father made a conscious effort to show her opportunities.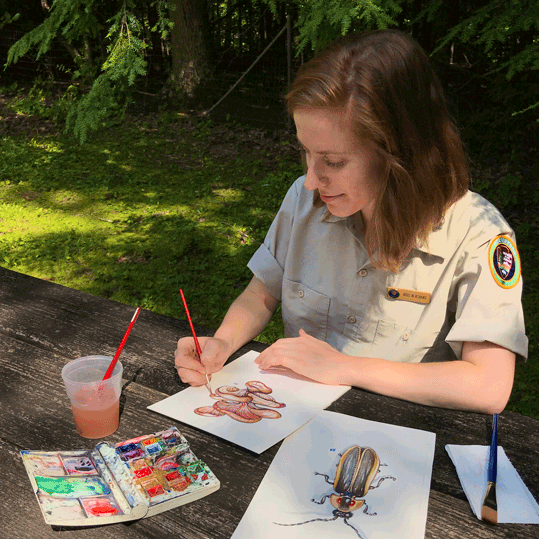 Growing up in West Virginia, Rosalie Haizlett cultivated a deep appreciation for her natural surroundings; this appreciation has manifested into her artwork. She believes her best artwork is created when she is able to connect her personal passions to her skillset. Haizlett finds a purpose in nature illustrations and her ability to connect her work to "something bigger". Many associate  her as a watercolour painter, but Haizlett has only recently developed a deep love for the paint. As a child, she enjoyed pencil on paper, quietly recording the way relatives, friends, even strangers interacted on paper. However, her curiosity for art pushed her to develop new talents and interests.
Today, Haizlett works primarily with watercolour paints to create vibrant and detailed paintings of her natural surroundings. Her art process incorporates nontraditional processes and ideas. Many of Haizlett's projects begin by choosing a place to explore and then contacting local rangers and environmental scientists in the area. She learns about the natural area: common plants, animals, endangered species, and how humans have impacted the area. This information is extremely pertinent to the artwork she produces. After receiving scientific information, Haizlett then examines the community that is supported by the natural environment. She talks to the locals and finds out what is important to them and why they choose to call the area home. During her camping trips she takes reference pictures, always brings painting supplies, and uses her connection and collaboration with the community to create a painted narrative of the environment she is studying.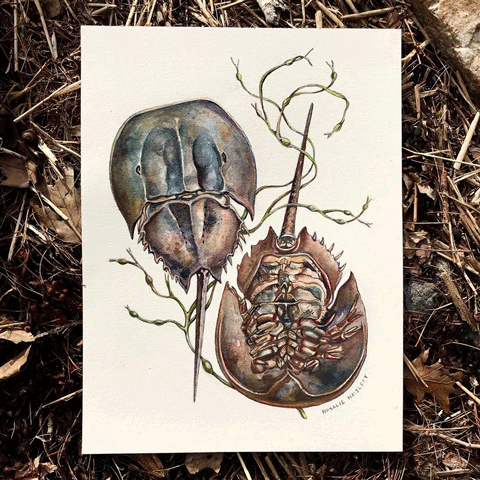 Her most recent project was a wetlands study during a nine-month residency in Thomas, West Virginia. She explored different ecosystems but spent the majority of her time in the cranberry bogs, leading to her series called "Sogs and Bogs". In this residency, she pushed herself to explore and go beyond her personal boundaries and in one work, she created a two-foot by three-foot watercolour depicting cottongrass. This plant is common to the wetlands in Thomas, West Virginia and is a symbol of home or comfort to many of the community residents.
Rosalie Haizlett finds, "there is a fluid connection between being a teacher and a learner." Through her artwork she is teaching about an environment she is studying, this includes plants, animals, waterways, topography, and humans. In her skillshare classes, she teaches about nature painting, she enjoys focusing on  "capturing the essence of the place you're in". This means interviewing community members and park rangers, but it also means interacting with the landscape yourself. When asked about what project is the most meaningful to Haizlett, she responded with her illustrated map series in West Virginia. In 2019, when she began her idea, maps seem like a good place to start when capturing the essence of an area. For the project, she spends one month in an area and hikes as many trails as possible works to understand the ecology by speaking with the park naturalists, and connects with her surroundings. The maps include accurate measurements, trail names, natural landmarks, native wildlife, and a person interacting with the outdoors. She calls them "a collage of what makes the land so special".
"I've always been pretty sentimental about places. Even if it's a hostel that I've stayed at for a couple of days, I like to take pictures of the space so I'll remember it. I think that's why I enjoy making maps so much. I get to spend time hiking around and learning about what plants, animals, activities and landscapes make an outdoor area unique... then tie it all together visually. And when I release my illustrated maps into the world, I inevitably get messages from folks who have also made memories in that park or forest and we get to share in this strong mutual connection to this little slice of the outdoors."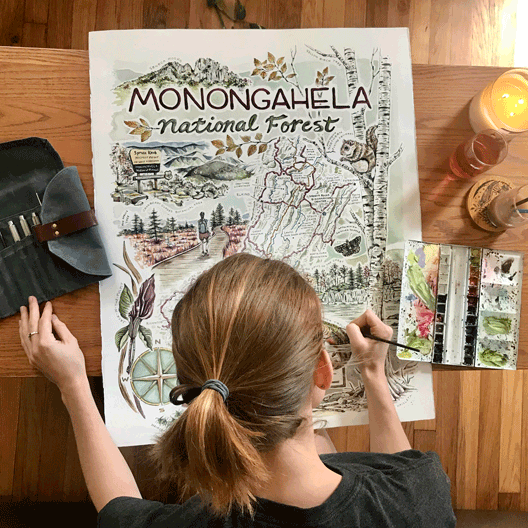 Haizlett hopes her work will inspire people to invest in the environment. By creating pieces that are personal and detailed, it draws the viewers who are supported by the environment in; with a closer look, they become more educated and have a deeper draw to help the vulnerable parts of their home. Raising awareness about the environment can be challenging Haizlett will soon be releasing a series of small prints to be sold; all profits will be donated to an organization that supports black individuals to feel welcome to explore the outdoors. Haizlett's work has always been evolving and this small print series shows she will continue to progress and become a better teacher, learner, and artist.
Rosalie Haizlett advises new artists to "Find ways to connect your skillset to your personal passions, be flexible, have as many irons in the fire as you can healthily manage, and never box yourself in". Haizlett is continuing her work by creating an illustrative map for the National Forest Service, attending a residency in the Mohave desert, teaching, and exploring ecosystems to her heart's content. Her curiosity to sneak into her grandfather's painting studio has manifested into a lifetime of learning and connecting through art.

Link to her shop: https://www.rosaliehaizlett.com/shop