Ruth Wallen is not only a talented photographer but an accomplished multimedia artist and writer who has been creating ecological dialogues and raising awareness for more than four decades. As a former environmental scientist, her work delves into the current ecological crises. This background can be seen in her writing, her deep reflection and her multidisciplinary approach to ecological art.
Her works span across mediums and genres: from photography and interactive installations to web content and nature walk, she hasn't shied away from defining art broadly and turning every platform into a soap box.
According to the United Nation, the world has lost almost 100 million hectares of its total land area since the year 2000. This is largely due to agricultural expansion which creates 90 per cent of deforestation. While 40, 000 species are currently at risk of extinction. Work like Wallen's highlights these ecological disasters and calls for action and supports the United Nations Sustainable Developmental Goals for Life on Land and Climate Action.
She is as prolific as she is astute and accomplished. "I have identified as an ecological artist for most of my adult life," says Wallen.
Ecological art, or eco-art, is thought to be an "exploration of the fabric of life's complexity," according to Sacha Jérôme Kagan from the University of Hildesheim. Ecological art was named as a genre in the 1990s but has been practised going back to the 1960s. This genre advocates for ethical responsibility, systems theory, ecological stewardship and connectivity. Pattern, metaphor, symbolism and visualization are all storytelling devices giving voice to natural systems.
One of Wallen's most prominent series is the death of tree species native to her hometown in southern California. She writes about her series The stickiness of touch:
"Over the past decade, I have been walking with dying trees in Southern California, following the same trails repeatedly, bearing witness to the increasing losses of trees due to the intertwined impacts of urbanization, globalization and climate change."
This project was based on Buddhist practice and informed by what she calls "ecological grief." These photomontages were created from photographs taken in 2022. The series invites the viewer to follow along on a walk through a trail recently ravaged by forest fires. The montages are accompanied by beautiful letters she addressed to these trees. The montages are a disorienting kaleidoscope of life, death and middle ground between them. The trees are charred in one fragment and flourishing in another in a collage of renewal and ruin.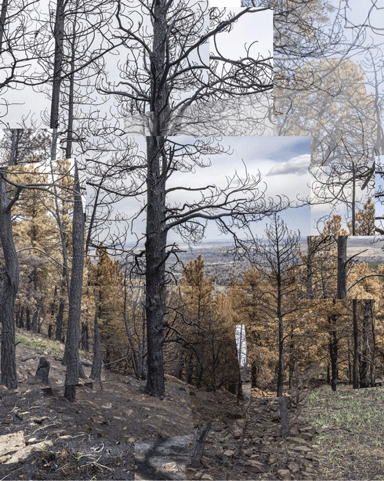 "Every year the reports get worse. mountain sides flecked with brown become a forest of parched skeletons until everything goes up in a smoky haze that blankets the sky for days if not weeks. frogs disappear or their bodies are turned to stone. colonies of bees collapse while bats fail to emerge from hibernation their corpses found littering their winter abodes. every time I hear of such news, I wonder, where is the public outcry?" Wallen writes in her paper on ecological grief.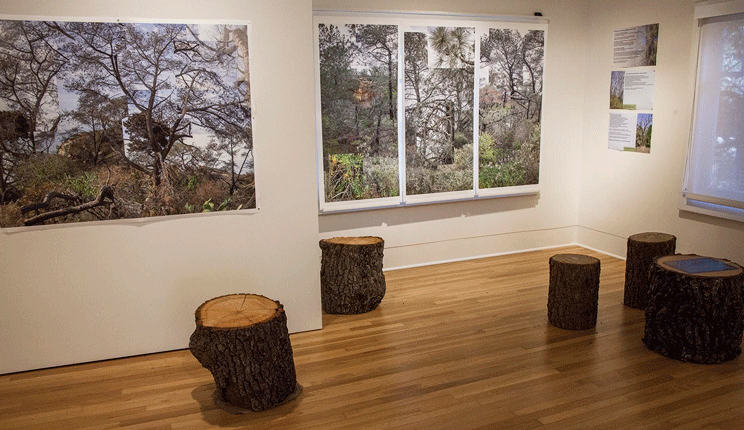 Her other installation LISTEN TO THE TREES follows the effects of climate change on San Diego's ecology. This project focused on two trees: a coastal Torrey pine and a Jeffery pine. Combining her signature photomontages with interactive tech education the exhibit paints a picture of different futures.
Wallen describes the heartbreak she felt watching these trees die and her compulsion to return to them over and over. The photographs were assembled after countless walks and visits, and each is curated to create and embody the aura of each location.
"These montages are my way of expressing the beauty, wonder and love that I feel. Even as some of the trees are dying, I want to communicate the aliveness of each place," wrote Wallen.
Other ecological threats such as invasive species like the Gold spotted oak borer beetle are also featured in her work -calling for conservation efforts to save the oak trees of her region left vulnerable and defenceless due to recent droughts.
Her work also extends to other biodiversity matters. Like her project delightfully titled: If frogs sicken and die what will happen to the princes?
Herpetologists in the late 80s discovered that frogs and toads were dying at unprecedented rates all over the world. This disappearance along with sudden deformities was all due to environmental degradation.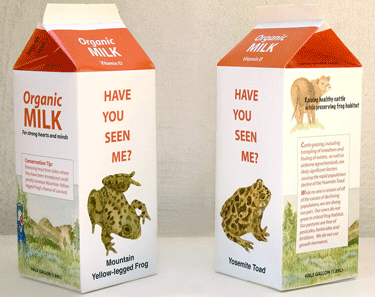 Wallen's milk box frogs play with the trope of milk carton kids, in which missing children were often depicted on milk cartons to alert the general public that authorities were looking for them. Wallen humorously calls for us to treat dwindling frog populations with the same level of alarm we have for the missing children of our species.
Lastly, one cannot summarize her vast body of work without mentioning the Sea as Sculptress. This year-long photographic adventure began in 1978. The series showcases detailed macro photography of how marine life slowly began to overtake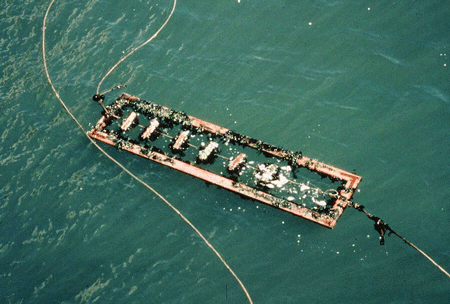 Her work both academic and artistry has created awareness through storytelling and called for greater action in tangible ways inspiring countless people to reckon with the ways we are impacting the natural world.
---
If you'd like to learn more about Wallen's work, feel free to explore her webworks.