For decades, political actors, including governments, paramilitary groups, and terrorist organizations, have carried out different acts of violence to achieve their political goals. Through her Act of Mourning exhibition, Colombian artist Doris Salcedo creates space to grieve for victims of political violence.
Born in 1958 in Bogotá, Colombia, violence and political conflicts in her native home influence Salcedo's works. The country has endured more than 40 years of conflict, from confrontations between the government and rebel groups to organized criminal activity.
In an essay, Salcedo wrote that she hopes her art functions as a funeral oration, an attempt "to give back the sense, meaning, and form that violence took away from its victims."
From April 26 to July 21, 2019, the Irish Museum of Modern Art hosted the exhibition which featured six bodies of work. Two installations, A Flor de Piel II (2013-2014) and Plegaria Muda (2008-2010), as well as the Disremembered (2014-2017), Atrabiliarios (1996), Untitled (furniture works) (1990-2016) and Tabula Rasa (2018) series.
These works highlight the United Nations' Sustainable Development Goals (SDG) to promote just, peaceful and inclusive societies and promote good health and well-being for all.
"The body of a disappeared, tortured person remains among us," Salcedo wrote in an essay published by the Museum of Contemporary Art (MCA) Chicago.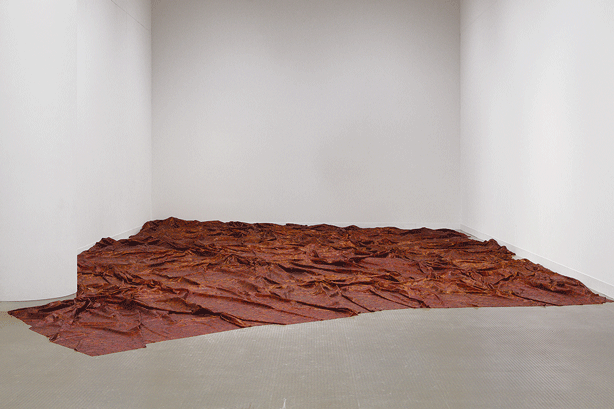 A Flor de Piel is a shroud made of preserved rose petals stitched together that lays in soft folds on the floor. Salcedo based the piece on her research about a nurse in Colombia who was tortured to death and her dismembered body has never been recovered.
"[A Flor de Piel] started with the simple intention of making a flower offering to a victim of torture, in an attempt to perform the funerary ritual that was denied to her," Salcedo explained.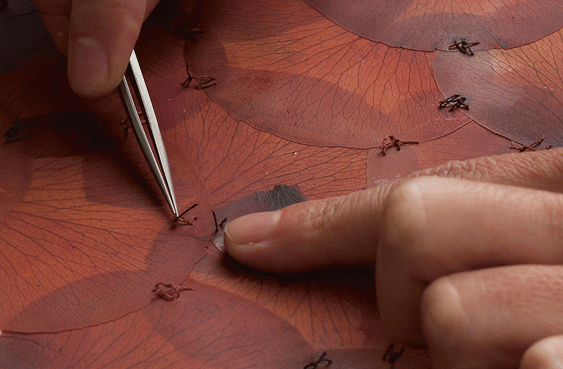 The petals neither dead nor alive evoke the tormented bodies that had never been properly buried. Salcedo described it as an interaction point that allows her to come near those bodies.
In an interview with Art21, she explained that although her work bears witness to political violence, displacement and war, it focuses on the individual experiences of the victims.
"My work lives at the point where the political aspect of these experiences is appearing and disappearing. We are forgetting these memories continuously," Salcedo said. "That's why my work does not represent something; it's simply a hint of something. It is trying to bring into our presence something that is no longer here, so it is subtle."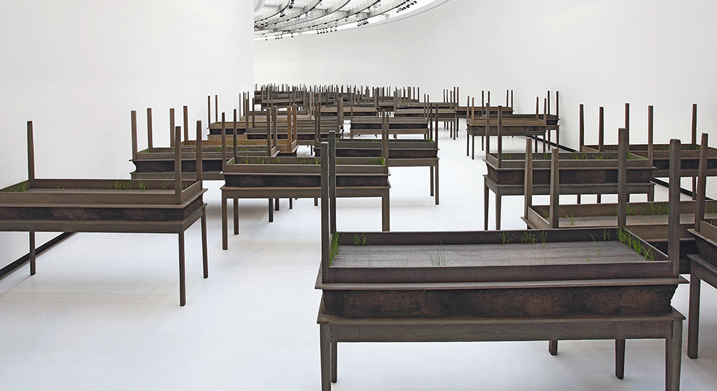 Plegaria Muda, which translates as "silent prayer", started with the artist's research into gang violence in Los Angeles. The installation also addresses the deaths of 2500 young people in Colombia between 2003 and 2009 and her experience visiting unmarked graves with a group of mothers who were searching for their missing sons.
Each sculpture is made of two wooden tables, one turned over the other with grass sticking out of a layer placed between them. The hand-crafted tables are approximately the size and shape of a human coffin.
According to Salcedo, Plegaria Muda "opens up a space for each body" individually even though none of the pieces carry names. The numerous tables underline "the painful repetition of unnecessary deaths."
The themes of absence and remembrance persist in the works presented in the exhibition. With Disremembered, Salcedo explores how society fails to acknowledge other people's grief, causing the griever more pain. The series includes three sculptures shaped like clothes, made of intertwined silk and needles.
"[Disremembered] is untouchable but it's still incredibly loving. It's all of the contrasts that I find especially in the mothers who have lost a child. It's an unbearable pain," Salcedo said in an interview with MCA Chicago.
Salcedo is known for incorporating ordinary items in her works. In Atrabiliarios, she uses worn shoes collected from the families of victims that disappeared from their homes. The shoes, mainly women's, are placed into the gallery wall then covered with stretched cow bladder. The title of the piece is a Spanish word that describes a feeling of melancholy after losing a loved one.  
Works from the Untitled series feature domestic furniture, such as armoires, bed frames, tables and chairs, filled with concrete. Some sculptures also include clothing inserted into heavy cement.
Tabula Rasa, meaning "clean slate" follows Salcedo's conversations with survivors of rape and sexual violence by armed men. For this installation, she destroyed tables and put their tiny pieces together again with glue. This work shows that an act of violence is irreversible. Even after they recover, the victims will never be the same again.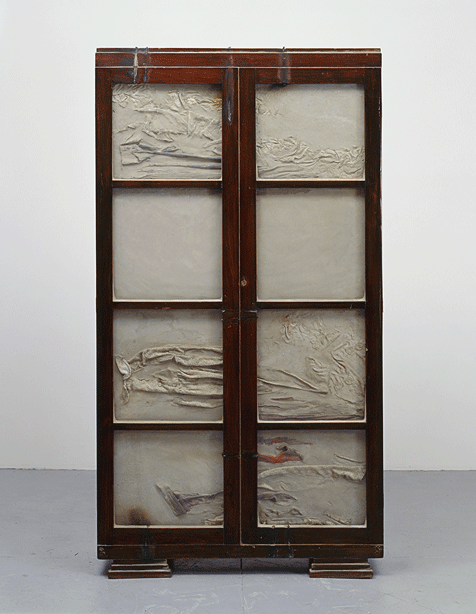 To learn more about the Acts of Mourning exhibition, click here.