South African artist Sethembile Msezane's interdisplicinary practice spans public performance, photography, film and installation, to explore matters of commemoration, heritage, spirituality, African knowledge systems and the remembrance of ancestry. Msezane's works draw from African mythology to critique the absence and misrepresentation of women of colour, particularly Black female bodies in colonial narratives and public spaces that are not only sites of mourning and memorialization, but markers and makers of history.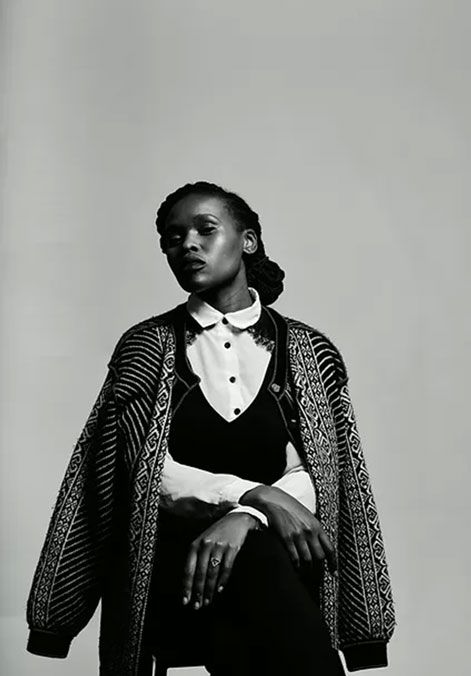 The stories and symbols commemorating Black women are either portrayed through pious white women or occur on grounded plaques that are often physically "stepped over", hereby reinforcing the lack of acknowledgement for the lives, histories and bodies of Black women. Inspired by her experiences as a Black South African woman grappling with the struggles to belong in post-apartheid geographic landscapes permeated with colonial artefacts, Msezane uses her gendered and racial body as an ephemeral and living sculpture to engage with prominent local and global debates about advancing decolonization in post-colonial environs.
"Walking down the street in the city that was now my home, I couldn't identify with the symbols and the figures that were supposed to represent a kind of national identity. These [monuments and statues] were white men, you know? They were colonial, they were Dutch, Afrikaner nationalist men," she observes.
"In all of this I couldn't see anything African; I could not see anything that was women. I could not see anything that was like my mother and my aunts, or women that I knew. So for me, it was a task of reclaiming histories that had been omitted from public spaces. That's how I came to perform and use my body," continues Msezane when speaking to Design Indaba.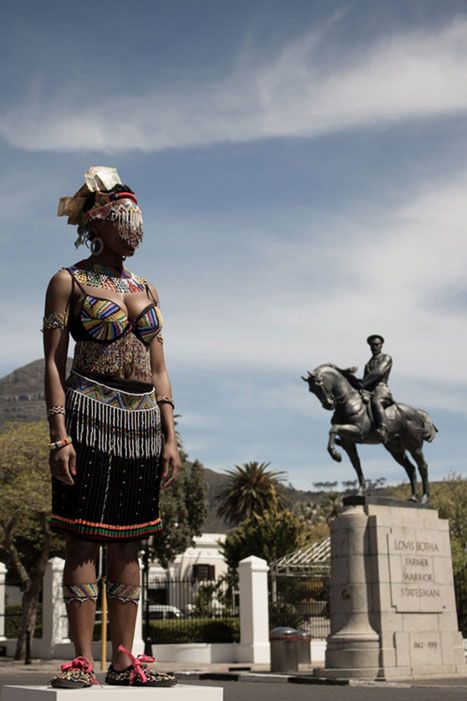 Remembrance becomes a form of resistance in Excerpts from the Past (2016) as Msezane embodies a time traveler named Nolwazi who hypnotically navigates her body through sand and broken antique furniture. The performance piece symbolizes the structural decay of domestic colonial landscapes and provides commentary on the colonial conquest of Africa. When placed in an art institution, Msezane's works serve to displace whiteness and the canon of Eurocentrism in both contemporary art and art spaces.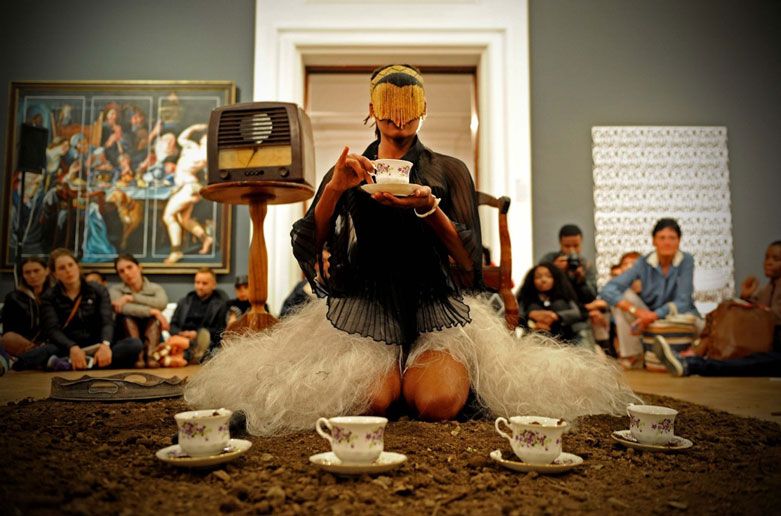 Msezane speaks to and about private spaces in Manifestations of Self (2015), a contrasting sculptural installation of a portrait reflection of Msezane embedded within Victorian furniture. The furniture are representative of those objects within domestic spaces that hold a persisting colonial presence in African locales. In this installation, Msezane transitions between the embodiment of various Black women in both history and mythology in the midst of having a conversation with these women in front of a mirror. Manifestations of Self becomes a work of reciprocal identification encompassing a Black women's sense of self and many Black women who have been cast to the margins.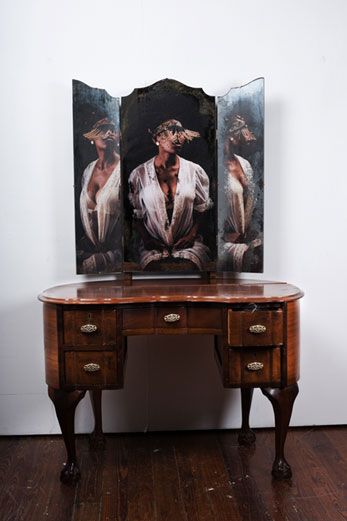 Composed of 18th century bells, braided hair and candles, Signal Her Return III (2018) is both an installation and public performance that pays homage to all the women who have left the Earth violently. South Africa ranks amongst those countries with the highest statistics of femicide in the world, with a woman being raped and murdered every three hours. Msezane contends with and calls attention to the pervasiveness of gender-based violence, while honouring and mourning those who have fallen victim to sadism and violations of bodily integrity.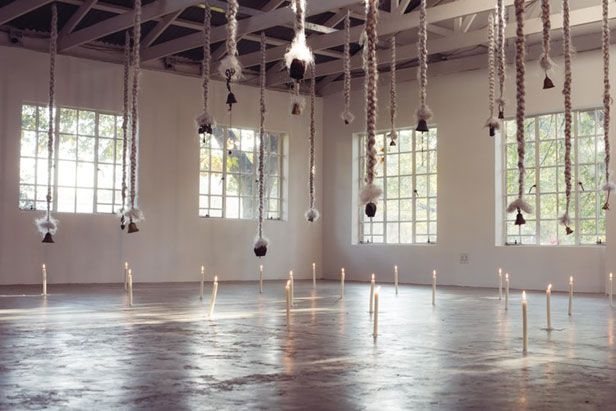 In the process of highlighting that history is not linear, but rather has multiple narratives unfolding concurrently, the works by Sethembile Msezane counter privileged Western histories that result in the erasure of African histories and thus models the United Nations Sustainable Development Goals of Gender Equality, Reduced Inequalities and Peace, Justice and Strong Institutions.
The works of Sethembile Msezane are characteristically rich with a symbolism that is both spiritual and political. Cultural, racial and gendered perspectives are utilized in Msezane's creation of a Black African "herstory" that challenges the ideologies and injustices of colonization. Msezane problematizes the memorialization of whiteness and colonial hyper-masculinity on South African landscapes, as she audaciously takes up space on behalf of invisibilized Black African women through an expressive interlace of colonial history, artistry and notions of memory.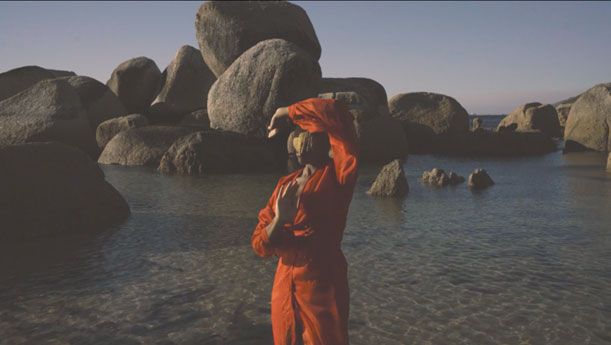 See more works by Sethembile Msezane on her website.