Sherrill Roland is a former prisoner. He missed the birth of his first child and did not get to hold his daughter until after her first birthday. He spent ten months in prison, but for a crime he didn't commit.
Exonerated in 2015, the 37-year-old Black artist from North Carolina has turned to his craft to process his experience and raise awareness of the plight of wrongfully incarcerated people in a new exhibition called Hindsight Bias, which ran at the Tanya Bonadar Gallery in New York City.
Roland only uses materials that he would have had available to him in prison — books, commissary items, letters — as his source of inspiration.
"I still only use the same materials I had access to while I was incarcerated. That's my toolbox. But with this work in this space, it's like looking in a mirror of some of these experiences. There's some work that is very personal in it and I'm happy to finally get to a place where I can express it," he said.
This exhibition is abstract, minimalist and highly intentional with its use of materials and clearly reflects the artist's experience and the weight of wrongful incarceration.

Acrylic hanging boards in the shape of envelopes brandish quotes from the Washington D.C. Department of Corrections at the entrance of the exhibition. The front quotes the language used in the department's stamps that disavowed accountability for the letter's contents. Paradoxically, the reverse of the acrylic board states that the Corrections Department should not only take full responsibility for the contents, but also implicitly take responsibility for the people they placed in prison and pushed through an unjust system. Due to its design, the sculpture demands that the viewer move to the other side and physically shift perspective to be able to read both messages. Additionally, Roland has shared how going to prison changed his worldview. Only in hindsight could he have true sympathy for previously incarcerated family members.
Roland's name was cleared in a retrial six months after he was released from incarceration in 2015. He has chosen not to discuss or elaborate on the crime he was charged with in his interviews, instead focusing on creating a new narrative for himself. Before all the tragic events transpired, Roland had been a hopeful art student at the University of North Carolina, until he'd received notice that a warrant had been incorrectly put out for his arrest by a Washington Detective. Nine months later, he had lost his bench trial and had been sentenced to one year and one month on the inside, despite the fact that the prosecution team was unable to find any evidence against him.
When Roland left prison, he came home to the probation system, graduate school debt, a one-year-old and a society that did not care that the time he had spent inside was unjust, unfair and undeserved. With new mountains of prejudice rising before him, just as he thought the worst was over, he decided that he would finish his degree now that his name was cleared so he could use his experiences for good.

Five lightbox sculptures showcase extracts from the Valentine's letters that Roland had sent to the mother of his child from prison. The soft glow gives the illusion of a digital clock face and all the hours the new family lost together that could only be filled with letters. His words to his beloved are etched with a laser into an acrylic material similar to the security glass that separated him from his daughter and her mother.
All of the letters of love are layered over one another, making them unreadable — a nod to the blur of endless correspondence and attempts to connect from beyond bars (but also no doubt to keep these vulnerabilities anonymous). The illegibility of the letters and the nature of chosen materials adds to the anonymity of this exhibition — cold, minimal, clinical and harsh. These materials reflect no personhood of the artist or the family that suffered due to such injustice.
One of the things Roland wished to highlight was just how dehumanising the experience was, being isolated, controlled, limited and having his name replaced by an inmate number.
"So these small things become large things: to humble yourself to ask for additional toilet paper or toothbrushes that stretch no longer than your thumb," Roland told the Guardian.
Before Hindsight Bias, Roland chose to humanise his experience and put a face to the problems in the criminal justice system.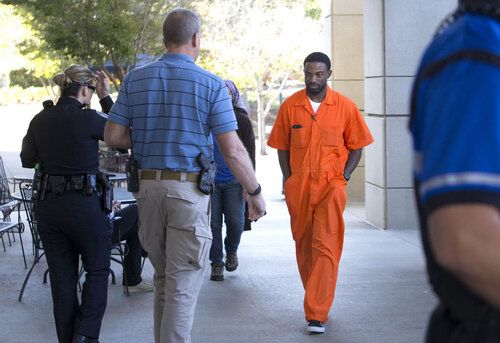 The Jumpsuit Project was a performance piece in which Roland wore his orange jumpsuit while conversing with others on the prejudice and stigma he faced. The project took place on UNCG's campus. The university's art building was his block from which he could not exit without permission, and outside of it he abided by correctional facility rules. What stunned Roland the most was the reaction from his fellow students, campus police and his teachers.
The materials he used in Hindsight Bias were physically available to him in his cell or were used as jumping off points that were symbolically represented in this exhibition.
"We were going without so much, we had to be inventive," Roland says. "So I wanted to challenge myself with these same limited tools."

Poignantly titled as Home and Away, one sculpture pays homage to the basketball tournament that took place in his prison housing unit. Two acrylic squares measuring eight feet by eight feet showcase a basketball hoop, representing the match tournaments he had organised for his fellow inmates. The acrylic cubes resemble prison cells — trapping the inhabitants but also allowing for the inmates to be watched and monitored by guards. The transparency of the cubes represents the lack of privacy the prisoners dealt with on the inside — even their basketball tournaments were closely surveilled. Additionally, Home and Away contains a bag of commissary goods, similar to what was offered as a prize during the tournament.
The three steel sculptures are based on the architectural elements and the spaces between the cinder blocks that made up his cell in which he would spend hours staring at or tracing with his fingers in meditative repetition. The steel is painted with acrylic paint mixed with Kool-Aid — a nod to childhood and to the commissary offerings.
Unfortunately, Roland's story isn't unique. An estimated 20,000 people have been wrongly imprisoned since the 1980s, with only 850 being exonerated thanks to DNA evidence. Not only does the justice system get it horribly wrong, but sometimes it works just as it was intended to: unfairly targeting low income and minority communities through unfair policy and over-policing. The prison pipeline and prison industrial complex have caused thousands of families to suffer heartbreak just like Sherrill Roland, whose art is in line with the United Nations Sustainable Development Goals for Reduced Inequalities and Peace, Justice and Strong institutions.
To learn more about how you can help create justice reform, visit the Innocence Project for petitions and groups. See more of Sherrill Roland's work here.