Climate change has no borders. Rapidly changing weather patterns and severe environmental phenomena will continue to affect all corners of the globe, underscoring the need for international collaboration in the fight against the climate crisis.
The United Nations Sustainable Development Goals for Climate Action and Partnerships for the Goals therefore must go hand in hand, and Sonumbra da Vincy can show us how.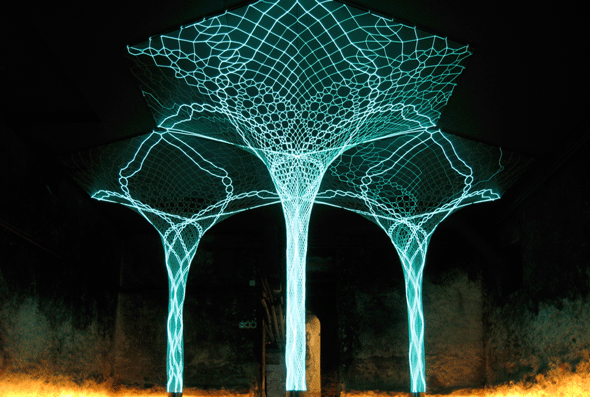 Sonumbra de Vincy is an installation located in Geneva, Switzerland that combines art and science to visualize the interconnectivity of atmospheric changes in Europe. Consisting of 4,000 meters of illuminating wire crafted into three columns of animated light, the piece responds to a custom designed software that collects online weather data from the European cities — Geneva, Madrid and London — and translates them into energized patterns of light. Each column represents one of the three cities.
The installation is the work of Loop.pH, a London-based spatial laboratory founded by Mathias Gmachl and Rachel Wingfield in 2003. The studio's creations, which integrate the fields of design, architecture and science, break free of the boundaries of specialization and explore the boundless possibilities of innovative thinking and creativity.
As a response to changing weather patters, Sonumbra de Vincy is the studio's version of climate action.
"The extreme weather and climatic swings we have been experiencing over the past years are part of a global and worldwide pattern, a large encompassing organism that acts as the meeting place of all human activity," they explain.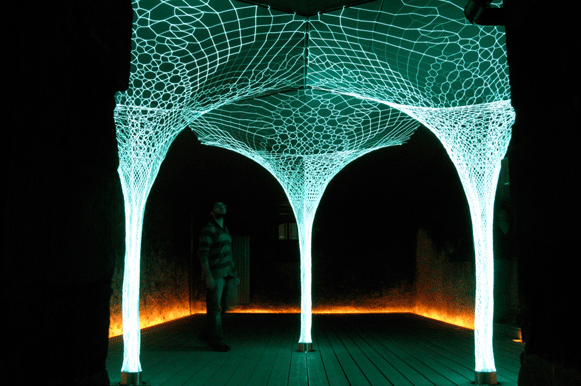 Standing beneath the installation, so simple in its concept, visitors are made aware of the fragility of our collective situation. Alone, each column appears delicate and unstable, but when their lace-like patterns meld together, the three combine into a remarkable structure that exudes energy and strength.
"By crafting together the delicacy of hand-made lace, scaled to architectural dimensions, with some of the most current advances in material science and digital media, the work synthesises a long lineage of cultural practice," explains Loop.pH.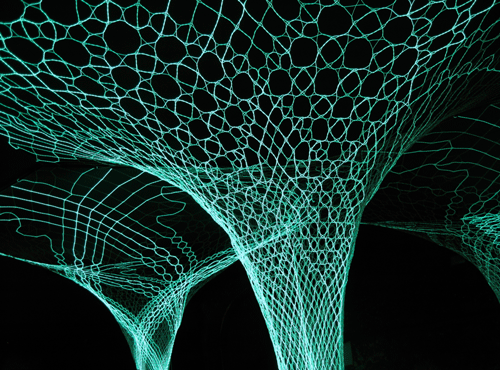 The more we continue to mobilize against the climate crisis, the more we are learning that science alone will not save us, and nor will art alone. Rather, the fusion of the two fields, powered by human determination and collaboration, will provide us and future generations with the tools to build and sustain a future in which we live with, not against, the environment.
As stated by Loop.pH, "The work is deeply rooted in the origins of human science and technology – the traditional practices of geometry and textile crafts – yet reaches towards the present condition of fast paced cultural change, which continues to challenge our relationship to our past and our planetary home."

To see more projects by Loop.pH, click here.