As the climate crisis becomes harder to ignore, the need for reform and innovation is brought to the forefront.  Organizations like Julie's Bicycle give the world hope for a more sustainable future. Julie's Bicycle is a London based charity dedicated to bridging the gap between sustainability and the arts. Its vision is to establish a creative community with sustainability at its heart by providing the inspiration, expertise and resources to make that happen.
https://www.instagram.com/p/CEjbFTsFhjQ/
The organization was established in 2006 when founder Alison Tickell rode her bike to meet some friends for dinner at a restaurant called Julie's. Together they created a vision of the future where festivals were solar-powered, venues were off-grid, and museums were community energy providers. Fourteen years later, Julie's Bicycle has become an influential organization in the sustainable creative community.
Julie's Bicycle is committed to creating a clean energy future. They run multiple events by offering free resources to companies working to reduce their carbon footprint. The organization believes that the rising threat of climate change also affects culture. The disappearance of nature takes crafts, knowledge and traditions along with it, making it a cultural crisis along with a climate change crisis.
https://www.instagram.com/p/B3CzhYNHkVc/
In 2007, the company's first project was to calculate the carbon footprint of the music industry through a partnership with Oxford University's Environmental Change Institute. Their research demonstrated that the UK music market was responsible for over 540,000 tonnes of CO2 emissions annually. The project created multiple campaigns under the collaboration between the arts and science community. In 2011, the company brought their vision to an international level by forming a partnership with the Broadway Green Alliance in America. Their new initiative, the International Green Theatre Alliance, helped theatres better respond to challenges faced by the music industry in the transition to a low-carbon economy.
Since 2007 Julie's Bicycle has collaborated with over 2,000 arts organizations in 27 different countries. In 2015, when the Paris Agreement was in consultation, the company supported the production of Ice-Watch, a major exhibition in Paris accompanying the COP21 Climate Talks, created by artist Olafur Eliasson and geologist Minik Rosing. Julie's Bicycle was able to bring together over 150 policymakers, funders and artists for a two-day workshop called ArtCOP21. This event gathered the support of over 350 signatures from creatives in support of the Paris Agreement.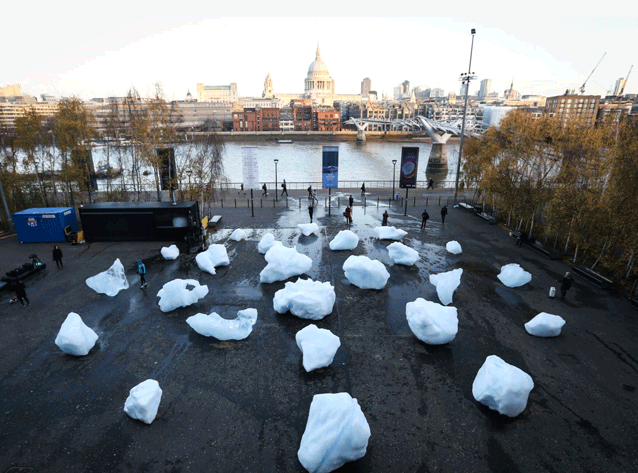 Julie's Bicycle has been named a leading organization that uses its unique strategy to generate cultural action on combating climate change. After the company released A Practical Guide to Green Touring in 2015, multiple artists started using their platforms to voice support. In November 2019, Coldplay refused to announce a world tour due to environmental concerns formally. Billie Elish made a similar announcement when she revealed her idea of a green tour in 2020. She stated that no plastic straws or water bottles would be allowed anywhere in the stadiums, only recycled cans. The English pop rock band The 1975 also announced earlier this year that their next event would be run solely on Hydrotreated Vegetable Oil, a renewable diesel fuel produced by processing oils and fats.
In late February, Julie's Bicycle held its "We Make Tomorrow" Summit. During this event at the Royal Geographical Society in London, they brought expert speakers and facilitators with an audience of over 300 individuals from the UK and across the world. The organization raised the question, "What will the world be like in 2030, and what can the creative and cultural community do now to push us closer to the future we want?" This event looked at political, economic and social effects on the changing climate and loss of nature and how the arts and cultural sector can work to establish a net-zero, connected and just society. The discussion brought a new level of discourse on the effects of climate change and how the global community can work towards establishing a more sustainable future.

Watch Julie's Bicycle Film:
The company has made incredible progress in advancing a more sustainable future in the music and arts industry. Today, Julie's Bicycle embeds sustainability as a core principle and value in the music and arts industry. They encourage organizations and artists to use their creativity to combat climate change.
For more information on Julie's Bicycle, visit: https://juliesbicycle.com/