When people think of public art, things like murals, art installations, sculpture gardens and commemorative monuments typically come to mind. Using art to enhance and revitalize a city's downtown landscape is not unique. The Bench Warming Project, a multi-artist endeavor in historic downtown Lapeer, Michigan, changed up the traditional narrative of public art initiatives by transforming twenty-one plain wooden benches into "eye-catching, FUNctional works of art". The benches span the length of Nepessing Street, the main thoroughfare in downtown Lapeer, adding a pop of colour on every corner.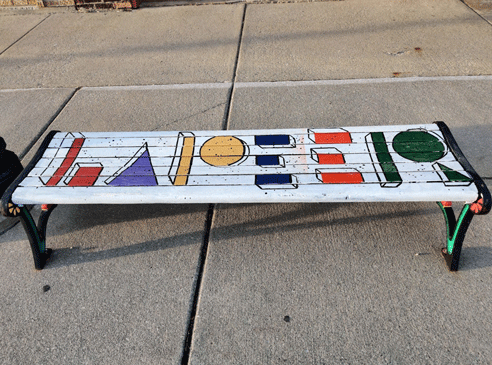 Close in proximity to both Flint and Detroit, Lapeer's location has fostered a thriving arts scene while maintaining a small-town feel. Indeed, the Lapeer Downtown District Authority adopted the branding "remarkably close" in 2019 to describe both its artistic community as well as the city's location.
Launched in 2014 by James Alt, an artist, professional magician and Executive Director of the Lapeer Downtown Development Authority, Bench Warming Project began with the goal to give Lapeer a collection of public artworks that would draw people to the community. He owns the studio and art gallery Hocus Pocus Magic and Art in Columbiaville, and performs magic shows locally.
Alt believes a city's downtown is the "living room of the community" and that public art and placemaking projects strengthen communities, instilling them with a sense of civic pride.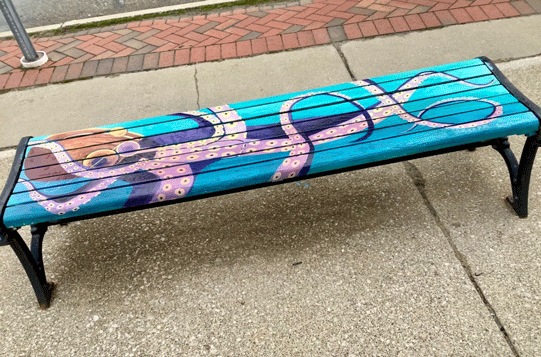 Alt's efforts to rejuvenate downtown Lapeer and help generate a sustainable local economy exemplify the United Nations Sustainable Development Goals for Decent Work and Economic Growth, Industry, Innovation, and Infrastructure and Sustainable Cities and Communities.
In an interview at Gallery 194, the fine art component of the Center for the Arts of Greater Lapeer and the home of the Lapeer Art Association, Alt and Rebekah Page, a Lapeer artist and fellow member of the Lapeer Art Association, spoke to Arts Help about the origins of the Lapeer Bench Warming Project, its impact on the downtown business district and local community, and the importance of art in "activating public spaces."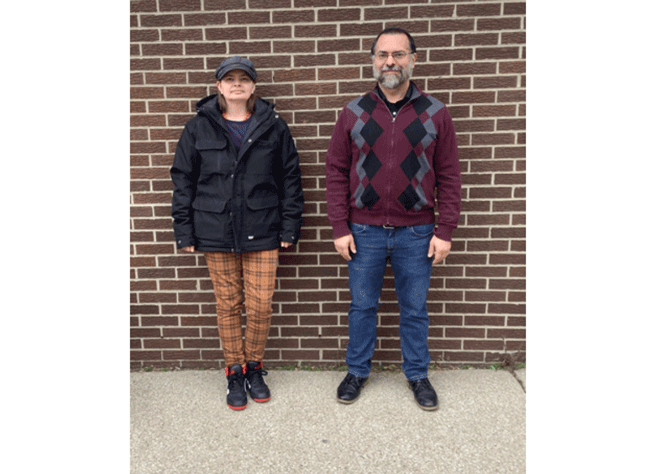 Alt explained that he was inspired to launch the Bench Warming Project in Lapeer after seeing decorated wooden benches in Iowa City in 2013 when he attended a cousin's wedding, seeing firsthand how they revitalized the downtown. He described downtown Iowa City as being like a "miniature Ann Arbor", finding the idea of painting benches as opposed to wall murals as an intriguing placemaking project.
For advice on recreating the project in Michigan, Alt contacted the Iowa City Downtown District Authority, who was happy to help, offering perspective both on what worked and what didn't. The Lapeer "bench warming" name was suggested by a volunteer in 2014 to evoke the warm and fuzzy sense of comfort that a bench provides.
To come up with the funds for the project, Alt raised money through public and private donations and an online GoFundMe campaign. He more than doubled his initial fundraising goal of $1,000 on GoFundMe, which included the cost of materials and supplies. Donations were mostly small amounts from individuals, local businesses and nonprofits, but the Lapeer Optimist Club contributed over $1,000 alone.
A 2014 interview with former Michigan Public Radio Stateside host Cynthia Canty helped attract more investors to the 21 "blank canvases," as Alt referred to the benches. Profiles in The County Press, Lapeer's local newspaper, prompted additional public interest. To date, the project has raised over $2,000, and donations on GoFundMe are currently closed. Alt also found the response to his call for artists to donate their talents impressive and humbling.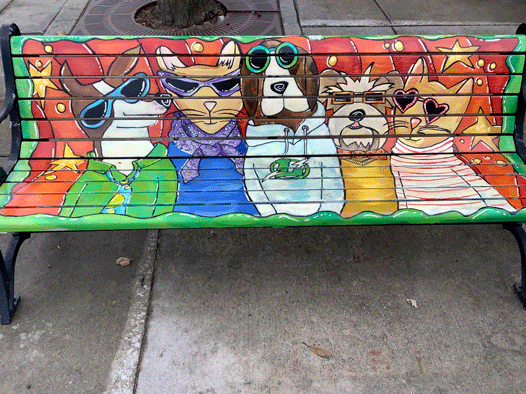 The benches produced were a resounding success, but weathering over the years meant that by 2021, many were in urgent need of repainting. A May 2021 campaign to refresh and restore the benches was organized and led by Rebekah Page, an artist specializing in beaded jewelry, mixed media décor and photography. Page, a full-time artist since 2017, is the founder and sole proprietor of Parallel Craft, an online collection of her work. She met Alt in 2018 when she took painting classes at Gallery 194 and volunteered at the Lapeer Art Association.
Page told Arts Help that the ongoing pandemic and challenging weather conditions combined to make bench restoration more difficult than anticipated. Some of the original 2014 artists returned, but others, including Page herself, were new. When work commenced in July, artists and volunteers came together from word of mouth and a feature article in The County Press newspaper. Unfortunately, setbacks due to unseasonal rain storms affected the process, and the dry time of the paint stalled the completion. Alt himself was unable to refurbish his own two benches from 2014.
Nevertheless, the benches, the majority of which face Nepessing Street, are a colourful, eclectic mix of figurative and abstract designs, much like wall murals.
Overall, Alt and Page are very pleased with the results and the enthusiastic response from the Lapeer community. The Bench Warming Project has inspired other public art projects in downtown Lapeer, including a sculpture garden and murals. On top of this, they believe Lapeer's local economy has also benefited from the project, with new businesses coming and setting up shop, inviting tourists and creatives alike to downtown Lapeer.
---
Alt encourages those looking to start public art projects to revitalize and transform downtowns in other cities to approach their Downtown Development Authorities and to not be afraid to reach out and ask for help.
To apply, volunteer, or learn more about the Lapeer Bench Warming Project, email James Alt at james@lapeerdda.com and benchwarmingproject@gmail.com, or visit the Lapeer Art Association  inside Gallery 194 at the Center for the Arts of Greater Lapeer. To keep up-to-date with the Lapeer Bench Warming Project, visit their Facebook page  @The BenchWarmingProject.