Robert Jahns is a master of illusion. When he isn't traveling the globe photographing exotic landscapes, he's behind his computer, carefully crafting dreamlike vistas that couldn't possibly exist in the real world. The Hamburg-based digital artist, better known as Nois7, is a bonafide Instagram star whose creations of dazzling cityscapes and fanciful panoramas have amassed him more than one million loyal fans. Working within a blend of realist aesthetics and surrealist sensibilities, Jahns compositions form awe-inspiring scenes, like a reindeer with trees for antlers, or an elephant weightlessly hoisted over New York City by helium balloons. We spoke with Jahn about his artistic practice, his inspiration and the future of Nois7.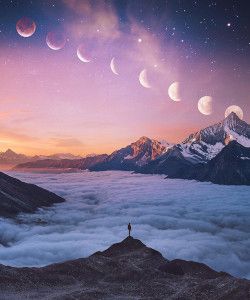 HOW LONG HAVE YOU BEEN PRACTICING DIGITAL ART AND WHAT INSPIRED YOU TO INITIALLY START CREATING YOUR COMPOSITIONS?
I've been into photography and image editing since I was 16. I always did it for myself but at some point, I found out about Instagram and other social media platforms. I began sharing my work. I love that I'm able to show the world what I have in mind through my art. Seeing that people feel inspired by my creations to live a better life or to think outside the box and dream big is sensational. Photography and art have always been a passion of mine and today I'm more than happy to be able to reach so many people from all around the world.
YOUR WORK SEEMS TO LIVE IN A SORT OF SURREALIST ALTERNATE UNIVERSE, WHY DO YOU THINK YOU'RE DRAWN TO THIS AESTHETIC REALM?
I like to see the world with a creative eye and I always like to think: What if? The untouched beauty of the earth is incredibly beautiful, but I love creating my own world of beauty around it. Most important for my work is that my images look real and believe it or not, most people really think they are.
A MOTIF THAT IS RECURRENT IN YOUR COMPOSITIONS IS THAT OF CONTRADICTION AND IMPOSSIBILITY, WHY DO YOU THINK THIS IS?
To make something look possible and realistic is what makes my art exciting. To play with the peoples' imagination and exhale their minds is fantastic.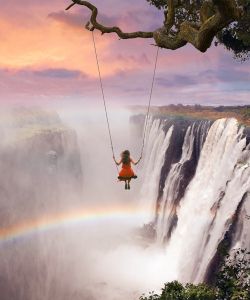 COMPOSITIONS ARE PHOTOS THAT YOU'VE TAKEN?
I'm traveling a lot and have been around the world a couple of times so my personal picture library is huge. I also like collaborating with other photographers from around the world or am using free or paid stock photographs.
WHICH TOOLS DO YOU USE TO CREATE YOUR IMAGES AND HOW LONG DOES IT TYPICALLY TAKE TO CREATE?
I'm working with Adobe Photoshop, Adobe Lightroom and smartphone apps to create my art. It always depends on the complexity of the concept but I would say in average 4 hours and up to 5 days for one creation.
WHY DO YOU THINK SO MANY PEOPLE ARE DRAWN TO YOUR WORK?
Many people are drawn to my work because it's unique, makes them dream and it makes them feel different kind of emotions.
WHERE DO YOU DRAW YOUR INSPIRATION FROM?
I'm a very creative person and challenge myself to be creative every day. My own art and style inspire me most of the time. I also like scrolling through Instagram or Pinterest to see if ideas pop into my mind.
WHAT IS NEXT FOR NOIZ7?
This year I wanna do another "30 Days of Art" project. Also, my first story and picture book are coming out in Germany in September this year which I'm very excited about. I also plan a very special exhibition hopefully starting this year.