The extraordinary structure by Raumlabor Berlin showcases and explores a number of art disciplines vital to society. The House of Contamination is a project within a project that features recycled and trash-based architecture on a magnitude that has never before been achieved. The massive garbage art installation was a part of Artissima's International Art Fair in 2010 and required a team of eight members to be fully assembled.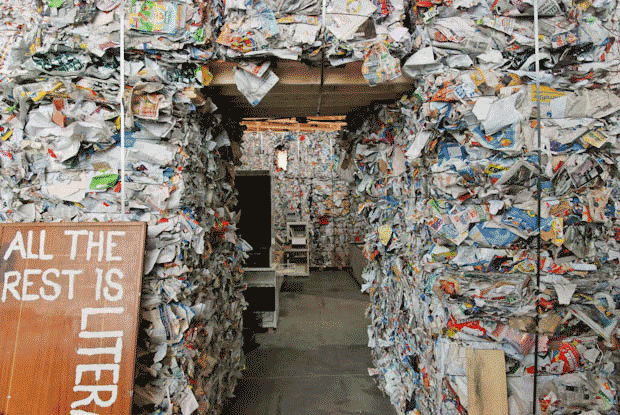 Raumlabor Berlin is a group of architects based in Berlin, Germany who do not see themselves as a mainstream architectural firm, but rather as an interactive group made up of architects, landscapers, and artists who collaborate with professionals for their various projects. Raumlabor deals with aspects of urban regeneration and urban transformation, promoting a new style of urbanism that negates preconceived notions and is centred around everyday interactions with individuals and their social ties. Their projects are known to be easily modular and deconstructive, located primarily in public urban areas.
Raumlabor Berlin has a particular interest in abandoned public spaces because they believe that it is the role of architecture to revitalize these neglected areas. They acknowledge that each space is unique and their work focuses on rediscovering its potential. The House of Contamination is conceived as a place that is both real and ideal. The structure is conceived as a model of a contemporary cultural center, hosting a number of spaces for different art disciplines such as dance, cinema, literature, design, urbanism, and education.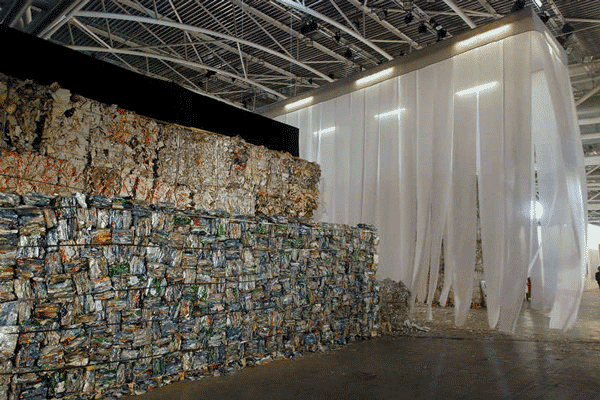 One of the key influences for the installation was Cedric Price's 1964 Fun Palace, a future-oriented design for a cultural center that is multifunctional, extremely technological and adaptable to various needs. The House of Contamination, however, is revised to fulfill new technological demands, reflecting on the drastic transition brought by peak oil in the emerging political and economic climate that is contaminating supply and demand cycles. The current life span of products is getting shorter and shorter. After products are produced, traded, and consumed, they are quickly thrown away. The House of Contamination reverses trash by turning it back into a commodity.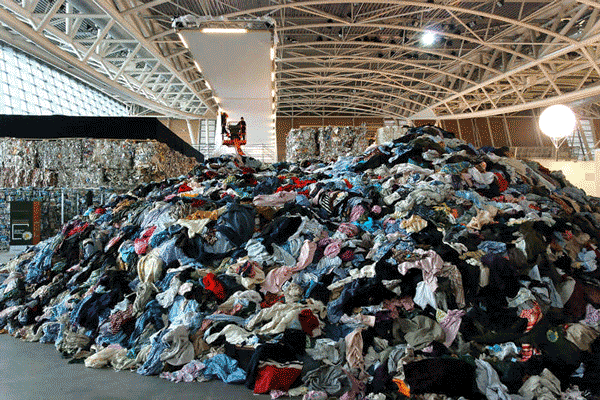 The walls of the experimental museum are constructed entirely of trash materials, containing broken plastic bottles, compressed paper, recycled wood from doors and panels, compressed plastic car parts and remanufactured cashmere bales created from shredded garments. The furniture in the museum is crafted and produced from old refrigerators, washing machines, doors, dressers, bookshelves and chairs. A garage is created with an enormous fan to distribute wind throughout the space and most architectural elements are fixed and solid.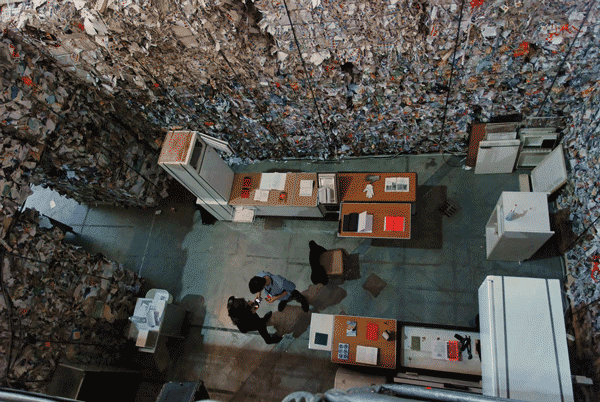 The skywalk located in the museum is a strong alternate view that produces an almost uncomfortable atmosphere of power, authority and hierarchy. Although it helps individuals gain an elevated perspective, it also allows users to become part of the focus of the installation within the fair hall. They become subjects of control and observation at the same time, almost as if they were located in the Panopticon. The core element of the installation is the curtain corridor. A long hallway placed at the center of the building, splitting the room in half. Space is invaded by the remains of silver plated paper and cloth walls that pass with the wind. This central area is a prominent and unexpected space of indeterminacy that allows users to enter and exit at will.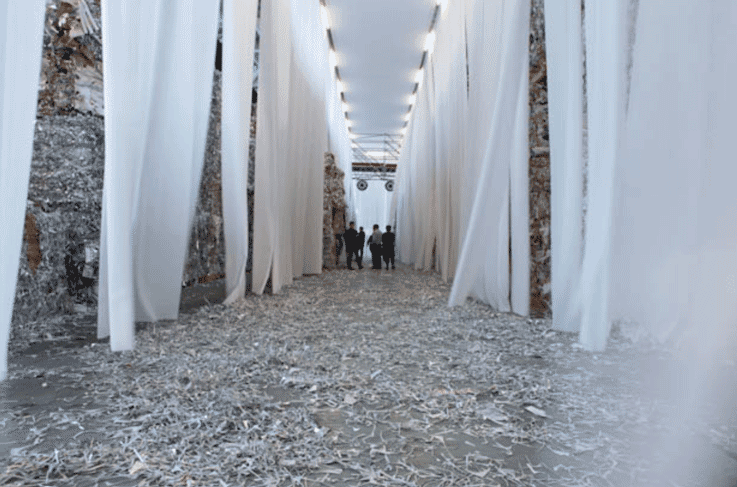 The interiors of the House of Contamination are filled with seating areas made up of old appliance pieces, creating a sense of interdependency between the garbage and visual art. The architecture combines these spaces for an ambiguous use, enabling them to be up for interpretation by the viewer. When materials, individuals, and programs collide, the potentials of a collective space are better understood. It generates moments of uncertainty and tension that contribute to the exchange of needs, desires, and purposes, allowing for the development of new ways of cooperation.
The House of Contamination is an eye-opening installation that uses waste to create stunning construction materials. It combines various used products to convert trash back to its original form. The installation is a source of hope for a new future, one that is not easily lost by overconsumption and pollution.
For a deeper look into The House of Contamination check out this video: https://vimeo.com/17873520