Known as one of the top tattoo artists in Toronto and among the list of fellows with a 'badass job' in Canada's largest urban jungle, Mr. Koo (Prairie Koo) and his aesthetic are beyond the conventional of the industry. Bringing in biodegradable materials, vegan ink and a new interior design and tattooing experience to the studio he co-founded, Ink & Water, Mr. Koo has a goal to change what tattoos are about and the ideas associated with them.
Indeed, an artist with his own intricate tattooing style of 'geometric-realism', he has sought to integrate his work into giving back to the community, uplifiting disadvantaged artists and partnering with entities from Nike to the Toronto Raptors. This exclusive Arts Help interview with Mr. Koo dives into the ideas behind his work, his community engagement and the changes he's putting forward in the industry for future tattoo artists.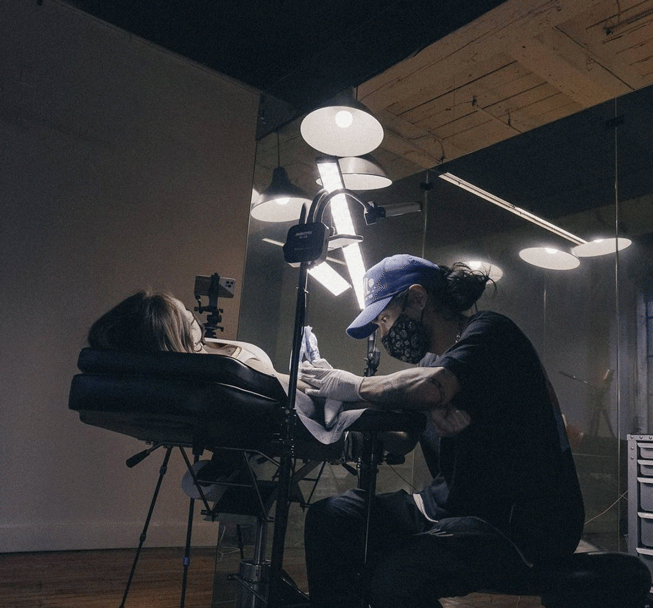 You have worked in graphic design, architecture, painting, directing art magazines - and even flipping cars. You've always been pulled into the art world. But what made you make the transition into tattooing?
I did tattooing before I did all the other stuff, and it was that which got me into the creative industry in the first place. However, I grew up in Hong Kong and in Hong Kong tattooing was pretty taboo, and still is, though a lot more people are getting them now. But back then, if you had tattoos, it was seen as if you were in a gang.
And with my upbringing - always hanging out on the streets and so on - I didn't get a tattoo on myself because the cops would stop me more than they already did. So I skewed away from that and decided to go into interior design and architecture. Though, I've loved drawing since I was a kid and would always doodle on people's arms and my own. Just draw all over everything and do graffiti art for a long time.
Over time, I left Hong Kong and went to London for a bit of schooling and then dropped out because the environment wasn't right for me. I later went to OCAD (the Ontario College of Art and Design) in Canada for graphic design. After doing fashion stuff, magazine work and building furniture for design shows, I later went back into tattooing and opening my own shop.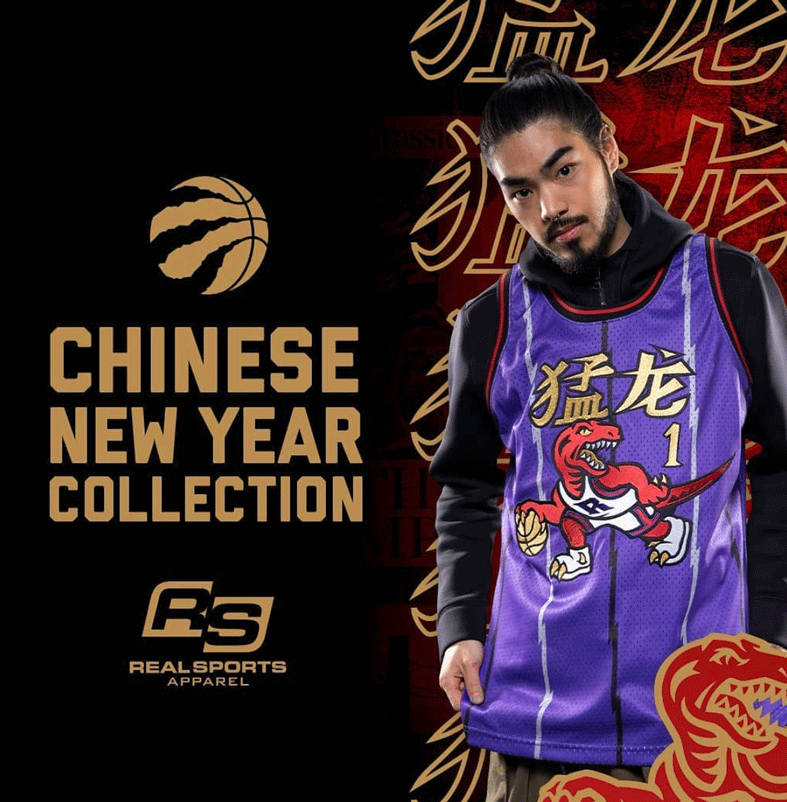 In many East Asian cultures, tattoos are still relatively looked down on and associated with gangs. Even in the West, we traditionally rarely associate Asian people with being tattoo artists. Have you ever gone through difficulties and challenges while emerging in the tattoo industry as Asian?
When I first started, yes, because there weren't too many Asian tattoo artists. Luckily, Chronic Ink was a big Asian tattoo studio that concentrated on more traditional Chinese and Asian art inspired tattoos. And right now, some of the best artists in the world are coming from Korea, Taiwan and China.
So we're, weirdly enough, taking over an industry that wasn't ours. The same goes for females. Females are finally entering into an industry that they were pushed away from for so long. When I was working as an artist at Ink & Water, we were so happy to be able to bring in so many female and LGBT artists to kind of change the whole culture behind tattooing that wasn't there previously.
"All of Ink & Water uses vegan-friendly ink and ink that hasn't been tested on animals. We also use biodegradable products because we saw that there's a lot of waste in this industry."
You opened your tattoo studio in 2016, which now has over 50 artists. What was the greatest challenge in the process of going from an artist to owning your own business?
The biggest challenge was definitely managing people. After half a year, I realized that I'm not a good people person because people aren't used to the way I grew up. I grew up in Asia and the way we talk to people is blunt and straightforward. But here, you have to do a little compliment sandwich, by saying: "You know, your work is really great, but…" However, there's no such thing in my upbringing.
So management here seemed like a riddle to me. But luckily, my business manager was Western. And when I opened the business, I thought I needed someone from here to help me out. Eventually, I was able to transition back to just focusing on being an artist and working out of my private studio.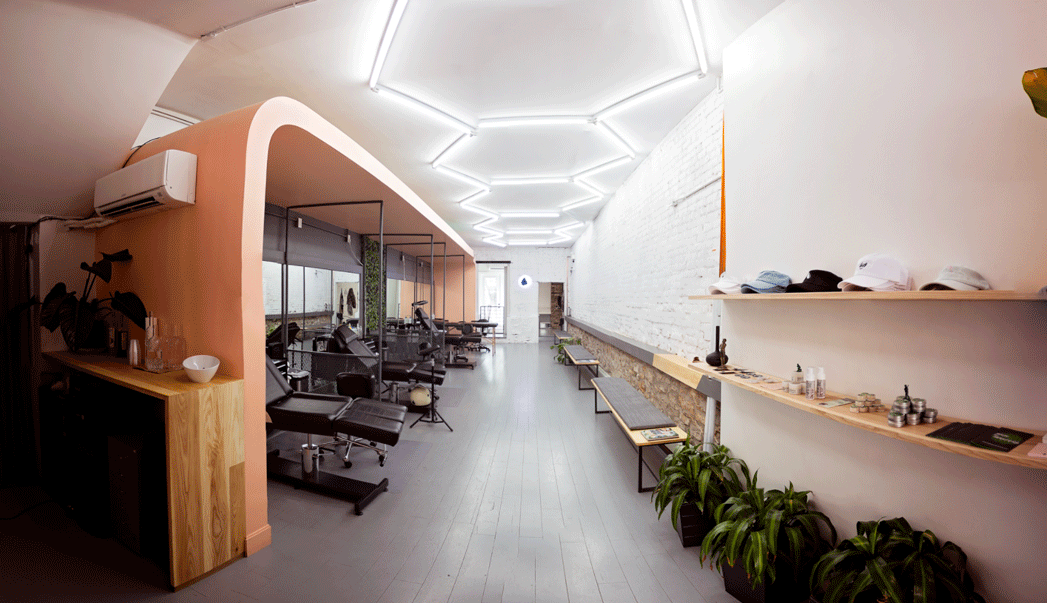 What you and your studios seem to offer is rooted in bringing the best experience and quality to your designs. Why do you find that important and how do you offer it?
For a tattoo, it all starts off as an experience. For the person getting their first tattoo, you'd obviously be a little worried, scared or intimidated because you've never had one before. As a designer, I thought about what was missing in the industry. I saw that we were missing hospitality, friendliness, cleanliness and just a nice, open space where people can talk and feel free and safe. So, when we opened Ink & Water that's what we tried our best to create.
Also, in my work, I try to create my own style and do it different from everybody else. I know a lot of people copy each other. So every time I style a tattoo and see that it's being copied a lot, I'll start evolving it, and evolving it, and evolving it. That's what helps me stand out from the other people's work. Also, at Ink & Water, we look for artists that are different - who are not traditional artists. We try to look for newschool illustrated designs and styles to introduce to Toronto.
The tattoo industry can sometimes be quite wasteful, use toxic materials or be environmentally unsustainable. Does Ink & Water and yourself do anything to address this?
All of Ink & Water uses vegan-friendly ink and ink that hasn't been tested on animals. We also use biodegradable products because we saw that there's a lot of waste in this industry. I know a lot of shops don't do that. Everything's one time use, everything's disposable. So we try our best to be as eco-friendly as possible while also following health and safety standards.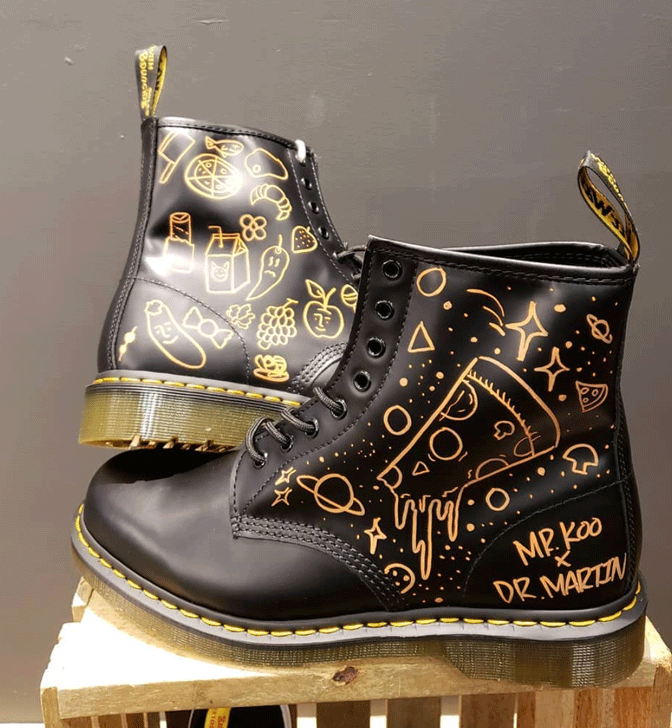 You have collaborated with multiple brands like Dr. Martens, the Toronto Raptors, Jameson Whiskey and Nike during their Air Force 1 celebration of Toronto's "Unsung Heroes". How did that latest collaboration come about?
They were launching the new Carhartt Air Force 1 and wanted to do something to impact the community. So they got four people, including myself, who do a lot of charity in a city and never get talked about, to custom design a shoe. And then we had an auction. During that time, my shop and I were making custom shoes for kids from neighborhoods like Regent Park and also gave them Nike swag.
Community engagement and empowerement for disenfranchised youth is important to you. What other specific projects have you and your shop taken part in?
In previous years, before COVID - which shut us down for a while -, we gave money from every tattoo and every event we did to Sketch, an art-based platform that engages diverse young people in poverty and marginalized communities. Also, sometimes, people at the shop and myself would go cook for people at Sketch.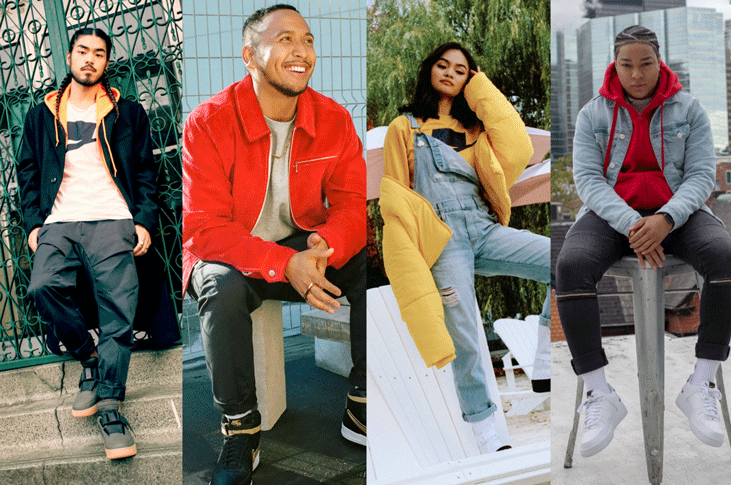 We also do monthly charity work with the shop. We link with Ronald McDonald House and other bigger charities to do tattoos on people of the charity logo. We then personally donate money from the tattoo to the charity. Personally, I also go and give business classes for at-risk youth who want to start businesses.
The United Nations Sustainable Development Goal 9 on Industry, Innovation and Infrastructure is one that stands out to you the most. Why is that?
It's because I feel like innovation and change is what we are doing to the tattoo industry. At the beginning, all tattoo shops had a very standard look to it. However, after we opened Ink & Water, a lot of shops from around the world were telling us that we influenced them to design their shops to look a lot more modern and different. That's what we sort of changed in the industry to have a more friendly vibe.
"I saw that we were missing hospitality, friendliness, cleanliness and just a nice, open space where people can talk and feel free and safe. So, when we opened Ink & Water that's what we tried our best to create."
From your artwork, its obvious that you prefer a minimalist and intricate style with geometric patterns. You call it 'micro-realism' or 'geometric-realism'. What's the inspiration behind it?
Graphic design has definetly influenced my tattoo style. All my pieces are very standalone. I don't do full sleeves because everything I do is seen as a graphic or a sticker on somebody. My art is rather very open, airy and has a lot of different things going on in it. It's a collage of some sorts. Most of the time people come to me with 5-10 ideas and I then jumble it into one piece.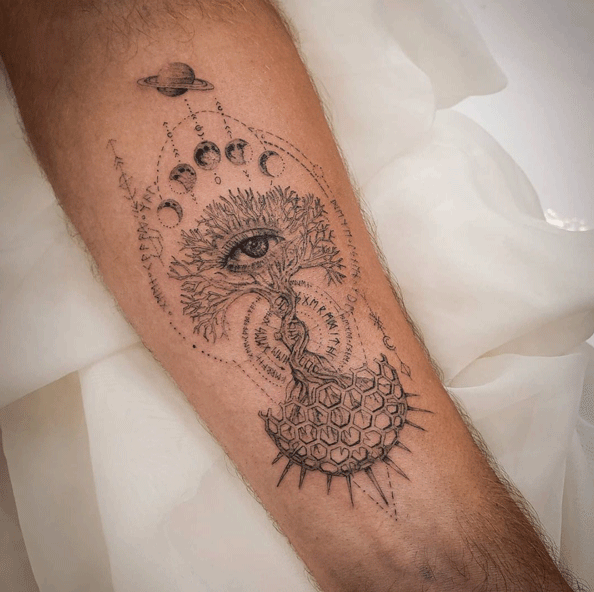 I also use a lot of circular and geometric designs in my art because I don't want the pieces just to float around. I want to ground it, give it foreground and background. This adds more to the story that's there already. I personally try to create a story behind each piece and figure out the reason why they got a tattoo. From that, all the shapes relate to their reasoning.
You, along with your studio, customize your own tattoos. How long does it take and what is your design process?
All of my tattoos are a surprise. You actually never get to see what you're going to get until you get here. I also don't really do any changes to them. When a customer books a tattoo with me, they communicate with me through email with what they want, what size it will be and where. From that, I immediately know what the piece is going to look like and it takes me five minutes to get a design done. When they get here, the design is already ready to go. It forces people get the artwork if they really like it.
When you go to an art gallery and see a piece that you like, you don't really know why right away. You think it's perfect. But then your partner comes over and is like, "I don't like the colour", that influences you to not like the work anymore. The same happens a lot in the tattooing world when you show a customer the artwork the day before or week before. They're gonna keep changing it and changing it until it's not your work anymore. To avoid that, and because I guess I'm an artist, I want it to be mine only. That's my process.
"I personally try to create a story behind each piece and figure out the reason why they got a tattoo."
Then when I actually tattoo, it never takes more than two and a half to three hours to complete it. I work significantly faster than most people in the city. Some artists who do a similar style work, will take eight to nine hours to do a piece. This is because everyone has their own style of tattooing and working machines. Some people take a long time to wipe or they will wipe 1,000 times during a tattoo. I'll dip my tattoo maching twice into the ink for a whole tattoo instead of dipping after every line.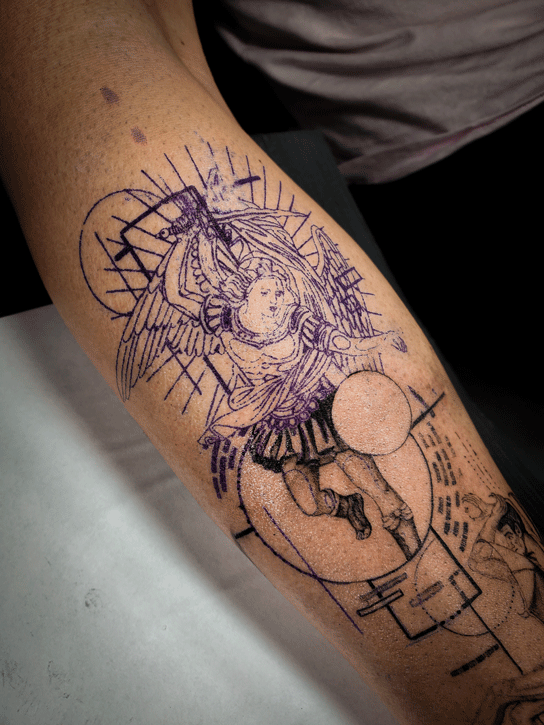 Tattooing is an art form with an amazingly diverse history influenced by different cultures and religions around the world. Do you find inspiration from other cultures?
A major influence to my style that inspired me to do micro-tattoos was Chicano style tattoos, which were a kind of Latino prison-style tattoo back in the day. I was happy I was able to bring that into Toronto, because it wasn't really a thing before I started here. Now everybody does it. I took that and went a little more feminine because I saw that the market for tattoos is no longer big men that drive motorcycles, but also girls who want something pretty - and that was what I was also catering to.
Many artists have tried their hand in doing freehand drawings and paintings. However, in the tattoo world this obviously comes at a different cost as what is created without a stencil is permanent on someone's skin. Have you tried doing freehand tattoo art?
I do a lot of freehand work. However, you don't see it often because most of time clients are uncomfortable with it. Let's say you came, sat down in my studio and I said; "Oh, you wanted an airplain? Okay, I'll just tattoo it on you straight." You would be worried right? You would want to see what it looks like before you get it put on you forever.
"Right now, some of the best tattoo artists in the world are coming from Korea, Taiwan and China."
Being from Hong Kong, have you ever thought of opening a tattoo shop in your hometown?
No, not really. The market isn't really there yet. We went to Taiwan, and we were thinking of opening one there, but right now we're working on opening a New York shop on top of the three Ink & Water studios we have in the Greater Toronto Area. We were in New York pre-COVID, but because of COVID we shut it down. Now, we're redoing it again.
As a tattoo artist, what dream or goal do you have for the tattoo industry?
I wish the tattoo industry was a little more open to teaching people and would change its habits of how apprentices are taken in. Back in the day apprentices were basically treated like servants who just clean everything, draw for another artist and pick up coffees.
At Ink & Water, there's no cleaning whatsoever for apprentices. All they do is learn to draw, draw, draw, create their own style, develop their Instagram and then see how they can go on to open their own business. From what I see, we're one of the only shops that is promoting our artists to grow, go open their own shop and do their own thing. However, most other shops are trying to hold you down and not even expose you to a world.
What advice would you give to future tattoo artists in under ten words?
Keep drawing and develop your own style.
---
To see more of Mr. Koo's art visit his Instagram. Or, to see how you can book your own tattoo with the artist, visit his personal studio site.