Truck art is a form of art seen in the South Asian culture of Pakistan presenting vibrant and exuberant over-the-top designs that are colourful and shouts out its boisterous designs to the intricate carvings on the body of the trucks. These include calligraphy and floral designs, with meaningful messages to evoke social causes. Each is different and elaborately decorated with no trucks alike. To Pakistanis, these trucks are more than just vehicles painted by artists; they hold significance in Pakistani culture.
"When we decorate it, we hope people will look at our truck with love", as quoted by Muhammad Ejaz Mughal who is a long-time truck artist running a small studio from his home. He learned the craft from his father as he continues to say, "When a truck is decorated, we consider it to be like a bride and decorate it and take care of it."
Truck art began during the Afghan war when the decorated trucks ran services between the two countries, Pakistan and Afghanistan, also known as jingle trucks by American troops deployed across the state. It was a military slang that was created because of the jingling sound of the embellishments on the trucks due to the pendants and chains hanging from the bumpers of the vehicles. These vehicles are customized as the paintings hold elements of Pakistani culture with images of famous poets, singers, sayings by popular figures and more.
Truck painting is now a distinctive form of Pakistani art. Every driver wants their vehicle to be the most admired truck on the road. Another crucial point to highlight is that although truck art exists in India, only a few are decorated as extravagantly as Pakistani trucks as there is no comparison. These designs include calligraphy, fanciful paintings of flowers, hearts, peacocks, folk singers, angels and even army generals. The chains dangling off the bumper jingle and sway with the vehicle as it moves.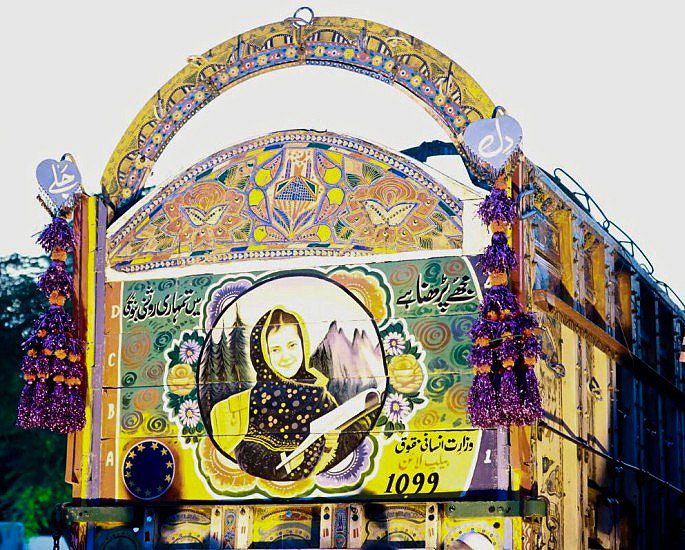 Truck art holds immense influence on popular culture in the country as it supplies a canvas for phrases to be displayed. This is to create awareness and grab attention for causes such as education, end to slavery, or even as messages to politicians to tackle problems such as poverty in the country. Through this, the United Nations Sustainable Development Goal of Reduced Inequalities is highlighted as it becomes a way of spreading messages to the common man. It also supplies insight into the goal of Industry, Innovation and Infrastructure as truck art provides a medium for the development of the latest ideas in the sphere of art.
Truck art also empowers women's rights as it supplies a fascinating medium of culturally raising awareness about social issues in Pakistan. Through this, we examine how truck art impacts female rights. Work of art is portrayed in the image through the powerful theme of empowering young girls of the country. Messages are relayed from the perspective of a woman relating to life values. These are displayed positively on the vehicles in the form of truck art addressing issues concerning child marriage, education, child labour and domestic violence.
Through this medium of communication, even truck drivers support the method to raise awareness about significant matters and concerns. In the image above, we see a young girl smiling with a book in her hand. The quotation is painted in Urdu – translated to English, "I want to study" and "I am your light" that highlights how with education, a woman can become a source of power and innovation for herself, her family and the country.
We see how the trucks play an equal role as mobile billboards, as the art displays images of popular culture such as films, artifacts, television programs, records and clothes along with providing a mode of transportation. This form of art brings forth an assortment of expressions, feelings, experiences, ideologies and even beliefs that present a harmonized amalgamation of images which leaves a lasting impact on the community.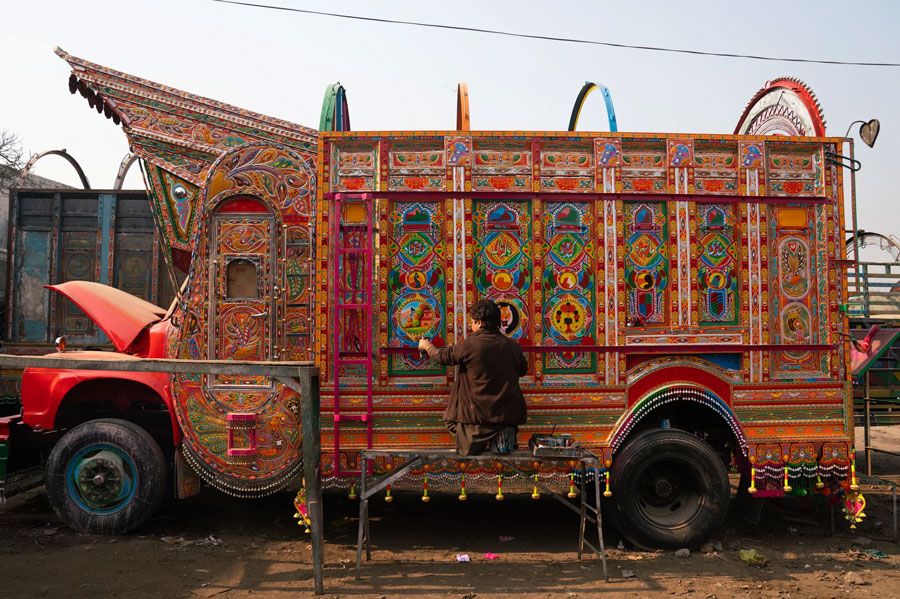 The influence of trucks greatly inspired the fashion world as the lively and bright colours were used by Italian brand Dolce and Gabbana in their 2015 art inspired display. It included kitchenware with colourful paintings and images. Furthermore, along with this, it has been incorporated by many others in clothing, bags and even shoes. Recently a K-pop band, Blitzers, in their music video, "Hit the Bass", added the majestic scenery of the city of Lahore displaying truck art. The members choreograph their dance in a red wedding hall—a representation of wedding culture in Pakistan—followed by dancing on exuberant vehicles laced with truck art. Undeniably, truck art as popular culture plays a vital role in providing a powerful medium of expression and communication.
Another interesting fact about such art is how the trucks are a mode of freight transport with more than 200,000 registered trucks on the roads. Due to the country's poor rail system, these trucks are a means to transport goods such as bricks, gravel, cement, wheat, fruit, cotton and more. These trucks are repainted and reconditioned every few years.
The most significant use of truck art has been bringing missing children home. These trucks have served their social cause as they ran images and portraits of missing children along with the number for a helpline, Roshni Help, which is a non-profit organization dedicated to recovering children. Out of twenty missing children whose portraits were painted, at least five were found. The project continues today. Therefore, we see the influence of truck art in the popular culture of Pakistan through its bright and vibrant colours and the effects it brings along through its visualization.
Discover more about truck art here.