What history lies behind a piece of clothing? This is the question that inspires the work of Victora Udondian.
In an interview with Arts Help, celebrated Nigerian artist Victoria Udondian shares how she became interested in the secondhand clothing market while starting out as a textile scuptor, and how her work has evolved to dicuss themes of history, sustainability, colonialism, immigration and cultural identity.
Black Artistry Series is a year-round program committed to supporting, celebrating and showcasing Black creatives and storytellers around the world. By sharing truthful and diverse Black narratives through the publication of exclusive interviews, Arts Help encourages our community to stand in solidarity against systemic anti-Black racism.
---
I read that you first trained as a fashion designer and a tailor before becoming a textile sculptor, but you also studied painting in university. What was it that drew you to working with clothing and fabrics?
I was a kid who would make things with my hands, drawing, sewing, and I had parents who were very interested in me developing all of those crafts. As a result of that, after high school, while I was waiting for my results to get into college, my parents sent me to some informal training as a tailor and fashion designer. I did that for about a year, and straight on from there, I went to college to study fine arts and ended up as a painting major. But while I was in school, I was making some money from tailoring and designing clothes. Then I started painting and I started making extra money from side gigs with portraits and paintings.
Post-graduation, I was just sort of trying to figure it out as a young artist. I kept painting, but at some point, I got to a place where I was much more interested in expanding the notions of my own practice. Also, having had this very Western education, despite studying in Nigeria, and reading through art history, I was not finding myself within that painting history. I was interested in finding a material that I could incorporate into my work and expand beyond the two-dimensionality of the canvas support which became a little bit restrictive. So clothing came to me naturally, because I was already a tailor, working in textiles. I started earlier works incorporating mixed media paintings and textiles.
Eventually, I started breaking out of that. I did a project with secondhand clothing through a workshop at the Center for Contemporary Arts (CCA), Lagos, looking at the influx of used clothes in Nigeria and the impacts it has on the textile industry in Nigeria as well as our cultural identity. This clothing travels the world from the west to the global south and brings along with them all the histories embedded within these textiles. Then those histories get complicated when the locals, within a context like Nigeria, buy them and wear them. I started travelling around West Africa investigating the secondhand market. What was fascinating was reading about the fact that the secondhand clothing market started out of the notion of humanitarianism, which has been one of the colonial obsessions, but realizing at the same time that no one was really giving out free clothing in Nigeria. Eventually, I got a residence to go to Venice. When I went to Europe, I was also interested in investigating what the situation was in the West and how this clothing ends up in Africa. This is how I started working with secondhand clothing. Until today, they've become quite significant in my practice. At this point, I would refer to them as "power objects" because I've kept repurposing them in various ways in my work.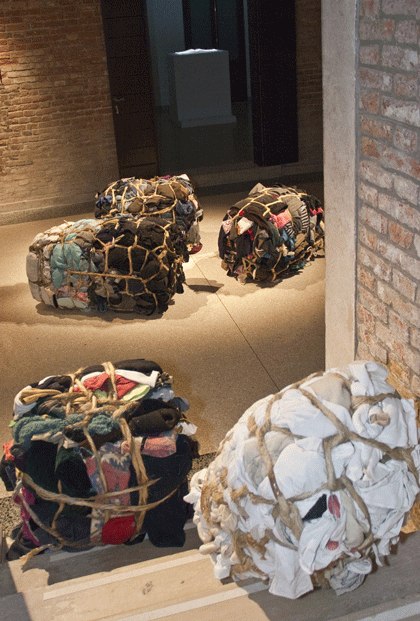 Your works are often large-scale installations made of repurposed materials, and I read that the artist El Anatsui was a big influence on you. What did you think when you learned about him, and is he one of the reasons why you chose this medium and these materials?
El is one of the older generations [of artists] who is based in Nigeria and who's done incredible work recognized on a global level. But one of the things that fascinate me about El is how he's been able to bring value to materiality. And by that I mean, when he started repurposing all of these objects, materials that he found around his environment before he even went on to his most celebrated work, which is the bottle cap "textile" pieces, you think about how value is added to the material and also considering material histories beyond the physicality of material itself.
For me, that has been an integral aspect of my work. Because when I'm looking at this clothing, there are not just pieces of clothing. I'm looking at the historicity that's embedded within the clothing.
In terms of scale, I work large-scale. I think I have a hard time conceiving small-scale works as my projects are always very elaborate. But I do also like the idea that you take on a very banal basic material like a used shirt, and then you transform it into this large-scale work that people can interact with through their bodily movement within space. It's not just about coming in and gazing at the work, but you actually have an opportunity to walk around the piece and experience it.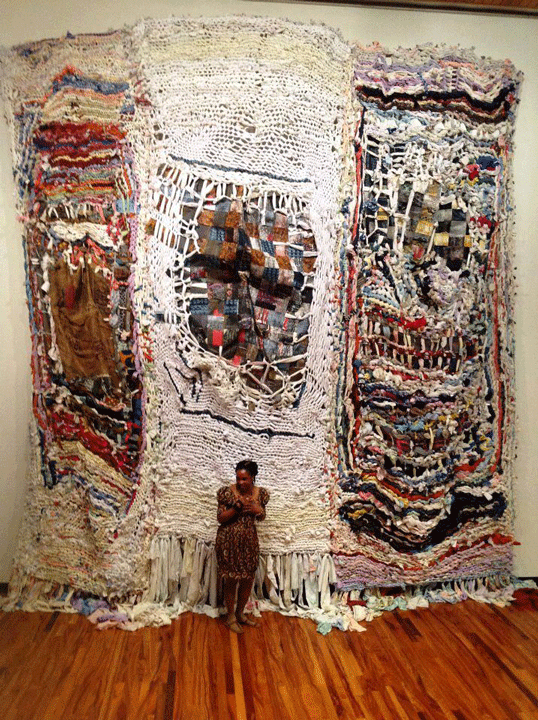 You have created a big number of celebrated sculptures and installations, such as your participation in the Inaugural Nigerian Pavilion at the 56th Venice Biennale (2015-2016). Can you talk about the thinking behind these pieces?
That's a very complicated project. Just for context, I got invited amongst 3 other artists to represent Nigeria at the Venice Biennale, but that inaugural pavilion in 2015 in Venice got cancelled very late in the process. We, the artists that were selected, were already published. My work was used in the catalogue, but the pavilion did not actually happen in Venice.
But it did happen as part of my projects as I really began to think about what a national pavilion for Nigeria would mean within the context of the Venice Biennale, which we need to look at  from a historical perspective. The biennial comes from the history of the world fairs, which was a platform where Western countries sort of showcased their colonies and subjects. And today we have that same platform where post-colonial countries, for lack of a better word, are trying hard to be a part of, to be represented, and to showcase their own cultural evolutions. But, of course, all of that is not devoid of all kinds of problematic situations. So my decision to create an inaugural pavilion for the Venice Biennale was an opportunity to question some of these notions, and the nuances of some of the problems of a platform like the Venice Biennale.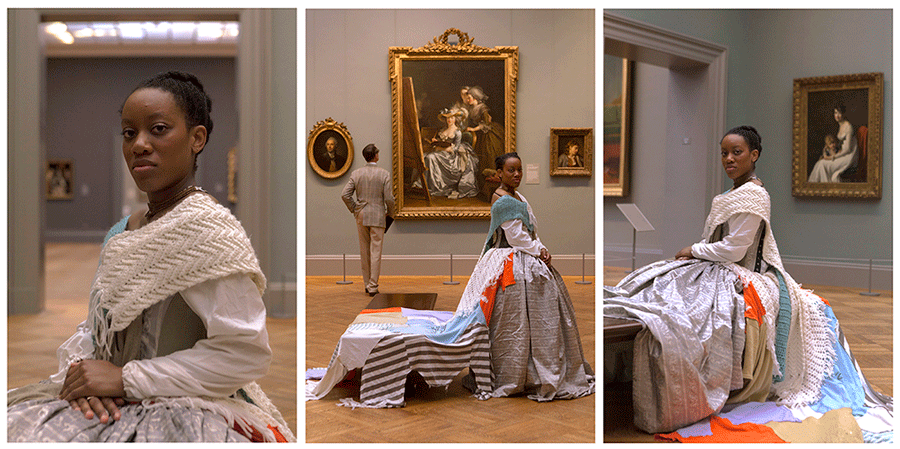 I really enjoyed your performance project titled The Republic of Unknown Territory. As someone who lives on the U.S. - Mexico border, I have to say that I am quite familiar with that situation. What inspired you to address the issue of border security and immigration?
That project was done in 2017. I had moved to the States for my master's program. I finished my master's and I had a couple of opportunities in the States. Of course, for me to be here to take those opportunities meant I needed to go through the process of legalizing. I had to get a green card to be able to work here.
2017 was a very interesting year because Trump had just gotten into office in the 2016 election and so there were lots of conversations, controversy and confusion about immigration with misinformation as well. With the cold wind of intolerance and vilification of immigrants blowing across Europe and America, the government of the day overtly politicized and criminalized migrants with emphasis on the building of a wall along the Mexico border, having children who tried to cross the border separated from their parents and eventually left in cages. It was a very intense moment. And then in Europe, there were also the Syrian refugees who were stranded with European borders shutting them out. A lot was going on in the world just concerning people navigating the world.
Here, I am on the verge of trying to get a green card, and then there's this whole confusion in the system that is throwing everything into turmoil. These led to delays in every aspect of the process with work permits taking over 6 months to be ready which meant that I could not work [while I waited], so it was very frustrating. Usually, when things like that happen, I find art to be my holy grail. It's like the safe space I would resort to dealing with life. So I decided to channel my frustrations into an art project addressing the issue.
I was doing a residency at the time at The Fine Arts Work Center in Provincetown, Massachusetts, and I decided to take on a project on the subject of immigration. I mean, as a Nigerian, I have to constantly negotiate immigration for every trip, despite being such a global citizen. So for my solo exhibition at the residency, I decided to subvert the gallery space into some kind of a micronation which was known as the Republic of Unknown Territory. All the visitors who came to the opening had to go through an immigration process to get access to the gallery. I had tables with these application forms, developed using the American visa application form, that everyone had to fill out. But I did edit them to add very extreme questions that bordered on identity, abortion, etc. because there was also this whole conversation around abortion like we're [also] having now with Roe v Wade getting overturned in America. I asked people if they had ever had an abortion or knew anyone who did, very extreme questions like that.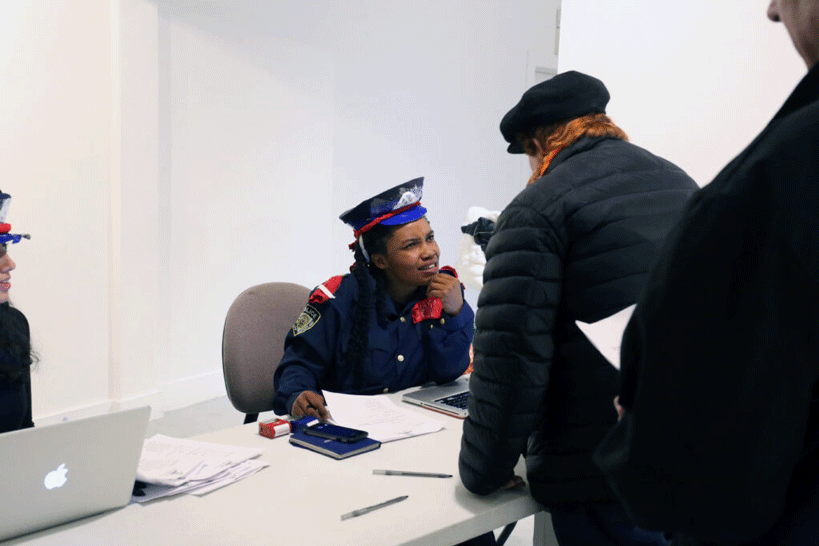 I performed with my friend as border control officers, and I had to offer visas on my own subjective whims, which is always a reality. There is no prerogative of a visa offer. It is just based on the whims of whoever the officer is. But what I did not anticipate was that I would have people resist and revolt. We had refreshments in the main gallery, so you had to get access to get refreshments thereby denying sustenance to those denied entries. But most interestingly, there was a white man who showed up and I had denied him the visa. This man got really angry and broke through the barricade to force his way in and I had to physically stop him from entry. Letters were later written to the gallery director in protest by some people who were denied gallery access. I asked the director if the letters could be shared with me so that I could save them alongside other artifacts of the Republic. Eventually, those that were granted access opened the back gallery emergency exit door to give access to some that were denied, after numerous attempts to pass drinks across the border. The performance which lasted about an hour and a half ended with a huge infiltration of illegal immigrants into the Territory.
Reversing the paradigm of travel, the exhibit opened American audiences to the experience of being denied entry.
That project ended up becoming the starting point for the work that I've done in the last five years. After working on that project, I decided to open my studio up to immigrant communities to create this large-scale interdisciplinary project. That took me the last two and a half years, and it culminated in a major solo show titled How Can I Be Nobody, that took place in New York last spring at Smack Mellon. The installation connects Smack Mellon's Dumbo gallery, a former industrial site, to the foundational role of immigrant labour in capitalist production.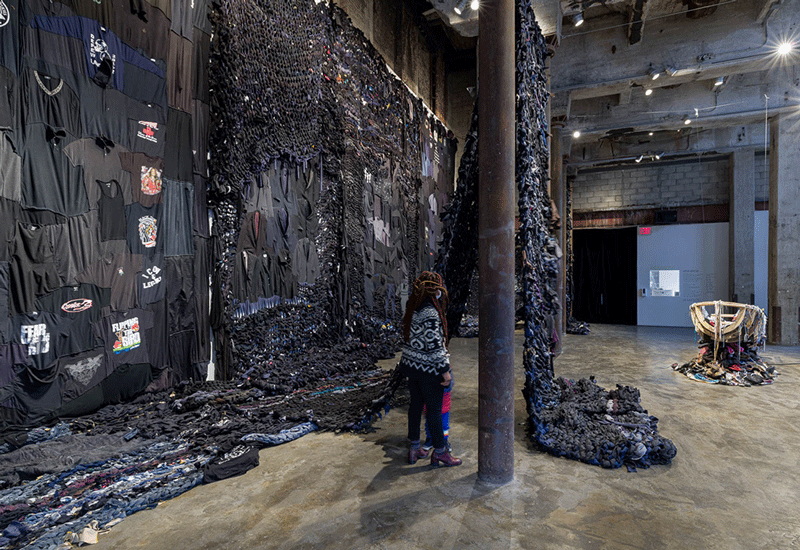 How Can I Be Nobody was a site-specific solo exhibition combining elements from my recent collaborative projects that included large-scale woven textiles, sculptures and sound. Starting with an initial call for collaborators in 2019, I developed relationships with various local immigrant communities where I lived and worked, including a partnership with Stitch Buffalo, a textile centre near my studio that facilitates refugee and immigrant women in creating handcrafted goods to find economic empowerment. I collaborated with and compensated community members, weaving with them and creating sculptural casts of their hands while collecting their stories.
At Smack Mellon, the cast hands reside in and around a suspended ship rib, constructed to reference the eighteenth-century diagram of the Brookes slave ship as well as countless boats carrying migrants who have crossed the Mediterranean Sea. Another ship rib was made using shipping pallets, continuing my exploration into the links between bodies and transit within global labour economies, While the large-scale collaborative weavings were primarily composed of repurposed black fabric installed to drape from the top of the gallery to the floor, the piece was about 74 feet high transforming the entire gallery space.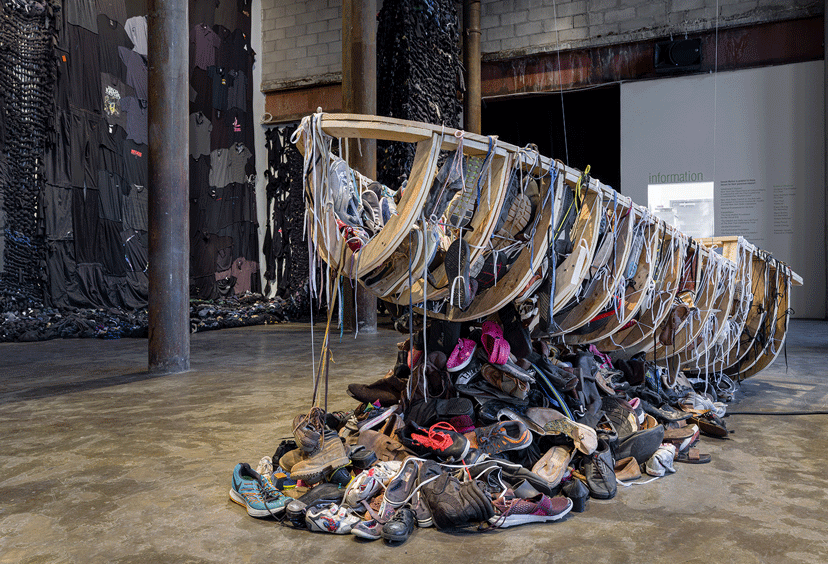 I was interested in questioning notions of labour, and the role of immigrants in labour productivity. The piece took us about 3000 hours to produce across the period of 5 - 6 months. Working with used clothes was also significant as I began to consider how fast fashion is produced mostly in the global south under repressive conditions. These clothes end up in landfills, having a huge impact on the environment. I am interested in the intersectionality of all of these issues. Accompanying the installation was also the sound that I had collected while interviewing my collaborators. They shared personal stories of migration and belonging as well as family histories. This sound was lopped in the space as though emanating from the elements of the bodies that were present in the works through their absence.
I had another piece that was part of that show titled Mme Anam Utom which is an Ibibio (Nigerian) language that translates to "The Labourers." Through an exchange process, my collaborators were asked to donate their used work clothes preferably in black in exchange for new ones. These collected clothes were frozen into forms that reference the bodies of their owners in fallen shapes. Installed on the floor, the forms allude to the repressive, exploitative conditions faced by workers within labour systems and other neocolonial conditioning.
The exhibition's title was a quote from one of my collaborators who, while struggling to divulge her personal history fearing that it would put the community in her home country in danger, asked, "How can I be nobody and tell you my story?" Her sentiment elucidates the anxieties of persecution that many immigrants and refugees carry with them into unfamiliar places due to the lack of protection available to them. As a project, How Can I Be Nobody asks viewers to consider the myriad societal contributions of immigrant populations in the face of growing intolerance and nationalism across America and Europe. By bridging direct engagement with these communities and contemporary art audiences, my goal was to facilitate individuals from marginalized subcultural groups in constructing a shared understanding of their historical past to promote re-empowerment.
Do you have any upcoming projects you would like to share?
Usually, I get quite nervous about sharing works in progress but I will say that I do have two proposals in the works at the moment and I will give a little insight into one of them here. The working title is After the last supper. This project builds upon my previous works, which question Africa's colonial history, cultural identity and lately Afro-Sino relationships that shape realities, identities and psyche within this postcolonial condition. This is a sculpture/ installation project that takes The Last Supper by Da Vinci as a starting point, using its biblical connotations as a metaphor in discussing Western and lately Chinese dependence on African resources for their development.
In a bid to actualize this work, I am researching historical artifacts that have circulated the world today through museums. I call these artifacts "colonial signifiers." The classical African sculptures and the 19th-century Chinese blue and white (qinghua) Ming dynasty wares, for example, are objects I am researching as they will be used as references in this project. I will consider colonial histories, and narratives linked to the origin of the exploitation of Africans first through slavery, before their lands and natural resources. This research will inform the objects and forms that will be produced to constitute the final piece. I look forward to sharing this with the world when they are fully cooked.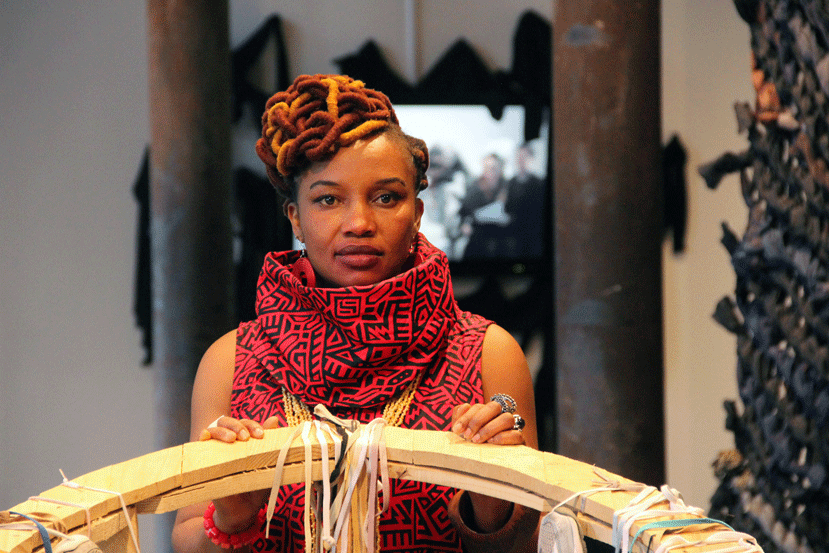 ---
To learn more about Victoria Udondian, visit her website or follow her on Instagram.
Use the hashtag #ArtsHelp365 to follow the series online.