In outsized paintings and murals, award-winning Detroit-born, bred and based fine artist Sydney G. James addresses the lack of Black representation in portraiture. James graduated from Detroit's College of Creative Studies in 2001 and went on to win a prestigious Kresge Foundation Artist Fellowship in 2017. She creates rich, emotional portraits using deep hues, vivid colours, bold brushstrokes and layering produced by a combination of acrylics, oils, pastels and graphite.
Her iconic Detroit murals are multifaceted character studies in what it means to be Black in America - contributing beauty and a sense of empowerment to the city. In addition to social justice issues, her work often challenges racial and media stereotypes and celebrates black women and Detroit cultural icons, including local artists. In such a way, her murals embody the UN Sustainable Development Goals 5, 10, and 16 on Gender Equality, Reduced Inequalities, and Peace, Justice, and Strong Institutions.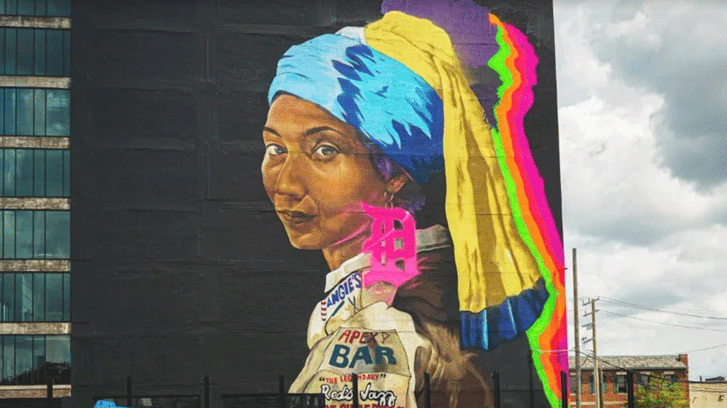 Sydney G. James grew up in the Conant Gardens neighbourhood of Detroit's North End, where she still lives today. James began her career in advertising as an art director and illustrator for Global Hue Advertising in Detroit, primarily creating print and television advertising for major international brands. She later moved to Los Angeles in 2004 to expand her career. There she switched from commercial to fine art and earned a Master's in secondary education from UCLA.
While in Los Angeles, she landed staff positions as a resident artist and illustrator for the ABC Family show, Lincoln Heights (producing all of the artwork for the set and lead character, Cassie, an aspiring artist) and as an illustrator for No Ordinary Family. In 2011, James moved back to her hometown to join the burgeoning local art scene. That same year she co-founded the Vanguard Artist Collective, with three other Detroit artists dedicated to promoting black art and nurturing the next generation of Detroit artists.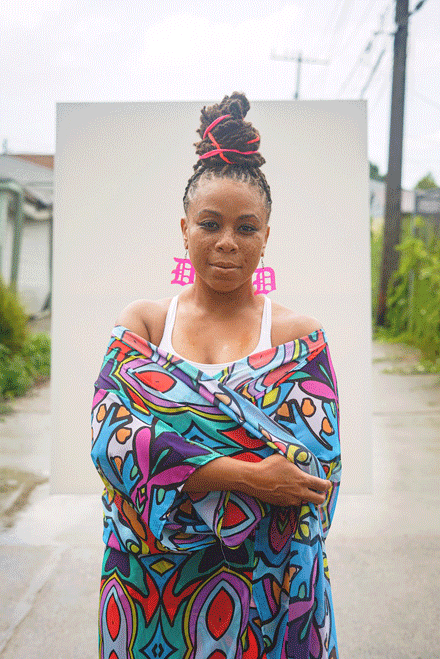 The overarching concept behind James' work is "Appropriated Not Appreciated,"  which draws attention to those whose contributions to society have been overlooked, ignored or arrogated. It is also a theme informed by the #SayHerName campaign launched in 2014, which seeks to bring awareness and justice to black women brutalized by police, provoking uncomfortable conversations about race and gender to spark social change.
Of her art, James remarks, "My work is always personal, and I want my viewers to experience a personal connection as well."  James has been painting public art murals since 2014, when she created a nine-foot square portrait of cult Detroit folk musician Sixto Rodriguez (whose story was featured in the 2012 Oscar-winning documentary, Searching for Sugarman) for the city's inaugural street art festival called 'Murals in the Market' in Detroit's Eastern Market district.
She has been involved in numerous local arts initiatives including murals for the Museum of Contemporary Art Detroit (MOCAD) and the Charles H. Wright Museum of African American History both in Detroit's Cultural Center. Her work has also been featured in group exhibitions at The Red Bull House of Art gallery, Gentlemen Jack's Art, the San Francisco Museum of Fine Arts and in a solo exhibition at Playground Detroit.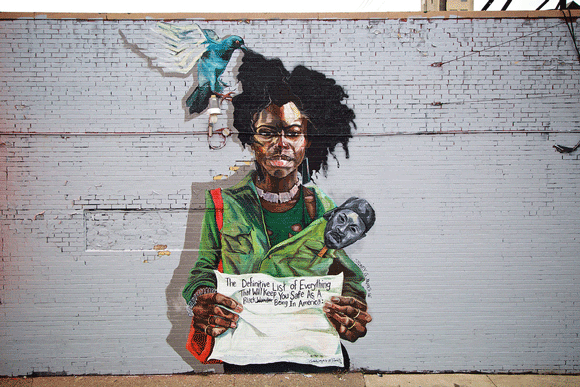 Other notable works include the female-focused political mural Black List (2016), her second Murals in the Market composition, featuring a dishevelled and sombre-looking woman holding up a listless paper that reads "The Definitive List of Everything That Will Keep You Safe as a Black Woman Being in America." A theatrical mask of the Detroit rapper J. Dilla pops out of her pocket while a pigeon picks at her Afro, critiquing the victimization of Black people in American society. The title takes its name from the poem, "The Definitive list of Everything that Will Keep You Safe as a Black Woman in America" by Detroit poet and writer, Scheherazade Washington Parrish.
In another social justice mural Our Issue, (2017) also in Eastern Market, James painted in collaboration with fellow Detroit artist AskewOne in support of the Our Issue campaign. Founded in 2016 as a collaboration between former Detroit Lions linebacker, DeAndre Levy, survivor Desire Vincent Levy and apparel brand Detroit Hustles Harder, 'Our Issue' raises funds for processing the backlog of abandoned rape kits found in a Detroit warehouse and providing direct services and care to survivors. To date, the campaign has raised over $40,000.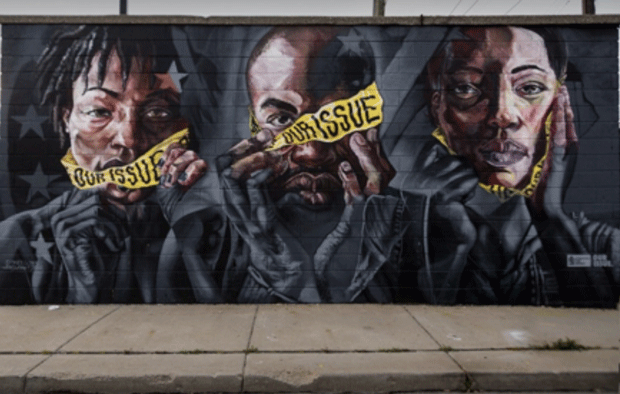 More recently in June 2020, with the help of a team of local artists, James painted Way Too Many, a memorial mural spanning the exterior of the Hamilton Tucker Art Gallery in Highland Park, which James co-owns. The mural honours Malice Green, the Black man who became the face of police brutality in Detroit when he was killed by police in 1992. Green holds a list containing the names of other lives lost to police brutality in the wake of the Black Lives Matter movement. Way Too Many, for which James raised $10,000 through a GoFundMe campaign, replaced a 1992 monument demolished in 2013 that was painted by Detroit artist Bennie White Jr. at the scene of the crime on the west side of Detroit.
In 2019, James was commissioned by Peter Cummings, CEO of Detroit-based real estate developer The Platform, to bring fresh art to the façade of an empty nine-story former storage building in the North End of Detroit. A $16-million renovation converted the 1913 building into offices and studios for a creative center called 'Chroma Detroit'. Dedicated on September 6, 2020, James mural, Girl with the D Earring, re-envisions Dutch Golden Age artist Johannes Vermeer's 1665 painting, Girl with a Pearl Earring.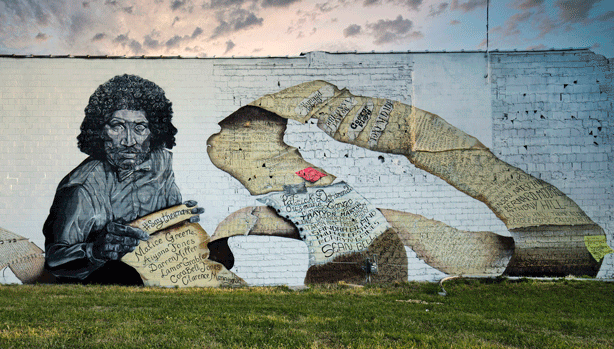 James' interpretation features a Black woman, her friend Halima Cassells, a Detroit artist and community advocate as the model, wearing a large, pink dangling Old English "D" instead of the pearl earring of Vermeer's painting. The Girl with the D Earring replaced a 2009 mural on the building's west wall by Katie Craig, Illuminated Mural, that was irreparably damaged during construction. The vibrantly coloured 8,000 sq. ft. mural, James' largest to date, celebrates Black women and the city of Detroit. The  Old English "D"  represents the soul of the city, which James said is embodied by its people much like the woman wearing the "D."
According to James, it is a rich culture, like Detroit's, that creates figurative and literal chroma – a word denoting purity and intensity of colour. The signage and logos on the woman's clothing are from historic North End and old Paradise Valley businesses, intended to commemorate Detroit's past and pay homage to the communities around the Chroma building.
The intention for all her murals, James says, is to combat commonly negative portrayals of Black people:
The cultural semiotics of oppression work on Black people just as well as they  work on everybody else. We start believing the portrayals that we see of us. I paint us big, beautiful, and strong because we need to know that we are.
Sydney G. James aspires to expand and change that narrative, making portraiture more inclusive and diverse by portraying people of colour and especially Black women in a positive and empowering way. You can find out more about her and her work at her Instagram page, here.