In 1739, the United States' earliest successful glass factory was founded by Caspar Wistar in Salem County (close to Millville). The access to wood, sand, soda, ash, and silica made Southern New Jersey a perfect environment for glass making. Following this tremendous success, Dr. Theodore Corson Wheaton opened a pharmaceutical bottle glass factory in Millville. His company transformed into today's Wheaton USA or DWK Life Sciences. Fast forward to Wheaton's grandson, Frank Wheaton Jr. In 1960, Frank Wheaton Jr. visited a glass museum in Upstate New York; he noticed that a large portion of the museum pieces was made in southern New Jersey. He decided it was time to open WheatonArts (formerly Wheaton Village) to showcase the artistic history of southern New Jersey in its birthplace. Accordingly, the first buildings at WheatonArts opened to the public in 1970. Three years later, seven more buildings opened up to include a famous glass factory and many more galleries.
Today, WheatonArts is now recognized as a symbol of history and future generations of creators. It stands on forty-five acres with eighteen buildings. The glass factory is consistently open to the public, and specialized artists give demonstrations of traditional and contemporary glassblowing techniques. In addition to glasswork, WheatonArts wanted to acknowledge other popular artistic expressions in the area. Artists from backgrounds in pottery, flameworking, beading, and more also reside on the property. The studios have a unique layout, where each artist has a separate workspace, but the buildings are open on the inside, allowing visitors to observe the artists at work and ask questions. The layout creates an open exchange of learning and sharing between artist and visitor adding to the original intent of honouring and sharing the creative process.
Twenty-Eight artists currently work at WheatonArts, nine of which are volunteers.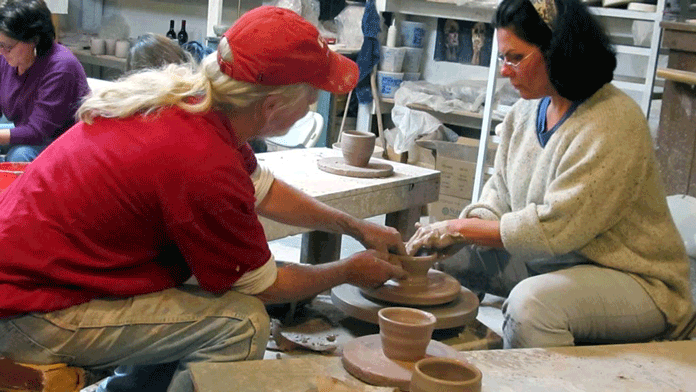 Terry Plasket, a functional ceramicist, began working at WheatonArts in 1979 and has stayed since. The artists who work at WheatonArts are encouraged to engage with the community members and visitors. For instance, Plasket is a well-known potter, but when a community member calls him asking to replace a beloved butter dish he made, Plasket prioritizes their request ahead of his own work. WheatonArts is locally known as a hub for innovation, creativity, and community, and in recent years they have also been recognized nationally and internationally for their unique collections, seminars, and exhibitions. Artists come to WheatonArts for a dynamic and engaging learning environment.
WheatonArts' personality is also emulated in their large events. "Family Day" which features free admission to the artist's village, hands-on workshops, children's activities, and special tours, is a community favourite. They also host the annual "Festival of Fine Craft" (21 years running), which has a large glass pumpkin patch, a beer and wine garden, exhibitions, demonstrations, and art activities. These events are just a small taste of the unique opportunities offered. The community connection has always been an in-person experience; therefore, the artists at WheatonArts had to think quickly about how to keep the unique exchange of learning going during the COVID-19 pandemic. They decided to postpone and reimagine their ECO fair that was originally scheduled for May 2020. During the week of August 16-21, WheatonArts is hosting its first "Virtual ECO Week: Artful Living, Handmade, and Homegrown". The week features webinars with local artists and environmentally friendly organizations and a children's ECO camp with crafts. "Virtual ECO Week" demonstrates how determined WheatonArts is to continue providing art to their community even during the COVID-19pandemic.
For a long time, art has acted as a form of historical preservation all around the world. It shows the available natural resources, people's values, cultural celebrations, and more. WheatonArts is a collective of artists who believe in recognizing Southern New Jersey's artistic history and inciting new art through a dynamic learning environment. Ceramicists work alongside glassblowers, pushing the artists to think about their medium outside of their expertise. At WheatonArts, there is a constant exchange of ideas, between artists and artists, and artists and community members. In Southern New Jersey, WheatonArts is a pillar of artistic unity and expression.
Calendar of Events: https://www.wheatonarts.org/calendar-eventon/
Studio Rentals: https://www.wheatonarts.org/about/rental-opportunities/