This project is a joint effort by The University of Tennessee Libraries, the City of Gatlinburg and the Anna Porter Public Library.
The Chimney Tops 2 wildfires in 2016 swept through and destroyed two thousand homes and businesses, injured 200, and killed 14 people. This made it the biggest natural disaster to ever hit Tennessee.
Wildfire Recovery through Art and Public Memory is a new exhibit helping a community recovering from devastating 2016 wildfires. The project is an artistic response from a community healing from devastation.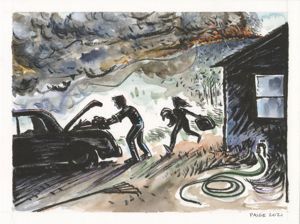 The 40 artworks were created by artists from the region: Paige Braddock, Marshall Ramsey, Charlie Daniel and Danny Wilson, who drew inspiration from these first-hand accounts of bravery in the face of devastation.
"By giving people a different way to experience their memory and express their memory—I think there's value in that," Smith said.
The 40 drawings document the community members' lived experiences which are being hosted online by The University of Tennessee Libraries.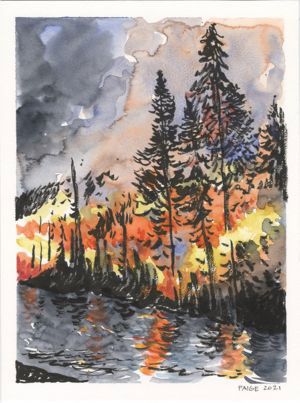 A previous project from these collaborators where they recorded oral histories of those who lost so much during the fires, Rising from the Ashes, features a 150 audio and video interviews from first responders and veterinarians, people who lost homes and businesses, volunteers, artists and more, giving their first-hand accounts of the devastation they witnessed.
The project was conceived by Steve Smith, dean of Libraries at the University of Tennessee Knoxville to move his community forward.
"But there's no denying when you're talking about something as tragic as a wildfire, it's also therapeutic," says Smith. "Many of the interviewees have commented to us that they were grateful to be able to share their story, grateful that it would be saved for history and future generations, and that they feel like that has been a part of their healing process."
Almost 300 interviews will be collected in the three-year-long efforts.
This project was made possible by a National Endowment for the Arts grant, aimed at using art to heal and engage communities. The United Nations Sustainable Development Goal of Climate Action aligns with this project.
---
To view the online exhibition you can click here.